Ohio State is likely to be favored in every game it plays during the 2022 regular season, but that doesn't mean there aren't plenty of potential roadblocks in the Buckeyes' path.
While there might not be one particular game that stands out above the rest as the toughest game of the season for the Buckeyes, the schedule is full of quality opponents, starting with the season opener against Notre Dame and ending with the regular season finale against another preseason top-10 team in Michigan.
And neither of those games is among the two games that scare the Eleven Warriors staff the most.
In an effort to identify the toughest and easiest games on the schedule, I sent a survey to Eleven Warriors staffers with a simple prompt: Rank the 12 games on Ohio State's regular-season schedule from the one you're most confident the Buckeyes will win to the game you're least confident the Buckeyes will win. Or in other words, the game you'd best the money on Ohio State winning straight-up to the game you'd best the least money on the Buckeyes winning outright.
After receiving responses from 10 Eleven Warriors writers, including my own, I averaged each staffer's rankings – assigning a value of 1 to the game each staffer is most confident Ohio State will win and a value of 12 to the game each staffer views as the most likely upset – to come up with an aggregate staff ranking of which games we are most and least confident the Buckeyes will triumph in this year.
1. Arkansas State (Sept. 10)
Average Ranking: 1.2
High Rank: 1
Low Rank: 3
All but one Eleven Warriors writer chose Arkansas State as the game they're most confident Ohio State will win this season, and with good reason. The Red Wolves went just 2-10 last season, losing 52-3 to Washington in their only game against a Power 5 opponent. Barring a dramatic turnaround from Butch Jones' squad this season, the Buckeyes should cruise to a blowout win in Week 2.
2. Toledo (Sept. 17)
Average Ranking: 2.4
High Rank: 2
Low Rank: 4
Ohio State's two non-Power 5 opponents take the two spots on this list as all but two staffers ranked Toledo as their second-most confident win for the Buckeyes this season. The Rockets, who went 7-6 last season, are capable of being at least somewhat more competitive with Ohio State, but there's still a huge talent disparity between the Buckeyes and their Northwest Ohio neighbors from the MAC. A Group of 5 team hasn't beaten the Buckeyes since Air Force in 1990, and none of us expect that to change this year.
3. Rutgers (Oct. 1)
Average Ranking: 3.4
High Rank: 2
Low Rank: 5
Ohio State has beaten Rutgers by at least 22 points in each of the first eight annual matchups since the Scarlet Knights' arrival in the Big Ten, and we're fully expecting the Buckeyes to improve to 9-0 in that series this year. While Rutgers has made some strides since Greg Schiano returned to Piscataway, the Scarlet Knights still project to be one of the conference's worst teams and don't pose a serious threat to the Buckeyes.
4. Indiana (Nov. 12)
Average Ranking: 3.9
High Rank: 2
Low Rank: 5
Had we conducted this exercise a year ago, Indiana likely would have been much lower on the list. The Hoosiers entered last season with plenty of momentum after they lost to Ohio State by just seven points with a furious second-half comeback at Ohio Stadium in 2020. But the Hoosiers regressed back to the bottom of the conference last year, finishing dead last in the Big Ten with a 2-10 record, giving us plenty of confidence that the Buckeyes will earn their 28th straight win against Indiana at Ohio Stadium this season.
5. Northwestern (Nov. 5)
Average Ranking: 4.6
High Rank: 3
Low Rank: 6
Northwestern comfortably rounds out our top five most confident Ohio State wins of the season. The Wildcats weren't ranked in the top two of anyone's ballot but were ranked in the top five of every game but one. While Ohio State will have to play Northwestern on the road and the Wildcats have won the Big Ten West in each of the last two even years, they don't look like an intimidating matchup on either side of the ball for the Buckeyes.
6. Maryland (Nov. 19)
Average Ranking: 6.6
High Rank: 6
Low Rank: 9
This list could be separated into three tiers: Five opponents we're very confident Ohio State will beat, Maryland and six games we're less confident the Buckeyes will win.
While Maryland's average ranking is a full two points higher than fifth-place Northwestern, it's also nearly two full points lower than seventh place. The Terrapins were ranked sixth on seven out of 10 ballots even though no staffer ranked Maryland in the top five.
I was one of three staffers who put Maryland in the bottom half of my confidence rankings (eighth, to be exact), as I believe there is some trap game potential here. With Taulia Tagovailoa throwing the ball to Rakim Jarrett, Dontay Demus and Jacob Copeland, Maryland could have the Big Ten's second-best passing offense this season. And this year's road game in College Park sits in the exact same spot on the schedule – one week before the Michigan game – as it did in 2018, when the Buckeyes needed overtime to beat the Terps.
That said, Maryland was one of the worst defensive teams in the Big Ten last year. The Terrapins will need to improve on that side of the ball if they're going to have a chance to earn their first-ever win over Ohio State.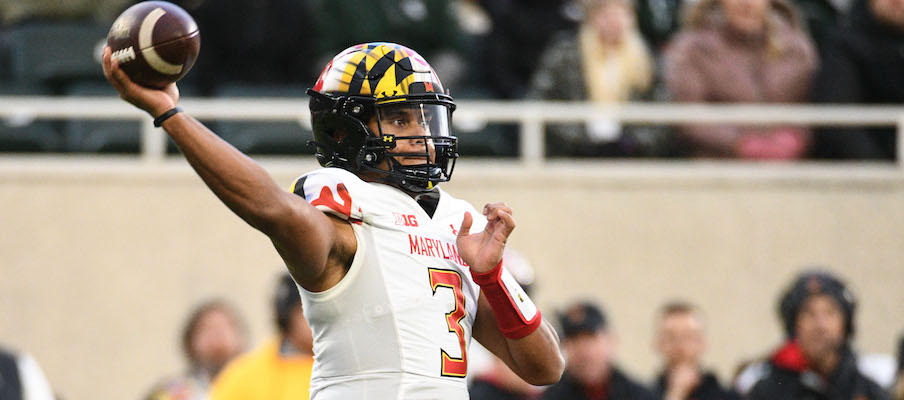 7. Iowa (Oct. 22)
Average Ranking: 8.5
High Rank: 6
Low Rank: 12
The second half of the rankings is where we start to see a lot more variety in each writer's picks, as Iowa was ranked as high on sixth on one ballot and seventh on four ballots yet in the bottom three of three other ballots.
Ramzy Nasrallah picked Iowa as the season's most likely upset because he believes the schedule surrounding that matchup sets up favorably for the Hawkeyes.
"Iowa gets its Ohio State trip wedged between two abysmal opponents in Illinois and Northwestern, which eliminates any trap or look-ahead consequences. Ohio State gets Iowa between trips to East Lansing and State College," Nasrallah wrote. "It's a brutal stretch against a program that engages almost exclusively in rock fights."
Chase Brown, however, believes the Hawkeyes simply don't have enough offense to keep up with the Buckeyes.
"I think Iowa will have one of the best defenses in the nation, but I don't see how they will score on offense against Ohio State – or anyone, for that matter – with Spencer Petras at quarterback," said Brown, who ranked Iowa above Maryland as his sixth-most confident win.
8. Michigan State (Oct. 8)
Average Ranking: 9.1
High Rank: 7
Low Rank: 12
Personally, I put Michigan State at the bottom of my confidence rankings as the game I believe is the most likely upset for the Buckeyes this season. Why? I believe Michigan State is the best team Ohio State will play on the road this season. And it comes in a tricky spot on the schedule, as it's the first time the Buckeyes will face a road test all season yet will be Ohio State's sixth straight game in six weeks.
Brown agreed with me, picking Michigan State as the season's most likely upset with the belief that the Spartans' offense will continue to be dangerous this year. While the Spartans no longer have star running back Kenneth Walker, they brought in a promising replacement in Jarek Broussard, the 2020 Pac-12 Offensive Player of the Year.
Only one other staffer put Michigan State in the bottom three of their rankings, however. If the Spartans are going to upset the Buckeyes this year, they'll need to be much better on pass defense than they were last year, when they were the only team in the FBS to allow more than 4,000 passing yards for the season. And they'll need to play much better against the Buckeyes than they did last year in Ohio Stadium, where they lost 56-7.
9. Notre Dame (Sept. 3)
Average Ranking: 9.3
High Rank: 7
Low Rank: 12
Ohio State's season-opening opponent is the highest-ranked team on the Buckeyes' regular-season schedule in the preseason AP poll, but it's not the game most Eleven Warriors staffers see as the biggest test of the year.
I am one of two staffers who is more confident Ohio State will beat Notre Dame than five other teams on the schedule. While I believe the Fighting Irish are one of the best teams the Buckeyes will play before the postseason, I'm also expecting the Buckeyes to come out firing on all cylinders as they open the season in a home night game environment, and I expect Jim Knowles' new-look Ohio State defense to make life difficult on first-time Notre Dame starting quarterback Tyler Buchner.
Fellow Eleven Warriors beat writer Griffin Strom sees it differently, viewing Notre Dame as the most likely upset of the season – though he still expects the Buckeyes to win nonetheless – because of how green Ohio State's new defensive scheme will be.
"The Buckeyes should be as fresh as they are all year in the season opener, but who's to say Jim Knowles' new defense won't need a couple weeks to iron out the kinks?" Strom wrote. "Given the complexities of the brand-new scheme, the first trial run would have come more mercifully against a lesser non-conference opponent."
Overall, though, the Eleven Warriors staff has a higher degree of confidence Ohio State will beat Notre Dame than three of its conference opponents.
10. Michigan (Nov. 26)
Average Ranking: 9.4
High Rank: 1
Low Rank: 12
No game received a wider range of rankings on our ballots than The Game. Three Eleven Warriors staffers ranked The Game as the regular season game they're least confident Ohio State will win this season, but Eleven Warriors data analyst Matt Gutridge put Michigan at the very top of his list, noting that the Buckeyes have not lost back-to-back games against their rivals since they lost in 1999 and 2000.
I ranked Michigan as the sixth-most confident win on my ballot behind only the first five teams in this countdown – even though I believe Michigan will be Ohio State's top competition in the Big Ten East again this year – because I'll personally be shocked if we see anything less than the Buckeyes' best when they host the Wolverines for the first time in four years and look to exact revenge for last year's embarrassment in Ann Arbor.
The rest of the staff, however, isn't taking the threat of Michigan lightly, as the Wolverines ranked between ninth and 12th on all of the other eight ballots.
Eleven Warriors publisher Jason Priestas believes the Wolverines will carry a new level of confidence into this year's game that will make them tougher to beat than they were for most of the 2010s.
"There's a good chance the Wolverines are unbeaten entering this game and the roster now has guys on it who know they can win the game instead of coming into this game looking for reasons to lose," Priestas wrote. "I still like Ohio State in the matchup, but Michigan will be more confident than they typically are in this one."
History has conditioned senior editor Chris Lauderback to always view Michigan as the toughest opponent of the year.
"Scars from the Cooper era will likely cause me to rank Michigan as the toughest game every single year until I perish," Lauderback said. "I have OSU winning this game, to be clear, but I think last year's game validated Michigan's belief it's on Ohio State's level and this year could be a dogfight."
11. Wisconsin (Sept. 24)
Average Ranking: 9.5
High Rank: 7
Low Rank: 12
With just one total ranking point more than Michigan and two total ranking points more than Notre Dame, Wisconsin edges out the Wolverines and Fighting Irish as the home game we believe could present the biggest threat of an upset for the Buckeyes.
The Badgers led the entire nation in total defense last season, and they're widely projected to be the best team in the Big Ten West this year. If they can run the ball effectively with Braelon Allen and slow down the Buckeyes' offense, Ohio State's first conference game of the season just might be its most difficult.
Six of 10 survey respondents ranked Wisconsin as one of the three games they're least confident Ohio State will win this season. Eleven Warriors recruiting analyst Garrick Hodge put the Badgers at the bottom of his list.
"Their running game is strong, their defense is fundamentally sound and they're well-coached," Hodge wrote. "If Ohio State's physicality hasn't improved since getting humbled by Michigan last year, OSU might be walking into a trap in its first Big Ten contest of the year."
Four other staffers, though, ranked Wisconsin either seventh or eighth on their ballots. Lauderback, who ranked the Badgers as his seventh-most confident Ohio State win of the season, doesn't believe Wisconsin's offense or defense will be good enough to hang with the Buckeyes.
"To put it bluntly, there's no way a Graham Mertz-led team is coming into the Shoe and beating OSU to open conference play," Lauderback said. "Throw in the Badgers losing their two best defenders, both linebackers, from a season ago and I see Ohio State rolling."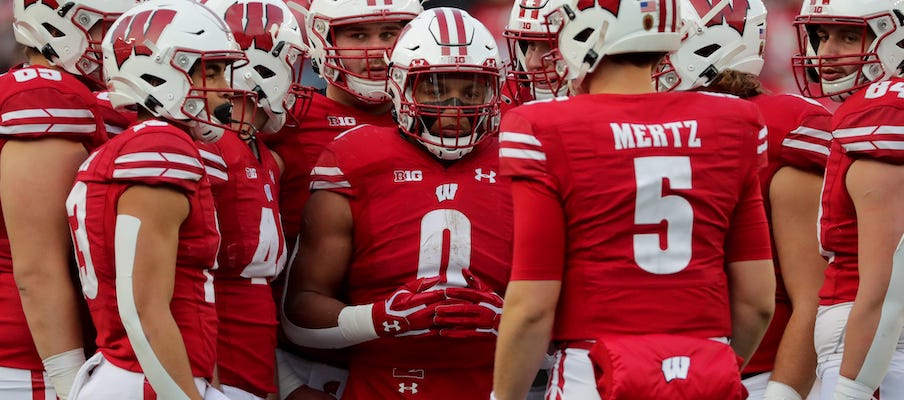 12. Penn State (Oct. 29)
Average Ranking: 10.1
High Rank: 8
Low Rank: 12
As the only opponent to rank in the bottom five on every one of our ballots, Penn State is our collective choice for the game that looms as the biggest upset threat on the Buckeyes' 2022 schedule.
The Buckeyes will travel to Happy Valley to play the Nittany Lions this season, and Beaver Stadium carries the reputation of being one of the Big Ten's toughest places to play. The Nittany Lions have consistently played Ohio State tough in recent years, as each of the last six matchups has been decided by two scores or fewer.
Ohio State could catch a break in terms of environment this year, as the Penn State game is not expected to be a night game and will not be a White Out, but the Buckeyes will still be playing in front of a hostile crowd against what should be one of the Big Ten's top defenses. That's why Eleven Warriors film guru Kyle Jones has Penn State as the regular-season opponent he's least confident Ohio State will beat.
"Year in and year out, Penn State's defense consistently is the most talented and athletic bunch the Buckeyes face within the conference, and it should be no different this season with new coordinator Manny Diaz utilizing the talents of Joey Porter Jr and Ji'Ayir Brown in the secondary," Jones wrote. "And although it won't be a night game this year, it's never easy to play in Beaver Stadium (when fans are allowed to attend), as one-score contests between these two teams in 2014, 2016, and 2018 have shown."
I don't think the current Sean Clifford-led iteration of the Nittany Lions is as dangerous as the Trace McSorley-led squads that beat Ohio State in 2016 and took the Buckeyes to the brink in 2017 and 2018, so I personally have Penn State ninth on my ballot. But the Nittany Lions' lingering reputation as a team Ohio State must be wary of, especially in State College, is made apparent by the results of this survey.
What the Readers Think
In addition to asking our staffers to rank Ohio State's scheduled games in terms of win confidence, we also posed the same question to members of the Eleven Warriors community. Great minds think alike, apparently, as their rankings turned out to be very similar to ours.
Reader Rankings

| Pos | Team | Avg |
| --- | --- | --- |
| 1 | ARKANSAS STATE | 1.5 |
| 2 | TOLEDO | 2.3 |
| 3 | RUTGERS | 4.0 |
| 4 | INDIANA | 4.6 |
| 5 | NORTHWESTERN | 5.0 |
| 6 | MARYLAND | 6.0 |
| 7 | IOWA | 8.0 |
| 8 | MICHIGAN STATE | 8.3 |
| 9 | NOTRE DAME | 8.8 |
| 10 | WISCONSIN | 9.3 |
| 11 | PENN STATE | 10.2 |
| 12 | MICHIGAN | 10.3 |
Staff Rankings

| Pos | Team | Avg |
| --- | --- | --- |
| 1 | ARKANSAS STATE | 1.2 |
| 2 | TOLEDO | 2.4 |
| 3 | RUTGERS | 3.4 |
| 4 | INDIANA | 3.9 |
| 5 | NORTHWESTERN | 4.6 |
| 6 | MARYLAND | 6.6 |
| 7 | IOWA | 8.5 |
| 8 | MICHIGAN STATE | 9.1 |
| 9 | NOTRE DAME | 9.3 |
| 10 | MICHIGAN | 9.4 |
| 11 | WISCONSIN | 9.5 |
| 12 | PENN STATE | 10.1 |
Like Matt, multiple readers listed the team up north as the game they are most confident Ohio State will win. Just about everyone else, however, had the Wolverines in the bottom three of their rankings, pushing The Game just below Penn State as the game that concerns Buckeye fans most entering the 2022 season.
Otherwise, the rest of the readers' consensus rankings mirrored our aggregate staff rankings, creating a clear picture of which games Buckeye fans and writers who follow the Buckeyes closely believe are the most sure-fire wins this season and which games carry the most upset potential.