The betting lines just don't do this one justice.
Ohio State may be a 19-point favorite over Purdue in Saturday's forthcoming matchup, but you don't need me to tell you that the Boilermakers are an unusually upset-minded bunch. With wins over Iowa and Michigan State in the past month alone, Purdue has won three of its last four games and could earn a number next to its name in Tuesday's second week of College Football Playoff rankings.

PURDUE BOILERMAKERS
6-3 (4-2 B1G)
ROSTER / SCHEDULE
---
3:30 P.M. – SATURDAY, NOV. 13
OHIO STADIUM
COLUMBUS, OHIO
---
ABC
WATCH ESPN
Jeff Brohm has led Purdue to a 6-3 record thus far, and the Boilermakers' 4-2 mark in conference play makes them one of four teams grappling for supremacy atop the Big Ten West. Purdue's only losses have come to Notre Dame, Minnesota and Wisconsin, and the Buckeyes will attempt to become the fourth team to down the Boilermakers this weekend in what will be the first matchup between the two schools since Ohio State's infamous 49-20 loss in 2018.
Here are five things to know about Purdue before the 3:30 p.m. kickoff in Columbus on Saturday.
Two upsets over top-three teams
If Purdue had a penchant for pulling off improbable upsets before this season, highly-ranked opponents should be downright terrified of seeing the Spoilermakers after what they've done so far in 2021.
You'd be correct to point out that Brohm and company faltered in a two-touchdown defeat to then-No. 12 Notre Dame back in September, but top-five wins are more their speed, anyway.
Iowa rattled off six straight wins to start the season, climbing to No. 2 in the country before running into Purdue, and the Hawkeyes haven't been the same since. The Boilermakers didn't even make the feat look difficult on Oct. 16, as they never trailed in the contest and finished with a 24-7 win on the road.
It's a party in West Lafayette! pic.twitter.com/qQzaNs7NqC

— ESPN (@espn) November 6, 2021
That result made this past weekend's Michigan State matchup all the more daunting for Spartan fans, who had just seen their team beat Michigan in an instant classic to debut at No. 3 in the College Football Playoff rankings. Their worst fears were confirmed on Saturday as Purdue did it again, handing Mel Tucker and company a double-digit loss with a 40-29 final score in West Lafayette.
Now it's the Buckeyes' turn to try and stave off a season-altering upset, and Ohio State doesn't need to be reminded about the dangers Purdue can present in a matchup it's expected to lose.
Beat the Buckeyes in most recent matchup
Ohio State is riding a 27-game win streak against conference opposition, but the last Big Ten team to get over on the Buckeyes was the very team the scarlet and gray hosts at Ohio Stadium this weekend.
The Boilermakers are one of just two teams in the conference, along with Iowa, that are currently coming off a win over the Buckeyes in their all-time series. The last time the two met on the gridiron, Purdue essentially blew Ohio State off the field, sending Urban Meyer and company packing with a 49-20 loss that more or less ended the Buckeyes' hopes of a College Playoff Berth in 2018.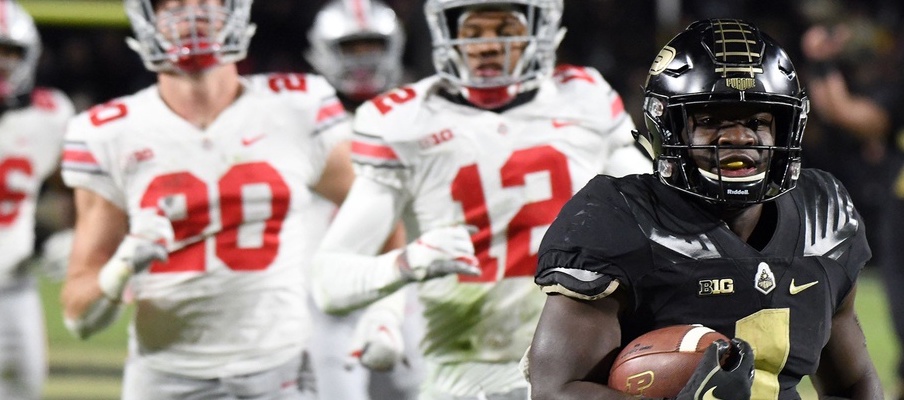 David Blough threw for 378 yards and three touchdowns in the affair. Rondale Moore caught two of those scores and finished with 170 yards on 12 catches. Somehow, even in a game in which Dwayne Haskins threw 73 passes, the Buckeyes could not get in the end zone more than twice against Purdue.
Blough and Moore may now be gone from the program, but the Boilermakers still have some comparable pieces in the passing game that could make their aerial assault similarly threatening in the forthcoming matchup. 
Nationally elite pass attack
The aforementioned Purdue pass attack has accrued a wide array of impressive credentials through the first nine games this season, and in terms of average yardage, it ranks behind only the Buckeyes as far as Big Ten teams go.
It is no landslide margin between the programs either, as the Boilermakers' season average of 332.6 yards per game through the air is good for eighth-best in the country, just two spots lower than C.J. Stroud and the Buckeyes in the national landscape.
On target! QB Aidan O'Connell has been named the @WalterCampFF National Offensive Player of the Week.

536 yards (40-of-54) and three touchdowns will do that. , . #BoilerUp pic.twitter.com/Oab8nekkGj

— Purdue Football (@BoilerFootball) November 7, 2021
Aidan O'Connell has been hot and cold under center at times this season, but the Purdue passer is averaging a whopping 343 yards per game in the past five games, with outings of 371, 375 and 536 yards all coming against Big Ten opponents.
There's no question who O'Connell's top target is this season, as returning first-team All-Big Ten wide receiver David Bell is already over the 1,000-yard mark in 2021. He's had five 100-yard games and two 200-yard explosions, the second of which came Saturday against Michigan State, when Bell caught 11 passes for 217 yards and a touchdown.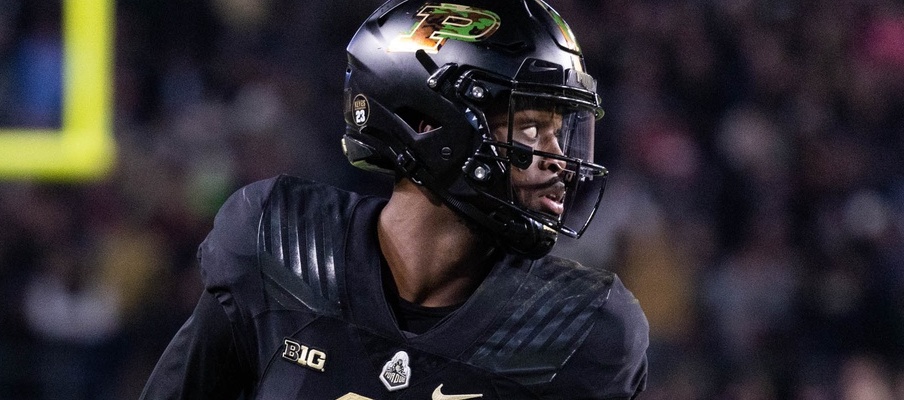 In Purdue's two benchmark upsets this year, Bell has been central to the Boilermakers' success, combining for 22 catches, 457 yards and two touchdowns against the Hawkeyes and Spartans. Bell ranks in the nation's top 11 in both receiving yards (1,003) and receptions (64) and his five receiving touchdowns lead the Boilermakers.
If the Buckeyes thought they needed to be aware of Jahan Dotson's every move on the football field a couple weeks ago, that sentiment will be no less true for Bell this coming week.
Among nation's worst ground games
The numbers put up by the Purdue pass game are certainly eye-popping, but the Boilermaker offense is no all-around dynamo, statistically speaking.
The Boilermaker total offense ranks just inside the country's top 60 with an average of 409.8 yards per game, but its 24.8 points per game rank all the way down at 90th nationally.
Running the ball is where things really start to get dicey for Purdue, which ranks 128th in the country with an average of only 76.8 yards per game rushing. The Boilermakers are dead last in America in yards per carry with a woeful average of 2.39 in 2021.
King Doerue, Purdue's leading rusher, is averaging just 3.8 yards per carry, which is the most of any player on the team that has received at least 20 carries. Doerue is tied for the team lead with two rushing touchdowns on the season, and the Boilermakers have found the end zone on the ground a grand total of five times this year. Only three teams in the country have fewer rushing touchdowns.
Purdue has generally struggled to score touchdowns across the board this year, as its 26 on the season are just one more than half the 51 Ohio State has in 2021.
Another tough test for the Buckeye offense
Purdue can lay claim to one of the tougher schedules in the country through nine games, and that makes its defensive numbers even more impressive.
Despite having three losses this year, Purdue possesses the No. 15 pass defense in the FBS, allowing just 185.3 yards per game to opposing offenses in 2021. The Boilermakers have held six opponents' starting quarterbacks under 200 yards passing this season.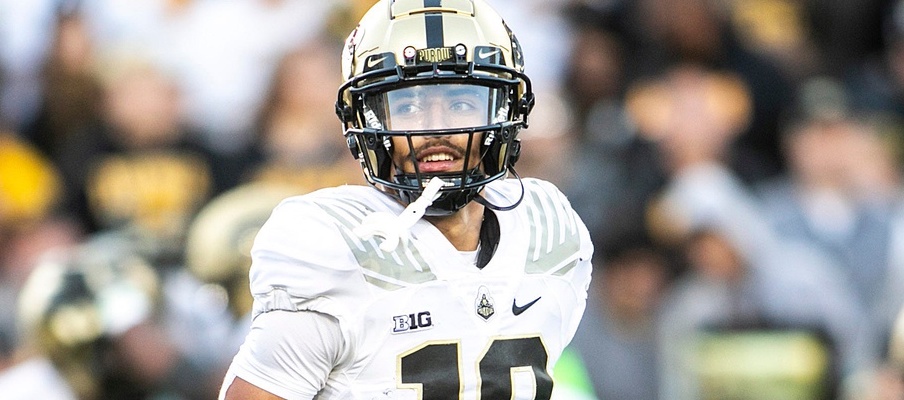 Purdue's scoring defense ranks 16th in the country with an average of 18.4 points per game, as the Boilermakers have held three teams to single-digit points so far. Wisconsin, who handed Purdue a 17-point defeat on Oct. 23, is the only team to score 30 points or more against the Boilermakers this year.
In total defense, Purdue ranks 26th in the Football Bowl Subdivision, allowing 328.7 yards per game. Opponents have found a bit more success against the Purdue defense on the ground, averaging 143.3 yards per contest in the run game, which ranks 58th in the nation.
Only 20 teams in the FBS have more forced fumbles than Purdue's nine, and only 14 have more than its 11 interceptions. Cam Allen has four of those on his own in the Boilermaker secondary, and 2020 second-team All-Big Ten pass rusher George Karlaftis is a disruptor at the line of scrimmage, leading the Boilermakers with 7.5 tackles for loss.