Ohio State heads back on the road this weekend for a meeting with Scott Frost and the Nebraska Cornhuskers.
The matchup will be the 10th contest between the two programs, which have faced off with one another annually since 2016, as the Buckeyes vie for a seventh consecutive win in the all-time series. Ryan Day and Frost prepare for their third encounter as Big Ten head coaches, with Day claiming the first two matchups by an average score of 50-12.
For more on the Huskers' 2021 season before they host the sixth-ranked Buckeyes, here's five things to know about Ohio State's next opponent.
Frost on verge of another losing season
A loss to the Buckeyes on Saturday would mean a fourth straight season in which Frost has failed to lead Nebraska to a bowl game.
With a 3-6 record thus far in 2021, Frost is 15-26 as the head coach in Lincoln, with a win percentage of .366. Nebraska has finished each of Frost's first three seasons with a losing record, and Ohio State could sentence the current roster to a similar fate this weekend.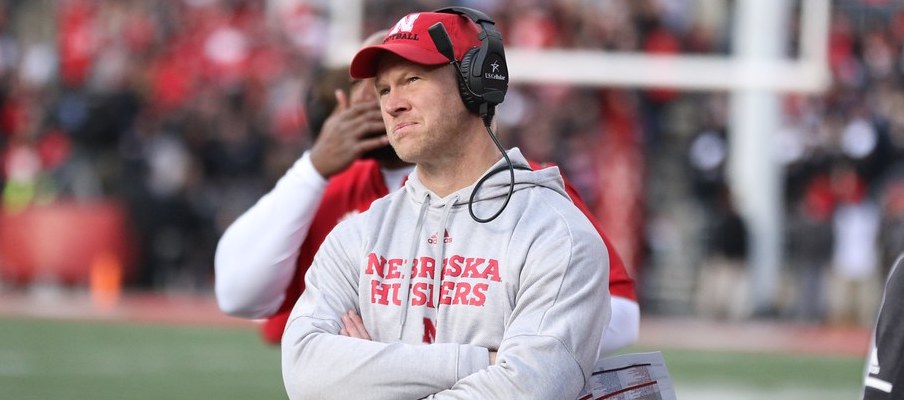 Nebraska's 2019 campaign, in which the team finished 5-7 and managed to hold onto an AP ranking until the second week of the season, stands as Frost's crowning achievement thus far. But even that year the Huskers were demolished 48-7 by the Buckeyes at home.
Frost is 0-3 against Ohio State thus far in his head coaching tenure, with 2018's 36-31 loss being the closest he's come to handing the Buckeyes a defeat.
Six single-digit losses
The Huskers' 3-6 record isn't a thing of beauty, but none of their losses this season have been by a wider margin than eight points.
Nebraska's season-opening 30-22 loss to Illinois aside, many of its defeats have come against elite competition. The Huskers hung with No. 4 Oklahoma close enough to lose by just seven points in Week 2, and Nebraska lost by a field goal to No. 5 Michigan State the week after. Nebraska nearly upset the apple cart against No. 9 Michigan on Oct. 9, but finished with a 32-29 loss.
Nebraska's 2021 Season So Far

|     OPPONENT | DATE | RESULT | PTS | OPP |
| --- | --- | --- | --- | --- |
| ILLINOIS | AUG. 28 | L | 22 | 30 |
| FORDHAM | SEPT. 4 | W | 52 | 7 |
| BUFFALO | SEPT. 11 | W | 28 | 3 |
| OKLAHOMA | SEPT. 18 | L | 16 | 23 |
| MICHigan State | SEPT. 25 | L | 20 | 23 |
| NORTHWESTERN | OCT. 2 | W | 56 | 7 |
| MIChigan | OCT. 9 | L | 29 | 32 |
| MINNESOTA | OCT. 16 | L | 23 | 30 |
| PURDUE | OCT. 30 | L | 23 | 28 |
The Cornhuskers have lost to middle-of-the-road opposition as well, including the aforementioned defeat to Illinois and recent losses against Minnesota and Purdue. However, they've been competitive in every game they've played this season, which is an impressive feat in itself.
For the first time in the 2021 season, Ohio State will be coming off of a single-digit win when it takes on Nebraska in Lincoln on Saturday.
Three-game losing streak
The Huskers won't exactly be red-hot when they host Ohio State next weekend.
Nebraska has lost three straight games, its longest losing streak of the season (and since 2019), while the Buckeyes are winners of six consecutive contests.
The numbers have not been atrocious for the Huskers in losses to Michigan, Minnesota and Purdue over the past three games, as Nebraska has not been significantly outgained on offense in any of the three matchups. In fact, Nebraska won the yardage battle against Purdue. However, the Huskers were on the losing end of the turnover differential against both the Wolverines and Boilermakers, and have generally struggled to get enough points on the board to secure a win.
With an average of 29.9 points per game this season, Nebraska is No. 56 in the country in scoring offense, but that number is somewhat skewed by two outlier performances on offense in which Nebraska scored 52 against Fordham and 56 against Northwestern. Without those two games, the Huskers would only be averaging 23 points, which is exactly what they've scored in each of their past two losing efforts.
Defense has been solid
A chief reason Nebraska has been able to keep every game close this season is the play of its defense, which is allowing just 20.3 points per game in 2021.
Despite having lost twice as many games as they've won, the Huskers possess the No. 27 scoring defense in the country. No team has scored more than 32 points against Nebraska, and it has held six opponents under 30 points this year. Three teams – Fordham, Buffalo and Northwestern – have been held to single-digit scoring against the Huskers.
Nebraska's total defense (348.4 yards per game) and pass defense (211.2 yards per game) both rank in the top 50 among FBS teams, and its run defense is just outside at No. 51 with an average allowance of 137.2 yards per game.
Sophomore linebacker Luke Reimer is second in the Big Ten with 86 tackles already this season, and redshirt freshman linebacker Nick Henrich is not far behind with 79, good for third place in the conference.
The joker and the thief. #GBR pic.twitter.com/0SYyEtOgls

— Nick Henrich (@nickhenrich_42) October 14, 2021
Senior safety Deontai Williams is tied for the conference lead in interceptions this season with four.
Career year for Martinez
You wouldn't know it from watching the Huskers' most recent game, but veteran quarterback Adrian Martinez is quietly having the best season of his long collegiate career at Nebraska in 2021.
The shadows had to make this great @levifalck7 @HuskerFBNation grab all the harder. pic.twitter.com/zvjbgxWLBC

— Big Ten Network (@BigTenNetwork) October 30, 2021
Before throwing four interceptions against Purdue this past weekend, Martinez had just three on the season. Through nine games, the Californian has 23 total touchdowns and 2,706 yards of total offense to his credit. That touchdown total is equal to C.J. Stroud's, and he's accounted for almost 500 more yards than the Buckeye quarterback, though he's played in two more games.
If the season ended today, Martinez would have the highest passer rating of his career (152.5), and his 11 rushing touchdowns are already a career-high. Martinez is less than 400 yards away from setting a new career-high in passing yardage, five passing touchdowns shy of tying his career-best in that category and 193 rushing yards away from a new single-season high mark on the ground.
Martinez has thrown for at least 200 yards in every game this season, something he did only twice a season ago, and he's accounted for at least three touchdowns in four of the Huskers' nine games.