Before each Ohio State game, Eleven Warriors catches up with a media member who covers the opposing team to get his or her perspective on the Buckeyes' upcoming opponent.
As Oregon prepares to travel to Columbus for the Buckeyes' most highly anticipated non-conference game of the season, we connected with James Crepea, who covers Oregon athletics for The Oregonian (and also happens to be an Ohio State alumnus).
Crepea joins us for a Q&A about Oregon's underwhelming season opener against Fresno State, the impact of Kayvon Thibodeaux's injury, the strengths and weaknesses of the Ducks' offense and defense, why Ducks coaches and players aren't concerned about Saturday's early kickoff and what will need to happen for the Ducks to have a chance to win.
Oregon needed a late touchdown to win its season opener against Fresno State, 31-24. What made it such a struggle for the Ducks to win a game in which they were heavy favorites?
Crepea: Oregon missed on a few plays that could have been explosive and/or third-down conversions. A low throw by Anthony Brown Jr. was tipped at the line, a slightly underthrown deep ball on third down, a low ball on third-and-11, a dropped pass in the end zone, a hurried pass on an open post route, a receiver failing to block a safety on two short runs that could've been sprung. Add to it some conservative strategy and what in my opinion was too much cycling of personnel too early in the game and it became a confluence of Game 1 circumstances that made a team that is better than what it showed being in a competitive game that it shouldn't have been.
What's the bigger concern coming out of the season opener: Oregon being outgained by Fresno State, or Kayvon Thibodeaux's injury?
Crepea: This isn't even debatable: Thibodeaux's ankle sprain is the most important injury in the sport right now. Fortunately, he was able to walk off under his own power, got taped, returned to the game and even made a tackle before later leaving and returning to the sideline in a walking boot. That's at least a good sign insofar as the sprain clearly isn't the most severe and likely isn't even Grade 2.
I won't predict what it means for this week or the rest of the season, but nobody's going to look back at the total yardage from Week 1. They will look back and say Thibodeaux's injury had an impact if Oregon can't generate pass-rush this week or in weeks to come if he's out for any significant time.
How would you assess the Ducks' offense coming out of the first game? There seemed to be concern from the Oregon fan base about Anthony Brown's passing performance.
Crepea: It wasn't impressive or awe-inspiring and that isn't all on Anthony Brown. The throws he missed could've been very big gains. He also managed to evade pressure and made plays with his feet to avoid disaster and ultimately ran in the 30-yard touchdown that won the game. Oregon didn't utilize its freshmen receivers much last week and they could be critically important to this season both in the short and longer term.
With that said, until the younger receivers on the roster show a consistent level of production, the identity of Oregon's offense sits squarely on the shoulders and legs of running back CJ Verdell. He had seven carries for nine yards and a touchdown through the first three quarters against Fresno State, but when the chips were down and the game had to be won, he got the ball and got 62 yards on 10 carries in the fourth. He's played through a long list of injuries during his career and keeping him from taking a lot of contact last week was understandable. If Oregon's going to win at Ohio State, Verdell needs 18-plus carries and over 120 yards of total offense.
What are the strengths and weaknesses of Oregon's defense, and how important is a healthy Thibodeaux to its success?
Crepea: One strength is the downhill ferocity that linebackers Noah Sewell and Justin Flowe play with. They were the top inside linebacker recruits in the class of 2020 and it's readily obvious why. Sewell tied for the team lead in tackles as a true freshman last year. Flowe tore his meniscus last season but has come back with a vengeance and was a game-wrecker last week. They still have a lot to improve on in pass coverage, but they're throwback-style linebackers.
Mykael Wright is a very good cover corner outside and he'll get matched up with Olave or Wilson without question. With Jamal Hill and DJ James back, the secondary gets two of its better players back at least in the rotation if not the starting lineup. Hill did well at nickel last season and they both closed the season strong.
Brandon Dorlus had a great Week 1 and was probably Oregon's best interior defensive lineman last season.
All of these players can play at a high level without Thibodeaux being on the field, but whether it's Dorlus facing fewer double-teams, Sewell and Flowe having more free lanes or the secondary needing to cover for less time, they all obviously benefit enormously when Thibodeaux's in the game.
Oregon gave up a high amount of yards in the air last week but kept a top on the coverage. Even if James starts at boundary corner, that spot is very green heading into a game like this against a receiving corps like Ohio State's. The Ducks didn't generate enough disruption last season outside of Thibodeaux, and it's hard to make much of last week given Fresno State's offensive line isn't great.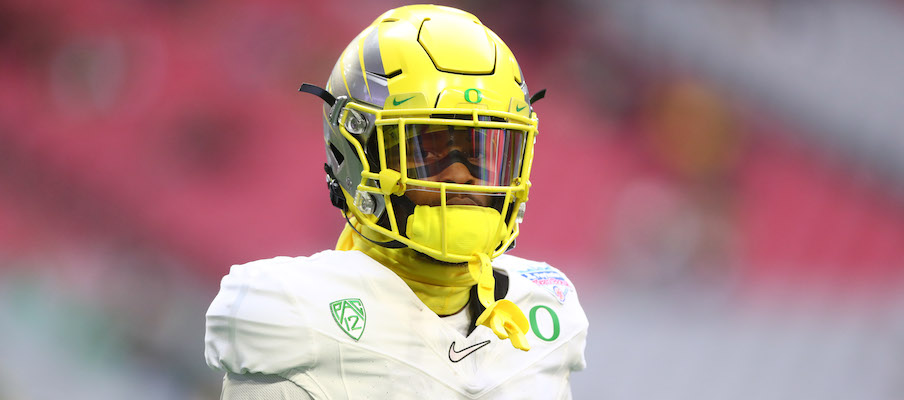 Other than Brown and Thibodeaux, who are some of the other Oregon players that Ohio State and its fans need to know about entering this game?
Crepea: Offensively, it's running backs CJ Verdell and Travis Dye. Oregon is not going to win without them being the focal points.
Oregon's receiving corps is split between super seniors Johnny Johnson III and Jaylon Redd, who may lead them statistically, and Mycah Pittman, Devon Williams, Kris Hutson, Troy Franklin and Dont'e Thornton, who all have higher ceilings in terms of NFL Draft prospects. Any of them could make a big play, but none are consistent 100-yard game threats.
Defensively, it's Sewell, Flowe, Dorlus and Wright. Dorlus is the diamond in the rough three-star who's already outperformed his recruiting profile. The rest were blue-chip prospects and are playing like it.
Much has been made about this game kicking off at 9 a.m. Pacific Time. How are Oregon coaches and players preparing for that?
Crepea: More is made about this among fans than coaches and players. Yes, I wrote a story last week about it. But Oregon AD Rob Mullens had the strongest comments and for good reason: he has a fan base that already missed out on last year's home game, has an unappealing home schedule this season and here's this marquee game and it's at a time many fans out here are just getting the day started. And if, as Mullens said, he and OSU were basically told by FOX and/or ESPN that this series would be in a better time slot and it isn't because of Colorado-Texas A&M and Washington-Michigan (everyone knew Mets-Yankees on 9/11 was a probability), then you get Mullens' frustration about it from a business standpoint.
On the field, Oregon's coaches and players are not making this a thing at all. Mario Cristobal said as much when I asked him about it in July. They practice at 8:45 a.m. PT and guys are regularly in their football complex at 6-7 a.m. Oregon is also a quarter school – remember those days, Ohio State? – and classes haven't started so this is truly a nonissue to those on the field.
Ohio State enters this game as a double-digit favorite. What do you see as the path to an Oregon win, and do you think the Ducks pull it off?
Crepea: Until and unless Oregon's receiving corps passes the torch to the younger nucleus that will be the program's future in that regard, this team's offensive identity and drivetrain is Verdell. If Oregon is going to win, it needs Verdell to score at least one touchdown and have 80-plus rushing yards with some receiving yards mixed in or 100-plus all on the ground. Without that element as the base of the offense, I don't see the Ducks being able to score enough via the air right now to beat Ohio State.
I do not think Oregon gets it done this Saturday, I think Ohio State simply has too much firepower and ability to break a game open on any play.