Ohio State's first game against Minnesota might not have been the best judge for how the Buckeyes will rotate and divide up playing time this season.
During his most recent press conference on Tuesday, Ryan Day used the word "unique" to describe the Buckeyes' season opener when talking about how things played out on both sides of the ball in Minneapolis. Offensively, the Buckeyes had just 48 plays, the fewest they've had in a game since their 2015 loss to Michigan State. Defensively, Ohio State had to account for a Minnesota offense that used a wide variety of personnel alignments, including as many as seven offensive linemen on the field at times.
Offensively, the impact of the lack of plays on player snap counts was most noticeable at the running back position, where no Buckeye played more than 22 snaps or carried the ball more than nine times on Thursday. The Buckeyes decided to play four running backs against Minnesota – Miyan Williams (who led the Buckeyes in both snaps and carries), Master Teague, Marcus Crowley and TreVeyon Henderson – and the lack of offensive snaps limited all of their opportunities to rack up carries.
"That game was unique in that there was only, we probably only played half a game," Day said. "Maybe the numbers would have been different if it was a longer game and we got to 70 plays, and we just didn't."
Still, Williams and Henderson stood out, as Williams ran for a 71-yard touchdown and Henderson turned a screen pass into a 70-yard touchdown. Evidence, albeit limited, suggests that they're the Buckeyes' two most dynamic runners. And Day said Ohio State will likely shorten the rotation and get its top running back more carries against Oregon.
"I think so, yeah," Day said when asked if the running back rotation would be shorter this week. "I wish we had more plays that we could evaluate, but yeah, I think that moving into this game, that's probably the goal."
When asked specifically if that would mean more carries for Williams and Henderson, however, Day was noncommittal, once again citing the lack of offensive snaps played against Minnesota.
"They made some plays, they did a good job and did what they were supposed to do, but it's hard over just a handful of plays to make some hard decisions," Day said. "But we're gonna do that and try to figure out what's best for this game."
Defensively, substitution was the name of the game against Minnesota as the Buckeyes played 24 different defensive players against the Gophers, all with the game on the line. At times, those substitutions appeared frantic as the Buckeyes rushed to get players on and off the field, and the results of those substitutions weren't great, as Ohio State allowed Minnesota to score 31 points on 408 yards of offense.
Both Day and defensive coordinator Kerry Coombs acknowledged that it was challenging for their defense to rotate as heavily as it did against the Gophers, but they felt that was necessary in order to adequately match up with Minnesota's offensive formations.
"They would go from 11 personnel to like 13 with an extra tackle in the game. And so to make that big of a jump from 11 to 12 to 13, we wanted to match personnel in that game, because we felt like based on their style of play, that was really important," Day said. "And so kind of what you saw in that game, it looked like a New York sidewalk at times. Guys are coming in, guys are coming out. And I thought they could have given us a little bit more time to sub. It seemed a little rushed at times. But that was unique to that game."
Coombs said he "would take full responsibility for any of those situations that were challenging for our players based on stuff that they had not been exposed to."
"I thought that they did a nice job of changing personnel groups and giving us things that we had not seen before and all that kind of stuff, and I thought that it took some time to get adjusted to and get the right guys on the field for the jobs they had at hand," Coombs said. "That makes it a little bit more difficult if you're coming on and off the field, on and off the field than if you're lined up, you're playing, you're getting five, six, seven snaps in a row. 
"Running to the sideline, coming back in for the next play, going back out, those are hard things. But they're necessary things when people change personnel groups like that."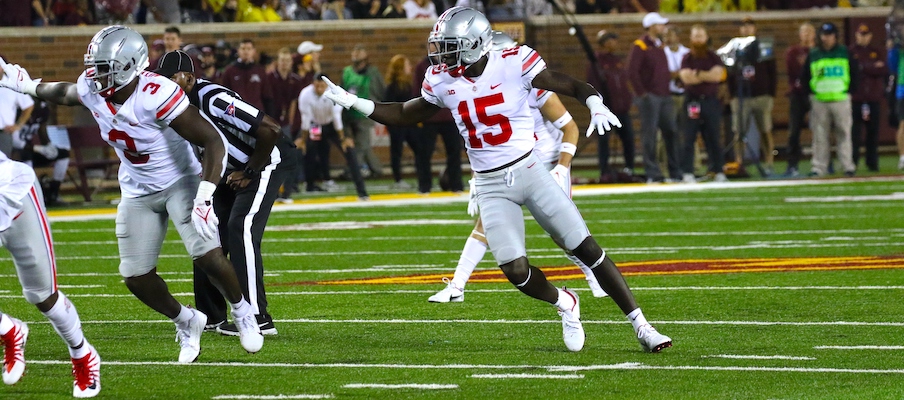 Like Day, Coombs felt the challenges Ohio State faced against Minnesota would be unique to that game, as Oregon doesn't typically use heavy packages with extra offensive linemen like Minnesota does – though that's not to say that Oregon won't present some wrinkles of its own to try to make Ohio State uncomfortable.
"I don't know that they would do that necessarily," Coombs said. "But I think that they will have plans based on what they think are going to be the strengths of their offense vs. what they saw from us on Thursday night."
That said, Coombs said he agrees with what Day said after the game on Thursday night, when Day said that even though the Buckeyes were still determining who their best defensive players are and wanted to play depth on defense, they might "need to have a little more continuity in certain positions" going forward.
Ohio State is "still figuring out exactly who the best players and the best combinations and the best situations are," and that was another reason why the Buckeyes played so many defenders against Minnesota, Coombs said. Looking ahead to this week's game against Oregon and beyond, though, Coombs said the Buckeyes need to make sure they're playing the defenders who give them the best chance at winning, though he didn't specify who those players are.
"We have to put the best players on the field to help us win the game," Coombs said. "And that is exactly the strategy that we would take going forward to Saturday."
Cody Simon, one of the linebackers whose playing time could potentially either increase or decrease if the Buckeyes rotate less against Oregon, said Tuesday that he trusts the coaches' judgment to get the right players on the field.
"Every week, we always prepare for anything, so whoever's gonna go in, we trust our coach, he's gonna put whoever he needs in at the right time and just always stay ready," Simon said. "There's never a time where your name might not be called, so you just always gotta be ready to make a play when your name's called."