Eight months of offseason speculation came to an end Thursday, as the Buckeyes unveiled retooled starting lineups on both sides of the ball against Minnesota.
The 45-31 win saw a host of Ohio State players make their first career starts and college football debuts, and the Buckeye coaching staff kept spectators on edge with plenty of unforeseen personnel rotations, particularly on defense.
Now that we've gotten a taste for the Buckeyes' 2021 depth chart, let's walk through the 10 most surprising developments when it came to who played where and for how long on both sides of the ball for Ohio State against the Gophers.
Denzel Burke gets the start
When Cameron Brown was listed as unavailable for the Buckeyes Thursday afternoon, the logical next man up to start at cornerback was redshirt freshman Ryan Watts. The 6-foot-3 corner did get the nod after all, but he was not the only freshman defensive back to begin the game on the field.
Denzel Burke starting his first-ever game for Ohio State. Pretty impressive rise up the depth chart for the No. 196 overall prospect in the recruiting class of 2021.

— Dan Hope (@Dan_Hope) September 3, 2021
Sevyn Banks also sat the game out with an apparent injury, which opened the door for four-star class of 2021 recruit Denzel Burke to start in his first-ever college game. In fact, Burke was the first true freshman to start a game for the Buckeye defense since Andy Katzenmoyer in 1996, and he led all cornerbacks by playing 63 defensive snaps in the opener.
Burke held his own, breaking up three passes and showcasing plenty of physicality in the tackling department, but Tanner Morgan and company went after the young Arizona native. Burke was flagged for pass interference in the end zone on a play that helped set up a Gopher touchdown, but as far as first impressions go, Burke could have done a lot worse for a first-time starter making his college debut against a Big Ten opponent.
No snaps at defensive back for Marcus Williamson
A starter for the entire 2020 season at the slot corner/cover safety position for Kerry Coombs' defense, Marcus Williamson looks to have been supplanted entirely in 2021.
The Westerville, Ohio, native, who returned to the program for a fifth year, played no snaps at defensive back in the first game of what is expected to be his final season in Columbus, as sophomore Lathan Ransom asserted himself as a starter with a strong performance in the cover safety role.
Much like Banks and Brown, Williamson dealt with injury issues throughout the spring and fall that may be holding him back, but it's also possible that the former four-star recruit has simply been jumped on the depth chart despite holding veteran status as a returning starter for the Buckeyes.
Demario McCall sees significant time
It turns out Demario McCall wasn't kidding about finally having a "big role" for the Buckeyes as a sixth-year senior.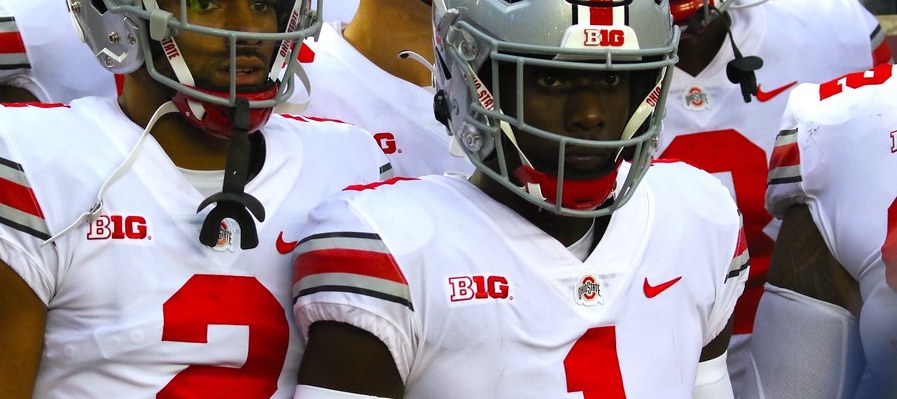 The Ohio native, who switched from offense to defense this past spring, was another beneficiary of the absences of Banks and Brown on Thursday, and saw quite a bit of time at cornerback against the Gophers. McCall started the second defensive series of the game for Ohio State in place of Watts, and finished the night with 15 snaps to his name.
It's likely that we won't see nearly as much from Burke, McCall or Watts if Banks and Brown return fully healthy for the Buckeyes relatively soon, but along with redshirt freshman Lejond Cavazos, the aforementioned three will continue to get reps if injury issues persist for the projected starters.
Not much opportunity for Craig Young
Given his background playing linebacker for Al Washington over the past two seasons, it seemed to make sense that Craig Young, a third-year Buckeye, could get the start at bullet for Ohio State, especially considering the run threat offered by Mohamed Ibrahim and a big, experienced Minnesota offensive line.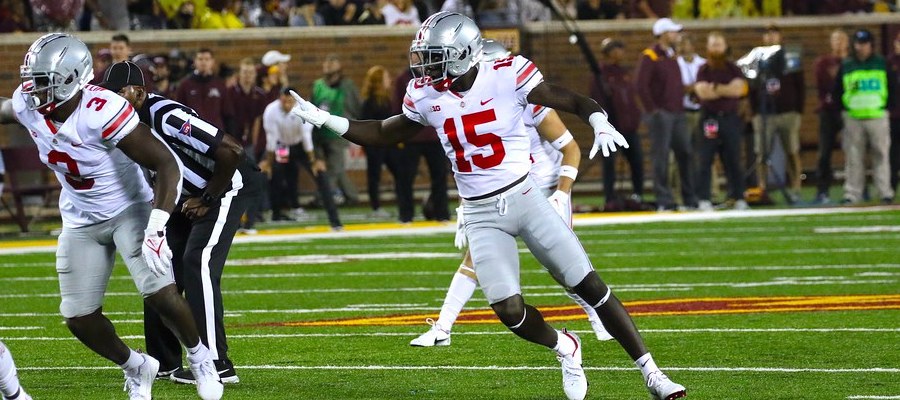 Instead, Thursday's rotation made it clear that Young isn't quite as high on the depth chart as some may have thought, as the 6-foot-4 hybrid defensive back logged just six snaps against the Gophers.
Instead, fellow redshirt sophomore Ronnie Hickman saw 62 snaps at bullet, and made good use of them with a game-high 11 total tackles on the night. Of course, things could change throughout the long season, but it's evident that Hickman is the Buckeyes' top option at bullet at the moment, and maybe even by a wide margin.
Tommy Eichenberg starts at linebacker
From Washington and Ryan Day's preseason comments, it was difficult to gauge the Buckeyes' confidence level in any linebackers not named Teradja Mitchell entering the 2021 season. Mitchell, a team captain, got the first start of his career and played most of the game – as expected – but the player who started next to him was something of a surprise.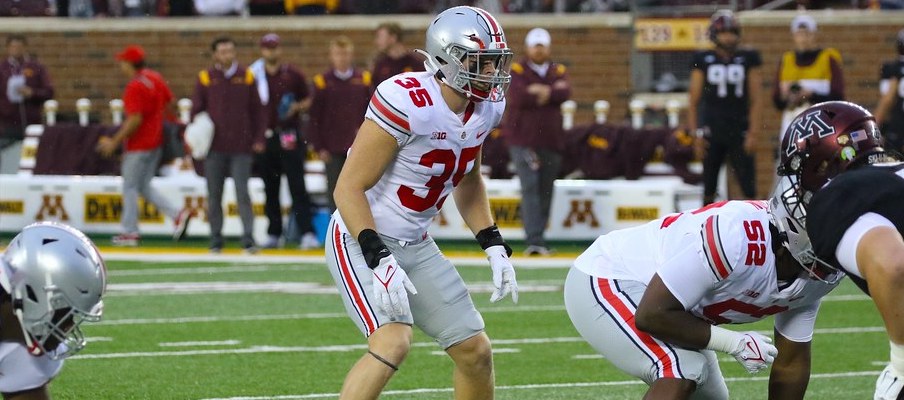 Despite multiple senior options available, redshirt sophomore Tommy Eichenberg got the nod at middle linebacker and tallied five total tackles by the end of the game. Eichenberg finished with 49 snaps – the second-most of any Ohio State linebacker behind Mitchell – in the first start of his career.
Even if his play didn't always jump off the field on Thursday, the St. Ignatius High School product appears to have inspired plenty of confidence in Washington and company.
Steele Chambers plays more than K'Vaughan Pope
The surprises at linebacker don't end with Eichenberg, because the rest of the depth chart broke down in unexpected ways as well when it comes to final snap counts on Thursday.
Redshirt sophomore Steele Chambers, who switched from running back at the end of this past spring, actually played more than senior K'Vaughan Pope against Minnesota, despite many considering Pope a frontrunner for a starting role at linebacker when the spring began.
Chambers said during the preseason that the transition back to linebacker, a position he played in high school, wasn't exactly an easy task. However, his comfortability seems to be growing, as Chambers closed out the evening with two tackles and nine snaps played. Meanwhile, Pope's future role is unclear, as the fourth-year Buckeye didn't see any snaps at linebacker on Thursday, playing only on special teams.
Just two targets for Jaxon Smith-Njigba
It would be difficult for any of Ohio State's past few starting slot receivers to complain about targets. With players like K.J. Hill and Garrett Wilson filling the role in the past several years, the slot has seen no short supply of receptions, but that wasn't the case for sophomore wideout Jaxon Smith-Njigba on Thursday.
In his first game as a starter for Ohio State, the former five-star recruit caught just two passes for 12 yards. A week before the game, Chris Olave said Smith-Njigba was sure to see a significant uptick in catches this season, but that hasn't happened quite yet. 
C.J. Stroud's shaky first half did not help Smith-Njigba's cause, but after hauling in just 10 passes as a true freshman in 2020, the Rockwall, Texas, native had a quiet first game of 2021, too.
All four RBs saw snaps in the first half
What exactly Ohio State's running back rotation would look like to start out the year was one of the major questions surrounding the Buckeye offense, and even though Miyan Williams got the start, Tony Alford and company were comfortable exploring all options throughout the game.
Williams, Master Teague, Marcus Crowley and TreVeyon Henderson all saw the field in the first half, and each got at least two carries by the end of the game. Teague, who started most of the 2020 season, saw no carries in the second half, and a pair of 70-plus-yard touchdowns from Williams and Henderson won't aid Teague or Crowley in earning more playing time for the Buckeyes moving forward.
Folks, hes a freshman. pic.twitter.com/Jl9vmjZAYC

— Eleven Warriors (@11W) September 3, 2021
Although Williams is a redshirt freshman and Henderson is a true freshman, they looked like Ohio State's top options at running back Thursday, as the pair combined for 210 yards and two touchdowns on 12 – yes, just 12 – touches from scrimmage against Minnesota.
Not much time for Fleming, freshman wideouts
Day said during game week that Brian Hartline's wide receiver rotation could go six-deep in the season opener, with sophomore Julian Fleming and true freshmen Emeka Egbuka and Marvin Harrison Jr. all likely to play a role in the season-opening Big Ten matchup.
However, none of the three played all that much on Thursday, and the trio didn't bring in a single reception on the night. They did all see the field, but Fleming played just eight offensive snaps, with Harrison logging seven and Emeka seeing only five.
The ball is already stretched thin as is, with Olave, Wilson, Smith-Njigba and tight end Jeremy Ruckert all more than deserving of all the targets they can get, and at least for the first game in Minneapolis, that kept the other receivers off the field for the most part.
J.T. Tuimoloau, Ty Hamilton see double-digit snaps early
Ohio State rapid-fire rotations on defense were something to behold early on against the Gophers, and more than one member of Larry Johnson's defensive line got a chance to record snaps that some might deem unexpected given the veterans at both defensive end and tackle.
Five-star freshman J.T. Tuimoloau finished the game with 13 snaps at defensive end, and was seen much earlier in the game than even his most bullish supporters may have anticipated. Tuimoloau saw snaps on the second and third defensive possessions of the game for Ohio State, and he was not the only young defensive lineman to see action early.
J.T. Tuimoloau is a true freshman whos only been at Ohio State for two months, but you wouldnt know that from looking at him. pic.twitter.com/hOUGWnIpQI

— Dan Hope (@Dan_Hope) September 2, 2021
On Minnesota's opening series, second-year defensive tackle Ty Hamilton nearly intercepted a Morgan pass in the backfield, but still broke up the play despite dropping the ball. Hamilton finished with 20 snaps of his own in the season opener, and was one of just four defensive tackles to see the field with Jerron Cage unavailable.
Also of note, true freshman defensive end Jack Sawyer – another five-star class of 2021 recruit – saw just four snaps against the Gophers.