J.T. Tuimoloau didn't know exactly what he was getting himself into when he moved to Columbus last month.
The five-star freshman defensive end, a native of Edgewood, Washington, who arrived at Ohio State just shortly after committing to the Buckeyes on July 4, admits that he didn't realize he was moving to a big city. That's not a bad thing, though.
"I'm not gonna lie, it's not what I expected coming out here, but man, once I got out here and once I came out here for good, I've enjoyed it," Tuimoloau said. "I've loved every bit of it."
"I thought Columbus was a country state. I didn't come out here expecting to see all this. But I think, like the boys said, you get the best of both worlds. You have a college town, but you go like 15 minutes out, you've got the city right there. So I think it's good, but that was different for me."
Tuimoloau had never been to Columbus before he made his official visit to Ohio State in late June. After that visit, though, Tuimoloau and his family decided Ohio State was the right place to him, leading him to cancel his scheduled official visit to Alabama and commit to the Buckeyes just a couple of weeks later.
When asked if he was happy to finally be done with the recruiting process, Tuimoloau smiled and laughed.
"A lot of weight was off my shoulders once I found out and knew where I wanted to go," Tuimoloau told Eleven Warriors while attending an NIL Management event on Sunday. "All the stress was gone, and after that, it was time to get back in the lab and get out here and start grinding."
Now that his lengthy recruitment is over and Tuimoloau is officially a Buckeye, he's working toward trying to make an impact for Ohio State as a freshman. The 6-foot-4, 275-pound defensive end went through his first four practices as a Buckeye last week and quickly learned that playing at Ohio State would be a little more challenging than playing at Eastside Catholic High School.
He appreciates his new Ohio State teammates for how much they've helped him get up to speed quickly.
"The speed of college ball is way different than high school ball, but I think all my boys and the D-line crew is helping me, getting me up to pace and continuing to push me, make me better," Tuimoloau said. "It's a great honor just to learn from these dudes. For them to be my big brother and always correct me if I'm doing things wrong or teach me their ways, because they've been doing what they're doing. So just to be around them and to learn from them and just be good friends with them, brothers with them, I love it."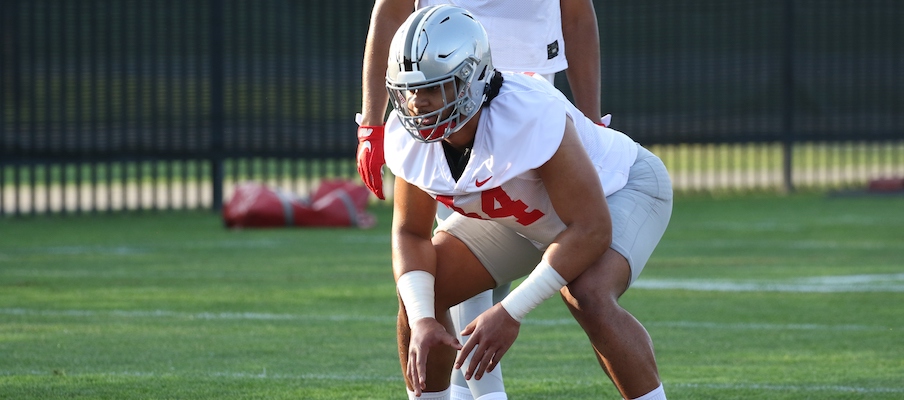 While Columbus is different than he expected, the culture at Ohio State isn't, as that's a big reason why he chose to leave the West Coast and become a Buckeye, picking Ohio State over Oregon, Washington and USC.
"For me, it was the brotherhood," Tuimoloau said when asked why Ohio State was the right place for him. "All the dudes, they were very together. No matter who you were or what your status was, they always made sure if you messed up or didn't do the drill full speed, they held you accountable."
Ohio State defensive line coach Larry Johnson, of course, was also a big reason why Tuimoloau chose the Buckeyes.
"Coach J is a great dude, and obviously he's a great coach, but off the field he's a great human being," Tuimoloau said. "He's a well-rounded man, so is everyone else on the coaching staff and that's what I felt. That's what my family felt."
Tuimoloau, who kept a low profile and rarely spoke publicly during the recruiting process, said it took him a while to open up even after he arrived at Ohio State, "because I had a lot on my mind when I first got here." But as he prepares to spend even more time with his coaches and teammates over the next two weeks, when he and the rest of the Buckeyes will be staying in a hotel together as they continue with preseason camp, he's looking forward to continuing to build those relationships and keep learning more from them.
"Just to be here and gain knowledge, not just from (Johnson) but all the guys around me, it's a true blessing," Tuimoloau said.