Instead of having four defensive ends who have already been in the rotation for multiple years, Ohio State will enter the season with only three defensive ends with substantial playing experience.
Ryan Day revealed Wednesday that Tyler Friday would be unavailable for "most of the season" due to an undisclosed injury, which is certainly unfortunate news for the senior defensive end. A top-100 prospect from the recruiting class of 2018, Friday was a regular in the rotation when healthy in both 2019 and 2020, but has been plagued by injuries over the course of his career. He may now have to wait until 2022, when he'll be a fifth-year senior season, for his chance to have a long-awaited breakout year.
Losing Friday is a hit to the Buckeyes' depth and experience at the position, as Tyreke Smith, Zach Harrison and Javontae Jean-Baptiste are now the only healthy defensive ends who have played more than 55 career snaps at Ohio State. Larry Johnson typically likes to maintain a rotation of at least four defensive ends, so he would have loved to go into the year with four defensive ends who have already played in big games.
"We've got four veteran ends returning, and that makes it easier to really teach and move forward in our defensive scheme," Johnson said this spring.
That said, there are two big reasons to be confident Ohio State's defensive end rotation will be fine – and probably much better than fine – without Friday: Jack Sawyer and J.T. Tuimoloau.
Even if Friday was healthy, he was still going to face competition for his place in the two-deep this year, because that's how talented Tuimoloau and Sawyer are. Ranked as the No. 4 and No. 5 overall prospects in the recruiting class of 2021, Tuimoloau and Sawyer are the highest-rated defensive ends Ohio State has ever signed since composite recruiting rankings became a thing.
Given that, both of them are candidates to make a major impact as true freshmen, and now, the door is wide open for either or both of them to earn a spot in the rotation right away.
Harrison and Smith are expected to start, and Jean-Baptiste will likely be the first defensive end off the bench at least to start the year, but Sawyer and Tuimoloau could be the next men up after them.
"They're gonna have to get on the field a little bit sooner than maybe we thought before," Day said Wednesday. "That's really that whole defensive end room now, because you lose a guy."
While Ohio State might need out of Sawyer and Tuimoloau now than it would have if Friday wasn't hurt, getting both of them on the field early should have been the plan all along. As I wrote about last month, one way for the Buckeyes to do that could be to put them in a four-defensive end Rushmen package with Smith and Harrison in third-down pass-rushing situations.
Without Friday, though, the possibility of at least one of them being a staple in the rotation right away has increased. Sawyer is probably the likelier candidate to start the season on the two-deep because he already went through a full spring with the Buckeyes, whereas Tuimoloau just arrived in July – but it won't be any surprise at all if either or both of them quickly prove they're too good not to be playing regularly game in and game out.
"Jack and J.T. are in two different situations," Day said at Big Ten Media Days. "Jack came in in January and put on a bunch of weight, he looks great, he's had a really good offseason. J.T. just got there, and so it's going to be a little bit of a different lead-in to the season for him. But it's a long way to January. And so both of them are going to play and hopefully they play a lot."
The question for both of them right now is whether their technique and ability to play within Ohio State's defensive scheme will be developed enough by the start of the season that Johnson will feel comfortable putting them on the field as three-down players in the season opener at Minnesota and the big home opener against Oregon. Sawyer certainly looked the part of an elite pass-rusher with his dominant four-sack spring game, but is he ready to set the edge against the run while going up against starting offensive linemen? And Tuimoloau hasn't even gone through a padded practice yet as a Buckeye.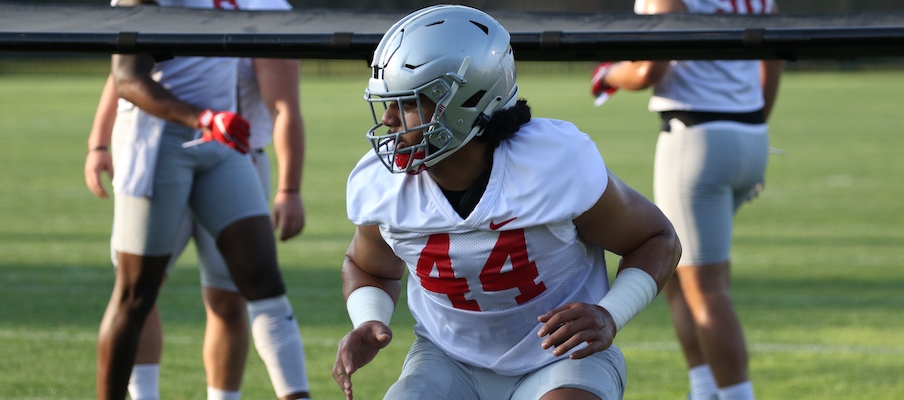 For those reasons, Johnson could lean mostly on Smith, Harrison and Jean-Baptiste for the first couple of games. Friday's injury could also open a path to playing time for third-year defensive end Cormontae Hamilton or second-years Jacolbe Cowan and Darrion Henry-Young. Third-year defensive lineman Noah Potter is another option who could play on the edge, though he remained at defensive tackle for Wednesday's first practice of preseason camp after moving inside this spring.
Regardless, Sawyer and Tuimoloau should both be playing frequently in Ohio State's defensive end rotation sooner than later. And while the Buckeyes might have preferred to not have to thrust either of them into the two-deep immediately, it could end up being for the best if they have no excuse not to play them right off the bat.
Harrison is confident the two freshmen will be ready to go whenever they're called upon.
"The biggest thing for them that they got going for them right now is they love to work," Harrison said.