Nearly two years have passed since Big Ten teams played non-conference games in the regular season.
The pandemic shortened the 2020 football season and prevented tilts like Penn State-Virginia Tech, Nebraska-Cincinnati, Michigan-Washington, Minnesota-BYU, Wisconsin-Notre Dame and Ohio State-Oregon from happening. This fall, the conference's scheduled out-of-conference matchups – which feature several games that would've been played last year – should help make up for the lost games.
So, we put together a ranking of all 42 non-conference games featuring Big Ten teams. The criteria is simple: Which of them should college football fans be most looking forward to?
Let's go.
42. Maryland vs. Howard (Sept. 11)
Howard, an FCS team, went 0-2 with two other games canceled in its spring schedule earlier this year. In 2019, when the Bison went through a full slate of games, they achieved a 2-10 record...and lost to Maryland, 79-0, in the season-opener. That Terrapins team proceeded to win two of their next 11 games that season. Hard to imagine this game being any better in 2021.
41. Northwestern vs. Indiana State (Sept. 11)
40. Nebraska vs. Fordham (Sept. 4)
39. Illinois vs. Charlotte (Oct. 2)
38. Michigan State vs. Youngstown State (Sept. 11)
Youngstown State needs a miracle to pull off an FCS-FBS upset. Unless Jim Tressel is going down to the sidelines, there's not much of interest going on in this one.
37. Indiana vs. Idaho (Sept. 11)
36. Michigan State vs. Western Kentucky (Oct. 2)
Thoughts and prayers for the poor souls who begin October by tuning into these games. I hope your month gets better.
35. Minnesota vs. Bowling Green (Sept. 25)
34. Michigan vs. Northern Illinois (Sept. 18)
Fun fact: Michigan is facing Michigan State quarterback transfer Rocky Lombardi. Not-as-fun fact: This game almost certainly will not be close. Northern Illinois went 0-6 last year.
33. Purdue at Connecticut (Sept. 11)
People forget Connecticut is the "real" 2020-21 national champion, per the New York Times. Must be tough for the Boilermakers to get the defending champ so early in the season.
32. Wisconsin vs. Eastern Michigan (Sept. 11)
31. Penn State vs. Villanova (Sept. 25)
The Wildcats have a pulse. They're regarded as one of the better FCS programs. Yet they also played this spring and went 2-2. 
30. Nebraska vs. Buffalo (Sept. 11)
29. Minnesota vs. Miami (Ohio) (Sept. 11)
What Miami coach Chuck Martin said prior to facing Ohio State in 2019 – "It's kind of like going to recess and they have the first 85 picks" – doesn't quite apply to Minnesota. The RedHawks, behind a quality offense led by Brett Gabbert, have a decent shot at keeping things close.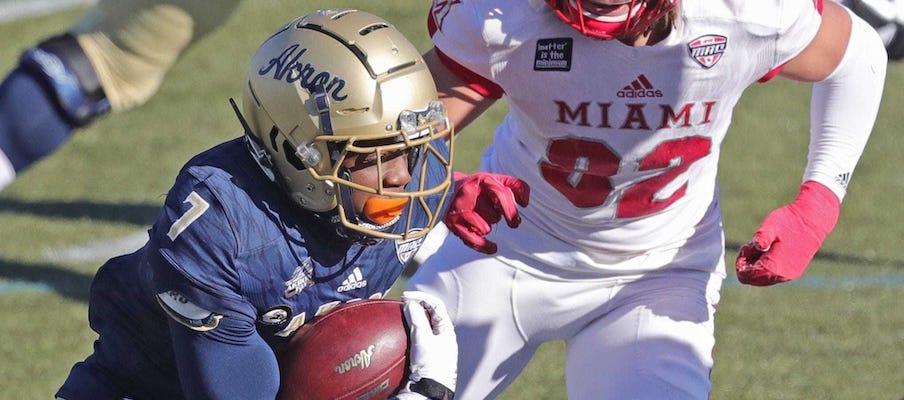 28. Ohio State vs. Akron (Sept. 25)
Casual Buckeye fans will tune in for a dominant first half. Hardcore Buckeye fans will spend the second half watching backups beat up on the Zips. Nobody else has a reason to change the channel to this, which by all accounts is expected to be a beatdown.
27. Northwestern vs. Ohio (Sept. 25)
26. Iowa vs. Kent State (Sept. 18)
25. Indiana at Western Kentucky (Sept. 25)
24. Penn State vs. Ball State (Sept. 11)
The reigning MAC champion will be the Nittany Lions' second opponent of the season, sandwiched between road games at Wisconsin and Auburn. Trap game? One worth monitoring.
23. Michigan vs. Western Michigan (Sept. 4)
This will be a low-key interesting test for the Wolverines' defense considering Western Michigan brings back star quarterback Kaleb Eleby, who's surrounded by all of his top tailbacks, all but one of his top wide receivers and four of his starting offensive linemen from last season.
22. Maryland vs. Kent State (Sept. 25)
Bet the over.
21. Illinois vs. UTSA (Sept. 4)
The Bret Bielema era begins. You have to admit you're at least a little bit interested, right?
20. Rutgers vs. Delaware (Sept. 18)
Delaware? Actually good! The Fightin' Blue Hens went 7-1 in the spring and made it to the FCS semifinals before falling to South Dakota State. Athlon Sports ranks them fifth in their preseason FCS projections. The pre-Greg Schiano Scarlet Knights would've had their hands full. We'll see if this Rutgers team has any issues.
19. Ohio State vs. Tulsa (Sept. 18)
A game with the 2020 version of Tulsa would've been quite a bit more interesting. We all would've seen how the Buckeyes handled eventual first-round linebacker Zaven Collins. Instead, we'll settle for this, which will be expected to turn into a post-Oregon showdown blowout.
18. Purdue vs. Oregon State (Sept. 4)
This is just one of a number of several out-of-conference matchups pitting bad Power Five teams against each other.
17. Illinois at Virginia (Sept. 11)
16. Northwestern at Duke (Sept. 18)
What will be higher: The collective GPA or the combined yards per play?
15. Rutgers vs. Temple (Sept. 2)
A familiar face, D'Wan Mathis, will be at quarterback for Temple. On a Thursday night in Piscataway, he'll make his debut for the Owls, who'll need a lot from him after a 1-6 season under Rod Carey. 
14. Rutgers at Syracuse (Sept. 11)
Not too long ago, Dino Babers was on Gene Smith's shortlist of candidates to replace Urban Meyer. That obviously wasn't the route he opted to go, and Ohio State is better off because of it. Babers' Syracuse program has faltered, going 10-3 in 2018, 5-7 in 2019, then 1-10 in 2020. Syracuse-Rutgers is a battle of teams trying to get out of the basement.
13. Iowa vs. Colorado State (Sept. 25)
Otherwise known as Kirk Ferentz vs. Steve Addazio in a battle to determine the oldest-school coach in college football.
12. Purdue at Notre Dame (Sept. 18)
At one point in time, a Purdue-Notre Dame rivalry was a riveting idea. That was a long time before the Boilermakers' ongoing 13-year streak of not appearing even once in the Associated Press top-25 poll.
11. Minnesota at Colorado (Sept. 18)
No word yet on whether P.J. Fleck's rowboat will be able to traverse this country's rivers in time to reach Boulder for this mid-September tilt.
10. Wisconsin vs. Army (Oct. 16)
The only thing missing from this game is a Wisconsin team willing to run 90 percent of the time. Graham Mertz and company might prove to be too much for Army, though nobody will ever overlook a triple-option attack – especially when it weirdly comes squarely in the middle of the season.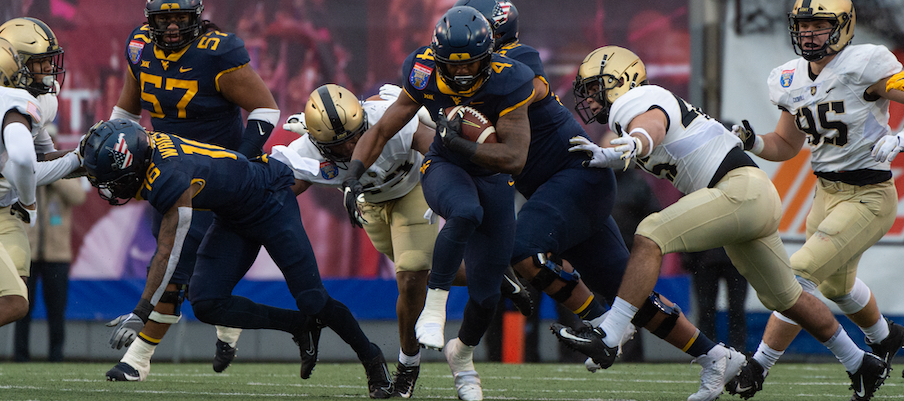 9. Maryland vs. West Virginia (Sept. 4)
In a normal sport where geography dictated conferences, these two teams would meet on an annual basis. Because college football is college football, this is a fun non-conference matchup between a pair of teams in the middle of the pack of their respective conferences.
8. Michigan State at Miami (Sept. 18)
My deranged brain immediately thought about what it would look like if the Spartans wore their green highlighter uniforms and played a game inside of Hard Rock Stadium with those absurdly bright orange seats in the background. Thankfully, that's not happening. Instead, we get treated to Mel Tucker taking his merry band of transfers down to Miami to take their shot at Manny Diaz and The U. It'll be a good early-season test to gauge what we should expect from the Spartans in Year 2 of the Tucker era.
7. Iowa at Iowa State (Sept. 11)
Not since 1976 had a year passed without the Cy-Hawk Trophy getting awarded. Then 2020 happened. Because of the pandemic, Matt Campbell's Cyclones didn't get a chance to end Iowa's six-game win streak in the in-state rivalry game. So, they'll try to do just that this season instead. Iowa State, a legitimate top-10 team, might very well be the best out-of-conference opponent any Big Ten team faces in 2021. 
6. Penn State vs. Auburn (Sept. 18)
Not-so-hot take: College football needs more Big Ten-SEC regular season games. The latest one pits James Franklin's Nittany Lions coming off a 4-5 season against the Tigers in Bryan Harsin's first year as their head coach, and it'll be a night game under the lights at Beaver Stadium. 
5. Nebraska at Oklahoma (Sept. 18)
If you live in Nebraska or Oklahoma, you'd probably be tempted to push this even further up the list. If you live elsewhere, you might wonder why this is so high. After all, anybody expecting anything other than a blowout of Scott Frost's Cornhuskers is a Nebraska optimist. The reasoning for having it this high on the list is simple: Nebraska-Oklahoma is one of the great college football rivalries, this is the 50th anniversary of the Game of the Century and the Cornhuskers explored backing out of this game. But...it just might not be competitive whatsoever.
4. Michigan vs. Washington (Sept. 11)
This is the second-best Big Ten-Pac-12 game of this fall's regular season slate. In Washington, you've got a team that some have projected to win the conference and a coach in Jimmy Lake who's trying to secure the first big non-conference victory of his head coaching career. In Michigan, you have a desperate team playing at home with a coach who has to make a statement this season to save his job. This is a huge game for Jim Harbaugh, whose Wolverines have a sub-.500 record against top-25 opponents under his reign.
3. Indiana vs. Cincinnati (Sept. 18)
Go back a half-decade and tell somebody that the 6-7 Hoosiers and the 4-8 Bearcats would be matched up in the third-most intriguing non-conference game of the 2021 Big Ten schedule and get their reaction. Oh, and then tell them that failed Cincinnati head coach Tommy Tuberville is a Senator. What a world. With Tom Allen and Luke Fickell at the helm, Indiana-Cincinnati is a Midwest banger between two top-25 teams.
2. Wisconsin vs. Notre Dame at Soldier Field (Sept. 25)
Somehow, it's been over five decades since these teams have faced each other. They're finally getting on the same field together in the Chicago Bears' stadium two months from now. Neither is supposed to be a national championship contender, but both are top-15 teams from the Midwest who should make this a competitive one. Weirdly, this is also a Jack Coan revenge game. We'll see what he can do when taking on the Mertz-led Badgers.
1. Ohio State vs. Oregon (Sept. 11)
The big one. The best of the Big Ten versus the best of the Pac-12 in the first game at Ohio Stadium with a packed house in nearly two years. You get Thayer Munford against Kayvon Thibodeaux, Kerry Coombs against Joe Moorhead, Garrett Wilson and Chris Olave against Mykael Wright and Verone McKinley III, Teradja Mitchell and Dallas Gant against CJ Verdell and Travis Dye, and Sevyn Banks against Johnny Johnson. 
It doesn't get much better than this.
---
What did we get wrong? Why did your favorite team get slighted in these rankings? Tell us in the comments below.