Nick Saban doesn't rebuild. Back in 2019, he claimed he was "sort of rebuilding," then Alabama proceeded to go 11-2 before winning the national championship behind one of the best offenses in college football history the following year.
If there was ever a time for Saban to undergo a legitimate rebuild, it would be right now.
Gone is Devonta Smith, last season's Heisman Trophy winner. Gone is Jaylen Waddle, one of the most explosive playmakers in the game. Gone is Patrick Surtain II, the SEC Defensive Player of the Year. Gone is Najee Harris, the unanimous All-American running back. Gone is Mac Jones, a first-round quarterback. Gone is Christian Barmore, a first-team All-SEC defensive lineman. Gone are Alex Leatherwood and Landon Dickerson, winners of last year's Outland Trophy and Rimington Trophy.
But anybody who has paid attention to Alabama over the past decade knows Saban will find a way to reload, not rebuild.
Ryan Day, Saban's adversary in the championship game earlier this year, is too young to have ever been in the position where he has to even consider a rebuild. He's two years into his head coaching career and enjoyed the pleasure of Justin Fields playing quarterback for both of them.
He also holds a job at Ohio State that requires him to reload. Anything resembling a rebuild would cause some sort of a meltdown from the faithful in Columbus and beyond considering this program hasn't lost more than three games in a season since 2004 outside of the infamous 2011 debacle. Two and a half years ago, Day was hired knowing full well that he'd be tasked with putting the Buckeyes in constant College Football Playoff contention year after year, and this offseason will be the latest test of his ability to do just that.
Saban's reloading after losing a boatload of impact players. Day's reloading with the most talented quarterback in Ohio State history, All-American guard, Rimington Trophy finalist of a center, starting tailback, starting linebacker corps and starting cornerback gone to the NFL. Which national championship participant can reload more effectively?
This summer, both coaches are running the same race.
Right now, all the happenings in Columbus are centered around getting bigger, fast and stronger. Similar things are undoubtedly going on in Tuscaloosa with director of sports performance David Ballou at the helm.
"Mick (Marotti) is really knee-deep into the strength and conditioning part of this thing, building power and speed and getting them game-ready as we head into the end of July," Day said this week on 97.1's Morning Juice. "But it's kind of a combination of things. They're going to start doing some position-specific work as we start getting into July. A lot going on, but certainly what an opportunity to really build the character of the team during these workouts in the summer that are one of those things you remember as you move on. I tell the team that all the time: Don't wish that time away because these are some of the best times you'll have together as a team."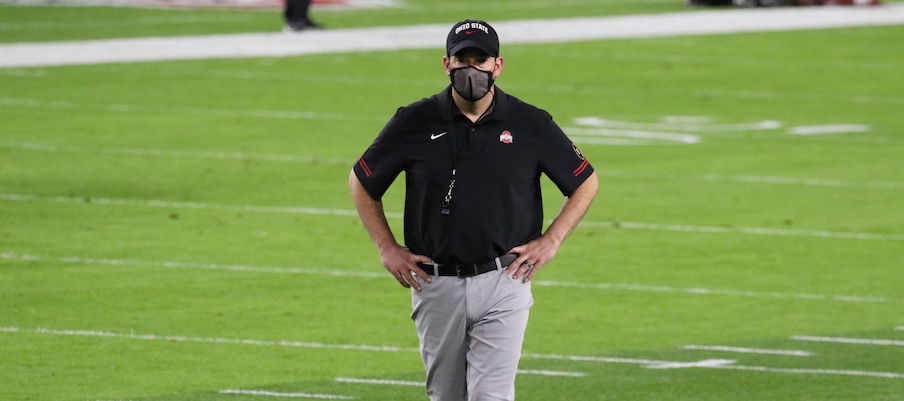 By the time August rolls around, preseason camp will get underway and what the team will look like this fall will start to come more into focus. At the beginning of the following month, it'll truly become apparent just how Day's reloading attempt went. 
There'll be a new quarterback, with either C.J. Stroud, Kyle McCord or Jack Miller taking over. There'll be a new rotation of tailbacks. There'll be at least two new starters on the offensive line. There'll be a new nose tackle. There'll be an entirely new linebacker corps. There'll be a new outside cornerback. There'll be some semblance of a new defensive plan.
It'll all get unveiled on Sept. 2 in Minneapolis.
"All of our focus is going on the road and beating Minnesota because that's going to be a hard game on the road for us," Day said on the radio. "A lot of new faces out there for us."
Every team – ultimately successful or disappointing – begins the year with "a lot of new faces." The teams that end the year the best typically view those new contributors as obstacles rather than assets.
Saban understands the annual churn as much as anybody else in college football. Ensuring the new guys are every bit as good as the highly impactful players exiting the program on a yearly basis is exactly how you reload instead of rebuild.
Given the talent that's been coming into Ohio State ever since Day took over, putting together a group that can compete with the best of the best should be doable. But doing so with consistency is what separates those at the top of the profession.
Saban has turned Alabama into a machine, bringing in top-of-the-line talent, winning hardware and churning out upper echelon NFL talent. He turns the Crimson Tide into national title contenders annually. Day has begun to turn on what might be a machine. He's twisting the knobs, changing the gears, testing things out. So far, so good. 
This fall, Day will try to build on the success he has already experienced as he enters his third season at the helm – and first without Fields.