Eleven Warriors obtained thousands of documents on Wednesday relating to the Big Ten and Ohio State's response to the COVID-19 pandemic, including the conference's decision to postpone the 2020 football season, and the subsequent reversal.
Not everything was groundbreaking or new information, but there were several tidbits that were interesting and helped paint a more full picture of what was going on behind the scenes at Ohio State.
Here's a look at 10 interesting things we found in the thousands of pages of documents.
10. "Like Marshall plane crash for Ohio State football"
I could probably do an entire article ranking the most insane outraged fan emails found in this documents dump, but this one where a fan compares canceling the season to the Marshall plane crash that killed its entire team is in a league of its own.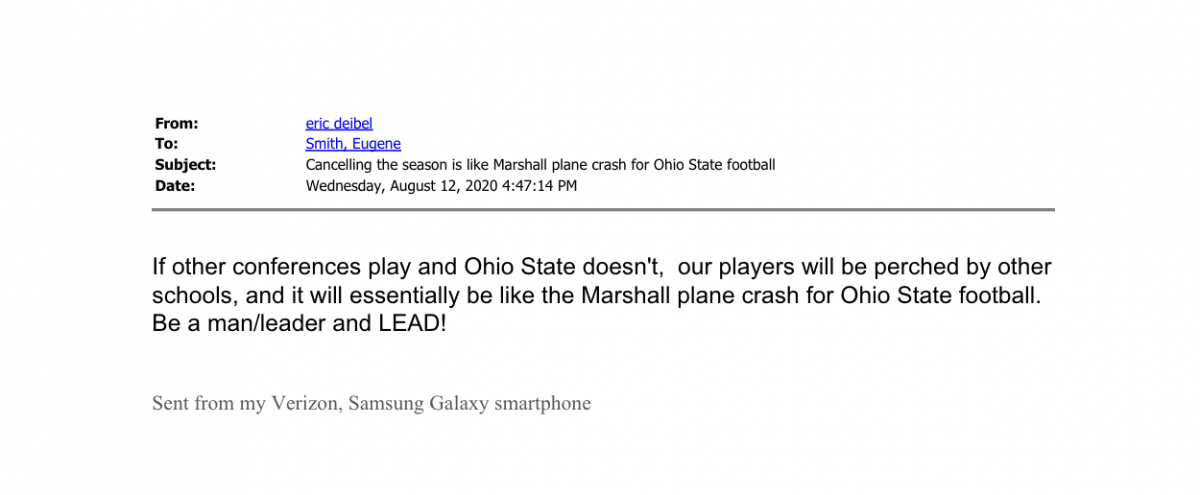 PSA to anyone who ever considers emailing an insane thing to an Ohio State coach or athletic director – your email immediately becomes part of public record, free for anybody to request.
9. "Absolute Crap"
You probably weren't super stoked when you heard about the practice protocols for teams that would not be participating in a fall season, given that it would have put the Buckeyes at a significant competitive disadvantage for who knows how long.
Turns out, you weren't alone in that. Senior deputy athletic director Diana Sabau was right there with you, calling the protocols "absolute crap" in an email.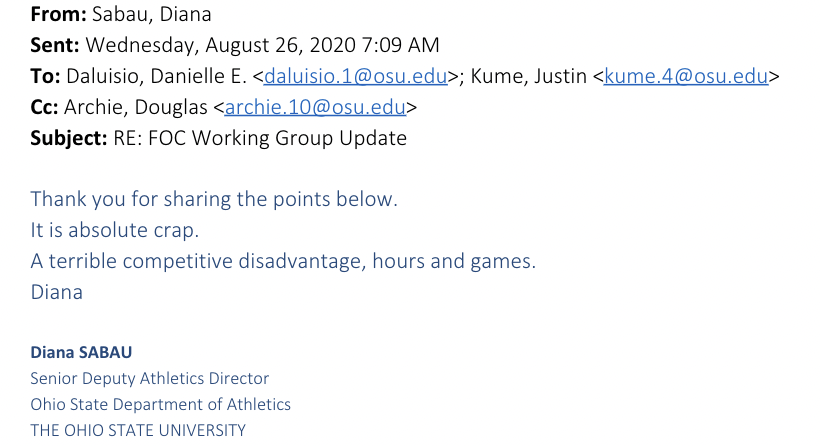 It may be a small thing, but it shows that the fans weren't the only ones feeling frustrated, angry and often helpless when all this was going down. The high-ups in the athletic department were often in the same boat.
8. Ryan Day signed Justin Fields' petition
There weren't many available documents related to Ryan Day's response to this whole ordeal, but we did get one fun little nugget – a confirmation email revealing that Day had signed Justin Fields' #WeWantToPlay petition.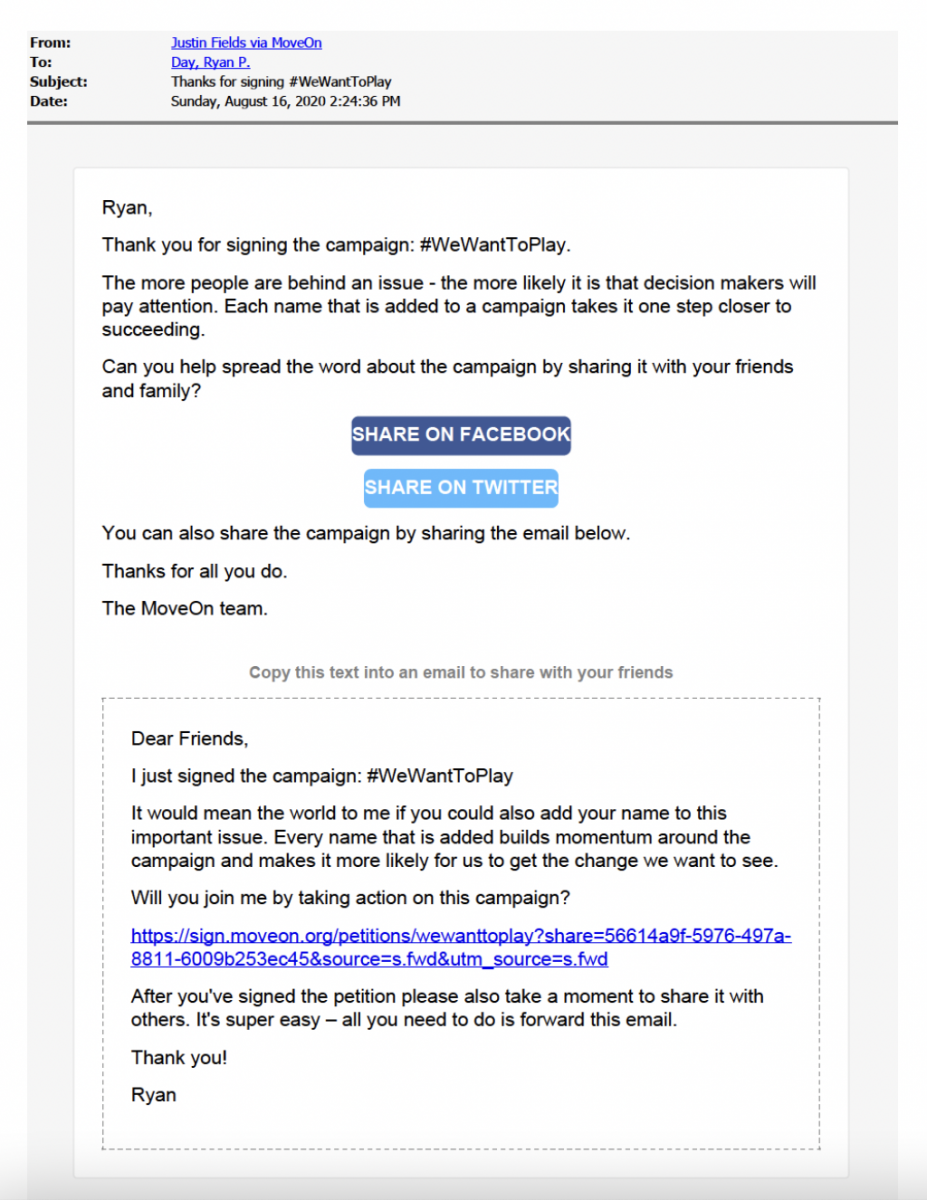 It's obviously nothing major, and it probably would have been safe to assume Day signed Fields' petition without needing to see a confirmation email, but it's still fun to see that with all he was doing to help save the season, he was also doing the simple things, like signing the same petition as everyone else.
Larry Johnson, Kevin Wilson and Tony Alford were among the other Ohio State coaches who signed it.
7. Gene Smith felt like he failed
Gene Smith took a lot of heat from the fanbase during this time on social media, on message boards, and even in his email inbox with many accusing him of not working hard enough or caring enough to save the football season.
But a personal email to a parent of a player, once the season was postponed, reveals just how much Smith cared, and how personally he took it when he felt he couldn't do enough to save the season.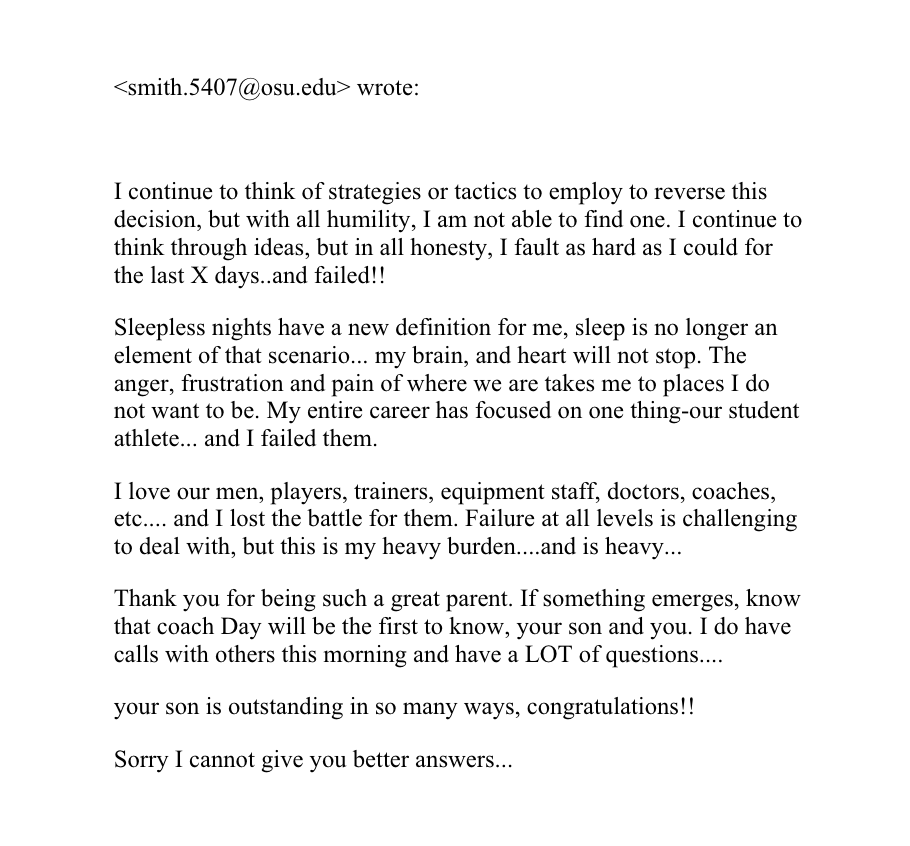 "Sleepless nights have a new definition for me, sleep is no longer an element of that scenario... my brain, and heart will not stop. The anger, frustration and pain of where we are takes me to places I do not want to be."
Reading that, I'm not sure there was a person on the planet who wanted to save the season more than he did.
6. Other teams tried to poach Ohio State players
There was concern that this could happen once the Big Ten elected to postpone the season and other conferences did not, but a text from Gene Smith reveals it as a reality: teams were trying to poach Ohio State players.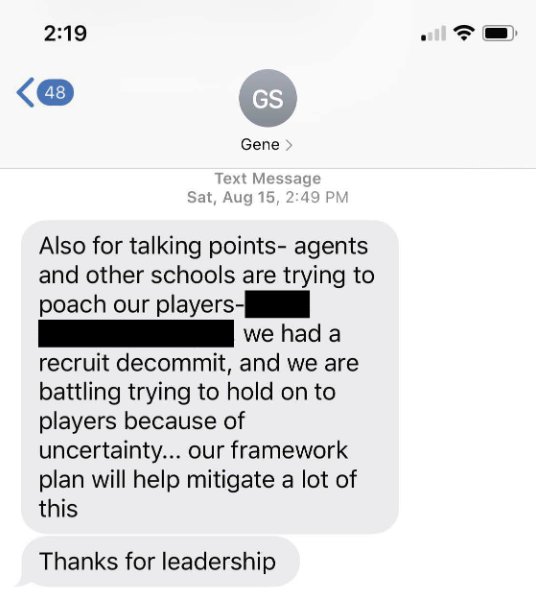 It's not a scenario that ever became reality, but this leads to wondering about what Ohio State's roster and recruiting class would have looked like had the postponement held.
5. Gene Smith expressed frustration with being in a conference
There wasn't a ton of correspondence between Gene Smith and Ryan Day on record as part of these documents, but there was one email where Smith praised Day for his leadership during a frustrating time.
And he revealed that he, like Day and many others at this time, was frustrated at Ohio State's membership in the Big Ten.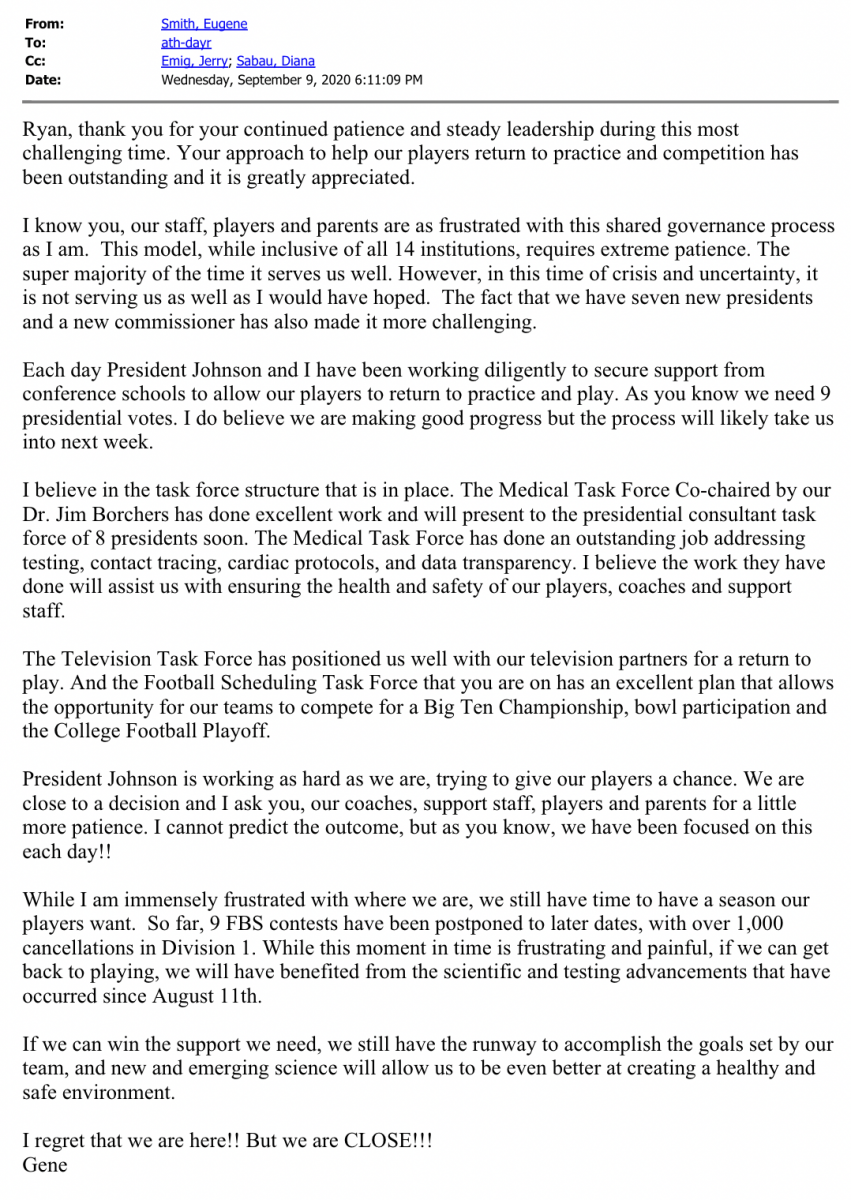 "The super majority of the time it serves us well. However, in this time of crisis and uncertainty, it is not serving us as well as I would have hoped."
Those two sentences probably summed up Smith's conflicted feelings throughout the process, trying to balance between doing what's best in the immediate versus what's best for Ohio State in the long run.
4. Urban Meyer reached out to Kristina Johnson
Kristina Johnson and Ryan Day were both at least relatively new to their positions at Ohio State, but they had a seasoned Buckeye veteran in the athletic offices they could tap if needed.
And he offered his help to Johnson any way he could.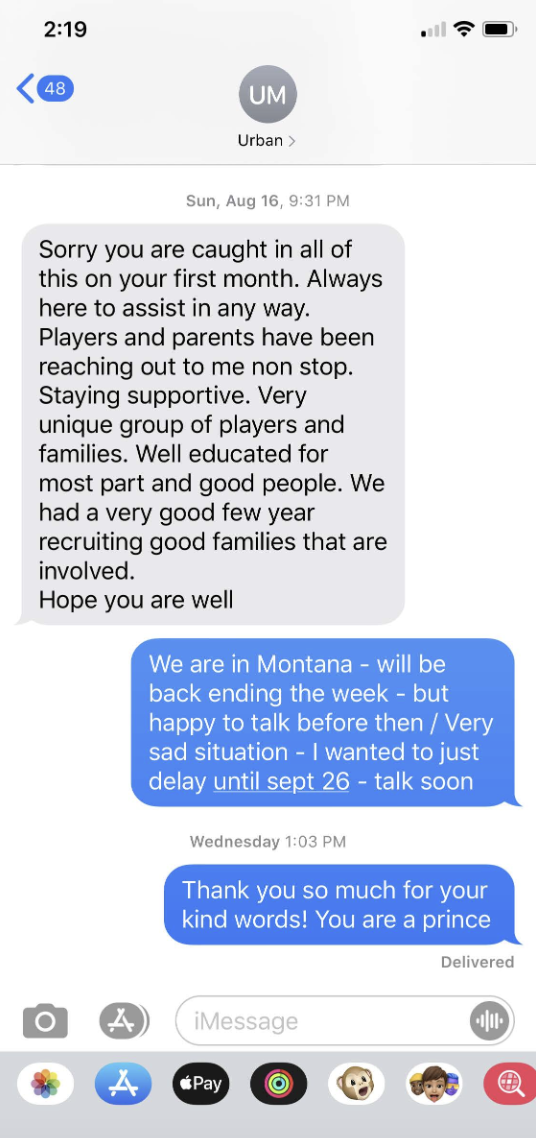 Obviously, everyone's hands were tied in this situation and there was only so much any one person could do, but it couldn't have hurt to have Meyer's expertise and experience with college football, the team, and their families.
3. Ohio State knew they were "getting killed" for not reversing
Let it be known that Gene Smith heard your social media outrage – but he also knew he couldn't do anything about it.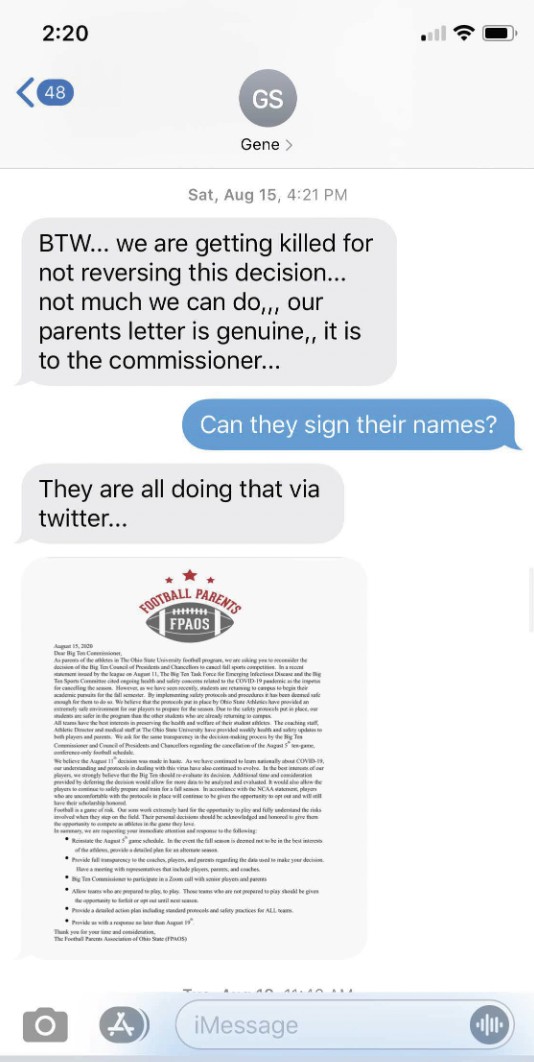 This isn't exactly groundbreaking, but it illustrates just how helpless even the highest-level individuals at Ohio State were in this situation. As Smith stated, everything fell on Big Ten commissioner Kevin Warren.
2. Ohio State seriously considered going Independent
Turns out, the idea of Ohio State playing the season independent wasn't complete fantasy; it was something both Gene Smith and Kristina Johnson seriously considered and even pushed the idea on the Big Ten.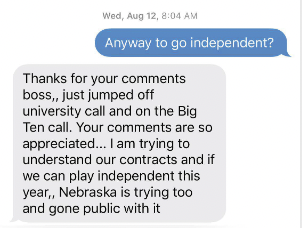 Smith ultimately determined that going independent was not feasible, and ultimately, it was not necessary anyway. But Ohio State at least strongly considered it.
1. Kevin Warren thought the parents' letter was "Manufactured"
Perhaps the most jarring thing revealed in these documents was that according to Ohio State president Kristina Johnson, Big Ten commissioner Kevin Warren did not believe the letter from Ohio State football's parents was legitimate.
In a text to Gene Smith, Johnson said that Warren believed the letter to be "manufactured," and she was not happy about that claim.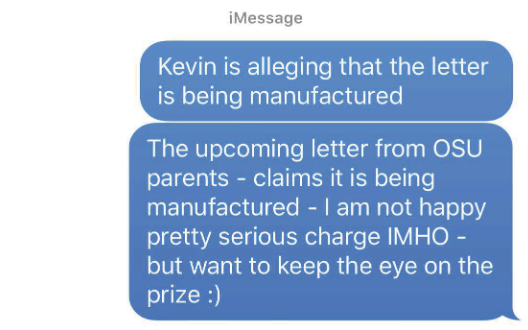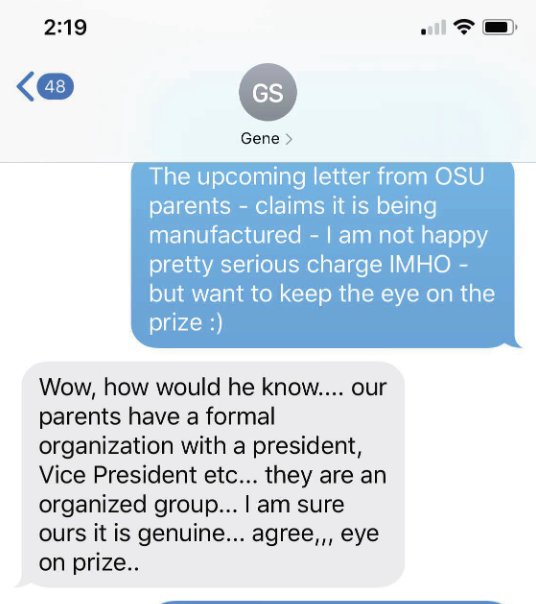 For what it's worth, any doubts were probably put to rest a few weeks later when those same parents protested outside of the Big Ten offices. It's a lot harder to dismiss an in-person gathering of parents as "manufactured."