Even though Ohio State football players, coaches and university leaders all wanted to play a season last fall, the Big Ten initially opted to cancel the 2020 fall football season last August due to the COVID-19 pandemic.
While the season would ultimately be reinstated in September, the initial decision sparked anger from not only Ohio State football players, parents and fans but also from OSU decision-makers including university president Kristina Johnson and athletic director Gene Smith.
On Wednesday, in response to a public records request, Eleven Warriors obtained a trove of text messages and emails from the days leading up to and following the Big Ten's decision that shined a new light on exactly how Smith, Johnson and others at Ohio State responded to the football season being canceled.
After sifting through those messages, we've assembled a timeline that illustrates some of the reactions and concerns from Ohio State officials during that time, starting with Aug. 11, the day the Big Ten initially pulled the plug on fall sports.
Aug. 11
At 11:25 a.m., Johnson reached out with a text message to Smith with a simple question: "Are you ok with postpone to spring?" 
By this point, a spring football season was possible. But it hadn't yet been decided. Smith, when posed the possibility, declined to support moving on to the spring.
"No," Smith responded to Johnson, "if that is proposal we should vote no… in my view.."
He followed up by saying a spring season "may not happen either…"
"In my view it is delay until sept 26th or Oct 1," Smith wrote in his third straight text to Johnson. "Otherwise we should not support is where I am…" he wrote to the incoming university president."
Smith didn't get his wish. At 3 p.m., the Big Ten announced the "postponement of the 2020-21 fall sports season." Effectively, the Big Ten's fall sports – including football – saw their seasons canceled with "the possibility of competition in the spring."
At 3:12 p.m., sports information director Jerry Emig sent a text message to a group chat to say that Big Ten Network wanted to have either Smith or head coach Ryan Day as a guest to speak on the decision. Emig wrote that Day is "devastated by this so I'll not go toward him." Diana Sabau responded to say, "No purpose and too hard. We can skip this." Smith, however, wrote back: "I am thinking of it… I can rally and be positive what time?" A little more than 20 minutes later, Emig texted that Smith is "going on BTN" because he "feels it's right thing to do."
Aug. 12
In an early morning response to an email from a parent whose name was redacted, Smith explained just how upset he was about the season being canceled, writing that he had "failed" Ohio State's football players and that "the anger, frustration and pain of where we are takes me to places I do not want to be."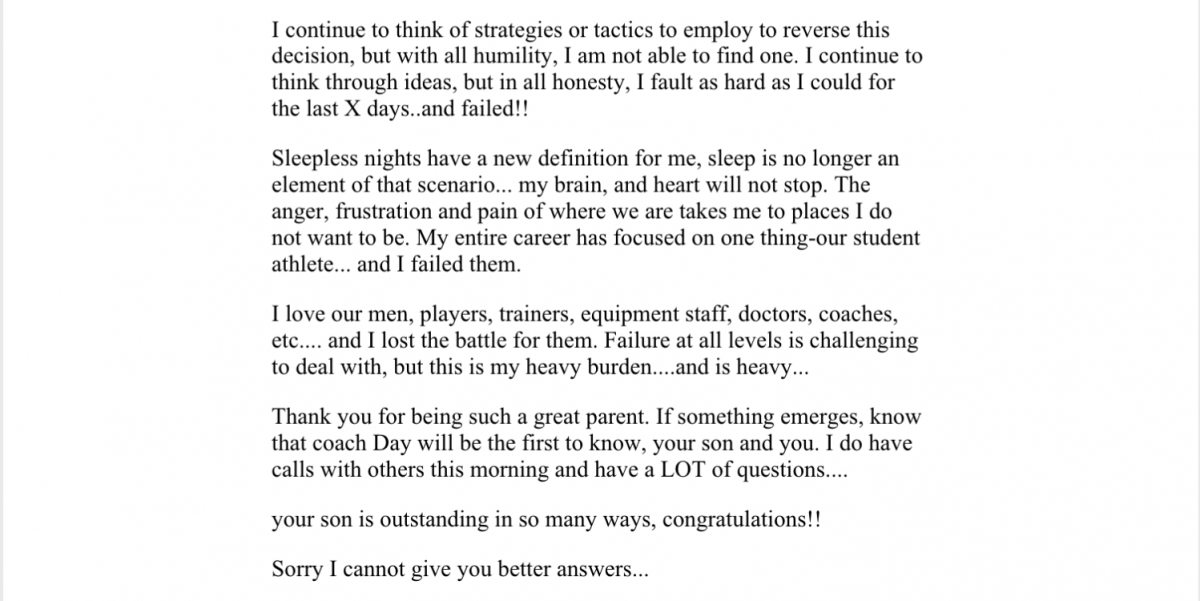 At 8:04 a.m. that morning, Johnson texted Smith asking if there was "Anyway to go independent?" referring to the possibility of Ohio State playing a fall football season outside the Big Ten. Smith wrote back that he was "trying to understand our contracts and if we can play independent this year," noting that "Nebraska is trying too and gone public with it."
Emig sent a group text message at 9:23 a.m. to Chris Davey and Lindsay Komlanc, a pair of Ohio State employees who work in the university communications department. In it, he mentioned that his staff is getting interview requests for fall sports coaches, saying Day would do a conference call at noon. 
"All will be messaged with the talking points from the Big Ten and with the key message being that President Johnson (University) And Gene (athletic department) we're in favor of a delayed start fall season and worked hard for that end result," Emig wrote to Davey and Komlanc.
At 2:50 p.m., Johnson told Smith she had received a call from Nebraska's chancellor, but Smith responded saying "We cannot play this fall" after speaking with Big Ten commissioner Kevin Warren. Smith told Johnson they "were good, working on a spring plan."
Emig sent a text to Sabau and university communications officials Chris Davey and Lindsay Komlanc at 4:52 p.m. saying that Nebraska was "going to issue a statement backing off their fall football plans," after which Smith would issue a statement saying that Ohio State was no longer exploring options to play a fall season.
In a text to Johnson later that afternoon, Smith said the athletic department was "embracing spring" and that Day was on a Big Ten subcommittee designing a spring football model. He also apologized to Johnson, who had not officially started her tenure as Ohio State president at that time, for the situation she was inheriting.
"Appreciate you so much!! So sorry you are transitioning into this!!" Smith wrote.
Aug. 13
Early in the morning, just a bit after 8 a.m., Johnson asked Smith to send her a copy of the Pac-12's COVID-19 return-to-play report, which he responded with. A couple hours later, he asked her to give him a call at some point, which she said she would do, noting she would be "out on a horse all day" since she was in Montana.
Smith sent Johnson a text message at 3:32 p.m. to tell Ohio State's president that "we have developed a model for the spring." Two-and-a-half hours later, he told her that he had emailed it to her. 
"It will work…" Smith wrote in his text to Johnson.
Just minutes later, Emig informed a couple of people that a player – whose name is redacted, though Josh Myers talked to ESPN that day after Jonathon Cooper appeared on the network the day before – would "jump on a Zoom with Espn and talk about things."
"He'll do great," Emig wrote. "Just wanted you to know. (Redacted name) was outstanding yesterday. (Redacted name) will be today."
Aug. 14
At 10:40 a.m., Smith reached out to tell Johnson that he hopes she's on the Council of Presidents/Chancellors scheduled for the following day. She called Kevin Warren to ensure she'd partake.
Smith to Johnson in a text message: "We are sending a proposal to move forward, hope you can volunteer to be on working group."
Aug. 15
Just before 8 a.m., Smith shared via text message a tweet from Corey Teague – running back Master Teague's father – who had quote-tweeted an open letter to the Big Ten from Iowa's football parents association which sought transparency and answers from Warren.
Later that day in the afternoon, Smith sent what he called "talking points" to Johnson. Though it's unclear what they were supposed to be used for, they entailed the following: "Agents and other schools are trying to poach our players - (names redacted) - we had a recruit decommit, and we are battling trying to hold on to players because of uncertainty… our framework plan will help mitigate a lot of this."
Later in the day, at 2:28 p.m., Ohio State's football parents association released a letter onto social media similar to that of the one Teague had shared earlier in the day. The parents addressed it to Warren and made a number of requests, including a reinstatement of the Big Ten-only fall football schedule, full transparency and a Zoom meeting with players and parents. 
Evidently, it didn't go over well in Warren's office.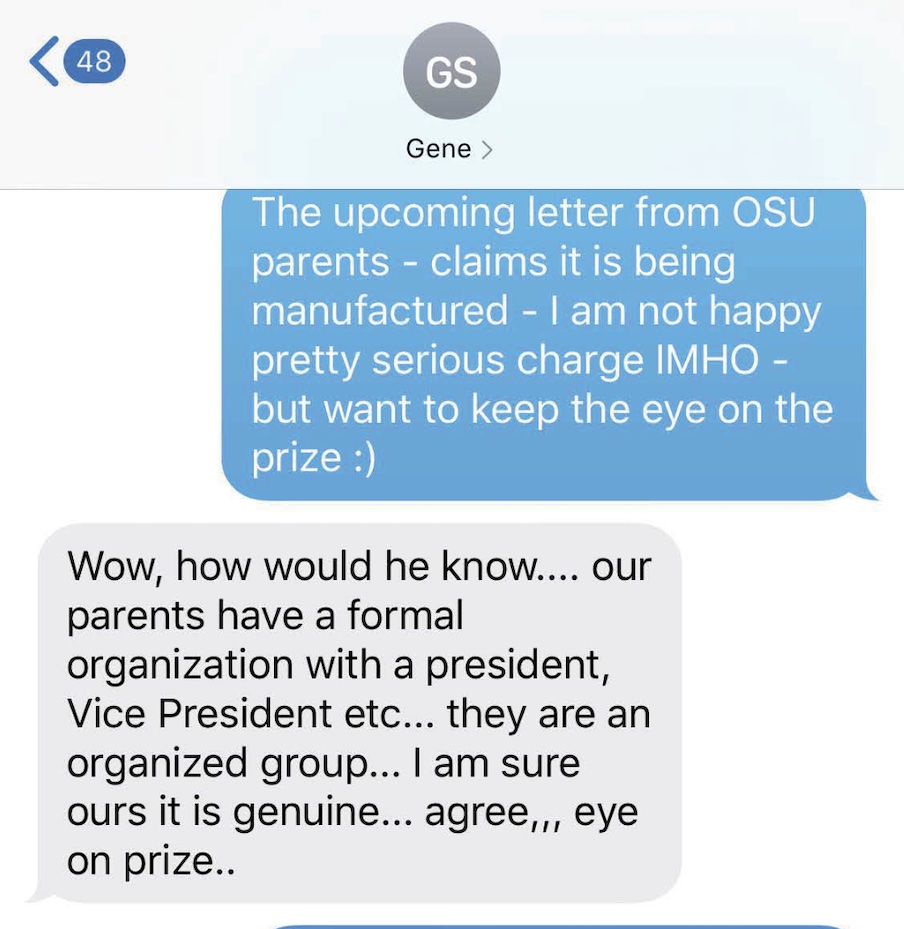 Johnson texted Smith at some point during the day, evidently before the parents' letter was publicized: "Kevin is alleging that the letter is being manufactured. The upcoming letter from OSU parents - claims it is being manufactured - I am not happy pretty serious charge IMHO - but want to keep the eye on the prize :)."
Smith responded via text to Johnson: "Wow, how would he know…. our parents have a formal organization with a president, Vice President etc… they are an organized group… I am sure ours it is genuine… agree,,, eye on prize.."
Later in the afternoon, Johnson asked Smith for his thoughts on whether fall athletes should be given an extra year of eligibility. He told her he didn't think that should happen if they could play in January or February but that he thought they should have an additional year of eligibility if the Big Ten didn't play fall sports. If that happened, he wrote, then they would need to raise scholarship limits.
At 4:21 p.m., Smith text-messaged Johnson to alert her to negative feedback: "BTW… we are getting killed for not reversing this decision… not much we can do,,, our parents letter is genuine,, it is to the commissioner…" Johnson wondered whether the parents could sign their names on the letter, and Smith responded to say they're doing so on Twitter.
Aug. 16
Former Ohio State football coach Urban Meyer, who at the time was the university's assistant athletic director for athletics initiatives and relations, texted Johnson saying he was "sorry you are caught in all of this on your first month."
"Always here to assist in any way," Meyer wrote. "Players and parents have been reaching out to me non stop. Staying supportive. Very unique group of players and families."