When Ryan Day was asked last month if any of Ohio State's 15 early enrollees had made an immediate impression on him during the first few days of winter workouts, he was reluctant to single anyone out. But he did anyway.
"It's hard to say, because once you say something about one, everyone else feels slighted," Day said on Feb. 3. "But I will say I was very impressed with Marvin Harrison. He looked like a different person when he walked in the building. He was 6-3 and north of 200 pounds and looks great."
It can be difficult to stand out in a class of early enrollees that includes eight top-100 overall recruits, especially if you're a wide receiver entering a room that is as loaded with talent as Ohio State's is. Ask any of Marvin Harrison Jr.'s coaches from St. Joseph's Preparatory School, though, and they certainly won't be surprised to hear he's already catching his new coach's eye.
Harrison was ranked as the No. 97 overall prospect and No. 14 wide receiver in the recruiting class of 2021. St. Joseph's Prep offensive coordinator Tom Sugden believes Harrison should have been ranked higher.
"Obviously he got his share of fanfare and publicity and things like that with his name and everything, but I think on a national scope, I didn't think he got the love that he probably should have," Sugden said. "I thought he was the best wide receiver in the country. He's extremely polished. He's an absolute technician.
"He's just an absolute physical specimen, too … He's just getting started."
Harrison had a prolific career at St. Joseph's Prep, setting Philadelphia city high school records with 2,625 receiving yards and 37 touchdown receptions on 144 total catches for the Hawks. Along the way to helping his team win three consecutive state championships, he proved he could step up in the big moments where his team needed him most.
For example, in the Pennsylvania state semifinals in 2019, Harrison made a toe-tapping 12-yard touchdown catch in the right rear corner of the end zone – a bit reminiscent to the catch his new teammate Jaxon Smith-Njigba made in Ohio State's season opener against Nebraska last season – on 4th-and-10 to force overtime against Central Catholic, ultimately leading to a 31-24 win.
Wow: Watch this: Marvin Harrison Jr. with 12 TD catch in back of end zone from Malik Cooper at St. Josephs Prep ties Central Catholic 24-24 with 015 left @SJPrep_Sports @SJPrep_Football pic.twitter.com/GU1Vz4yG3n

— Philip Anastasia (@PhilAnastasia) November 30, 2019
"The biggest plays he made in his career were in the biggest moments, and when we needed them the most," said St. Joseph's Prep wide receivers coach Ryne Morrison. "Countless examples of him making big-time plays in big-time moments. And super dependable, and really a guy that is never gonna stop studying. And where he's at will never be good enough until he hangs it up, until he's done playing."
Harrison's high school film shows a wide receiver who can beat defenses in a variety of ways. Though he was bigger and faster than most of the defensive backs he faced in high school, he didn't simply rely on his size and speed, demonstrating advanced route-running skill for a young wide receiver and the ability to weave through defenders in the open field for yards after the catch. He's never wanted to be one to simply rely on his physical gifts.
"I laugh all the time because when I was getting to know Marvin, I asked him 'What's your favorite route to run?'" Morrison said. "Most guys who are that big and explosive are gonna say a vertical or a fade or something like that, and he listed every route except the vertical or fade. I was like, 'You don't like running behind people on fades?' He was like, 'No, that's boring. I want to make somebody miss.' He wants to be a technician."
Harrison also excels in another area that will be important to his efforts to earn early playing time at Ohio State: Blocking.
"He blocked his ass off for us," Sugden said. "He blocked his ass off every single play, and was relentless. And he was blocking for his brothers. And he's all about the team. He's very much a team guy. He's not gonna be a guy, 'Get me the damn ball.' He's not gonna have that kind of mentality, and I think that's really special.
"He was trying to bury people and put people in the ground. And I think that's pretty special for a guy as talented of a receiver as he is."
"I thought he was the best wide receiver in the country. He's extremely polished. He's an absolute technician."– St. Joseph's Prep offensive coordinator Tom Sugden on Marvin Harrison Jr.
Harrison, who lists Terry McLaurin and Michael Thomas as two of his favorite receivers to watch, has been known to watch "hours of NFL film in his free time," per Morrison, and then take what he learned from that film and apply it to the practice field.
At St. Joseph's Prep, Harrison's coaches were always impressed by his effort and his desire to get better.
"He's an incredible teammate. He's an all-the-time guy. He's ultra-competitive. He's one of those young men who never takes a rep off," Morrison said. "Any time he doesn't win a rep, if it's a competitive period or if it's a non-competitive period where his technique was a little bit off, he doesn't accept the loss. He will jump right back up in the front of the line and get it right.
"Obviously his numbers in the state championship and all that really speak for themselves, but what people didn't see is the time and the work that he put in in the offseason, how much better he got between his sophomore and junior year, between his junior and senior year. And then just watching him work in the offseason every year has been phenomenal for me. And he's gonna take that, and under (Ohio State assistant coaches Brian Hartline and Keenan Bailey), he's gonna take that to another level with Ohio State, and it's going to be fun to watch his career unfold."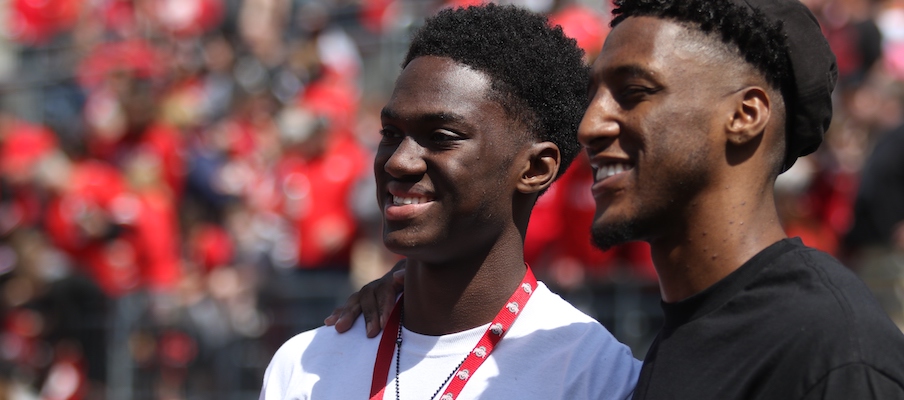 Harrison's coaches also speak highly of his character off the field.
"He's an absolute gentleman," Sugden said. "He's one of the best young men you'll ever come across. He's the kind of kid you would encourage your daughter to marry. That's how good of a kid he is."
Of course, Harrison's name is familiar to many football fans because of who his father is. The elder Marvin Harrison was inducted into the Pro Football Hall of Fame in 2016 and is regarded as one of the greatest wide receivers in NFL history after catching 1,102 passes for 14,580 yards and 128 touchdowns in 13 seasons with the Indianapolis Colts.
Harrison Jr., however, wants to make his own name for himself. While the genetics and tutelage he's received from his father – who spent some time working with the St. Joseph's Prep receivers as a volunteer coach during his son's career there – have certainly helped Harrison Jr. get to this point, he told Eleven Warriors in December that "I'm my own person and it's my own career."
"He's always had a good understanding of 'I'm my own guy, I'm going to write my own story. I have this phenomenal opportunity to learn from my dad and to watch film with him and to be critiqued and to learn how to be a route technician from a guy who's got a gold jacket. But by the same token, I am not my dad. I can do different things than he can, and vice versa,'" Morrison said. "So those comparisons, while they're natural for people to make, Marvin never allowed that to make him feel any type of pressure or any type of discomfort with his performance or anything like that. He's not trying to chase his dad's numbers; he's really doing everything he can to be better than he was yesterday."
Despite his record-setting high school career, polished skill set and NFL bloodlines, Harrison still faces a challenging path to immediate playing time at Ohio State. The Buckeyes return their entire receiving corps from last season, including Chris Olave, Garrett Wilson, Jameson Williams, Smith-Njigba and Julian Fleming. Four other wide receivers who were also top-100 overall recruits will also be trying to break into the rotation this year: Kamryn Babb, Gee Scott Jr. and fellow freshmen Emeka Egbuka and Jayden Ballard.
That said, Harrison understands the situation he's walking into and says he's just concerned about doing whatever he can to help the Buckeyes win.
"I'm just trying to be the best person I can be," Harrison said. "If that correlates to me playing as a freshman or not, I couldn't care less about that. I'm just trying to win a national championship and become the best player I can be."
Harrison does have one advantage that the other freshman receivers don't, that being that he's already played with one of the quarterbacks who will be competing for Ohio State's starting job this year. Kyle McCord was the quarterback who threw the vast majority of passes Harrison caught over the past three years at St. Joseph's Prep, and now McCord is set to battle C.J. Stroud and Jack Miller for the opportunity to be Ohio State's new quarterback.
The chemistry McCord and Harrison have with each other is obvious based on the success they've already had together, and that connection could help both of them in practices this spring and summer as they both look to climb the depth chart in Columbus.
"I'd be willing to bet they put in, I don't even want to guess the amount of hours, just throwing routes and throwing our concepts and pushing each other to be great," Morrison said. "And I don't think that's going to do anything but get more intense once they are in the building (at Ohio State)."