Spring is coming.
Ohio State, just like Alabama, will begin its 15 allotted practices on March 19. That day, the national championship runner-ups will get back onto the field at the Woody Hayes Athletic Center to begin anew in its chase for trophies.
Until then, the Buckeyes will continue their offseason workouts led by Mickey Marotti. To pass the time, we're looking at three things each of Ohio State's defensive assistants will want to accomplish in the spring.
Defensive Line Coach Larry Johnson
Gain Some Comfortability At Nose Tackle
The hope was that Tommy Togiai would stick around for a second season as a starter. Instead, he bounced to the NFL after the 2020 season, leaving Johnson to replace the Idahoan. Jerron Cage, who started in the national championship, and sixth-year Antwuan Jackson will likely get the first reps. Ty Hamilton will be in the mix, too. Johnson doesn't need to leave April knowing the exact answer at 1-technique, but he'll want to have a good idea.
Get Zach Harrison and Tyreke Smith Ready To Make Leaps
Another offseason, same story. The physical traits of Harrison and Smith are nearly unmatched, but their production hasn't quite reached the level Ohio State wants. Not yet, at least. In 2021, the Buckeyes intend for this duo to wreak havoc in backfields. A strong spring camp by those two would give Johnson some good vibes entering the summer.
Build His Rotations
Sometimes, Johnson has a guy like Chase Young who he can't take off the field. Sometimes, he plays two guys at a position a similar snap count. Sometimes, he even goes three deep at a given spot on the line. By the end of the spring, Johnson will surely hope to have a better idea of who he can rely on in his in-game rotations and what they'll look like this fall even if they're not close to locked in.
Linebackers coach Al Washington
Start From Scratch
Perhaps no coach on Ohio State's staff has a tougher job ahead of them than Washington, who loses his top four linebackers. Not a single returner at the position played more than 95 snaps in 2020, and now he has to find three new starters. That could be a longer process than he would like, but this spring will give him a great understanding of the situation in front of him and the guys he'll likely rely on come the fall. Teradja Mitchell, Dallas Gant, K'Vaughan Pope, Craig Young, Tommy Eichenberg, Cody Simon and Mitchell Melton are the returning options.
Get These Guys Game-Ready
Part of the offseason prep by Washington will be about ensuring those in his room will be ready when Week 1 rolls around. Remember, Ohio State doesn't ease into the season. It gets Minnesota and Oregon right away before the Tulsa-Akron-Rutgers-Maryland stretch. Washington has to prepare his eventual starters who have never before started for what's coming their way in September.
Figure Out The Strongside
Mitchell and Gant would seem to have the edge at the two inside linebacker spots – Mike and Will – but the Sam position remains a bit of a mystery. Pope and Young are two prime candidates entering the spring, yet it's not even clear up to this point which of them will enter the 15 practices as the leader. 
Secondary coach Matt Barnes
Improve The Returning Starters As Much As Humanly Possible
What makes the defensive backfield so interesting is that Ohio State could conceivably just run back essentially the exact same starters. Josh Proctor, Marcus Williamson and Sevyn Banks return, and Cameron Brown will also be back once his injury heals. Marcus Hooker's around, too, and he started for more than half of the season. In order for the personnel not to change much, these five players would have to make significant strides, and it begins this spring.
Figure Out What They Have In The Underclassmen
One big issue with a five-game regular season? Ohio State never really learned how much it could trust the freshmen and sophomores on its roster. Every opportunity would have essentially been a chance to throw them into the deep end, hoping they wouldn't sink. Spring camp should give Barnes a chance to get a handle on what he has in Lathan Ransom, Ronnie Hickman, Lejond Cavazos, Bryson Shaw, Kourt Williams, Cameron Martinez and Ryan Watts. 
Leave The Spring With An Idea Of Combinations What Will Work
There exist nothing short of a ridiculous number of secondary personnel groupings for Barnes and the other coaches to consider. Just about everybody can play different positions in the defensive backfield, and a lot of them haven't ever played meaningful snaps yet as Buckeyes. So, these 15 practices will go a long way to Barnes determining who best fits in different spots.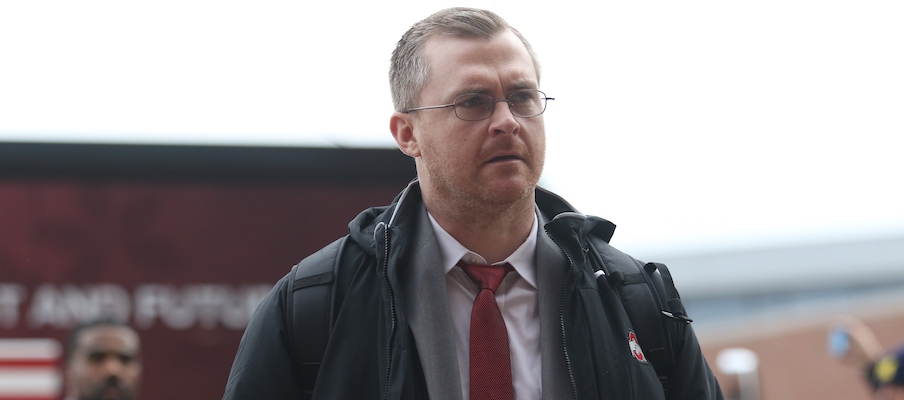 Defensive coordinator Kerry Coombs
Implement Changes To Defensive Scheme
Coombs was hired over a year ago, but last offseason's difficulties with COVID-19 were an unforeseen obstacle. Now, even with the pandemic still going on, he understands the landscape and should have a better understanding of how to approach the offseason, including spring practice. Undoubtedly, there are wrinkles or adjustments he'd like to make to the defensive scheme, and these 15 allowed practices will give him a chance to make them. For a defense that underwhelmed a year ago, the importance of this month-long period cannot go undersold.
Know How to Maximize The Secondary
Before becoming a defensive coordinator, Coombs manned the secondary, both at Ohio State and in the NFL. It's his specialty. So, coming off a year where the defensive backfield didn't reach the standard set by predecessors, Coombs has to work with Barnes to find some way to ensure the issues that plagued the team a year ago don't pop up again.
Determine The Strengths Of This Defense To Build Around
Much of what Ryan Day talks about offensively centers on playing to his team's strengths. He figures out exactly what he has, then builds everything around it. Coombs has to do the same on the defensive side of the ball. From the outside looking in, it's a bit difficult to know what will be the strength of this team defensively. Maybe it's a defensive line that sees guys like Harrison and Smith break through? Maybe the linebackers include some first-time starting studs? Maybe the secondary takes major strides? Internally, Coombs has to know exactly what the defense does best and put the pieces together around it to make it a championship-level unit.
Special team coordinator Parker Fleming
Who's The Punter?
The Australian or the Ohioan? Jesse Mirco or Michael O'Shaughnessy? That'll be one of Fleming's first calls as a full-time assistant coach. Mirco came to the state of Ohio a couple of months ago for the first time in his entire life, choosing to become a Buckeye in September due to the relationship he had with Barnes. As a 23-year-old freshman who trained with ProKick Australia – the same program that produced Cameron Johnston – few have taken his path before. O'Shaughnessy, a rising third-year from New Albany, was the No. 18 punter in the 2019 cycle.
Get Jake Seibert Ready
There's no question as to who will take over for the outgoing Blake Haubeil. Seibert, a second-year from Cincinnati La Salle, is next in line as Ohio State's kicker. He knocked through all 16 extra points he attempted as a true freshman but went 1-for-2 on field goals, hitting a 23-yarder against Alabama and missing a 44-yard try versus Indiana. This spring will be the first time he begins practicing with the team knowing he's both the short-term and long-term answer at placekicker.
Maximize The Return Game
This fall, it'll have been 11 years since Ohio State returned a kick for a touchdown seven years since a punt was taken for six points. Can Fleming make some history and figure out a way to get some more yardage out of the return game? Perhaps. Ohio State certainly has no shortage of athletes, and he's known to have a creative football mind.