In his press conference on Sunday night looking ahead to this week's Big Ten Championship Game, Pat Fitzgerald made it clear just how much respect he has for the coach he'll be going up against this week.
Northwestern's coach said Sunday night that he voted for Ohio State's Ryan Day to be this year's Big Ten Coach of the Year, and said he thinks Day and his staff "have done just an absolutely terrific job" coaching the Buckeyes this season. But while Fitzgerald has long held Day in high regard, he gained even more respect for Day this offseason when he and Ohio State took a leading role in the fight for the Big Ten to play football this fall.
"We had a lot obviously that was on our plate as head coaches, and his leadership in the offseason and his commitment to work his tail off to get this season up and going, I've always respected Ryan incredibly well, at the utmost level, and to see what he did all summer long was awesome," Fitzgerald said. "We were all as coaches trying to assist in the Big Ten in every way that we could, and Ryan I just think was relentless. He was in constant communication.
"I just appreciate, respect and applaud Ryan for his relentless effort. That's not to shortchange what all the other coaches did too, but I think he knew the value of the Ohio State head football coach being relentless, and I think a lot of the credit for us getting going was a lot on him and Dr. (Jim) Borchers and all the folks there at Ohio State."
As highly as Fitzgerald thinks of Day, that doesn't change the fact that he'll be trying to lead Northwestern to an upset win over the Buckeyes. While the Buckeyes have College Football Playoff aspirations, the Wildcats would love to win their first Big Ten title in 20 years. But Fitzgerald knows that isn't going to be easy.
"I'll be a lot grayer by the time we get to Friday," Fitzgerald said. "They're an outstanding football team … They've played clean in all three phases, they haven't really made a lot of mistakes. Maybe they've had a couple of trick plays that have gotten them or some gadgetry, but they've just been so sound in everything that they've done fundamentally, everything that they do to attack you schematically, and then their talent at every position speaks for itself.
"There's a reason why you play the game. So we'll be excited for the challenge, but it's going to be a big one, there's no doubt about it."
Fitzgerald learned just how tough it was to go up against a Day-coached Ohio State team last year, when the Buckeyes beat the Wildcats 52-3 in their home stadium.
"We sure weren't very close last year," Fitzgerald said. "They probably would have had a better game against their twos than the way we played."
Ohio State's loss to Clemson in last year's Fiesta Bowl is still the Buckeyes' only loss since Day became their head coach, and Fitzgerald thought the Buckeyes should have won that one, given the controversial call that took a touchdown off the board when a fumble forced by Jeff Okudah and returned by Jordan Fuller was overturned to an incompletion.
"I still think they should have won that game," Fitzgerald said. "I thought that was a pretty tough call. But I'm a little bit of a Big Ten homer. So I'll just leave it at that. I was throwing stuff at the TV."
As for this year's Ohio State team, though, Fitzgerald certainly isn't expecting the challenge to be any easier. His team has gotten much better, bringing a 6-1 record into this game after going 3-9 last year, but he knows the Wildcats are going to have to be at their best to have a chance to beat the Buckeyes on Saturday in Indianapolis.
"When you watch them on tape, you know they're going to execute well," Fitzgerald said. "They're so well-coached. And they attack you in areas and ways that they believe they have an advantage, either schematically and/or talent, to get a matchup.
"So what do you have to do? First of all, you've gotta handle your business. You've gotta prepare right, you gotta put a great week of practice together, you gotta be mentally focused, you gotta communicate well and then you gotta execute fundamentally, you gotta execute schematically. And then when you have opportunities, you gotta take advantage of them, because they will be few and far between."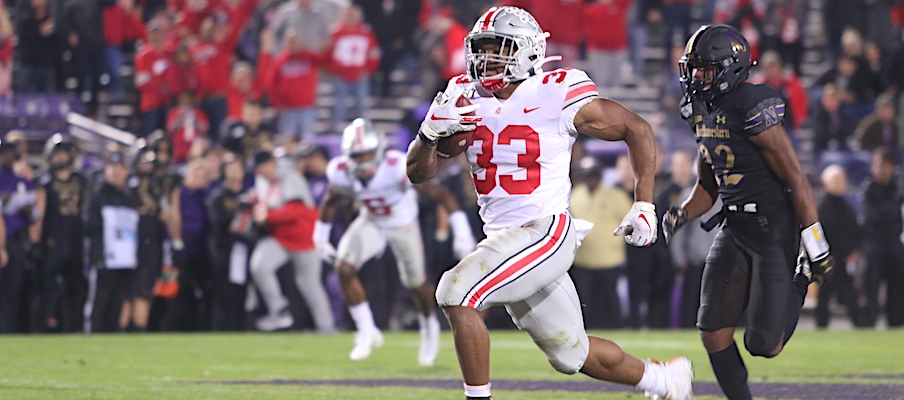 Fitzgerald knows his team is in for an incredibly tough challenge on the defensive side of the ball, first and foremost, as it goes up against an Ohio State offense led by Justin Fields.
"The way that he carries himself, the way he leads that offense and the team, he makes such great decisions with the ball," Fitzgerald said. "When things break down, he can make you pay with his athleticism."
Asked by one reporter what Northwestern could do to take away Ohio State's offensive weapons, Fitzgerald just laughed.
"I'm just going to be hanging out all week trying to figure that out, brother," Fitzgerald replied. "You got any answers, text me, will you?"
Northwestern is coming off a 28-10 win against Illinois in which it ran for 411 yards. But Fitzgerald knows the Wildcats will face more resistance against an Ohio State defense that's allowed just 95 rushing yards per game this season.
"Their front seven is just violent," Fitzgerald said. "They're beyond physical, they're violent. It's a fun, fun group to watch – when you're not playing them."
As Ohio State goes for its fourth straight Big Ten title this week, Fitzgerald said he has the "utmost respect" for what the Buckeyes have been able to accomplish. The respect between Fitzgerald and his coaching counterpart this week will be mutual.
"Fitz does a great job, year in and year out, making it really hard to beat them," Day said last week on his radio show. "They don't give you a lot of free stuff. They challenge you. They've had their staff together a long time – I mean, a really long time – and they know exactly how teams are going to attack you."