The last few days have been tough on Ohio State fans with the Illinois game cancellation putting more than just that one game in doubt. 
It was great to hear Gene Smith, Ryan Day and Dr. John Borchers say the goal is to be able to play Michigan State next week but it's far from certain if that will be possible. 
But all is not lost. Most of you, hopefully, were able to enjoy Thanksgiving, even if not on the typical scale and there were many other happenings worth celebrating as well.
For me, I'm tired of gloom and doom and even more tired of hearing about 2020's version of the C-word. As such, this article will not contain the word and instead focus on Five Things I'm thankful for this holiday season. 
---
SAW IT AGAIN
Up first, I'd like to toast James Franklin's game management even if it didn't come back to bite him in yesterday's 27-17 win over Michigan. 
Facing 1st-and-Goal from the 5 yard line with about 30 seconds left in the half, Franklin unnecessarily dialed up a spike to stop the clock. Looking to put some sugar on top, he then called the always low percentage fade route, particularly with Sean Clifford pulling the trigger, which fell incomplete. Third down resulted in a throwaway before his squad kicked a field goal. Just a hilarious sequence if you aren't a Nittany Lions fan but a brutal one if you're a Penn State fan more than familiar with Franklin's inability to manage clock and game situations. 
Of course, Franklin's Mona Lisa occurred a few weeks back in the season opener as Penn State held a 21-20 lead over Indiana with 1:47 left in regulation and possession of the football. Instead of taking three knees to run out the clock, Franklin called a running play and his tailback broke the plane before realizing what he'd done giving Penn State a 28-20 lead but allowing Indiana a final possession. 
Naturally, the Hoosiers marched right down the field and scored a touchdown and two-point conversion to force overtime before eventually beating the Nittany Lions in overtime. 
In his postgame presser, Franklin repeatedly talked about how he had discussed clock management with his team. That's great but all the damn fool needed to do was have his quarterback take a knee three times, not call a running play and give his tailback a chance to do something stupid. 
This holiday season, I'm thankful James Franklin isn't affiliated with Ohio State's program in any way shape or form. 
DOG LOG
I'm equally thankful for Jim Harbaugh. The Michigan Man's latest masterpiece saw the Wolverines graciously ensure Penn State wouldn't go winless this season, in the Big House no less. 
To the surprise of no one, last weekend's triple overtime slugfest of a win over *checks notes* Rutgers didn't right the ship as Michigan threw for a season-low 112 yards against the Nittany Lions and and failed to rush for at least 175 yards for the fifth-straight game.  
During times like these, I think I'm most thankful for MGoBlog's message board.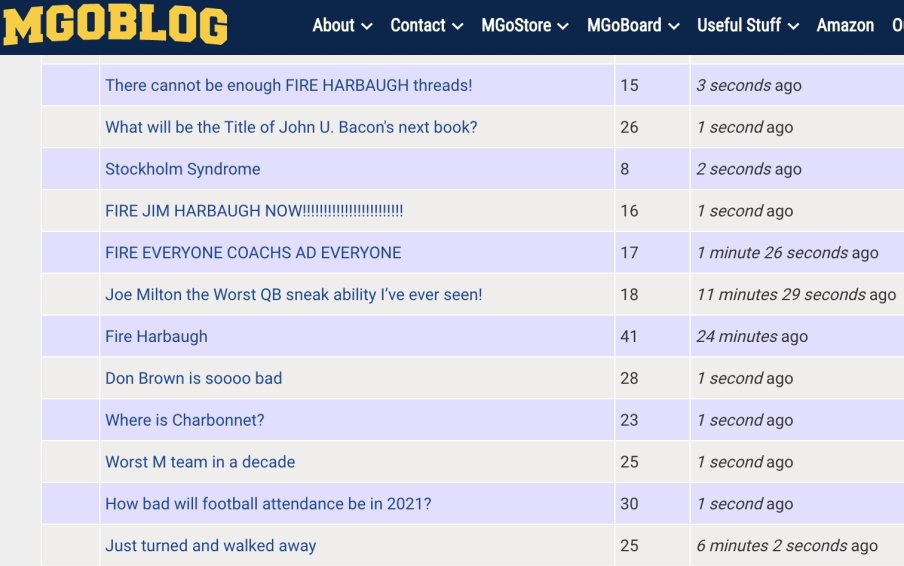 Ahhhh yeah that's the good stuff right there. 
Harbaugh is now 2-6 over his last eight games and Michigan has an 11-10 record dating back to Ohio State's 62-39 win over the Wolverines in 2018. 
He's also 0-12 as an underdog at Michigan, 0-5 versus Ohio State and 2-12 versus Top-10 teams. And yesterday was what, the ninth-straight Thanksgiving weekend in which Michigan fans had an L for dessert? Inject it all directly into my veins. 
STRANGE DESIGN
Keeping the positivity train rolling, I'm also eternally grateful Ohio State is a tradition-rich school with a solid colorway and generally attractive branding and logos.
As such, we get alternate uniform schemes just once a year which are typically fine-to-great and the standard home and away looks are objectively top-5 in college football. 
Meanwhile, you see stuff like this in other programs and it's just not great.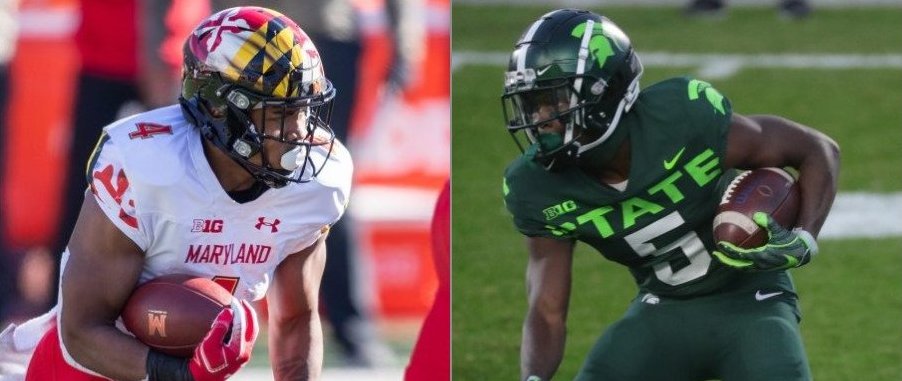 You'd have to be dripping in Maryland state pride to rock anything with that British Knights lookin-ass flag pressed on the helmet. And neon green is simply trying too hard from Michigan State. Those fits were trash when they debuted however many years ago and they refuse to bury them out back. 
Meanwhile, Ohio State was set to wear these yesterday before all hell broke loose. 

But yeah, do you Maryland. 
SHOW OF LIFE
I will come clean and say I've been extremely concerned over the last few seasons about whether or not Chris Holtmann has the chops to remotely come close to the success Thad Matta achieved during his time in Columbus. 
Through last year, his best season came in his first year on the job when he had Matta's recruits, namely Keita-Bates Diop and Jae'Sean Tate on the way to a 15-3 record in conference play before losing in the Round of 32. 
His sophomore season saw the Buckeyes go 20-15 overall and 8-12 in Big Ten play before again fizzling out in the Round of 32. I gave him a bit of a reprieve last year since we didn't get to see what the team might've been able to do in March although again, his best player was really a Matta recruit. 
He did lure DJ Carton to Columbus but that ended quickly, along with Jaedon LeDee, Luther Muhammad and Alonzo Gaffney all leaving after short stays in the program. 
His other notables include starters Kyle Young, Duane Washington and EJ Liddell, along with snagging Justice Sueing and Seth Towns on the transfer market. 
After signing a pair of 3-stars in the 2020 class in Eugene Brown and Zed Key, Holtmann was able to get 4-star point guard Meechie Johnson to Columbus and it looks like maybe he's just getting warmed up. 
The 2021 class features a pair of 4-stars in Malaki Branham and Kalen Etzler and just this month he's picked up two Top-100 guys in the 2022 class Roddy Gayle and Bruce Thornton to join 3-star sharpshooter Bowen Hardman. 
Holtmann still has to retain, develop and maximize the talent of the guys coming to the program over the next couple years but I'll happily admit I didn't see him being able to bring in this caliber of recruits based on his first few classes. 
Liddell, Sueing, Meechie, Branham, Thornton and Gayle, among others, could really bring some excitement to the Schott over the next handful of seasons. I'm thankful Holtmann is tracking to hopefully prove my instincts wrong. 
SET YOUR SOUL FREE
To close it out, pardon me while I go off the sports grid to give thanks for Trey Anastasio. If you've read my stuff over the years, you know I'm a Phish fan and Trey is the band's lead singer and elite guitarist. 
Over the last eight Friday nights, Trey put together a diverse side project band and took over New York City's Beacon Theatre. 
With no fans in attendance, Trey launched The Beacon Jams (on Twitch), free of charge for anyone wanting to enjoy the live webcasts. The shows were a nice break from reality during the pandemic, allowing me to see some live music from my couch and sip some bourbon. 
In typical Trey fashion, the two-hour and thirty minute shows featured zero song repeats across the eight weeks and saw sit-ins from horn and string sections to provide fresh takes on some of his Phish and non-Phish catalog. 
The real joy of the The Beacon Jams run was Trey and company's effort to raise money for the Divided Sky Fund, an arm of Phish's WaterWheel Foundation, focused on opening a treatment center in Vermont (Trey's home state) for people struggling with alcohol and drug addiction. Via Twitch, Trey could see donations coming in real-time and interact live with viewers via chat projected on a large screen facing the band. 
Over the eight weeks, donations to Trey's Divided Sky Fund exceeded $1 million dollars. 
Thanks for indulging me today. Cheers. Hopefully next week's Five Things will discuss a win over Michigan State.