Josh Myers is paying tribute to his late grandfather by changing his number for Ohio State's game against Indiana on Saturday.
Instead of his usual No. 71, Ohio State's starting center is wearing No. 50 – the same number his "Papaw," Donnie Myers, wore during his own football career at Miamisburg High School – for one game only against the Hoosiers. 
Myers has already carried with him a piece of his grandfather, who died in 2009 after a battle with Alzheimer's disease, throughout his own career at Miamisburg and now at Ohio State. Before the start of each of his football seasons, his grandmother Beverly Myers – who he calls "Mimi" – has cut out a square from her late husband's high school jersey and sent it to her grandson with a letter, and Josh has placed that square in his sock to wear during every game.
He decided he wanted to make a more public tribute to his grandfather, though, as a surprise to his grandmother, who was not told he would be wearing No. 50 until he took the field for Saturday's pregame warmups at Ohio Stadium.
"I was cleaning my room one day during the quarantine, and when I left for college, my grandma Mimi gave me this really cool box that opens up and that's where I put all the letters and all of the pieces of the jersey that she's given me over the years. And she actually, when I left for college, cut out the No. 50 in the jersey and gave me the whole number," Myers said on a call with reporters earlier this week. "And I was just looking at the picture of my grandpa wearing No. 50 and then I was looking at the jersey, and the idea just came to me."
Under normal circumstances, Beverly Myers – who Josh says typically goes to every game – would have been at Saturday's game to see her grandson's surprise in person. Because even family members won't be allowed to attend Saturday's game at the Shoe, she and the rest of the Myers family are watching on TV instead. But Josh anticipated she'd be moved by the surprise nonetheless.
"There's no doubt in my mind she'll cry," Myers said. "She's a big crier, she's the sweetest."
Myers says he "had a really good relationship" with his grandfather, who was a three-sport high school star in football, basketball and baseball, and he remains very close to his grandmother.
"My relationship with them has been incredible. As good of a relationship as I could have with grandparents. I love them both so much," Myers said. "I've just been so fortunate to have the family that I have. Just so incredibly loving and caring people. Just blessed."
Before every game, Myers' grandmother sends him a text message that says "Angel on your shoulder," and that's a text Myers always looks forward to receiving before he locks in his focus on playing.
"If I was getting ready for a game and I didn't get that text, I would call her and be like text me," Myers said. "It's everything to me."
Myers will only be wearing No. 50 for Saturday's game because he "wanted it to be kind of a one-time thing that's really cool that my grandma can have as a memory." For the rest of the season, Myers will be back in No. 71 – which he chose as his number at Ohio State because it was his father Brad Myers' number at Kentucky – while 50 will go back to walk-on offensive lineman Nathan Brock.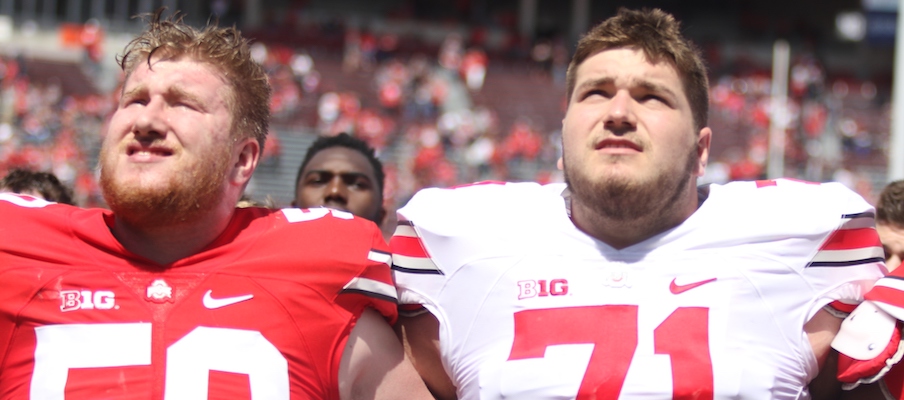 On Saturday, though, it will serve as a reminder that his family is still watching him from afar even though it will be the first game in his football career that his parents won't be in attendance for.
"This is the longest I've gone without seeing my family probably in my whole life. And I'm not going to see them any time soon," said Myers, who says he hasn't gone anywhere except the football facilities and his house since August as he attempts to avoid contracting COVID-19. "So yeah, it definitely just magnifies the importance of it to me. Obviously I miss them like crazy. So I'm excited, it'll be a cool thing."