Kerry Coombs probably remembers his last game against Indiana.
It was an inexperienced Ohio State secondary that traveled to Bloomington back in 2017. Tom Allen and the Hoosier passing attack used that to their advantage and actually had the lead with less than five minutes to play in the third quarter.
The departures of a trio of first-round picks – Marshon Lattimore, Gareon Conley, and Malik Hooker – understandably led to some early struggles in the defensive backfield. At the time of the season opener, Denzel Ward and Damon Webb were the veterans in the secondary. Kendall Sheffield, Damon Arnette, and Jordan Fuller were transitioning into their own roles.
In the 2017 edition, Richard Lagow completed 40 of 65 attempts for 410 yards and three touchdowns. Wideout Simmie Cobbs was especially problematic as he hauled in 11 passes for 149 yards and a score. Some of that production even came against Ward who would go on to have an All-American season. 
Now obviously this isn't 2017 nor is it Ohio State's season opener, but the Buckeyes do have a bit of an inexperienced secondary that's coming off a pair of not-so-great performances against Penn State and Rutgers. Shaun Wade and the rest of the group will need to step it up a bit Saturday afternoon in what should be the most challenging aerial attack they'll face until the presumed playoff appearance.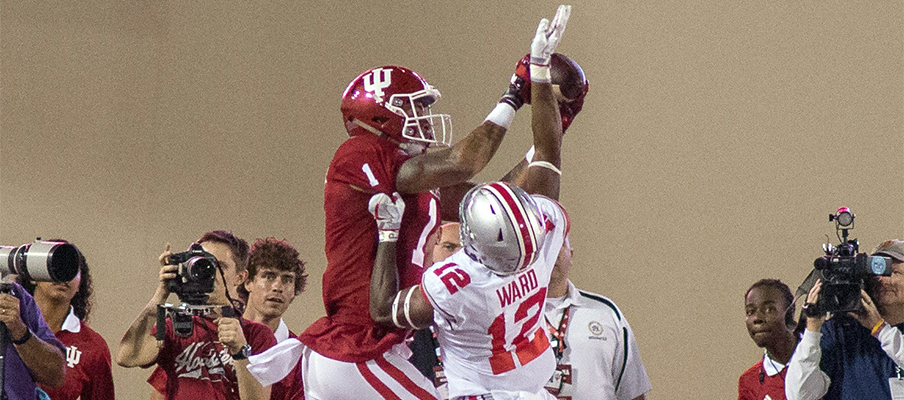 Jahan Dotson gave Wade some problems a few weeks back in Happy Valley. And while it's true the PSU passing game is actually ranked ahead of Indiana's (No. 25 nationally vs. No. 38), is there any defensive coordinator in the country who fears Sean Clifford more than Michael Penix Jr.?
Hoosier senior Ty Fryfogle is currently leading the Big Ten in receiving yards. A big and physical 6-foot-2, 214-pounder, he's fresh off an 11-catch, 200-yard performance in which he also scored a pair of touchdowns. Fryfogle was named the Big Ten's Offensive Player of the Week for the damage he inflicted upon the Spartans in East Lansing. He caught just two passes for 22 yards while going up against the talented 2019 Buckeye secondary. 
Hoosier Pass-Catchers Through Four Games

|   | REC. | YARDS | TD |
| --- | --- | --- | --- |
| Ty Fryfogle | 24 | 424 | 4 |
| Whop Philyor | 24 | 287 | 1 |
| Peyton Hendershot | 14 | 89 | 3 |
Whop Philyor was the team's leading wideout last season as he caught 70 passes for 1,002 yards and five scores. Expected to have a similar role as a senior, he's matched Fryfogle's reception total but hasn't amassed the yardage quite yet. Last week against Michigan State he caught just three passes for 35 yards. In the 2019 matchup against the Buckeyes, Philyor hauled in three for 41 yards. 
Peyton Hendershot did give Ohio State some problems last year. The Hoosier tight end caught four passes for 70 yards and a score. But if we're being honest, most of that damage came on a 49-yard trick-play touchdown right before the half. He's only got 89 yards receiving on the season so far, but he's certainly someone the Buckeye linebackers and safeties will be watching. 
Michael Penix Jr. didn't suit up against Ohio State in 2019. Right now, he's playing like the Big Ten's second-best quarterback behind only Justin Fields. He's mobile in the pocket but only has 13 carries and negative rushing yards on the season. Penix is the league's passing leader thanks to having played one more game than Fields. He's thrown for 1,070 yards with nine touchdowns and three interceptions. He can get a bit erratic as his subpar 60.7% completion percentage is No. 8 in the Big Ten. 
"We know they're going to try to attack us downfield and they're going to challenge us this week, so we have to be ready."– Josh Proctor
In speaking with the media on Tuesday, Ryan Day commended Penix and noted that he's making some big-time throws into tight spots and playing nearly mistake-free football. The lefty suffered an ACL injury in 2018 and missed most of last season due to a shoulder injury. He was finally able to burst onto the scene nearly a month ago when he scored the game-winning two-point conversion in the opener against Penn State. 
Getting pressure on Penix could lead to some turnovers, which is precisely why that's one of the keys to the game on Saturday. Another one of those keys will be how the Ohio State secondary holds up against a potent passing attack. Nebraska didn't pose much of a threat in the opener, but there were some breakdowns and all-around poor play at times against both Penn State and Rutgers.
Shaun Wade has actually been pretty solid outside of two big plays given up to Dotson and a couple of miscues against Rutgers. Sevyn Banks has also been good in his new starting role. But the Cam Brown injury and some up-and-down play at safety have led to some problems at times. Josh Proctor described himself as a bit of a "Swiss Army Knife" and it will be interesting to see how he's utilized on Saturday and moving forward.
After this weekend's contest, the Buckeyes will wrap things up against Illinois, Michigan State, and Michigan. None of those teams appear to present much of a challenge for Kerry Coombs and the secondary. The potential for yet another date with Wisconsin in Indy? Graham Mertz could cause some problems even though Paul Chryst isn't exactly known for his explosive passing attacks. 
Michael Penix Jr. and his pass-catchers will come to Columbus to face a Buckeye defense that ranks No. 51 nationally against the pass. This one should provide a true test for Coombs' secondary as it prepares for a playoff run that could see two of the nation's most explosive passing attacks led by Clemson's Trevor Lawrence and Alabama's Mac Jones.