Just days before the 2015 Sugar Bowl with Jim Harbaugh expected to become Michigan's head coach, star defensive end Joey Bosa welcomed the arrival.
Calling Ohio State-Michigan the "greatest rivalry in sport," he said "you need something like that." At the time, the Buckeyes had won 10 of the last 11 renditions of The Game.
"I think it's exciting," Bosa said. "Some Ohio fans don't like it, but I think it's exciting because what is a rivalry if both teams aren't doing well. He obviously will turn that place around in less than a year."
If that was a reverse jinx, it worked. 
More likely, though, Bosa was simply incorrect – like most people – in his prediction about how Harbaugh taking the job would affect both teams. The Buckeyes have beat the Wolverines five times in a row, Michigan has only finished above third in the Big Ten East once and the gap between the two teams has only grown in the past several years.
Nearly five years after Bosa assuming Harbaugh would turn the Wolverines around within a year, the head coach's job is in peril.
Will Michigan move on from Harbaugh, whose contract expires after the 2021 season, or will it keep him around? Soon, athletic director Warde Manuel and the rest of the decision-makers in Ann Arbor will have to make the decision.
Here at Eleven Warriors, we wanted to find out what Ohio State fans think about the head coach situation. If they move on from Harbaugh, who'd make you the most nervous as Michigan's next head coach?
We had more than 1,200 Buckeye fans fill out a survey with 30 potential candidates. The instructions were simple: From the perspective of an Ohio State fan, rate on a scale of 1-10 (1 being least nervous and 10 being most nervous) being how nervous the person would make you if they became the Wolverines' head coach. 
Here are the results, from most nervous to least nervous, with the average nervousness rating beside their name in parenthesis.
---
Boston College head coach Jeff Hafley (7.25)
Nobody makes Buckeyes fans more nervous than Hafley, Ohio State's 2019 co-defensive coordinator making his head coaching debut this year at Boston College. With two regular seasons remaining, the Eagles have beat Duke, Texas State, Pittsburgh, Georgia Tech and Syracuse to jump out to a 5-4 record. Yes, he hasn't even wrapped up his first season ever as a head coach, but plenty of people rooting for the powerhouse in Columbus would be on guard if Michigan hired him.
53 percent of participants listed their nervousness as an 8, 9 or 10. Perhaps more telling, only 7.7 percent of voters deemed their nervousness about Hafley becoming the next Wolverines head coach a 1, 2 or 3. Nobody else on this 30-man list has so few low-number votes.
"He understands the rivalry well being from his time at OSU. He knows the amount of attention OSU places on The Game which is something Harbaugh has not done." – Spartan13

"Jeff Hafley is a star in the making. He only spent one year at Ohio State, which means his loyalty does not run deep enough to not consider Michigan in the ways that it could affect Luke Fickell. Hafley, if given the chance, could be Michigan's next Bo." – Anonymous

"Hafley scares the daylights out of me. You remember how everyone reacted when they first got a sniff of the guy. He oozes 'it.' That would be a home run hire." – Anonymous

"Recruiting is everything and some of the list aren't there. Ryan Day dealt a death blow to Jimmy when he pulled Mattison and Washington. They would need someone with recruiting chops. Hafley is the one that terrifies most because he know how to recruit and he can out coach a lot of premier teams." – Anonymous

"Hafley scares me the most because he knows how to put together a competent and well-planned program, knows how to run an offense as a defensive coach, and learned from the best in the NFL and at Ohio State. His OSU assistant experience could lead him to Schembechler status." – Anonymous

Cincinnati head coach Luke Fickell (6.97)
Plenty of Ohio State flavor at the top.
Fickell, in his fourth year as Cincinnati's head coach, has turned the Bearcats into a top-10 team that's beginning to out-recruit many Power Five programs. He has, by far, the deepest Ohio State ties of anybody on this list. He was born in Columbus, attended St. Francis DeSales High School, played for the Buckeyes and coached at Ohio State for a decade and a half. Would he even take the Michigan job if offered? There's plenty of skepticism about that.
Many Buckeyes fans would prefer he avoids Ann Arbor altogether. Of 1,156 voters, 51.5 percent rated their nervousness as an 8, 9 or 10. Notably, the number of 1 votes – 10.1 percent – was significantly higher than it was for Hafley, which is why Fickell came in second instead of first.
"Fickell is the best available coach, but won't go to Michigan." – Anonymous

"Fickell at UM is a nightmare scenario, but I wouldn't blame him a bit." – Anonymous

"Fickell would just make me angry." – Anonymous

"The only reason Luke Fickell doesn't scare me is because there is zero chance in this planet that he would ever take that job or be willing to beat Ohio State in a game. None. To be hated and mocked by his OSU family? Never. No amount of money could make him turn his back." – Anonymous

"There's the curious case of Luke Fickell, born and raised and matured under the shadow of the Shoe, yet unfairly scorned by Ohio State fans for a 2011 team that wasn't his fault, and then a defense under Meyer that (probably) wasn't his fault. His success in Cinci speaks volumes to that. You want someone who knows how to respect this rivalry properly, with a chip on his shoulder and the bark and bite of an underdog? Look no further than Mr. Ohio himself, born under John Cooper, raised under Jim Tressel, and became a man under Urban Meyer. Talk about life/coaching experience. The life parallels that can be drawn between Luke and Bo Schembechler are unsettling to say the least. We should all pray that Michigan fans' eyes are not opened to this reality." – Anonymous

Clemson defensive coordinator Brent Venables (5.93)
Naturally, the first possible Michigan head coach to appear on this list who lacks any ties to Ohio State played a role in handing the Buckeyes their last loss. Venables has been Clemson's defensive coordinator since 2012 and coached Oklahoma's defense for over a decade before Dabo Swinney brought him to South Carolina.
More than 60 percent of votes from Buckeye fans were between 5 and 8 on the nervousness scale.
"I found it rather interesting that we are having this discussion about a school as historical as Michigan.. my main candidate for concern was Brett Venables, if you don't think Brett would bring in talent and scheme everybody (including Ohio State) you're crazy if you think otherwise. He's a legend on the defensive side of the ball and should be a head coach." – Bucksknowwhatitis

"I'm also not sold on Brent Venables being able to run a program, but that's not based on any logic." – Anonymous

"Brent Venables HAS OUR NUMBER. Clemson is our kryptonite and him going to TTUN and bringing some Clemson energy to that place would be a nightmare for any Buckeye fan. It would be nice to get him away from Clemson because his mind is their defense but bringing him to our division isn't worth it in my opinion." – Anonymous

"Venables is 10 because he knows how to slow down our offense." – Anonymous

"Venables because if he can get Michigan's defense going, and he knows a good offensive scheme when he sees one (meaning his OC hire), we're dead." – Anonymous

Oregon head coach Mario Cristobal (5.80)
The Ducks have been on an upward trajectory ever since Cristobal took over for Willie Taggart following the 2017 season. They went 9-4 in 2018, 12-2 in 2019 and have a 2-0 record so far this year. He has Oregon rolling on the recruiting trail, too, with the fourth-ranked 2021 class in the nation.
Nervousness ratings of 4, 5, 6, 7, 8 and 9 each garnered at least 10 percent of votes from Buckeye fans.
"Cristobal is the home run. He can recruit, and he's turned Oregon into a physical team. Not the typical bells and whistles team of the past." – Anonymous

"Would be concerned about Cristobal. He learned under Saban and has a good offensive mind." – BloomingtonBuckeye

"Honestly, the only guy up there that moderately concerns me in terms of getting TTUN back into the upper tier is Cristobal. He recruits well, and his teams have a toughness within a conference not known for it. I don't think TTUN, or any other team in the Big Ten, can compete year in and year out with Ohio State at the present moment. But the teams that have done damage have recruited at a good level, and have been able to muck up some things with tough, fundamentally sound teams, as well as some good offensive personnel. Mario Cristobal would be the guy, with Fickell and Hafley being two others that I think could do that." – Anonymous
Iowa State head coach Matt Campbell (5.77)
Campbell was once thought of as a potential successor to Urban Meyer at Ohio State, and now he's a hot name as somebody who could possibly take over the Michigan program. The fifth-year Iowa State coach has the Cyclones out to a 5-2 record this season. He hasn't gone under .500 since his first year in Ames, Iowa. The Massillon native who previously coached Toledo is a two-time Big 12 Coach of the Year.
Like Cristobal, the vast majority of votes on the 1-10 nervousness scale came in the 5-8 range. 
"I still believe though that recruiting Ohio should be priority #1, and that's why Campbell would make me the most nervous. I only gave him an 8 on the scale, but that's mostly because of Ryan Day and the current state of the Ohio State program." – ​RJerome-15Alum

"Campbell seems to be a popular choice, and I think it's tough to gauge based on what he's done in Ames. It's ISU. He's not going to be able to recruit to compete with the Sooners and Horns for a year, but his teams play hard and he's from Ohio I believe." – Anonymous

"Fickell is the best available coach, but won't go to Michigan. Campbell is a very close second... they should be backing up the brinks truck for him." – Anonymous

"Matt Campbell has been a winner at every level and runs an aggressive offense. He has Midwest ties which would be a recruiting bonus." – Anonymous
| NAME | MEAN | MEDIAN | S.D. |
| --- | --- | --- | --- |
| JEFF HAFLEY | 7.25 | 8 | 2.22 |
| LUKE FICKELL | 6.97 | 8 | 2.76 |
| BRENT VENABLES | 5.93 | 6 | 2.30 |
| MARIO CRISTOBAL | 5.80 | 6 | 2.45 |
| MATT CAMPBELL | 5.77 | 6 | 2.10 |
| JOE BRADY | 5.68 | 6 | 2.50 |
| BOB STOOPS | 5.47 | 6 | 2.40 |
| PAT FITZGERALD | 5.36 | 6 | 2.62 |
| PJ FLECK | 5.26 | 5 | 2.25 |
| TONY ELLIOTT | 5.18 | 5 | 2.34 |
| CHRIS PETERSEN | 5.18 | 5 | 2.34 |
| ERIC BIENIEMY | 5.16 | 5 | 2.43 |
| KYLE WHITTINGHAM | 4.99 | 5 | 2.30 |
| JEFF BROHM | 4.93 | 5 | 2.04 |
| MARK STOOPS | 4.73 | 5 | 2.10 |
| DAVID SHAW | 4.68 | 5 | 2.20 |
| BRYAN HARSIN | 4.39 | 4.5 | 2.05 |
| LANE KIFFIN | 4.32 | 4 | 2.35 |
| BILL O'BRIEN | 4.24 | 4 | 2.32 |
| DAN LANNING | 3.64 | 4 | 1.82 |
| JOSH HEUPEL | 3.64 | 3 | 1.86 |
| DAVE ARANDA | 3.61 | 3 | 1.97 |
| JASON CANDLE | 3.53 | 3 | 1.82 |
| LANCE LEIPOLD | 3.46 | 3 | 1.88 |
| DAVE CLAWSON | 3.30 | 3 | 1.76 |
| JAY NORVELL | 3.21 | 3 | 1.72 |
| LES MILES | 3.05 | 2 | 2.15 |
| MEL TUCKER | 2.95 | 3 | 1.79 |
| ALEX GRINCH | 2.23 | 1 | 1.73 |
| JIM HARBAUGH | 1.86 | 1 | 1.55 |
Carolina Panthers offensive coordinator Joe Brady (5.68)
The 31-year-old hotshot offensive mind has shot up the coaching ranks over the past half-decade. He went from a graduate assistant at Penn State in 2015 and 2016 to an NFL offensive coordinator in 2020. Brady gained most of his notoriety last fall when he helped take Joe Burrow and LSU to a national title as LSU's offensive coordinator.
Brady garnered a wide range of votes from Buckeye fans, with the three most popular being 5 (14.9 percent), 7 (14.3 percent) and 8 (13.1 percent).
"Joe Brady - Brings that new kid on the block in terms of a Head Coach experience. As a lot of these young recruits are impressionable, and I can tell you, they know Brady was the mastermind behind burrow and LSU winning the natty, not Coach O." – Ethan

"Joe Brady is on the same level of offensive prowess as Ryan Day and any QB recruiting pitch would probably just be a picture of Burrow." – Anonymous

"The key to Michigan's success in my opinion is their efforts/ability to recruit the state of Ohio. I don't believe they'll be able to recruit at a nationally elite level with the likes of Alabama, Ohio State, and Georgia. That's why some of the bigger names on this list in particular don't worry me as much as others--Venables, Petersen, Kiffin, Cristobal etc. The one exception for me would be Joe Brady. If he could recruit at the same level Hoke and Harbaugh have, I believe he could fix their offensive woes which I feel have been their #2 issue in the Harbaugh era." – RJerome-15Alum
Former Oklahoma head coach Bob Stoops (5.47)
Since the 2016 season has Stoops coached college football. He retired out of nowhere in June of 2017, leaving Oklahoma after an 18-year run with a 190-48 record, 10 Big 12 titles and a national championship. Despite the absence from the game for the past three years, he finishes in the top quarter of this list due to his impressive resumé with the Sooners.
Among the 1,127 responses, he crossed the 10 percent plateau for nervousness votes of 5, 6, 7 and 8.
"Found it interesting that Bob Stoops was included, if he was picked I firmly believe he'd keep the program where it is now. He's a Hall of Fame guy but he and his previous school are notorious for getting close and failing in the big moments." – Bucksknowwhatitis

"If Michigan hired Bob Stoops, I would pop the champagne in celebration!! There's a reason they sarcastically called him Big Game Bob." – Anonymous

"Fickell, Hafley, and Bob Stoops are the only true candidates that reached a 7 or above for me." – Anonymous
Northwestern head coach Pat Fitzgerald (5.36)
The long-time Wildcats head coach finds himself as one of the 10 potential Michigan coaches who make Ohio State fans most nervous due to his 103-79 record at Northwestern where they aren't too accustomed to success. His strong ties to the Northwestern football program make it possible he'd turn down the Michigan job if offered.
A total of 12.1 percent of Ohio State voters rated their nervousness as a 1, but he crossed 10 percent for ratings of 5 (14.5 percent), 6 (14.3 percent), 7 (12.8 percent) and 8 (11.2 percent).
Pat Fitzgerald would be a little scary as I think he's a good coach and it'd be interesting to see him coach with more talent than he can really bring in at NW. – IBleedSandG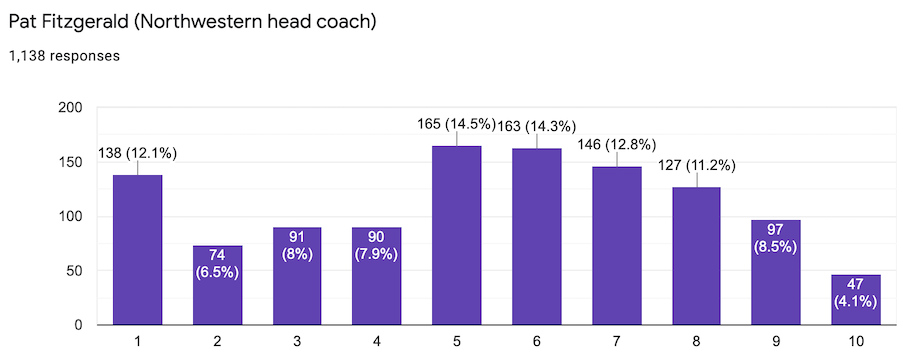 Minnesota head coach P.J. Fleck (5.26)
Perhaps after last year's 11-2 campaign, Fleck would have found himself higher on this list. Still, the average vote was above 5 due to the energy he could bring Michigan after revitalizing both Western Michigan and Minnesota.
The most popular vote for Fleck was smack dab in the middle: 5 (17.3 percent).
"Who makes me the most nervous are the coaches like Fleck and Fitzgerald who often get a lot out of lesser talent." – Anonymous

"Fleck gets flack, and they're struggling, but he was compared to a young Urban when he was at WMU with the way he attacked recruiting." – Anonymous

"I think PJ Fleck knows how to teach this underdog mentality better than everyone short of Urban Meyer." – Anonymous
Clemson offensive coordinator Tony Elliott (5.18)
The second Clemson coordinator appears inside the top-10. Elliott has been with the Tigers since 2011 and is in line for a step up. The 40-year-old assistant hasn't ever been a head coach and the entirety of his coaching career has come in South Carolina.
Only 3.5 percent of votes were either a 9 or 10, with the majority coming in the middle (18.4 percent of votes were 5s).
"Anyone associated with Clemson because they have this magic voodoo curse going against the Buckeyes." – Anonymous

"Don't think either Coordinators at Clemson would take that job." – Anonymous

"The former Buckeyes (Fickell especially) and the current Clemson coaches scare me the most because they have seen first-hand how a modern championship program is built on a foundation of elite recruiting, strength and conditioning, nutrition, video and social media teams." – Rock S.
Former Washington head coach Chris Petersen (5.18)
Petersen gave it all up after last season, resigning from Washington after an 8-5 record, so it's fair to speculate that he likely wouldn't be jumping at the opportunity to coach again so quickly. However, he has a 147-38 career record as a head coach between Washington and Boise State.
Petersen had one of the widest ranges of votes, garnering at least 10 percent for votes of 3 (11.5 percent), 4 (11.3 percent), 5 (13.9 percent), 6 (13.3 percent), 7 (17.7 percent) and 8 (10.3 percent).
"Chris Peterson. That man is a winner and could manage to turn that shitburg up north around." – Anonymous

"Not concerned with coaches who just wouldn't be interested: Chris Petersen, who walked away from a great program at UW - was just done." – BloomingtonBuckeye
Kansas City Chiefs offensive coordinator Eric Bieniemy (5.16)
Though expected to be an NFL head coach, Bieniemy is somebody who'd have the respect of many Ohio State fans. Most of his experience comes in the NFL where he's been the Chiefs offensive coordinator since 2018, though he was Colorado's offensive coordinator less than a decade ago.
Votes of 3 (12.1 percent), 5 (15.5 percent), 6 (13.5 percent) and 7 (13.1 percent) were most popular.
"Eric Bieniemy would scare me because I think he's a really innovative offensive mind. He should be an NFL head coach next year though." – IBleedSandG

"Bienenmy to me is like any defensive assistant under Belicheck. An offensive guy under Reid has to be viewed in that light. Not saying he's not good, just not has high on him as many seem to be." – Anonymous

"Bienamy would scare the shit out of me." – Anonymous

"Scariest candidate? Eric Bieniemy. Name alone will draw recruits, leading Mahomes to a Superbowl sells itself. He is a offense minded coach, and absolutely a hot commodity to be a head coach soon. Former NFL player and players seem to love playing for him. He would be able to almost grab any assistant he want, only adding to the recruiting aspect." – ​THEGAME513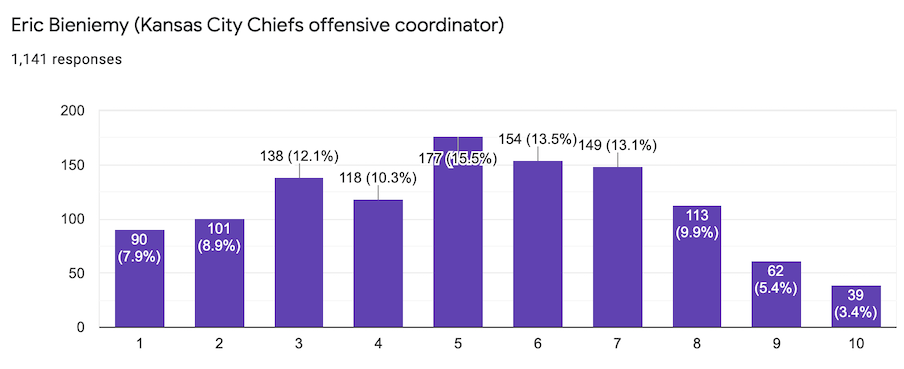 Utah head coach Kyle Whittingham (4.99)
Whittingham took over Utah's program when Meyer left for Florida and has commanded it ever since. He has a 131–64 record while leading the Utes.
As his 4.99 average indicates, the majority of his votes were near the middle – 13.8 percent for 4, 15.8 percent for 5, 14.1 percent for 6 and 13.8 percent for 7.
Purdue head coach Jeff Brohm (4.93)
How would Brohm's placement differ if Purdue hadn't beaten Ohio State in 2018? That's a fair question. But it happened, and he sneaks into the upper half of this list. Between Purdue and Western Kentucky, he holds a 49–32 record.
Votes in the middle – 5 received 19 percent and 6 received 19.6 percent – were popular. Only 2.8 percent of people rated him a 9 or 10.
"Brohm scares me the most, but doubt he could recruit at an elite level." – Anonymous

"The one that freaks me out the most is Brohm. He's shown he can beat OSU and can turn around a program that has much less than TTUN. He wins occasional recruiting battles for elite recruits and gets average players to play at an elite level. He would be the perfect match for TTUN." – Anonymous
Kentucky head coach Mark Stoops (4.73)
The younger brother of Bob Stoops, Mark Stoops has made Kentucky a respectable SEC program. He's 47-48 in his eighth season leading the Wildcats, going sub-.500 his first three years and above .500 the most recent four years.
His votes trended toward 3 (12.1 percent), 4 (14.4 percent), 5 (18 percent), 6 (15.7 percent) and 7 (13.6 percent).
Stanford head coach David Shaw (4.68)
Would Michigan go for a second former Stanford head coach in a row? Shaw, in his 10th season at the helm of the Cardinal, has an 86-36 record.
Most Buckeyes fans, however, aren't overly concerned with what he would accomplish in Ann Arbor. He got at least 9.5 percent of the vote for all ratings between 1 and 7.
Not scary: David Shaw (Harbaugh's offense) – GoBucks1014
Boise State head coach Bryan Harsin (4.39)
Harsin took over for Petersen at Boise State and has maintained the winning ways, reaching double-digit wins in all but one season. In his seventh season, he has a 67-18 record.
Harsin doesn't strike fear in many Ohio State fans. He's the highest-rated coach on this list to get at least 10 percent of votes on ratings of both 1 and 2.
Mississippi head coach Lane Kiffin (4.32)
The Lane Train ended up at Ole Miss this year after he revived his career with a stint as Alabama's offensive coordinator followed by three years coaching Florida Atlantic. He's been a Power Five head coach before, both at Tennessee and USC, though he left the Volunteers after one season and sputtered with the Trojans.
The most popular nervousness rating by Ohio State fans? Just a 1 (14.9 percent).
"Lane Kiffin could magic his way into some bullshit, but it wouldn't last." – Anonymous

"I don't know why but Lane Kiffin actually worries me the most. He's too unpredictable, a good offensive mind and would revamp recruiting with ties to California and the south. It would depend ultimately depend on if he was given proper support by the administration but I could see Lane Kiffin being a thorn in our side for years whether it be crazy games or upsets." – Dakotaz

"I had never thought of Lane Kiffin.... He would bring a new offensive outlook and the spunk TTUN would need for a renaissance." – Anonymous

"Lane Kiffin could excel at UM, but don't think he would be accepted by their snooty culture." – BloomingtonBuckeye

Former Houston Texans head coach Bill O'Brien (4.24)
O'Brien spent two seasons in the 2010s as Penn State's head coach, so he has Big Ten experience. But he just got fired by the Houston Texans after seven seasons as their head coach.
That latest stint sticks in the head of most Ohio State fans. The most popular votes on the 1-10 nervousness scale were 1 (16.1 percent), 3 (14.5 percent) and 5 (13.8 percent).
"Don't think he's interested in the recruiting grind, building a program, or non-NFL." – BloomingtonBuckeye

"Bill O'Brien - Field General." – Anonymous
Georgia defensive coordinator Dan Lanning (3.64)
A chasm exists between the averages of O'Brien (4.24) and Lanning (3.64). We've firmly entered the territory of guys who don't worry Ohio State fans.
Of the 1,000-plus responses, Lanning received only nine total votes of ratings of 9 or 10, and just 14.6 percent of votes were above a 5.
Central Florida head coach Josh Heupel (3.64)
Scott Frost's replacement at Central Florida has worked out just fine, with him leading the Knights to a 27–6 record.
Buckeyes fans? Unimpressed. The three most popular ratings among 1,125 voters were 1 (15.7 percent), 3 (20.1 percent) and 5 (18 percent).
Baylor head coach Dave Aranda (3.61)
Aranda, getting his first shot as a head coach at Baylor, succeeded as a defensive coordinator at Wisconsin and LSU. His tenure in Waco has started with a 1-5 record, though, so he's in for a rebuild.
The two most popular ratings for Aranda were 1 (17.9 percent) and 3 (19.7 percent).
Toledo head coach Jason Candle (3.53)
As an Ohio-born Mount Union product, Candle could become the next Matt Campbell. But for now, he's low on this list due to him still being a MAC coach. He has a 36-20 record at Toledo.
He earned at least 14.9 percent of the vote in all ratings between 1 and 5.
Buffalo head coach Lance Leipold (3.46)
The 56-year-old coach went 109-6 at Wisconsin-Whitewater before Buffalo gave him a Division-I shot. There, he has turned the program around with back-to-back winning seasons.
Leipold, however, is near the bottom of this list. Twenty-two of 1,116 voters gave him an 8, 9 or 10.
"Lance Leipold scares me the most, because I fear he could be the "Jim Tressel" for them. Smaller schools for most of his career but extremely successful and is just a natural winner." – Neil

Wake Forest head coach Dave Clawson (3.30)
Clawson, at his fourth different program as a head coach, has a 40-43 record at Wake Forest. His teams have been over .500 the past four seasons.
Ohio State fans wouldn't fear him whatsoever. A total of 88.5 percent of votes were for ratings between 1 and 5.
Nevada head coach Jay Norvell (3.21)
Norvell, a long-time offensive assistant coach, has led Nevada to a 22-20 record the past four years.
Not enough wins for Ohio State fans to fear him. Ratings of 1 (20.9 percent) and 3 (22.7 percent) were most popular.
Kansas head coach Les Miles (3.05)
Once thought of as a prime candidate to take over Michigan, Miles' stock has fallen off a cliff. The Kansas head coach is 3-15 since taking over the Jayhawks last year.
A remarkable 33.8 percent of ratings were 1.
"Makes the most sense? Les Miles. He knows the area and rivalry (is it really) has head coaching experience at a power program already." – THEGAME513

"Les Miles doesnt scare me. I think that ship has sailed." – Anonymous

"Les Miles and Jim Harbaugh scare me the least because they are washed up Michigan Men who refuse to adapt to the modern game and owe all their recruiting/development hype to their historic universities and talented players." – Anonymous
Michigan State head coach Mel Tucker (2.95)
Tucker bouncing from Michigan State to go to Michigan would be a shocker. But even if it happened, Ohio State fans wouldn't exactly be nervous. 
On the 1-10 scale, the leading vote-getters were 1 (28 percent), 2 (19.3 percent) and 3 (19.1 percent).
"Tucker is a dark horse because he cripples MSU if he leaves. I believe that TTUN owning in state recruiting is not sufficient to catch OSU, but it is necessary. TTUN and MSU have never been elite at the same time long term and that certainly cannot happen with a declining Michigan/Midwest population." – Jimmy
Oklahoma defensive coordinator Alex Grinch (2.23)
Almost zero worries exist about the one-time Ohio State defensive coordinator. He was awarded a steep raise to bring his annual salary to $1.8 million, but Buckeye fans don't fear him whatsoever.
Just 7 percent of votes were in the 6-10 range, and more than 50 percent were 1s.
"First off, I'm still laughing at the Alex Grinch option." – Anonymous

"Alex grinch made me lol. Aside from shitty tackling he doesn't bring much to the table." – Anonymous

"Not Scary: Alex Grinch (for obvious reasons)." – GoBucks1014

"I find it interesting how I can be so enamored with Campbell, but so hopeful TTUN is dumb enough to give the job to Grinch even though they both come from Mount Union." – Eric
Michigan head coach Jim Harbaugh (1.86)
You probably guessed it.
Nobody makes Ohio State fans less nervous than Harbaugh. Not any of the 29 other potential candidates on this list. Nearly 2/3 of voters gave him a 1 out of 10, and only 3.7 percent of participants deemed their nervousness above a 5 out of 10.
Some thoughts from Buckeye fans:
"Not worried about harbaugh staying. His time is done...." – Ethan

"Harbaugh has proven to be a joke. He is a solid "1" on my scale. I hope he gets a ten year contract extension." – Anonymous

"What I'm really scared of that my Chicago Bears will hire Harbaugh once TTUN lets him go. Thus continuing the team's perpetual march towards mediocrity." – C

"Jim Harbaugh makes me least nervous. Personally I enjoy the 20-30 point beat downs every year." – Anonymous

"Please, for the love of God, keep Harbaugh" – IHadToGoogleArchie'sMiddleName

"As someone who has supported Harbaugh for far longer than most, even I can agree that it is time to move on. I sincerely hope for our sake that they wait until we put 100 on them, but I agree it's time for them to move on nonetheless. At the end of the day it is a top-10 coaching job that recruits itself, and plenty of talented coaches would accept it in a heartbeat." – Anonymous

Write-in Candidates
The 30 names we had Ohio State fans vote on weren't the only candidates, of course. Here are some of the other people not on the list who people thought should be considered.
"I think Hugh Freeze is a potential candidate for a lot of jobs but I doubt they would overlook his baggage and Freeze probably wouldn't want to leave the south." – Dakotaz

"Urban Meyer is the only truly scary hire (which won't happen)." – Weave77

"I would include Tom Allen on here. I don't think he will leave for TSUN but I love the way he coaches and the bonding he has with is players. Also, never know how someone may act when a large sum of money is put right in front of them. Seems like a great guy and would bring his OC, Nick Sheridan, and we all know Nick is a former QB for TSUN so he would leap at the chance to get back there. And also Mike Hart, who is on the IU staff as their RB coach." – oprettyricky

"John Harbaugh." – Anonymous

"Jim Leonhard (Wisconsin's Defensive Coordinator) from Tony, Wisconsin, is the scariest not on your list, and quite frankly the scariest if added to the list. Of course he would not go to Michigan being born and raised in northwestern Wisconsin, but list worthy? I would say so as you put others on this list that don't make sense." – Anonymous

"Don Brown....pretty please Santa." – Anonymous

"Going out on a limb , but Coach Steve Sarkisian down at Bama. As long as he is surrounded by good assts and grounded. He may be a good fit to change the ways of the program, especially with Bama coaching on his resume." – Ethan

"Kerry Coombs." – Anonymous

"Obviously he's a candidate that's more out there but Kellen Moore would scare me. He has a great resume for his age and I would bet he'd be able to recruit very well. He's not too far removed from being an NFL QB himself and some of these kids may be young enough to remember him putting Boise State on the map. Don't know much about his coaching but if he goes straight from backup QB to QB coach in the NFL, he must be pretty good with his X's and O's as well." – TxBuckeye5

"BYU's Kalani Sitake." – Relegate Purdue

"I think we have to include Steve Sarkisian, great offensive mind, yes his past isn't great but I think he's learned under saban and has the knowledge and understanding to take the next step." – Bucksknowwhatitis

"Bill Belichick." – Anonymous

"Paul Johnson (Former Georgia Tech Head Coach) (8) - Imagine someone willing to commit to the triple option in the Big Ten. Too often we see P5 teams struggle when having to compete against the military academies. If Michigan's ceiling is 10 wins, perhaps any given year they steal 1 or 2 extra wins due to their uniqueness." – Corbin from NW Ohio

"No Greg Schiano?" – Brian F.

"ONLY other coach I would add, and I think this could be their most realistic option, is Chris Klieman at K-State. Klieman would be like a Tress move. He won 4 FCS national championships at North Dakota St in 5 years. He had a 69-6 record with wins over Iowa and Iowa St. Last season at K-State, he went 8-5 - which is okay for that place. I would think if he had resources of a UM, he'd do fine up there. I think he'd do just fine at recruiting." – BloomingtonBuckeye

"Kevin Wilson. Former B1G coach, excellent recruiter, has redeemed his image from Indiana, knows how OSU works from the inside." – Eric

"You forgot to include former SC coach Will Muschamp or Liberty HC Hugh Freeze. Freeze was a prospect when Harbaugh was hired, and he's the guy I want. 100% scumbag. Got Ole Miss in trouble for recruiting. Then used his company cellphone to get hookers." – keeponbraxtonmebabe

"Mike Vrabel." – Anonymous

"Muschamp was just fired from South Carolina. Could definitely see him heading up North. Also, Mark Richt could come out of retirement but since I've lived in Georgia for 20 years, I think that would be just as much of a pleasure to have Richt at UM as Hairball." – Anonymous

"Billy Napier at Louisiana and Tom Brady retiring to take on the head coaching gig." – Anonymous

"Mark Dantonio. I know, I know, but give him the resources of a Meatchicken and that could be trouble given his past success against the Buckeyes while at Cincy and MSU." – Anonymous

"Brett Bielma missing. Extremely successful in the Big Ten, utter failure in SEC. Could be an off the radar candidate. Worry level: 6." – Anonymous

"Doc Holliday (Marshall Head Coach) (5) - Meyer connection. Well-known recruiter. Fits the mold of a Big Ten coach. May end up being another Bo Pelini (9/10 wins a year) but it beats what Harbaugh is doing." – Corbin from NW Ohio

"Jon Gruden, just because a coaching search without Gruden's name being speculated just wouldn't be right, haha." – AZbucks77