While Ohio Stadium finally reopened for an Ohio State football game for the first time in 11 months on Saturday, it certainly wasn't like any game ever seen before at the Shoe.
Due to a collective decision made by the Big Ten not to sell tickets to the public or to allow marching bands or cheerleaders at games this season because of the COVID-19 pandemic, there were only 1,344 people at Ohio Stadium – the lowest attendance in stadium history – for Saturday's 52-17 win over Nebraska.
After the game, the coaches and players who met with the media acknowledged that it was a very different environment than they were used to.
"It was weird. I'm not going to tell you it wasn't weird. It was quiet. It's something that we're going to all have to get used to," Ohio State defensive coordinator Kerry Coombs said. "Because that's the way it's gonna be. And I think that we will, I think we've handled it, but I'm not gonna tell you it's as much fun. It's not.
"So I missed them. I think our players missed them. There's nothing we can do about it, but let's not kid ourselves either, that's a fun environment when the Shoe's rocking."
While we weren't able to have our full staff in attendance at Saturday's game due to capacity restrictions, I was fortunate enough to be one of about 40 media members who was allowed to watch the game from the press box. I was also able to watch pregame warmups from the designated photography area in the stands.
From three hours before the game when I arrived at the Shoe to the postgame press conferences over Zoom, there were many aspects of Saturday's game that were different than usual, so I compiled a diary over the course of the day of some of the notable differences from my personal vantage point.
---
8:50 a.m. – The drive into campus felt completely different than a typical Ohio State football game day. As I drove up Lane Avenue on my way to the stadium just over three hours before kickoff, there were virtually no signs that the Buckeyes were about to play at noon, other than a small line of Ohio State fans waiting outside the Varsity Club. No traffic. No tailgates. It just felt like a quiet Saturday morning on campus – though it appears that was not the case on High Street:
While there are fewer people occupying the Shoe, the bars along High Street are busy on game day. pic.twitter.com/wEZ0MVNDVM

— The Lantern (@TheLantern) October 24, 2020
8:58 a.m. – My personal moment of truth for the day came after I arrived at the press entrance of Ohio Stadium after I picked up my credential and had my bags checked. To be allowed entry into the Shoe, I had to fill out a wellness check on my phone and get my temperature checked. Fortunately, I passed the screening; my reading came in at a cool 96.8, and I was allowed to enter.
9:04 a.m. – As I arrive up in the press box and look out at the field for the first time, one of the first unusual aspects that stands out is the cardboard cutouts in the stands, which were placed on both sides of A deck as well as the end zone sections where Block O members usually sit. Per Ohio State spokesperson Jerry Emig, 4,770 fan cutouts were installed in Ohio Stadium for Saturday's game, including 62 purchased from the state of Michigan, five from Hawaii, one from Alaska, three from Armed Forces Europe and two from Armed Forces Pacific.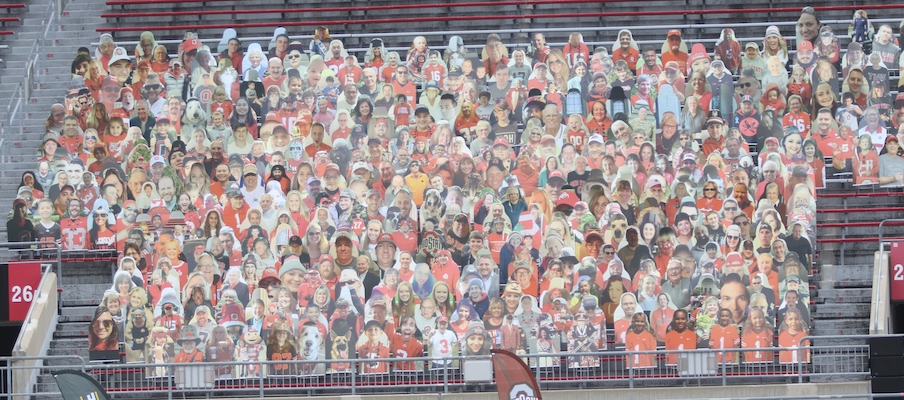 9:55 a.m. – I'm glad to see the sun breaking through the clouds over Ohio Stadium, because it's a much colder day than you'd expect for a typical season opener in early September – when I checked my phone's weather app at this time, it was only 46 degrees. 
10:15 a.m. – I've decided to brave the cool temperatures and head down to the photography area in the stands, where Nebraska players are just starting to arrive and get their first look at the field before warmups. Typically, by now, we would have already seen the Ohio State players walk across the field in their suits after attending Skull Session, but there's no such pageantry today.
10:25 a.m. – The song "Welcome Back" by John Sebastian is playing through the speakers at Ohio Stadium. Seems appropriate.
10:30 a.m. – Per usual, the specialists are the first Ohio State players to take the field for warmups. Now, it's starting to feel a little more normal, although it's still weird to have almost no fans in the stands cheering the players on as they run out of the tunnel.
10:45 a.m. – Just about all Ohio State players are out on the field warming up now, and the classic rock and '80s music that was playing earlier has been replaced by the familiar sounds of DJ Giovanny, whose musical mixes have been a staple of pregame warmups for years. Even with the different protocols in place, Ohio State's warmup routine this year hasn't changed much from last year.
11:24 a.m. – Typically, the Ohio State crowd would be roaring as the Buckeyes congregate in the tunnel to run out onto the field as a team for their second round of warmups. On this day, though, there was effectively no fanfare as the team took the field before dividing up into their positional warmup groups.
Its usually much louder when the Buckeyes take the field. pic.twitter.com/RtziUAHb7R

— Dan Hope (@Dan_Hope) October 24, 2020
11:45 a.m. – With warmups concluded, there's no one at all on the field 15 minutes before kickoff, and this is where things start to feel really different. The sounds of the Ohio State Marching Band can be heard, but TBDBITL isn't actually in the stadium; instead, a recorded performance is playing through the video board.
Noon – Again, it looks weird to see so few people on the field during the national anthem, when the band would typically be performing live with an oversized American flag held up across the field. Instead, it's just the Buckeyes on the field for the anthem – all standing – as Nebraska is still in its locker room.
12:02 p.m. – Usually, both teams would send four captains out to midfield for the coin toss, but this year, teams are only allowed to send one player out to the Block O. Tuf Borland, the second three-time captain in Ohio State history, is an unsurprising choice to fulfill this duty for game one.
12:05 p.m. – After Nebraska won the coin toss and chose to receive, Blake Haubeil kicks the ball down the field and the 2020 Ohio State football season is officially underway.
12:08 p.m. – As Nebraska rips off three straight long quarterback runs on its opening drive of the game, culminating with an Adrian Martinez touchdown run, about the only noise in the stadium is the approximately 200 guests of Nebraska players and coaches in attendance. As someone who's constantly looking down at my laptop and then back up at the field during the game, this takes some getting used to, as I'm sometimes looking down when the play begins and look up when I hear the crowd starting to react.
12:19 p.m. – As Master Teague runs into the end zone for Ohio State's first touchdown of the season, it's not much louder, even though there are about three times as many guests of Ohio State players and coaches here than Nebraska guests. I'm told the crowd noise can be heard on TV, but from the noise-insulated press box, it's not loud enough to hear. And there's no one in the end zone for players to celebrate with after the touchdown, which Justin Fields said took some getting used to for him:
"It was definitely weird," Fields said after the game. "I was looking up to the stands to celebrate with some fans, but nobody was really out there."
12:58 p.m. – A quiet Ohio Stadium actually seems fitting right now after Nebraska scores its second touchdown against a struggling Buckeye defense and ties the game, 14-14, which would have muted most of the home crowd regardless.
1:15 p.m. – Under normal circumstances, you'd probably have heard a lot of booing from the Ohio Stadium crowd when Garrett Wilson was called for an illegal shift on 4th-and-1, nullifying a Fields quarterback sneak for first down. There's no audible reaction – at least not from the press box – with such a small crowd on hand for this game, though.
1:38 p.m. – It's halftime at Ohio Stadium, and there's absolutely no one on the field except for a few members of Fox's TV crew roaming around the sidelines. A recorded marching band performance is playing on the scoreboard, but it's just not the same as the real, in-person thing.
Once again, weve got the marching band on the scoreboard but no one on the field for halftime. pic.twitter.com/MIfdDUYStO

— Dan Hope (@Dan_Hope) October 24, 2020
2:07 p.m. – Now is when a full crowd of Ohio State fans under normal circumstances would have been roaring, as Sevyn Banks just scooped up a fumble and returned it 55 yards for a touchdown, giving the Buckeyes a convincing 38-14 lead. This is when Coombs really noticed how different it was playing without the public in attendance:
"A guy scoops and scores a fumble and you know how that place would have been, it would have been absolutely bananas," Coombs said. "That place is rocking. That's where you want to be."
2:48 p.m. – If my Twitter mentions were any indication, it's fair to say there would have been audible outrage from a normal Ohio Stadium crowd at this point. Four penalty flags have just been thrown on the field as Nebraska safety Deontai Williams gets called for targeting, becoming the second Cornhusker defensive back to be ejected from the game on what was at least the fourth questionable and arguably dirty hit from a Nebraska defender.
2:54 p.m. – I really wish we could have heard the crowd's reaction at this moment after the video replay, which was still shown on the scoreboard as it normally is, shows that Jaxon Smith-Njigba got one foot down for an absolutely spectacular catch at the back of the end zone to extend Ohio State's lead to 45-17.
WHAT A TOE TAP BY @jaxon_smith1

The @OhioStateFB Freshman WR comes up with a big TD for the Buckeyes! pic.twitter.com/2pnGD86fVR

— FOX College Football (@CFBONFOX) October 24, 2020
3:22 p.m. – Just moments after Ohio State's 52-17 win, the Buckeyes partake in their usual tradition of draping their arms over each other's shoulders and singing Carmen Ohio. While they would usually face the student section and band in the south end zone, they instead face the home side of the stadium because that's where their family guests are sitting.
Postgame Carmen Ohio after the 52-17 win. pic.twitter.com/P6YA2qZJGS

— Dan Hope (@Dan_Hope) October 24, 2020
3:36 p.m. – After a normal game, I'd start power-walking my way out of the press box as soon as I hit "Publish" on my instant game recap to hustle across the field and make it to the Victory Bell tower, which is where the postgame press conference is held. On this day, however, I just stay in my press box and load up Zoom, as we're not actually allowed in the press conference room this year for the safety of the players and the coaches.
Ryan Day, Fields, Coombs and Wyatt Davis all address the media after this game, and each of them are asked about the unusual game environment, which Day acknowledges was a "strange feeling."
"I can't sit here and say it wasn't different," Day said. "It was."
Davis, though, expresses that he doesn't think the unusual environment had any negative impact on how the Buckeyes performed.
"It was definitely a little bit weird, but you're so locked in, at least I am and I know the rest of the offensive line, we actually had talked about this after the game, we didn't really notice it just 'cause we already went into this knowing what it was gonna be like," Davis said. "I think that those scrimmages that we had before (for the previous four Saturdays in Ohio Stadium in the weeks leading up to the game) without there being any fans really helped us for today, just to be prepared for the atmosphere. So at least for me personally, it didn't bother me at all."
6:15 p.m. – As I prepare to file this story, there are only a few Fox staffers remaining in the stadium who are working to deconstruct the Big Noon Kickoff stage that was set up for the network's live pregame show. Typically, there'd still be a cleaning crew walking throughout the stands to clean up trash left behind by fans, but because there was such a small number of fans in attendance on Saturday, that work has already been done.
And so is my day at Ohio Stadium. Despite all the abnormalities of the day, it still felt great to be back in the press box for the first time in 11 months and to get to watch the Buckeyes play again. I'm already looking forward to my next game back – when maybe it will feel just a little less weird.