As another season of Ohio State football begins this weekend, Eleven Warriors will again be catching up with beat writers who cover each team Ohio State plays to get their insight on the Buckeyes' next opponent.
For the season-opening edition of Across The Field, we're joined again for Ohio State's cross-divisional matchup with Nebraska by Erin Sorensen, the deputy editor of Hail Varsity, to talk all things Cornhuskers.
After revisiting Nebraska and Ohio State's joint efforts to make the Big Ten's fall football season happen, we discuss where things stand entering Scott Frost's third season as Cornhuskers coach, why Adrian Martinez had to compete for the starting quarterback job, who the other Nebraska players are that you need to know and finally, whether the Cornhuskers can keep Saturday's game close or if it's destined to be a blowout.
Many Ohio State fans gained a new appreciation for Nebraska this summer as the Cornhuskers took a leading role in the fight to save the Big Ten football season. How were Ohio State's efforts in that fight received by Nebraska fans?
Sorensen: Let's start with what Scott Frost had to say about Ohio State on Monday:
"We're grateful to Ohio State. You know, it's strange where you find allies in certain things, and I think we had an ally at Ohio State to try to get the season played. I don't think it would have gotten done without Dr. Borchers there, without Ryan Day continue to push it, Gene Smith, continuing to push it. We certainly fought for it too, because we thought it was the right thing to do to have football. Our kids wanted to play. We thought we could do it in a safe manner. We weren't satisfied with the decision to not play and kept trying to find opportunities to find a way to get it done and we're grateful to Ohio State for having done the same thing. It's two teams that I think have wanted to play all along are playing each other in the in the first game we got a ton of respect for them. I said after last season that was one of the best college football teams that I've been on a field with. I think they were one of the best teams in the country and could have easily won everything last year. That being said, I thought we did a really good job of keeping the game close last year for about five minutes." 
He went on to say he'll cheer for Ohio State every week (aside from Saturday, of course). I would say most Nebraska fans agree with Frost. I think there's a respect there now between the two programs fighting for a season.
I guess we'll see if that honeymoon phase ends after Saturday or not.
How much of a factor do you think the Nebraska players' lawsuit was in getting to the point that the Big Ten actually will be playing football this week? 
Sorensen: I think it added to the pressure the Big Ten was receiving, which ultimately led to the change in decision. With that said, I don't think any pressure would have meant much if it weren't for the access to daily testing. That is likely what sealed the deal, but that doesn't mean the lawsuit, or the pressure from teams like Nebraska and Ohio State, didn't have a place, too.
Nebraska is just 9-15 in Scott Frost's two seasons leading the program, yet he received a contract extension last year. Do you think the Cornhuskers are making progress under his leadership despite the lack of wins so far?
Sorensen: I think so. This is a hard question to answer because it's one that always comes back to bite you in hindsight. With that said, he's recruited this team to fit the culture he wants. The missing piece is really that winning mentality.
I wish I could sum up exactly why Nebraska is a team that's forgotten how to win, but it is. There have been too many examples in recent years where Nebraska is the better team and then it all falls apart. I go back to the game with Colorado last year. The Huskers had a 17-0 lead in the second quarter before letting it all fall apart. There are Buffs fans that will be mad at me for saying so, but I think Nebraska was the better team in that game. Yet, the Huskers lost. That's the piece I can't quite wrap my head around. 
I think the faith is still there – hence the contract extension – in Frost getting things right. Plus, Nebraska does need some patience. We're nowhere near needing to call for Frost's job right now. He's recruiting and developing the talent. We just need to see it win.
Going into last season, there was talk about Adrian Martinez being one of the best quarterbacks in the country and a potential Heisman candidate. Going into this season, he had to compete just to keep his starting job. How did we get to this point, and where does he need to improve this season to re-establish himself as a top QB?
Sorensen: Frost said on Monday that Nebraska essentially has two first-string quarterbacks. How we got here? Clearly Luke McCaffrey has made a pretty strong case for himself in the offseason. He comes from a football family, he did some good things in his redshirt year (which was obviously limited to the four-game rule) and he's fast. All good things that make a player hard to ignore.
As for Adrian Martinez, he had a strong freshman season in 2018 and that put him at the top of all the hype heading into 2019. His sophomore season wasn't quite as solid, but he was also at the mercy of those around him. A number of Nebraska coaches have brought up the need for the Huskers' offense to be better around the quarterback, and it should be in 2020. The offensive line (which I talk about more in the next question) should give Martinez all the opportunity in the world. I'm concerned about the receivers, but I wouldn't be surprised if McCaffrey ends up catching the ball here and there (even if we've been told he's firmly a QB). 
What does Martinez need to do? Better decision-making. That starts with his reads in the passing game, as well as having more authority in the run game. Those two things – which go back to decision-making – will go a long way in re-establishing himself as a top QB.
The reality is that McCaffrey is fast but has room to grow in the passing game. Martinez, while not as fast, can be an effective runner and has the edge in passing. Experience means a lot too, which is why he won the job again. I think the competition is nothing but positive for all involved.
Who are some of the other Nebraska players that Ohio State and its fans need to know about?
Sorensen: Everyone already knows about him but obviously Wan'Dale Robinson. He was a bit of a hybrid last year between running back and wide receiver, which was hard on him. He handled it exceptionally well regardless, but Nebraska is going to have him primarily stationed at wide receiver in 2020. That'll be a big deal. I'm eager to see his production when he's able to focus, especially with the departure of JD Spielman.
Other names to know on offense are running back Dedrick Mills and tight ends Jack Stoll, Austin Allen and Travis Vokolek. Mills will be the bell cow, and rumor has it the tight ends will be more involved this season (and they'll need to be with the questions at wide receiver). We've been told by new offensive coordinator Matt Lubick that the offensive line is the strength of this team, and I believe it. There's a lot of experience. I mean, Nebraska's returning all of its starters on the offensive line for the first time since (at least) 1964. Position coach Greg Austin is making some adjustments and moving guys around, but it should be a major bright spot. Don't sleep on the power of redshirt freshman Bryce Benhart at right tackle. It'll be his first start but he's solid.
On defense, the defensive line is mostly young and mostly inexperienced, but it has a lot of talent. Ben Stille is the senior of the group, but he'll have help from a number of guys like Ty Robinson, Damion Daniels and Jordon Riley. I'm not worried too much about any kind of major drop off on the D-line in 2020. The secondary is also going to be a big deal for Nebraska this season. Deontai Williams is back from an injury, and both Dicaprio Bootle and Cam Taylor-Britt should be playmakers. Outside linebacker is the one spot with the most question marks but JoJo Domann and Caleb Tannor will have to be forces there.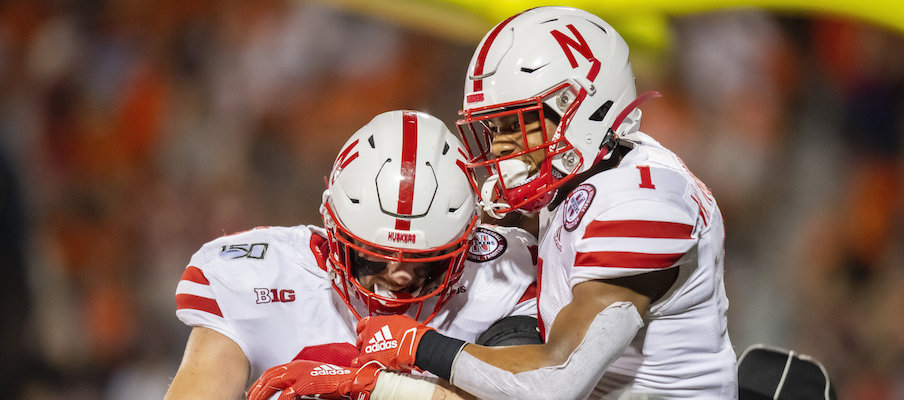 Ohio State is favored to win this game by more than three touchdowns. Do you think Nebraska can keep this game competitive and push for an upset, or is this game destined to be a blowout?
Sorensen: I originally started predicting this game around 56-35 – and I still think there are going to be a lot of points – but I'm backing off my prediction just a tad. I'm now somewhere around a 42-17 Ohio State win. Don't be surprised if I change my mind again before kickoff, though. I'm already tempted to bump that up a bit for both teams.
With that said, Ohio State is as good as advertised. There's a reason Frost was so complimentary about the Buckeyes. Will Nebraska get blown out at Ohio Stadium? I don't think so. I think Nebraska will keep it interesting at least for a while. There are still too many question marks though in key spots for the Huskers that I can't confidently say they'll play it too close with Ohio State.
I've changed my mind. Let's go 52-27, Ohio State.