Ohio State seemingly found the perfect role for Pete Werner when he became the Sam linebacker in the Buckeyes' new defensive scheme in 2019. Going into 2020, however, they've decided to change things up.
Instead of continuing to play Werner at Sam linebacker, where he bounced back from a rough 2018 season to become one of the Buckeyes' most valuable and versatile defenders last season, Ohio State's defensive coaching staff decided to move Werner to Will linebacker, where he'll spend most of his time lining up inside the box rather than outside as he usually did last year.
Given that Werner had been successful at the strongside spot last season, playing the most snaps of any returning defender while showing the ability to cover in space and even dropping back to play safety at times, he admits he was surprised when the coaches asked him to change positions this year.
"I was a little bit shocked, knowing the way I played the previous year," Werner said during an interview session Thursday. "But then again, the coaches know what they're doing."
With the starting Will linebacker spot open now that Malik Harrison is in the NFL, Ohio State's coaches decided that moving Werner to that position – while moving Baron Browning, who rotated with Tuf Borland at Mike linebacker last season, to join Justin Hilliard at Sam linebacker – was the best option as they reset their defense for 2020.
Now entering his senior season and his third year as a starter, Werner is one of the Buckeyes' most experienced defenders, and Werner believes that experience – as well as what the coaches saw on film from his limited snaps lining up inside, particularly in their final game against Clemson, last season – ultimately prompted them to make that move.
"They saw what I did in the box a few plays during Sam, and they really liked it," Werner said. "And I think switching me and Baron, showing different versatility options, I think they really liked that, and I think they thought it would favor our defense a little bit more.
"I just know that switching this position, the coaches saw something when doing it. I think that because of my leadership role and communication skills, I think that you need that more inside the box than you do outside, and they saw that as a benefit."
Ohio State linebackers coach Al Washington said there were several factors that went into the decision to move Werner to Will, including his experience and his well-rounded skill set, and he believes the new position will lead to continued success for Werner.
"Pete's doing a really good job at the Will position," Washington said Thursday. "He's a physical player, he's athletic obviously, he's very bright, he's passionate. I think he can be an impact player at the Will position."
Borland also expects Werner to excel in his new role.
"Extremely versatile, extremely athletic. Has a lot of experience, so you're gonna have that veteran, savvy-type linebacker over there. And most people don't know, he's 245 pounds and he can bring it," Borland said of Werner. "So he's gonna do a great job over there at Will."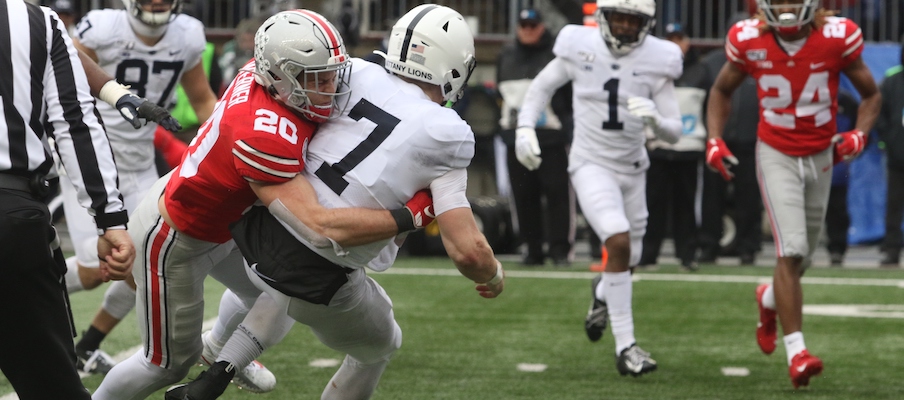 Washington said Werner will continue to move around and line up in some different spots when the Buckeyes have certain packages on the field, but based on what both he and Werner said on Thursday, it certainly sounds as though Werner playing primarily at weakside linebacker – which was termed as an experiment during the spring – is now a plan.
That could ultimately position Werner to make even more plays than he did last season, as he'll presumably continue to be an every-down mainstay for the Buckeyes' defense, like Harrison was when he led Ohio State with 75 tackles last year. And if he performs well in his new role, that could certainly boost his stock after this season as a prospect for the 2021 NFL draft.
"I feel like I have the opportunity to make maybe a little bit more plays. But it's just an opportunity to show more of my versatility," Werner said.
"I think he can be an impact player at the Will position."– Al Washington on Pete Werner
There's less margin for error for missteps at the Will linebacker position, Werner said, so he's had to work on refining his footwork and how to read his keys playing inside. Making that transition has come with challenges, and he's still getting the hang of it, Werner acknowledged Thursday.
Nonetheless, Werner is confident he'll be ready to play his new role when the season opener against Nebraska comes Oct. 24. 
"Because I know a lot about football, and I've been around the game for a long time, the switch has come very natural," Werner said. "There's obviously some footwork and some certain things that I need to work on, but as far as transition, I think it's kind of second nature. But there is minor things that I need to work on."
Werner already felt like he could line up anywhere on the defense because of how well he knows the defense as a whole, and he expects his teammates around him – including Browning and Hilliard at Sam – to be ready to step up, as well.
"They've done a great job. Justin's played that position all year, so he knows it just as well as I do. Baron, he's an athletic kid, he's a smart football player, he's picked up on it very well," Werner said. "(Co-defensive coordinator and Sam linebacker coach Greg) Mattison's a great coach. He's going to get them in the right spot, the right position."