Although we won't get to see any Ohio State football players on the field this fall, we could now get to see some of the current Buckeyes play in scarlet and gray for a year longer than expected.
That became a reality last week, when the NCAA announced it was issuing a blanket waiver for all Division I fall sports athletes to receive both an additional year of eligibility and an additional year in which to complete it, a move made after four FBS conferences – including the Big Ten – and all 13 FCS conferences postponed their fall sports to the spring.
While there's no doubt the Buckeyes would rather be playing this fall, there will ultimately be some players on Ohio State's roster who benefit in the long run from the opportunity to add another season on the back end of their careers.
Although the extra year of eligibility is technically a benefit for everyone, many Ohio State players who emerge as NFL prospects earlier in their careers will never use it; it's safe to say that Justin Fields and Shaun Wade won't be back for a bonus year, as they'll almost certainly be entering the 2021 NFL draft even though they both still have two remaining years of traditional eligibility, and it's likely seniors who have already been multi-year starters like Thayer Munford, Pete Werner, Tuf Borland and Luke Farrell will also move on to pursue professional careers regardless of what happens this year.
For freshmen who would have taken a redshirt year, this will essentially serve as a free redshirt, making it less likely they will take actual redshirts next year or in future seasons unless they are injured. But for veterans who have already taken a redshirt year – or who haven't, but perhaps should have earlier in their careers – this could come as a welcome opportunity to be able to stay at Ohio State for a fifth or sixth year that could make a significant difference on how their Buckeye careers play out.
With all that in mind, we take a look at 10 of the current Ohio State players who could most stand to benefit from having the opportunity to play an additional year of eligibility at the end of their Buckeye careers.
For the purposes of this article, we're going to assume that a winter Big Ten football season will happen and that most of Ohio State's current players will participate in that season, even though neither of those outcomes are certain. The following article also does not include any anticipated midyear enrollees for the recruiting class of 2021; while they certainly could be among those who benefit most from the free year of eligibility if they are ruled eligible to play in the winter season, we're looking only at players who are currently on the roster and would have been eligible to play this fall.
Teradja Mitchell, Dallas Gant and K'Vaughan Pope, LB
All three members of Ohio State's talented trio of junior linebackers could benefit from another year of eligibility, given that they've only been sparingly in their first two seasons as Buckeyes and still were unlikely to be starters on defense if a season was played this fall.
With Borland, Werner, Baron Browning and Justin Hilliard all back for their senior seasons, Gant, Mitchell and Pope were all projected to be backups for the third year in a row, leading many to question whether Ohio State made a mistake by not redshirting them as freshmen.
Now, though, all three are essentially getting that redshirt back, giving them the potential to start for at least two years as Buckeyes no matter what happens with the postponed season. 
Of course, it's also possible any of the senior linebackers could return for another year, which could delay the younger linebackers' opportunities to be starters even longer. But that would be a bit of a surprise, considering that those four all made the Senior Bowl's Top 250 watch list and will likely pursue NFL careers next year.
It's also possible that any of those seniors could opt out of a winter or spring season, which could open the door for Gant, Mitchell or Pope to start sooner, and even one big season next fall could be enough for any of them to make their mark as Buckeyes and legitimize themselves as NFL prospects. But it's a good benefit for all of them – and for the experience of Ohio State's linebacker unit in 2022 – that they have the opportunity to stay for a fifth-year senior season in their back pockets.
Marcus Williamson, CB
After playing just 185 defensive snaps – mostly at the end of blowouts – in his first three seasons at Ohio State, Williamson looked like he might have only one more chance to make his mark in the Buckeyes' secondary. Williamson didn't redshirt any of his first three years at Ohio State, so he was entering his final year of eligibility.
Now, though, Williamson has the opportunity to get the redshirt back that he probably should have taken earlier in his career and potentially become a two-year difference-maker on the back end of Ohio State's defense.
Already a top candidate to be Ohio State's new starting slot cornerback this fall, Williamson could become the clear-cut frontrunner for that job if Wade doesn't play in the winter, as that will likely keep Sevyn Banks, Cameron Brown and Tyreke Johnson all playing outside. Given how little he's played so far in his Ohio State career, though, he might need a full season next fall to improve his stock as an NFL draft prospect.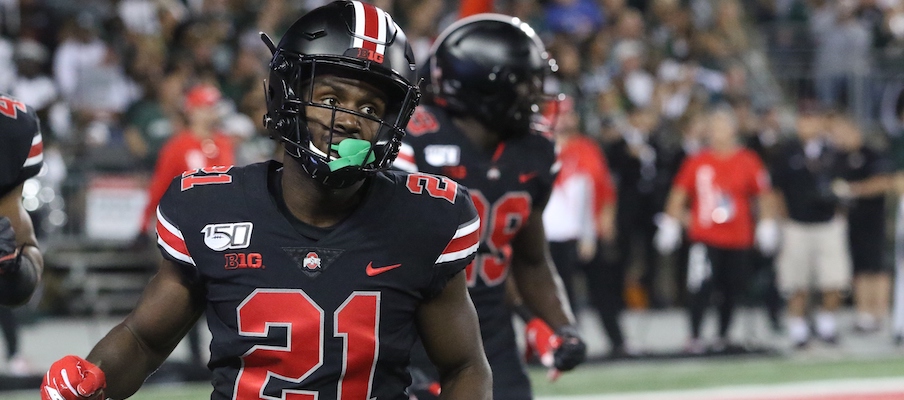 Dawand Jones, OT
It came as a surprise when Jones didn't redshirt last season, and that decision continued to be second-guessed even this offseason. While it's possible he could be one of Ohio State's starting offensive tackles the next time the Buckeyes play a game, it's also possible he could be forced to wait his turn behind Nicholas Petit-Frere and Paris Johnson Jr., which would put him in jeopardy of never getting his chance to start for Ohio State – or at least not until his senior year.
An additional year of eligibility, though, significantly improves his odds of eventually becoming a starter – and potentially a multi-year starter – on the Buckeyes' offensive line. While Petit-Frere could technically now stay at Ohio State for four more years, too, that would be a surprise, as he's more than talented enough to quickly emerge as an NFL prospect if he wins a starting job. Johnson will be a candidate to be a three-and-done player at Ohio State regardless of what happens this year.
There's a chance Jones could start as soon as this winter, depending in part on whether Munford chooses to play or turn his focus to preparing for the NFL, and if that happens, Jones might never need to use that extra year of eligibility. But at a minimum, it should erase any regrets Ohio State might have had later about not redshirting him last year.
Kamryn Babb, WR
Even though Babb was sidelined for the entirety of his first two seasons at Ohio State due to knee injuries, there's now a chance he could still end up playing four seasons for the Buckeyes.
While Babb, like Justin Hilliard, probably would have been a candidate to receive a rare sixth year of eligibility from the NCAA because he missed two full seasons due to injury, he won't have to worry about the uncertainty of that process now, and he's got plenty of time to still make his mark in Ohio State's offense.
Although it's hard to know what to expect from Babb until he finally gets his long-awaited opportunity to play in a game for the Buckeyes, he was a top-75 national recruit out of high school who arrived at Ohio State with high expectations. The Buckeyes are loaded with young talent at receiver and have more coming in next year, so earning a spot in the rotation won't necessarily get any easier with time, but he could be a candidate to make a bigger impact in his fifth or sixth year than in either 2021 season simply because he's been out of action for so long.
Jaylen Harris, WR
There's been some confusion over whether Harris is a redshirt junior or a senior – he played in only four games in 2018, preserving his redshirt eligibility, but is listed as a true senior on Ohio State's official website – but it doesn't matter as much now, as he'll have at least one more season of eligibility remaining after this year thanks to the NCAA's ruling.
Like Williamson, Harris is a fourth-year Buckeye who's only occasionally seen the field in his first three seasons at Ohio State, but his opportunity to play a big role could finally come whenever the Buckeyes play next, as they have a wide open depth chart at X receiver. Also like Williamson, he probably needs a full season to legitimize himself as an NFL prospect at this point, so it's important for him to have at least one more year after this year if the Buckeyes only get to play a partial season this winter or spring.
Because of the aforementioned talent at wide receiver, Harris has to prove he belongs on the field to finally get his chance to start or at least play significant snaps. If that doesn't happen this winter, he might need to consider using his extra year of eligibility to transfer elsewhere. But the chance to make a impact for the Buckeyes is still in front of him, and having another year to potentially do so could go a long way in defining his Ohio State career.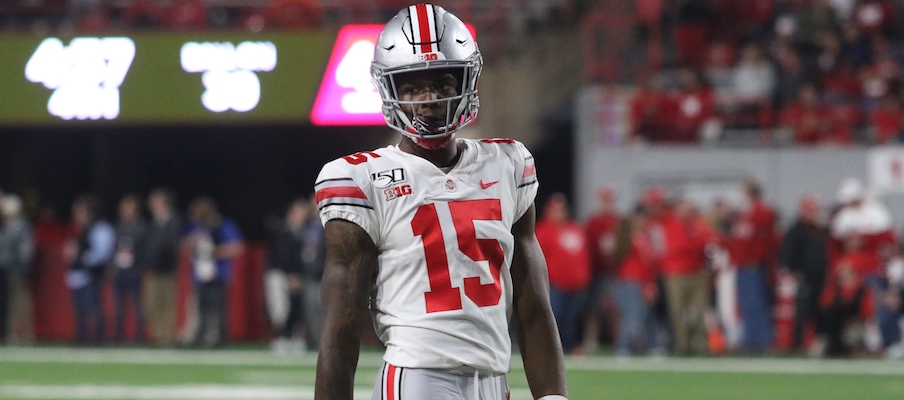 Trey Sermon, RB
Sermon would probably be selected in the 2021 NFL draft even if he never plays a snap at Ohio State, so there's a real chance Sermon will never play a snap for the Buckeyes after graduate transferring to OSU this offseason. If he feels like he needs to play a season for Ohio State to bolster his draft stock, a winter season could be enough to do that.
If Sermon wants to play the traditional fall season in Ohio Stadium that he came to Ohio State for, however, he'll now at least have the option to do so by returning for a fifth-year senior season. That also means he has the opportunity to potentially two seasons for the Buckeyes when he initially had only the option to play one.
Whether Sermon should go pro now, play in the winter then enter the draft or stay for next fall and enter the 2022 draft could be a tough decision with no easy answer, but considering the trouble he had to go through to transfer to Columbus, it's good that he'll at least be able to make that choice.
Jack Miller and C.J. Stroud, QB
Stroud and Miller take the last two spots on our list not because it's likely that either of them will be at Ohio State for six years, but because it eliminates the question of whether either of them should redshirt this season, allowing the Buckeyes to play both of them as much as they want in a winter/spring season without having to worry about compromising their long-term options.
That's true for every freshman, increasing all of their potential to play in as many games as possible once they finally get to play their first season, but it could be especially beneficial for the quarterbacks – and their team – to know they're getting a free year of eligibility no matter how many games they play in.
If Fields opts out of the winter season, it's possible Stroud or Miller could be the Buckeyes' new starting quarterback for that season. Regardless, Ohio State will certainly want to get both of them reps when they can. And as long as the Buckeyes play this winter, they'll be able to do that without worrying about either of them losing a year – which could give whoever doesn't ultimately win the starting job more incentive to stick around with another year to potentially start later, or at worst, give him another year of eligibility to take with him if one of them ultimately decides to transfer for a chance to start elsewhere.