For the fourth time in five years, Ohio State has seven captains for the 2020 season. And Ryan Day, quite frankly, believes the Buckeyes could have named several more.
"I don't want to be overdramatic, but the leadership that we've had on this team, we probably could have had 11 or 12 captains," Day said Thursday. "I didn't want to make it over the top, but we have great leadership."
That leadership starts with the seven Buckeyes who were named captains, and they're an impressive group by themselves. 
Tuf Borland is a captain for the third time, joining J.T. Barrett as just the second three-time captain in Ohio State history. Jonathan Cooper is also a returning captain. Justin Hilliard brings a rare wealth of experience within the program as a sixth-year senior.
Justin Fields was such an impressive leader in his first season as a Buckeye that Day said Fields could have been a captain last year if he wasn't an underclassman. Mickey Marotti said earlier this year that Wyatt Davis "gave probably the most inspiring talk to a team in a winter program that I've ever heard in my life," and Josh Myers is held in similarly high regard as a leader who plays right alongside him on the offensive line. Shaun Wade doesn't consider himself to be a really vocal person, but Day said Wade shouldn't sell himself short; "when he speaks, people listen," Day said.
The captains of the 2020 Ohio State Buckeyes football program.@wyattdavis53@Tuf_Borland@WadeShaun2017@JHilliard47@justnfields@JonathonCooper7@josh_myers71#GoBuckeyes pic.twitter.com/ZvSDvThZdc

— Ohio State Football (@OhioStateFB) August 4, 2020
It only helps their leadership that Fields, Wade, Davis and Myers are all considered to be among the very best players at their positions in all of college football, while Hilliard is one of the most veteran players in all of college football and Borland and Cooper are both fifth-year seniors with starting experience across multiple seasons.
"I think this group is really impressive in so many areas," Day said of the captains. "When you look at their accomplishments in their young careers as a group, it's already really long and like I said very impressive."
Those captains understand that the honor of holding that title for the 2020 Ohio State football team comes with a responsibility to consistently set a positive example while holding their teammates accountable.
"There's a huge responsibility that comes with that, and in a sense, all eyes are on you every day," Borland said. "So you got to attack every day with great energy, great demeanor, the way that you work, because everyone will be watching."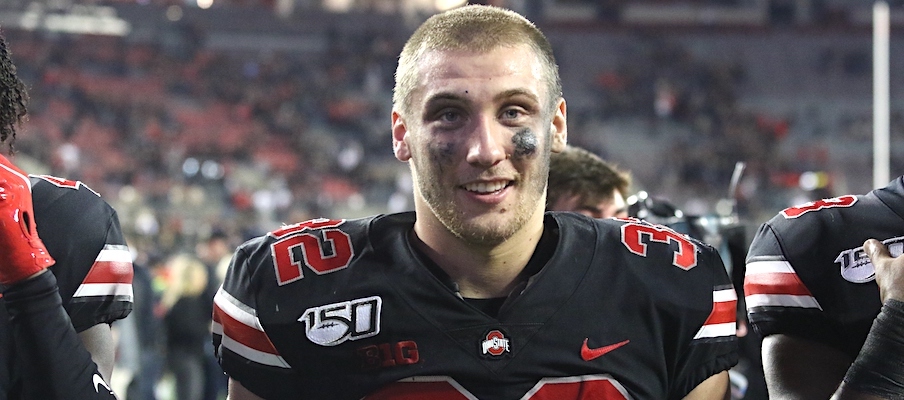 Beyond the seven Buckeyes who were chosen as captains by their peers, there's several other upperclassmen who also easily could have been. Day didn't specify who else he had in mind, but it's presumable that senior linebacker Pete Werner and junior wide receiver Chris Olave were also on the short list of potential captains, while senior left tackle Thayer Munford and tight end Luke Farrell would have been other logical choices. Even without the title of captaincy, all of them will have the opportunity to be team leaders too, and Day has also been impressed by the leaders he's started to see emerge among Ohio State's underclassmen.
"We have good leadership from the freshman and sophomore class as well, but the upperclassmen … just to hear them speak and just the way that they handle themselves like men is just really impressive," Day said.
Even C.J. Saunders, who was one of Ohio State's 2019 captains but was denied a sixth year of eligibility to play in 2020, will give the Buckeyes an additional team leader as he'll be staying within the program to work with the coaching staff this season.
Ohio State's player leadership appears to be as strong as ever entering the 2020 season, and it's certainly going to be as important as it's ever been. The Buckeyes have already had to weather an unusual offseason in which they were away from campus and apart from each other for three full months, and it's likely they will have to continue to weather a multitude of atypical challenges all year long as the COVID-19 pandemic continues.
But it's because of that player leadership that Day is confident his team will be ready to play a month from now if it is able to play its games as currently scheduled, and why he believes the Buckeyes have the potential to perform at a championship level.
"It's one thing to come from the coach, but when you have players get up in front of the team and talk to them about how they have to make sacrifices in their personal life, to social distance, to stay at home, to wear a mask, to do all the things to keep them safe and keep our Ohio State family safe, it's a lot more powerful than when the coach says it," Day said. "And we have those guys that are good leaders, they do the right things, but they also want to speak up, ask hard questions, challenge each other. And because of that, it's just becoming a special team in a very difficult season."