All eyes are on Ohio State's latest dual-threat quarterback, Justin Fields, as he gears up for what should be a special season after getting an invite to New York City as a Heisman Trophy finalist in 2019.
Yet less than two years ago, it was Dwayne Haskins who earned an invite to the Heisman Trophy ceremony and became a first-round NFL draft selection after he helped lead Ohio State to a 13-1 record and a Rose Bowl victory, even though he wasn't much of a running threat at all.
Still, one of our esteemed writers, Kevin Harrish, believes that the Buckeyes would always be better off with a dual-threat quarterback than a pocket passer. Dan Hope, our senior football beat reporter, disagrees with that notion, believing Haskins' 2018 season proves the value of elite passing ability above all else.
Who's right? They can make their cases, and then we'll let you decide.
Take: Ohio State Is Always Better Off With Dual-Threat Quarterbacks
Kevin Harrish: Let me make this clear right off the bat – my #take is not intended to be Dwayne Haskins slander. As a first-year starter, Haskins shredded Ohio State's record book like a little kid with safety scissors and is without question the most prolific passer in Big Ten history. I'm not arguing against that.
What I am arguing is that Ohio State isn't better off offensively with the most prolific passer in Big Ten history as opposed to any of its other dual-threat quarterbacks of the last 15 years or so, including Justin Fields, Troy Smith, Braxton Miller, Terrelle Pryor, and – yes – J.T. Barrett.
The crux of my argument is that while Haskins is decidedly the best passer of that group, he's not a better enough passer to make up for his drastic lack of mobility. Said differently, all of those quarterbacks are more significantly better runners than Haskins is a better passer than all of them. They were all competent passers to a point while Haskins ran like C-3PO. I think that matters, and I think you could see that in the 2018 offense's limitations.
For as good as Ohio State's offense was under Haskins, it was not exceptionally good through on the ground, in short-yardage situations, or on third down. That season, the Buckeyes had their lowest rushing total of any season under Urban Meyer sandwiched between two spectacular seasons from J.K. Dobbins. The Buckeyes also converted third downs at just a 46.57% rate (which, for the record, is worse than even Ohio State's 2016 season, where the Buckeyes notoriously struggled offensively).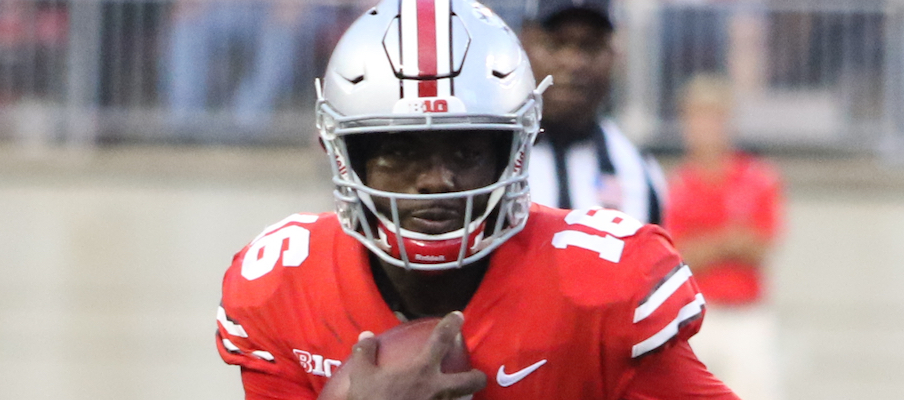 That 2018 season, the Buckeyes also had quite literally the worst red-zone offense since at least 2003 (the last year I can find consistent stats), finding points just 77.14% of the time (good for 112th in the country) and finding the end zone just 61.4% of the time. Ohio State was so bad in the red zone, they decided it was worth trotting out Miami's current third-string quarterback to try to fix it.
Now, I'm aware that not all of this is – or at least should be – Haskins' fault. I concede that Ohio State probably should have been able to figure out how to move the ball in short-yardage situations without needing a mobile quarterback or *shudders* throwing a bubble screen on fourth-and-1. Maybe the Buckeyes shouldn't need a dual-threat quarterback to ignite the running game.
But the reality is, they did. And the thing is, it wasn't a new problem, either.
Ohio State struggled in the red zone and in short-yardage situations with pocket-passer Cardale Jones, too – even though he was sharing a backfield with Ezekiel Elliott. There's a reason why J.T. Barrett took over as the starter in the first place, after he was initially branded the "red-zone specialist."
This is nothing against Haskins – he has a generational arm and threw one of the prettiest, most accurate footballs I've ever seen. He'll go down as the most prolific passer in Big Ten history and I think his numbers will remain untouchable for quite a while. But I just don't think Ohio State's offense needs, or is best served by a pocket passer with no mobility, no matter how good his arm is.
Counter-Take: Dwayne Haskins Disproves Kevin's Theory
Dan Hope: Ohio State's 2018 season was one of the most prolific offensive seasons not only in school history, but in Big Ten history.
The Buckeyes set a conference record with 535.6 yards per game. Their 42.4 points per game were the fifth-best mark in 130 seasons of Ohio State football. Their 6.6 yards per play were the sixth-best mark ever for a scarlet and gray season.
Dwayne Haskins, who broke just about every single-season Ohio State passing record in his lone season as a starter, was the reason why. He was the reason why Ohio State went 13-1 and won a Big Ten championship in a season that it statistically had the worst defense in school history. And if I had the choice of building a team around any Ohio State quarterback ever, Haskins would be very close to the top of the list.
Before the 2018 season, no Ohio State quarterback had ever thrown for more than 3,330 yards or 35 touchdowns in a season. Haskins obliterated both of those school records, throwing for 4,831 yards and 50 touchdowns. He completed 70 percent of his passes, also a school record, while throwing the ball downfield with a degree of skill and efficiency that had legitimately never been seen at Ohio State before.
Yes, Ohio State's rushing offense did struggle in 2018, but that wasn't the reason the Buckeyes played so many close games that year. Haskins' passing proficiency still gave the Buckeyes an offense that would have been more than enough to make them dominant if they had a defense like they did in 2019.
And while it is true that Ohio State's rushing offenses with Braxton Miller, J.T. Barrett and Justin Fields have clearly been more dynamic than the Buckeyes' running game with Haskins at the helm, should that all be pinned on Haskins? J.K. Dobbins would be the first to tell you he didn't play up to his ability in 2018, and Ohio State's interior offensive line that season was its worst in recent years.
Unquestionably, it's ideal to have a quarterback who's both a great passer and a real running threat, which is why Fields already has a case for being Ohio State's best quarterback ever. But given the choice between a clearly better passer like Haskins or a clearly better runner like Barrett or Miller, I'm taking Haskins.
Miller was one of the most fun players to watch in Ohio State history – and if he hadn't injured his shoulder before the 2014 season, perhaps we'd remember him as the school's best quarterback ever – but his inconsistency as a passer hurt the Buckeyes at times. Barrett deserves reverence as Ohio State's all-time winningest quarterback, but there's a reason why a vocal segment of the Buckeye fanbase was calling for Haskins to start a year earlier than he did, and that's because his downfield passing ability made the offense better.
And of course, let's not forget what happened at the end of the 2014 season, when Cardale Jones replaced Barrett and Ohio State's offense became a freight train that rolled to the greatest three-game stretch in school history and a national championship. While Jones was more of a runner than Haskins, he was still more pocket passer than dual-threat, and it was his increased ability to throw the ball downfield that elevated the Buckeyes offense to a title-winning level.
Put Haskins in an offense with 2014 Ezekiel Elliott by his side, a dominant group of Slobs in front of him and Michael Thomas and Devin Smith to throw the ball to, paired with an actually good defense, and he would have been even better.
Urban Meyer, like our Arby's-loving friend Kevin Harrish, made it clear throughout his career as a coach how much he valued having quarterbacks who are great runners. Yet even he, in an interview with NFL Media earlier this year, said Haskins "is probably the best quarterback ever to play at Ohio State."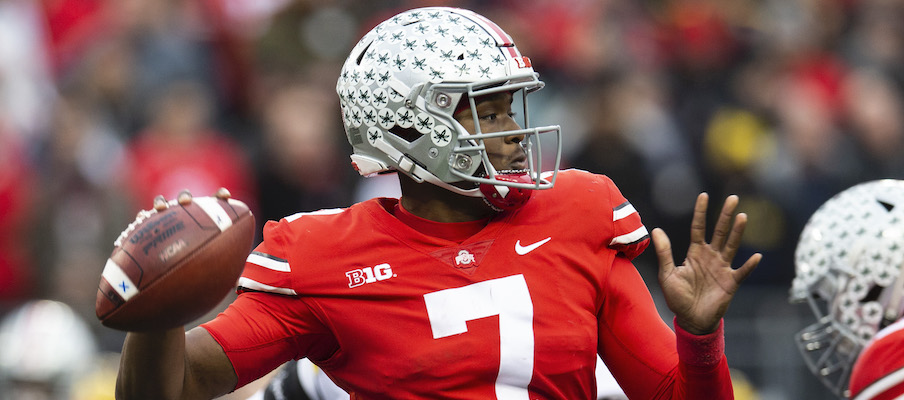 Ryan Day's recruiting efforts also make it clear that elite passing ability is the trait he values most highly in looking for Ohio State's quarterbacks of the future. 
While he hit the jackpot and found the best of both worlds with Fields, 2020 signees C.J. Stroud and Jack Miller and 2021 commit Kyle McCord are all much more passers than runners. That's not to say that any of them are statues in the pocket, but none of them will be compared athletically to Braxton Miller or Terrelle Pryor; Stroud and Jack Miller have both described themselves as pass-first quarterbacks who think their skill sets fall somewhere between Haskins and Fields, while McCord told The Athletic's Bill Landis last year that he "never thought" he would be recruited by Ohio State – having grown up watching Braxton Miller and Barrett – until the offense became more pass-oriented with Haskins at the helm.
Ultimately, Ohio State is looking for quarterbacks who can get them over the hump and win national championships, and more often than not, the teams that win titles are also the ones that have the best passers. Joe Burrow, Trevor Lawrence and Tua Tagovailoa can do some damage with their legs too, but they're all known far more than their passing ability, and they're the last three quarterbacks to lead teams to victories in the national championship game.
That's why finding quarterbacks who are elite passers like Haskins, even if they're not major weapons in the running game, should continue to be the priority for Ohio State moving forward.