College athletes, in a little over a year, should have the ability to profit in a variety of ways from their name, image and likeness.
A couple of weeks ago, the NCAA Board of Governors – which is chaired by Ohio State president Michael Drake – announced its support for recommendations allowing athletes to profit in ways that have always been barred. There'll be some "guardrails" put in place by the NCAA to regulate certain aspects, but provided the finalized plans pass when the NCAA member institutions meet in January, the changes will go into effect by the time the 2021-22 academic year rolls around.
The opening of the floodgates won't lead to a truly free market, but it would give Ohio State athletes the chance to profit in ways they haven't been able to before. Profiting from a YouTube channel? Getting paid to appear on a television commercial or on a billboard? Making ad revenue from streaming themselves playing video games? Selling merchandise? All of that would be allowed, provided they aren't advertising with the Buckeyes' logos.
Possibly the most obvious way college athletes could profit, though, is as social media marketers, otherwise known as influencers.
"This is really our first education on what and who ultimately can be a digital entrepreneur, and we know that this is a new business, so to speak," athletic director Gene Smith said on April 29. 
Opendorse, a Nebraska-based social media publishing company that claims more than 10,000 athletes as clients, took a look at what Ohio State's projected offensive starters could make off of social media alone – with the caveat that Jaelen Gill, who entered the transfer portal, is included.
.@OhioStateFB produced 4 of the Top 25 players with the highest social media NIL value in the 2020 NFL Draft.

So we got to thinking... what is the NIL value of OSUs current team? https://t.co/ccjLnuT5F1

— Blake Lawrence (@Blake_Lawrence) May 15, 2020
It estimates that, if the recommended NCAA name, image and likeness rules were in place today, Justin Fields would be able to make $404,384 annually from his social media channels, which feature more than 390,000 followers on Instagram and 130,000 followers on Twitter. Approximately, an Instagram post from Fields would be worth $11,078 and a Tweet would be worth $1,559. Of course, none of these numbers will likely affect Fields, who's expected to head to the NFL after this season.
Still, Fields far and away has the largest social presence among the 11 accounts of Ohio State football players analyzed by Opendorse.
Two others with at least 60,000 Instagram followers and 25,000 Twitter followers – wide receivers Garrett Wilson and Chris Olave – would be able to make five-figure sums annually based on their social reach, Opendorse estimates. Wilson's potential earnings are $50,064, and Olave's would be $44,016. Like Fields, Olave will have the chance to enter the 2021 NFL Draft, but Wilson will be a junior during the 2021 season and could use his social channels for substantial profits.
Nobody else who Opendorse projected as a starter on the offensive side of the ball would crack $10,000 annually based on their social reach.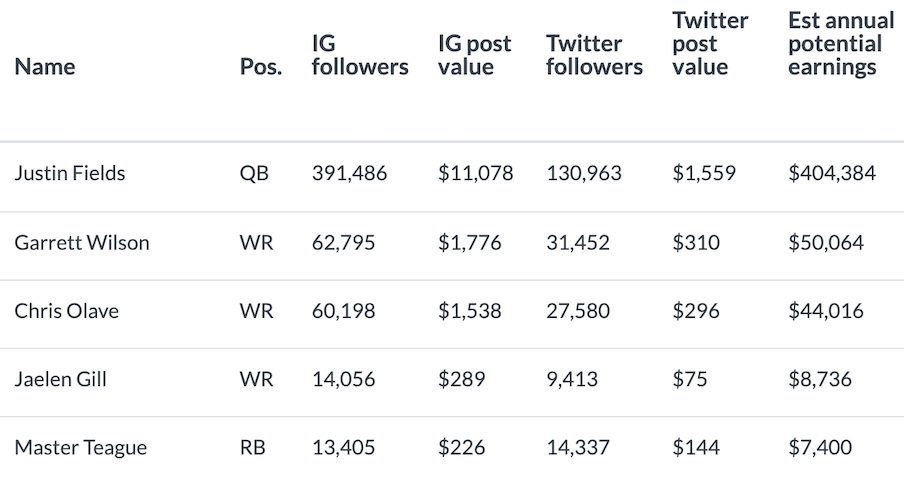 Maybe the aptest example of how being good on the field doesn't always translate to a profitable social presence is Wyatt Davis. As a first-year starter at right guard in 2019, he was named a first-team All-American. However, because he has 7,764 Instagram followers and 9,740 Twitter followers, Davis' estimated annual earnings off of his social channels would be $1,712. Josh Myers would be in a similar spot, able to make an estimated $2,072 annually. 
Conversely, had Gill not opted to transfer, his reach of 14,056 Instagram followers and 9,413 Twitter followers could have netted him around $8,736 annually, Opendorse estimates. Master Teague, though he has yet to start a game, has the reach of someone who could make $7,400 in a year, per Opendorse.
Two projected first-year starters on the offensive line, Harry Miller and Nicholas Petit-Frere, have relatively small social media followings. Opendorse estimates that neither of them would be able to crack $1,000 based on their analyses.
Even while keeping in mind Opendorse's estimations are based on social media marketing alone, it's evident how expansive the monetary opportunities will be for some college athletes, including those at Ohio State.