There have been plenty of conflicting reports regarding the 2020 college football season, which probably just goes to show that no one truly knows anything at this point. Two topics that don't seem to be getting much debate revolve around the Heisman frontrunners and national title contenders. Most pundits seem to believe the Ohio State and Clemson will be at the forefront of both races. 
As we wait for any sort of positive news for the summer and fall outlook, it's easy to see which of Ohio State's 2020 contests are likely to define the season. Digging a bit deeper, there are a handful of individual and positional matchups that stand out above the rest. It shouldn't come as a surprise, but these involve the three biggest games of the season, so I'll offer an advanced apology to Buffalo and Rutgers fanatics. 
Thayer Munford vs. Oregon Defensive End Kayvon Thibodeaux
Ohio State's left tackle has started 26 games over the last two years despite dealing with some nagging injuries. Munford is back as a senior and will be one of the most experienced linemen in the Big Ten. He and the rest of the Buckeyes line will have their hands full on Sept. 12 when the team heads to Eugene. 
Kayvon Thibodeaux was considered the country's top 2019 prospect according to some outlets, and the California native sided with the Ducks over the Crimson Tide. He recorded nine sacks as a true freshman and some are already labeling him as a potential No. 1 overall pick in the 2022 NFL Draft. Munford and Ohio State's ability to protect Justin Fields will be a major storyline heading into the early-season clash. 
Zach Harrison vs. Oregon Tackle Penei Sewell 
You can probably throw Tyreke Smith into the mix here as well, but the Zach Harrison expectations are sky high after he flashed as a true freshman in 2019. While his numbers didn't compare to Thibodeaux's, he'll have the opportunity to take on more of a featured role following the departure of Chase Young. 
Mario Cristobal played offensive tackle at Miami, and he's now got the best lineman in the country in left tackle Penei Sewell. He became an immediate starter in 2018 and captured the Outland Trophy and All-American honors as a sophomore. Is it a little too soon to expect Harrison to put on a show against one of the top players in the country? That may be the case, but this will still be a fun one to watch and we'll really get to see the development under Larry Johnson.
Ohio State's Ground Game vs. Penn State LB Micah Parsons
Trey Sermon? Marcus Crowley? Master Teague? Tony Alford's backfield has some questions thanks to some unfortunate injuries, but Justin Fields will obviously be a major part of the Ohio State ground attack. We'll see what Master Teague's status is come Oct. 24, but someone will likely have emerged by the time the Buckeyes head to Happy Valley for the seventh game of the season. 
J.K. Dobbins led the way last year as the Buckeyes ran for 229 yards and two scores. Micah Parsons and the PSU defense won't have to deal with Dobbins this go around, and the junior linebacker is being viewed as the team's best defender since LaVar Arrington. Parsons was dominant in the Cotton Bowl win over Memphis as he recorded 14 tackles, two sacks, forced a pair of fumbles, and broke up two passes.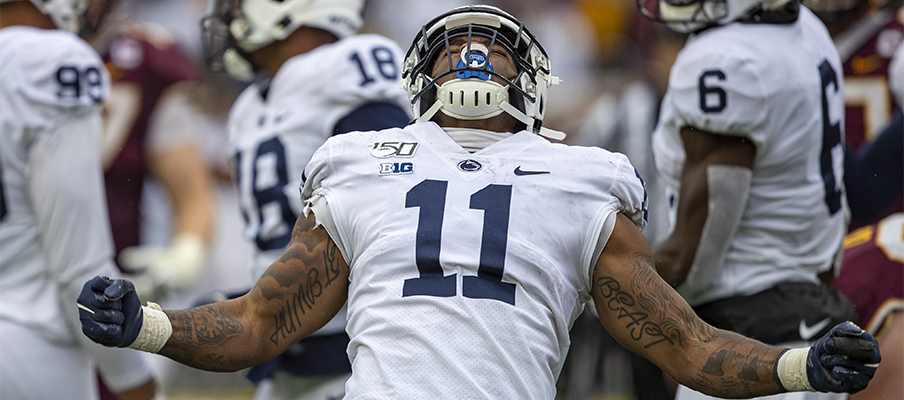 Pete Werner vs. Penn State Tight End Pat Freiermuth
Nittany Lion tight end Pat Freiermuth likely would have been one of the top tight ends selected in last month's NFL Draft, but instead, he elected to return for his junior season. The 6-foot-5, 260-pounder was able to enter the draft after only two years in college thanks to spending five years in high school with the fifth being a "prep year." 
Pete Werner took some lumps as a sophomore in 2018 (as did the defense as a whole) but was solid last season. Werner often drew matchups against the opposition's tight ends and we saw that late in the season against both Penn State and Michigan. Freiermuth caught six passes for 40 yards in Columbus and will likely be seeing a lot of Werner this time around at Beaver Stadium. The loss of K.J. Hamler makes him that much more important for Sean Clifford and the passing game.
Chris Olave vs. Michigan Cornerback Ambry Thomas
One could probably make an argument for Shaun Wade vs. Nico Collins as being the major storyline here, but no one knows what to expect under center for Jim Harbaugh. Whether it be Joe Milton or Dylan McCaffrey, the chosen starter will be one of the many inexperienced quarterbacks the Buckeyes will face in 2020.
Senior cornerback Lavert Hill was expected to be the man in the Michigan secondary in 2019. Hill ultimately went undrafted after junior Ambry Thomas outplayed him in the defensive backfield. Ohio State has torched the Michigan secondary over the last two seasons, and Chris Olave has been responsible for three of the ten touchdowns through the air. The Cali native will look to keep that trend going this year in Columbus. 
Don Brown has shown zero ability to scheme for what Ryan Day brings to the table. Dwayne Haskins and the crossing patterns destroyed the Wolverines in 2018 and then it was Justin Fields and J.K. Dobbins last year in Ann Arbor. Even with the loss of three major contributors at wideout, Brian Hartline has a deep arsenal of talent to put on display. Olave will be one of the best in the country, and Ambry Thomas will be faced with a tall task.