As of now, we're still living in a world with no changes to the college football calendar.
That means Ohio State, along with the rest of the Big Ten, has a trio of non-conference games to look forward to this fall. The Buckeyes, after not playing any out-of-conference power conference opponents a year ago, will take on Oregon, Buffalo and Bowling Green.
As we creep toward the season at a slower-than-ever-before pace, we're taking a long look ahead to rank all 42 of the Big Ten's non-conference games by intrigue.
42. Northwestern vs. Morgan State (Nov. 14)
If you tune into this game in the middle of November, you're an absolute lunatic. That said, it would probably pull in Super Bowl-esque ratings if a TV network aired it right now.
41. Illinois vs. Bowling Green (Sept. 19)
Neither team has finished above .500 since 2015. A bad Big Ten team against a bad MAC team? Pass.
40. Maryland vs. Towson (Sept. 5)
In-state FBS-FCS can be fun. Not this one, though. 
39. Illinois vs. Connecticut (Sept. 12)
38. Indiana vs. Connecticut (Sept. 26)
Nobody asked for two Big Ten teams to face UConn. Absolutely no one. The Randy Edsall-led Huskies, who lost by an average of nearly three touchdowns per game last season, haven't won more than three games in a season since 2015. Hard to imagine these games becoming interesting.
37. Northwestern vs. Central Michigan (Sept. 19)
36. Northwestern vs. Tulane (Sept. 12)
Sorry, Pat Fitzgerald. Nothing about Northwestern against the Chippewas or Green Wave gets the juices flowing.
35. Maryland vs. Northern Illinois (Sept. 12)
The only way this one gets interesting is if Jordan Lynch can get a waiver to play another season at Northern Illinois.
34. Wisconsin vs. Southern Illinois (Sept. 12)
33. Minnesota vs. Tennessee Tech (Sept. 12)
32. Nebraska vs. South Dakota State (Sept. 19)
Wisconsin, Minnesota and Nebraska should all be somewhere between solid and very good. At the FCS level, those parameters also apply to Southern Illinois, Tennessee Tech and South Dakota State. 
31. Iowa vs. Northern Illinois (Sept. 26)
30. Rutgers vs. Monmouth (Sept. 5)
Welcome, world, to the Greg Schiano era. Does it begin by beating Monmouth or losing to an FCS opponent that went 11-3 last year? We'll find out in a few months. Can't rule either out.
29. Michigan State vs. Toledo (Sept. 19)
These two teams have played only once before. It was in 1925, and Michigan State won, 58-0. Don't imagine it'll be worse this go-round for the Rockets.
28. Penn State vs. San Jose State (Sept. 19)
27. Illinois vs. Illinois State (Sept. 4)
Every non-Saturday game gets a slight bump in the rankings. This being played on a Friday night only helps the case for Illinois-Illinois State. Also? Illinois State made the FCS quarterfinals last year before losing to North Dakota by six points. Don't rule out an upset.
26. Michigan vs. Arkansas State (Sept. 19)
Ohio State fans can use this as an opportunity to get a peek at Arkansas State before the Buckeyes play host to Blake Anderson's team in 2022.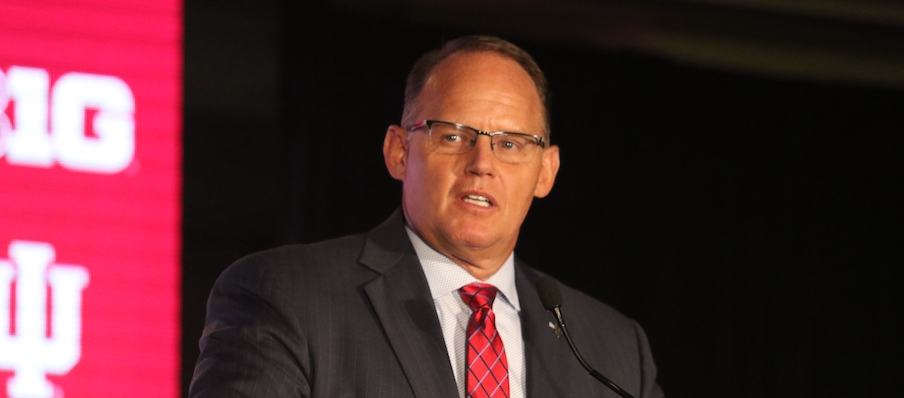 25. Indiana vs. Ball State (Sept. 19)
24. Michigan vs. Ball State (Sept. 12)
Depending on what happens in the season opener versus Washington, there's a chance this could be a bounceback game for the Wolverines. Ball State has hung with Power Five opponents in the past, staying within 10 points of Indiana last year, so an upset can't be ruled out. But it's unlikely.
23. Nebraska vs. Central Michigan (Sept. 12)
22. Rutgers at Temple (Sept. 19)
The first away game of the Schiano era.
21. Indiana vs. Western Kentucky (Sept. 12)
With a successful, 9-4 first season from Tyson Helton at Western Kentucky out of the way, the Hilltoppers can look ahead as they aim for their second year in a row with a win over a Power Five opponent. Plus, they've come close to topping the Hoosiers before. In 2015, they lost, 38-35. 
20. Penn State vs. Kent State (Sept. 5) 
Our first glimpse of the Nittany Lions, a likely preseason top-10 team, will come in what should be a blowout of Kent State. 
19. Iowa vs. Northern Iowa (Sept. 5) 
Will Iowa lose to Northern Iowa, an FCS team? Probably not. But the Panthers shouldn't immediately be discounted. They went 10-5 last season, ending the year in the FCS quarterfinals and beginning it by losing to Iowa State in triple overtime. A year later, Northern Iowa will try to get over the hump against an in-state FBS opponent.
18. Ohio State vs. Buffalo (Sept. 19)
Calm down, Buckeyes fans. Khalil Mack won't be coming off the edge this year for Buffalo. From an Ohio State perspective, this begins a sleepy three-game stretch: versus Buffalo, versus Rutgers, off week. Realistically, there's a better chance the Buckeyes lose to the off week than the Bulls.
17. Rutgers vs. Syracuse (Sept. 12)
Maybe this is too high to ever rank a Rutgers college football game. But consider me fascinated by what Schiano's doing in New Jersey. By playing host to Syracuse, the Scarlet Knights will face a beatable opponent in their first game against an FBS team.
16. Michigan State vs. BYU (Sept. 12)
For Mel Tucker's first road game as Michigan State's head coach, he's traveling west to face BYU in the hostile confines of LaVell Edwards Stadium. 
15. Ohio State vs. Bowling Green (Sept. 5)
Yes, Bowling Green is atrocious. Per SP+ rankings, Scot Loeffler's Falcons are ranked 127th out of 130 teams in the preseason. But by this time, nobody will care. After what'll undoubtedly feel like the longest offseason of all time, this game represents the (hopeful) return of Ohio State football.
14. Purdue vs. Air Force (Sept. 19)
Rondale Moore vs. the triple option? Sign me up.
13. Maryland at West Virginia (Sept. 19)
If money didn't rule college football, these two teams would be in the same conference, battling every year. Instead, Maryland and West Virginia will match up in September for the first time since 2015. Unfortunately, both teams are expected to be somewhere between meh and atrocious. 
12. Purdue at Boston College (Sept. 26)
May the best head coach named Jeff win.
11. Minnesota vs. FAU (Sept. 3)
Dual head coach press conferences can be incredible. Remember Jim Harbaugh and Nick Saban having to sit side by side while answering questions three months ago? They usually don't take place outside of bowl games. Had Lane Kiffin not bolted for Ole Miss in the offseason, the NCAA would've had to eschew the norm to have him sit beside PJ Fleck, answering questions for a half hour. Instead, the September game will feature Fleck and Willie Taggart. Still a good matchup. It wouldn't be as fun of a press conference, though.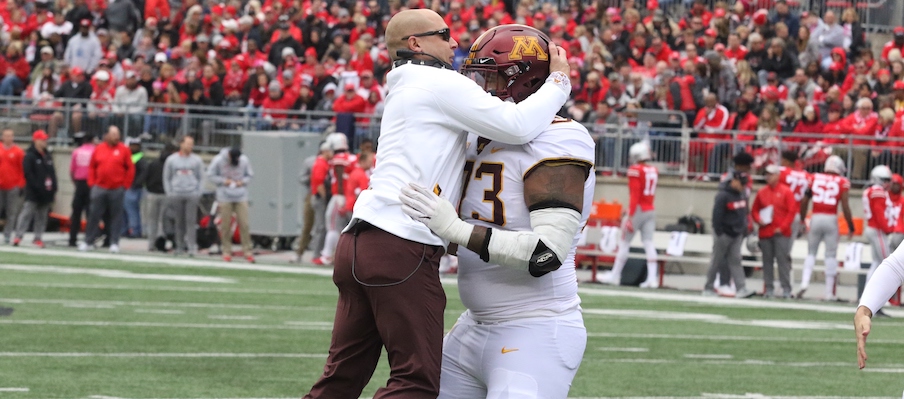 10. Wisconsin vs. Appalachian State (Sept. 19)
Some teams that make the FCS-to-FBS jump struggle at a higher level. Not Appalachian State. Not at all. Scott Satterfield went 51-24 between 2013 and 2018, and Eliah Drinkwitz took the team to a 12-1 record last year. Now, they're at Louisville and Missouri, respectively, and it'll be Shawn Clark taking the Mountaineers to Wisconsin. No pressure, Badgers. It's not as if there's precedent for an early season loss to Appalachian State.
9. Purdue vs. Memphis (Sept. 12)
For whatever reason, Purdue's got a sneakily difficult trio of games lined up to begin the 2020 season. It opens at Nebraska, then plays host to Memphis and Air Force. The home opener versus the Tigers shouldn't get overlooked. Head coach Mike Norvell is gone to Florida State, but plenty of talent remains from a team that went 12-2 last season. 
8. Minnesota vs. BYU (Sept. 26)
BYU didn't face a single Big Ten team in 2019, but two of its first four opponents this fall will come from the midwest's power conference. Unlike the Cougars' first Big Ten opponent – the Spartans, who could be in for a rebuild – the Golden Gophers are looking to build on last season's 11-2 record with a conference title in mind.
7. Michigan State vs. Miami-Fla. (Sept. 26)
Had this game been played a year ago, the question of what a matchup between a stoppable force and an eminently moveable object would have finally been answered. Both teams were train wrecks in 2019, and they're looking to take steps forward this fall. Michigan State hired a new coach – Colorado's Mel Tucker – to replace Mark Dantonio, and Miami's Manny Diaz hit the transfer market, bringing in D'Eriq King from Houston. Even if the game isn't super interesting, there's always the possibility Tate Martell takes the field for the Hurricanes.
6. Iowa vs. Iowa State (Sept. 12)
Five years in a row, Iowa has claimed the Cy-Hawk Trophy. The Cyclones have come close to toppling Kirk Ferentz's Hawkeyes, but Matt Campbell hasn't made it happen yet. His team will take another shot at Iowa away from home in September.
5. Penn State at Virginia Tech (Sept. 12)
Incredibly, this will be the first-ever matchup between Penn State and Virginia Tech. It'll be both teams' highest-profile non-conference game by a mile. Has any Big Ten title contender lost an early season game to the Hokies in the College Football Playoff era? That surely wouldn't happen.
4. Nebraska vs. Cincinnati (Sept. 26)
In fantasy baseball, some players are known as "post-hype sleepers." In other words, they're players who were hyped, didn't live up to expectations, then fly under the radar the next year. Might that theory apply to Nebraska, a trendy breakout pick a year ago that went 5-7? It's possible. Now in Scott Frost's third year, the Cornhuskers will try to pick up a big early-season victory versus Cincinnati, which is expected be ranked in the top 25 to open the season. After getting decimated by Ohio State last year, Luke Fickell's Bearcats will look for revenge against another Big Ten team.
3. Michigan at Washington (Sept. 5)
Jim Harbaugh had trouble with Ohio State first-year head coach Ryan Day, to say the least, in 2019. To open 2020, he's hoping for a better result while taking aim at another first-time head coach. Jimmy Lake, who took over for Chris Petersen in December, will open his tenure in Washington by welcoming the Wolverines to Husky Stadium. As of now, Michigan's a slight road favorite. 
2. Wisconsin vs. Notre Dame in Green Bay (Oct. 3)
Home-and-home series are part of what makes college football so fun. But a Wisconsin-Notre Dame game set to be played under the lights at Lambeau Field is pretty cool, too. Both teams should be ranked and enter the contest looking for a statement victory. With quarterback Ian Book back, the Fighting Irish will be looking for their second playoff bid in the past three years. Paul Chryst's Badgers, who have to replace running back Jonathan Taylor, will try to hand them a loss in their home state.
1. Ohio State at Oregon (Sept. 12)
This matchup might be the best non-conference game in college football in 2020, not just the Big Ten. Both Ohio State and Oregon will enter the 2020 season ranked top-10 nationally with College Football Playoff dreams. Provided the Ducks can find a quality replacement for Justin Herbert, they'll be dangerous at Autzen Stadium. But if the Buckeyes prevail in their only out-of-conference game against a power conference opponent, there's a good chance they'll be ranked No. 1 – if they aren't at the top spot already – the following week.