With spring ball set to begin on Monday, we take a look at some young Buckeyes who are either in their first or second year at Ohio State who could make an impact in 2020.
There are certainly going to be struggles among all of these players because of how young they are, but these eight players are some key names to monitor in March and April:
Steele Chambers
So much of Ohio State's 2019 success centered around J.K. Dobbins, but the running back position is by far the Buckeyes' biggest question mark, especially with Marcus Crowley still on the mend with an injury. 
Master Teague racked up 789 yards and four touchdowns on 135 carries, but most of that came in garbage time. There's still so much to find out at running back, and even though Teague is the No. 1 right now, that spot is very much up for grabs. This will be Chambers' first shot at making a major impression and getting himself into the conversation as a starter or at least one who sees significant carries.
If you're feeling good about Teague, though, go ahead and grab him at +6000 to win the Heisman. 
Harry Miller
Outside of running back, the most intriguing positions to monitor on offense are the right tackle and left guard spots. Miller was the No. 1-ranked center in his class so slotting him in at center might make sense, but not after Josh Myers proved himself as one of the nation's best at the position last year.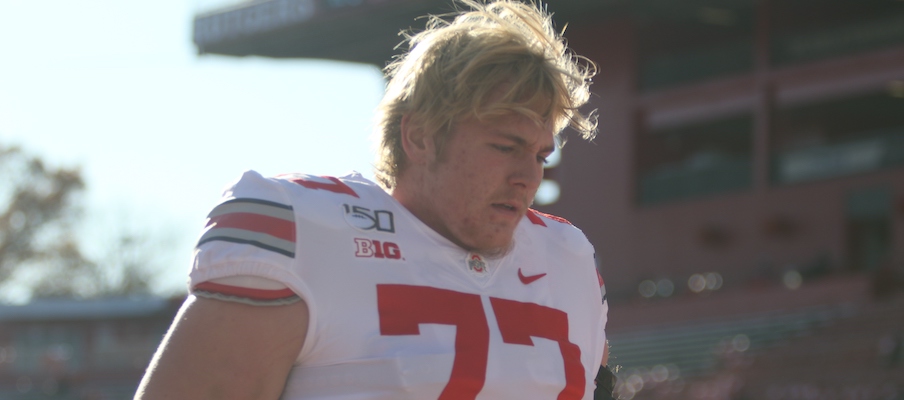 Myers has set himself up for a fantastic second year at that spot, and it would be pretty surprising to see the Buckeyes move him over, even for someone as talented as Miller. But left guard certainly seems like Miller's spot to lose, as is the right tackle spot for Nicholas Petit-Frere. 
Paris Johnson Jr.
In his first career start against Northwestern last year, Petit-Frere saw struggles while filling in for Thayer Munford at left tackle, and an injured Munford ended up toughing it out to return to the game. If Petit-Frere can learn from that game, and from all the other snaps he saw during the regular season, that will go a long way in determining what Ohio State's offensive line will look like in 2020. 
If he struggles, though, that could open the door for Johnson, who was also the top-ranked offensive tackle in his recruiting class. Those two, with Dawand Jones also in the mix, seem destined for a spring and fall battle for the starting right tackle spot, and I think that ends up going to Petit-Frere. But Johnson looking like he will be the next great Buckeye O-lineman, and he'll be a player to watch this year even if he has to wait his turn to start.
Zach Harrison
I included Harrison on this list, but it almost feels unfair to call Harrison a "young player." I mean, he's only a sophomore, but he's an absolute physical freak and he became one of the rare defensive linemen under Larry Johnson to see significant snaps as a true freshman in 2019.
Harrison's trajectory seems to be taking him to a place where he becomes a superstar by his junior season, but his sophomore year will be a critical next step in that progression.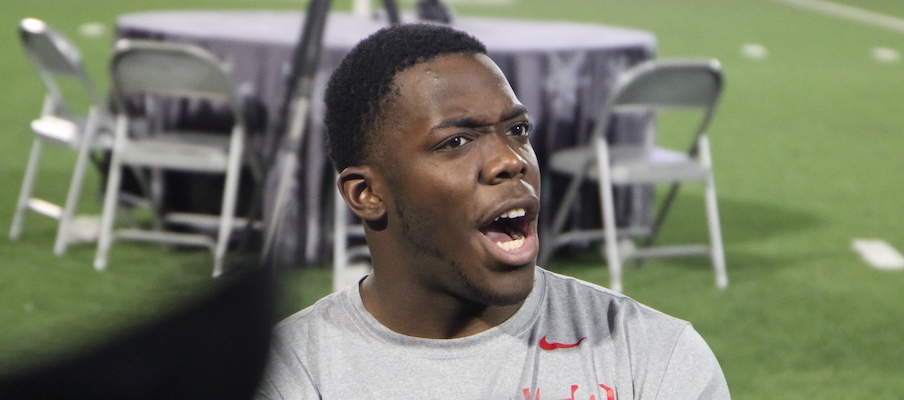 C.J. Stroud and Jack Miller
These two are destined for an entertaining battle for the backup quarterback spot.
You won't always see the words "entertaining" and "backup quarterback spot" in the same sentence, but it is in this case, as either Stroud or Miller could be the future of the program (with Kyle McCord obviously having something to say about that when he arrives in 2021). There will likely be plenty of blowout wins on the horizon again for Ohio State in 2020, which will give Ryan Day an opportunity to get both young quarterbacks on the field – and he could rotate them so we don't truly know who's ahead of the other. We won't really know that answer unless Justin Fields goes down with an injury and Day has to call one of them into action. 
In the meantime, Stroud and Miller showing off what they can do will draw plenty of eyes from reporters and photographers during the first spring practice on Monday.
Jameson Williams
Ohio State needs new weapons to step up at wide receiver in 2020, and Williams is one of the prime candidates. There's an embarrassment of riches at the receiver position in terms of talent going into this year, but those young receivers now have to prove themselves.
At this point, the only thing everyone knows about Williams is he's blazing fast, but if he develops into a well-rounded receiver, he'll add a very powerful weapon to the Buckeyes' passing offense.
Lejond Cavazos
The Buckeyes are replacing seven starters on defense, and three of them are in the secondary. Shaun Wade is back at cornerback and Kerry Coombs is back as defensive coordinator and secondary coach, but there are still major question marks to be answered around Wade, which could open the door for the Buckeyes' early-enrollee freshman cornerbacks to compete for immediate playing time.
The Buckeyes need multiple new cornerbacks to emerge as contributors this season, and perhaps one of them could be Cavazos. Cornerback is one of the most difficult positions on the field to make the transition from high school to college, but the need is there and Cavazos (and Ryan Watts) will get his opportunity to make a splash this spring, though it's still probably more likely that they'll become contributors in 2021 after developing this year.