When Kerry Coombs left Ohio State in 2018 to become the secondary coach of the NFL's Tennessee Titans, he didn't necessarily expect to become a better coach in the process. The primary reason why Coombs took that opportunity with the Titans was because he had a close friendship with Mike Vrabel, dating back to their time working together on Ohio State's coaching staff, and he thought it was the right move for him to make at that time.
After spending two years with the Titans, though, Coombs has gained football knowledge, a new perspective on how to lead a football team and perhaps most valuably, a new perspective on how to coach players at the highest level of the sport, all of which he now believes have made him a better coach as he returns to Ohio State as the Buckeyes' new defensive coordinator and secondary coach.
Coombs, who was previously Ohio State's cornerbacks coach from 2012 to 2017, was already regarded as one of the best assistant coaches in college football during his initial tenure with the Buckeyes, during which he developed five cornerbacks who went on to be first-round NFL draft picks. Had he stuck around then, he still potentially could have become the defensive coordinator that he is now, since he was promoted to assistant defensive coordinator in 2017.
Spending two years in the NFL himself, though, enabled Coombs to grow as a coach in ways that he might not have if he never made that jump.
"I am infinitely better than I was two years ago," Coombs said Wednesday while meeting with the media for the first time since returning to Ohio State. "And I did not expect that, to be honest with you. I wasn't going to the Tennessee Titans or to the NFL to become a better coach. I was going there because Mike Vrabel asked me, and I love Mike Vrabel. That's why I went. But I will tell you that the experience was phenomenal."
There are three things, Coombs said, that he has taken away from his time coaching in the NFL that he will now be able apply to coaching at Ohio State once again.
First of all, coaching for an NFL defense – and specifically, with Vrabel and longtime NFL defensive coordinator Dean Pees – meant working with a much larger playbook and with a wide variety of different schemes, which gives him a bigger toolbox to work with as he becomes the new leader of Ohio State's defensive coaching staff.
"The volume of defense in the NFL is incredible," Coombs said. "I have a library that is this huge, as big as all outdoors, of defensive football now. Now you can't play it all here, but you can play some of it here. And you can choose. And now we have options.
"The things that we will be able to do, to adjust, adapt vs. specific opponents, I think is going to be really helpful from a scheme perspective."
Secondly, Coombs believes he has grown as a coach from observing the way Vrabel led the Titans as their head coach. Vrabel has a leadership style that's distinct from that of Urban Meyer, which is also distinct from that of Brian Kelly (whom Coombs previously worked for at Cincinnati), and Coombs can now combine elements of what he's learned from all of them as he begins his second stint at Ohio State as one of Ryan Day's lead assistants.
"Man, did I learn some great things from Mike," Coombs said. "You sit in the back of the room and you watch Urban Meyer run a meeting, you watch Brian Kelly run a meeting, you watch Mike Vrabel run a meeting … where they've been and what they've done, you learn an awful lot."
"I am infinitely better than I was two years ago. And I did not expect that, to be honest with you." – Kerry Coombs on how his time with the Tennessee Titans made him a better coach
The biggest thing Coombs learned from coaching in the NFL, though, was how to coach football players who are already professionals. With the Titans, Coombs was challenged by his players in a way that he never had been as a high school or college coach, and how he adapted to coaching players at that level should now make him an even better coach at the collegiate level.
"When you get to the NFL and you say 'Hey, go do that,' they say, 'Yeah Coach, that's great, but tell me why,'" Coombs said. "And when you have to contemplate every drill, every coverage, everything you do and you have to have a why behind it, it makes you a much better coach. Not just because you have to think about it, but because you have to explain it to somebody, and I can't wait to get my hands on these guys and be able to start to explain to them why we're doing these things. It will make them better."
Coaching in the NFL will also help Coombs on the recruiting trail because now, he won't just be able to tell players he knows how to develop them to get to the NFL – he'll also be able to prove he knows what it takes to succeed at that level.
"I think it helps me with kids when I say to them, 'This is how an NFL player does his business,' and I'm pretty sure they're going to think that I'm credible because I spent two years doing it," Coombs said. "So it's not just, 'I think it's this way,' this is what I know now. I can tell a recruit, 'I know what you look like now, I know what they look like at Ohio State and I know what they look like in the NFL, and I know how to get you in each place.' And I feel very confident in that."
Day, who also spent two years with the Philadelphia Eagles and San Francisco 49ers before joining Ohio State's coaching staff in 2017, knows firsthand how experience coaching in the NFL can ultimately make someone a better coach at the collegiate level.
"Not too many guys have had the opportunity to be a head coach in high school, coached and won a national championship, coached first-rounders at Ohio State, also coached in the NFL and now has come back, a chance to be a coordinator," Day said. "So a unique résumé, and we're obviously really excited to have him back."
Leaving the Titans wasn't an easy decision for Coombs to make. He grew even closer to Vrabel and his family during his two years in Nashville, and after making a run to the AFC Championship Game this past season, Coombs expects even more success to come the Titans' way.
"They're going to win a Super Bowl," Coombs said. "That's coming for Mike Vrabel, and that's really hard to leave. And we were this freaking close to getting into it this year. And they're not going to do anything but get better and better. It's hard to leave him because he's a good friend."
After two years from Columbus, however, Coombs missed Ohio State. He missed recruiting, and he missed developing college players. So when Day, who said Coombs was his "No. 1 pick" to replace Jeff Hafley after Hafley left to become the head coach at Boston College, offered Coombs the opportunity to return to Ohio State and lead the Buckeyes' defense, he decided he couldn't pass it up.
"I came back because I missed Ohio State, and this opportunity is extraordinary," Coombs said. "This is a special place, it's a special team. You guys saw what they did last year. I think the future is outstanding, and I'm looking forward to being a big part of it."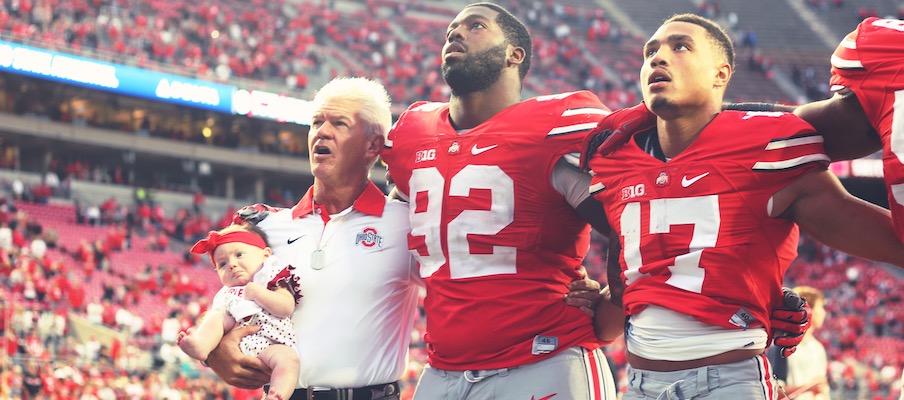 Coombs said Vrabel, who played at Ohio State and was also an assistant coach for the Buckeyes from 2011-13, was understanding and supportive of his decision.
"I love Mike Vrabel more two years after working with him than I did when I got there," Coombs said. "He said 'If that's what you want to do, then I want to support you,' and he was fantastic, from the minute that the conversation began to take place."
Coombs didn't anticipate leaving Ohio State the first time around until the opportunity with the Titans arose, and didn't know that he'd be returning to Ohio State two years later when he left for the NFL, so he doesn't want to predict exactly how the future will play out. That said, Day is confident that Coombs "wants to be here a long time," and Coombs wouldn't have returned to Ohio State if he had visions of going elsewhere anytime soon.
"This is what I'm going to tell you: My aspirations are to be the best coach I can be tomorrow, and I mean that," Coombs said. "Because I haven't looked for a job. The last time I applied for a job was 1991, at Colerain High School. Every job since then, somebody picked up the phone and called me, and it was best for me. It was in my opinion, being directed by a higher source, by God, and I felt like it was the right thing for myself and my family to do. I have every expectation that this is where I'm going to be. I'm telling you, I am excited to be here, and I sure don't want to think about my next move when I'm just getting here."