Where Are They Now is a weekly series where we catch up with former Buckeyes to discuss their Ohio State experience and beyond.
Originally getting his start in Columbus by way of the Columbus Crew soccer team, Devin Barclay decided to step away from professional soccer and enroll at Ohio State in 2007. He joined the team as a walk-on and took over placekicking duties in 2009 when Aaron Pettrey sustained a knee injury against New Mexico State. He helped lead the Buckeyes to the Rose Bowl with a 39-yard, game-winning field goal in overtime against Iowa in 2009.
He remained the starter for the 2010 season. He finished his career with 74 consecutive made extra points and a 79.4 field goal percentage. I caught up with him this week to discuss his transition from soccer to football and what he's up to now.
You have a pretty interesting story of how you ended up at Ohio State. Why did you decide to step away from soccer?
DB: There are so many reasons. You know, looking back, my career was basically over before it really even started. When you look at the state of the league now versus then, it's amazing seeing kind of how it's evolved into a truly professional operation. When I was starting, it was still very new. For instance, the team that I started at folded.
I started my career in Tampa and that team after my rookie year folded because they couldn't sustain their growth goals and they weren't making money. There weren't enough fans, etcetera. So then I bounced around, you know, a series of injuries and being out for long, long stretches of time, and, coaches changing and going to different cities. After my first year, I never really was able to re-establish myself. And then after two years in Columbus, I just decided I'm still young, I have a desire to get an education.
I think I probably could have continued to try and make it somewhere else, but the desire just slowly crept out of me. I wanted to go down the college route. So that's why I stepped away, a series of injuries and trades. I mean I was still a young kid too, as a 17-year-old signing a contract. So, still very young and just decided that was the best thing for me at that time.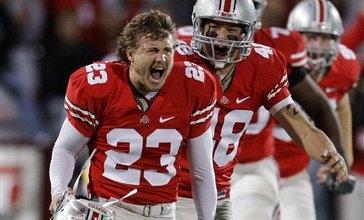 How were you able to make the transition to football so quickly?
DB: At first, it was just a fun thing that I was exploring. Funny enough, it had just kind of fell into my lap more or less. Kicking a ball was always something so natural. As a soccer player, kicking the ball high is not a problem, it's always keeping the ball down, on frame. You're hitting balls all sorts of different ways and it just naturally came easy to me.
I definitely give a lot of credit to a guy named Vlade Janakievski, if you know that name. He was the guy who introduced me to Dan Stultz who kicked for the Buckeyes before Mike Nugent, and Dan and Vlade were two big guys that helped me with my form, timing, and technique and then incorporating a snap and a hold. And then, you have to kick with pads on and then a helmet. So it's not just going out and kicking with a little hold, with no pressure. And then you have to factor in a lot of different dynamics.
But the transition was all just in terms of instinct. I had the instinct. As a player, I always had the ability to strike at the ball. And then as a football player, that was always something that came naturally to me. A lot of guys that transition from high school to college have a hard time because you go from kicking off a block to kicking on the ground. In soccer, you're always kicking off of the ground. So I always had that. But those guys really helped me kind of put more science to it. It was always something that came fairly easy to me, but the science of the actual kicking, those guys deserve the credit.
One of the most famous moments of your collegiate career was when you kicked the game-winning field goal in overtime against Iowa in 2009. So looking back, what was that like?
DB: Well it was crazy, right? So, two weeks before, the starting kicker went down and he went down against New Mexico State. We had this weird late October New Mexico State game where we played an out of conference team. And I had a feeling if the score was a lot to a little, I was probably going to get some kicks. So mentally, I was kind of more prepared than normal.
Then it turned out that our kicker went down with an MCL. Aaron Pettrey was the kicker at the time and I then thought, my God. It became very real all of a sudden. I've never actually kicked in a game, ever. That was my first time kicking in a game.
So I remember going in against New Mexico State, jittery, I think I missed two field goals. The next game was away, at Penn State, but with Big Ten implications on the line. I got the start and I was like, okay. I think my moment was starting against Penn State, and then Iowa was the next game. So technically, that's my third game kicking a ball with big implications and that game just went down to the line and down to the last minute, overtime.
You just go through it, just keep going and then you see things happening and then you're like, oh my gosh, this game is going to come down to a field goal. So you just literally get to that point, just think back to all of the practice and all of the drills and technique and you have to literally simplify what you're doing and fade everything else out.
So that kind of paints the picture of how it all kind of went down. That's the feeling, walking on to the team and years of hard work and going to school and kind of shifting gears. That was one of the highlights of my life. I mean, not just the highlights of my athletics, but just a moment that I'll always remember and treasure. Everything had to be perfect. The snap had to be perfect, the hold. The snapper, Jake McQuaid is now a Pro Bowl snapper. He's been in the NFL for years now. I remember John Thoma was the holder. He had to hold it and get it right and perfect, and everybody had to block. So there are a million things that have to go right there and everything did and I had to just make the kick. Luckily, I did so it was pretty cool.
#OTD years ago, Devin Barclay clinched a 2010 @rosebowlgame berth.@OhioStateFB went on to beat Oregon, 26-17. pic.twitter.com/516xMrL843

— Ohio State on BTN (@OhioStateOnBTN) November 14, 2019
Moving on to your professional life, what are you up to now?
DB: So I work at Nike. I live out here in Portland. I've been with Nike for a little over eight years, and I work in soccer and sports marketing, so I work with athletes. Basically my job is to seek and sign next-generation athletes for Nike in the soccer space. So it's back to my original sport.
How did your athletic career shape your experiences post-grad?
DB: Obviously, in order to get to a certain point, athletically you have to be given a certain amount of talent and talent only gets you to a certain place. What you do with that talent is the real difference-maker. What your training habits are, your diet, your strength, and conditioning, the amount of effort and time that you put into something. Your craft is something that I think as an athlete you learn about the values of hard work and discipline and sacrifice. And I still think of myself as a very competitive person.
Nike has a ton of employees that played sports at a very competitive level, but you've got to be able to bring something else to the table, too. So one thing that's ingrained with athletes is the ability to compete and the will to win. The focus and the determination and, nobody comes to Nike with all the answers, but the people that succeed here know how to quickly find out what the answers are and work in a matrix environment.
You've got to be able to absorb information quickly and learn on the fly and learn by doing, which is a big thing here. That's how it is in sports, too. You don't always have the answer, you have to come up with creative solutions in the middle of a game, especially in soccer and football.
Especially kicking, you generally have an idea of what you want to do and there's no real creative solution to kicking but there are other factors. So I would say the big thing is how you compete on a daily basis. At Nike, we say there is no finish line and that's definitely something that's still ingrained in me as an athlete and now as an employee.
What is the most memorable thing about your athletic career that has stuck with you?
DB: It's crazy to think back on my junior and senior years. You're putting in so much work in the offseason to get yourself ready and then when football season comes around, you think back on all the time spent with the people that you see every day at the Woody Hayes Center. I think it's still the Woody Hayes Athletic Center, I haven't been back to Columbus in a long time.
You're literally in there and it's a full-time job. You're weight lifting, you're spending a lot of time with strength and conditioning coaches. Then you get to football season and there's nothing better in Columbus than the Fall. The traditions, the pageantry, staying in the hotel the night before the game, going to the pep rallies, being in tight proximity to all of the fans and you get chills.
You walk in and you have your routine and then you go out and the next time you go out, there are 107,000 people watching you and cheering you on. It's hard to describe. There are not that many places in the world that have that, regardless of the sport you play, that much of a loyal following that consistently comes and supports the team. The entire city shuts down and the entire state rallies around, for the most part. So it's just one of the most amazing things, and it'll always hold a special place in my heart.