Ohio State's run through the 2010s was a historic, record-setting one in which the program solidified itself as a player in the national recruiting game.

Urban Meyer changed everything, and Ryan Day is set up to keep the chains moving as the Buckeyes enter the 2020s. 
Meyer was a rockstar on the recruiting trail, but both he and Jim Tressel still had their share of misses, especially in the state of Ohio. 
As we continue our look back at the decade that was in the 2010s, here is our look at the biggest in-state recruiting miss for each year during the Urbana Meyer Era and the end of the Jim Tressel Era.
2010 – Jordan Hicks, OLB
Tressel's recruiting classes were so Ohio-centric that it's a bit surprising to see future stars Jordan Hicks and Spencer Ware as two whom he was unable to keep in-state.
Ware, listed as the No. 9 athlete in the country out of Cincinnati's Princeton High School, was ranked No. 85 overall and No. 3 in the state by the time he signed with LSU. Ware was actually recruited by current Ohio State offensive line coach Greg Studrawa – at the time LSU's offensive line coach who would eventually serve two years as an offensive coordinator with Ware as a primary weapon – and he used his versatility to rack up 1,249 yards rushing, 404 yards receiving on 39 catches and 12 total touchdowns (10 rushing, two receiving) in 36 games. 
His career included a second-team All-SEC selection in 2011 prior to becoming a sixth-round NFL Draft pick in 2013.
You could make a case for either Hicks or Ware being the top miss here, but we picked Hicks because of who the Buckeyes ended up getting instead of Ware in this class. Carlos Hyde turned out to be pretty OK. 
At linebacker in the 2010 class, however, the Buckeyes did not have any stars emerge that year, and that's exactly what Hicks turned out to be for Mack Brown and the Texas Longhorns. 
Hicks became the top-ranked player in the state at Lakota West High School, becoming a two-time all-state prospect, earned multiple national All-American honors and was named the Gatorade Player of the Year en route to the No. 1 overall ranking at outside linebacker in the country and No. 7 ranking for all prospects. 
As a Longhorn, the future third-round NFL Draft pick and Super Bowl champion started 28 of 45 games played, amassing 22.5 tackles-for-loss, 5.5 sacks and 248 total tackles on the way to earning second-team All-American and second-team All-Big 12 as a senior in 2014. 
2011 – Ryan Kelly, C
In Tressel's final recruiting class, not getting Kelly ended up being a big miss – though it wasn't believed to be the case at the time.
Kelly, teammates with Hicks at Lakota West, was at one time a three-star prospect before eventually signing with Alabama as a four-star. He was the nation's No. 3-ranked center and No. 12-ranked Ohio senior. Years later in an interview with ESPN, he said he was never contacted by Ohio State.
Kelly eventually became a three-time national champion, first-team All-American, No. 18 overall draft pick with the Indianapolis Colts and a full-time starter, when healthy, from his rookie year onward. 
Kelly was a staple of the Crimson Tide's offensive line, winning the Rimington Trophy as the nation's best center in 2015, where he was a first-team All-SEC member.
The Buckeyes did, however, land the nation's No. 2-ranked center that season in OL Brian Bobek, but he did not pan out as hoped before he transferred to Minnesota. They also whiffed on three-star OL Tommy Brown, and another three-star OL, Antonio Underwood, was a career backup.
2012 – Pharaoh Brown, TE
With Ohio State's history of tight end usage, perhaps listing a player at the position as the biggest in-state miss seems a bit odd, but Meyer's first recruiting class – which he only had three months or so to put his stamp on after being hired in November of 2011 – was filled with studs from Ohio at linebacker (Joshua Perry), offensive line (Pat Elfelin, Taylor Decker) and defensive line (Adolphus Washington). 
Those hits helped take the sting out of not landing guys like future All-Big Ten performers Ifeadi Odenigbo (OLB/DE, Northwestern), Chris Wormley (DE, Michigan) and Joe Bolden (LB, Michigan), who was named to the All-Big Ten freshman teams by ESPN and BTN. 
Brown, though, could have helped nullify the loss of Jeff Heuerman to the NFL, as Brown came out of Cleveland's Brush High School as the state's No. 11-ranked recruit and was ranked No. 11 as a weakside defensive end. Brown starred on offense, though, earning West Team MVP honors at the Offense-Defense All-American Bowl as a senior, and he eventually became a two-time first-team All-Pac 12 selection at Oregon. He finished his career with 1,011 yards receiving and 13 touchdowns on 70 receptions. 
Blake Thomas, however, was the Buckeyes' tight end recruit in the 2012 class, coming in ranked No. 20 at the position from St. Ignatius in Cleveland. He was the 32nd-ranked in-state prospect as a senior, but his career was cut short when multiple injuries wound up revealing that he had a chronic condition that put him at medical risk if he kept playing football.
2013 – Jake Butt, TE
We'll keep this one brief (you'll find that's a common theme among the next few cycles) because it's difficult to find fault with Meyer's first full recruiting class. It was a star-studded haul and either his best or second-best class during his tenure. 
Mitch Trubisky hailed from Mentor High School, was ranked as the No. 6 dual-threat quarterback and No. 11 in-state prospect. But after getting Braxton Miller in 2012 and bringing in J.T. Barrett in 2013, not getting Trubisky can't be considered a major miss. 
Joey Bosa and Tyquan Lewis at defensive ends more than made up for the loss of Taco Charlton – the country's No. 3-ranked WDE and Ohio's No. 5-ranked prospect from Pickerington Central – to Michigan, where he was a first-team All-Big Ten member.
So that brings us to tight end for the second consecutive season, where Marcus Baugh was a strong contributor out of the 2013 class and made big plays throughout his 59 games played, like the game-winning touchdown catch against Penn State in 2017. 
JT BARRETT to MARCUS BAUGH! #OSUvsPSU

Ohio State takes the lead late against Penn State on @CFBONFOX. pic.twitter.com/ahXMDuQTat

— FOX Sports Cleveland (@FOXSportsCLE) October 28, 2017
Jake Butt, however, was a first-team All-American and two-time first-team All-Big Ten selection at Michigan. Out of Pickerington North, Butt was ranked as the sixth-best tight end in the class and the 10th-best recruit in the state.
2014 – DeShone Kizer, QB
Once again, with the quarterbacks already in place and with the Buckeyes snagging all the state's top talent that year (Dante Booker, Marshon Lattimore, Erick Smit, Parris Campbell, Kyle Berger and Sam Hubbard), there weren't a lot of misses in 2014. 
Kizer, the nation's 14th-ranked pro-style quarterback and 10th-ranked recruit out of Central Catholic High School in Toledo, would have provided quality depth for Ohio State. Meyer, he said a few years ago, didn't offer him a scholarship until he had already committed to play for Notre Dame. The Buckeyes ended up with Stephen Collier in the class.
Kizer carved out a solid career at Notre Dame, where he threw for 5,589 yards, 45 touchdowns and 18 interceptions in 23 starts (25 total games), including a 44-28 loss to Ohio State in the 2015 Fiesta Bowl. 
2015 – LJ Scott, RB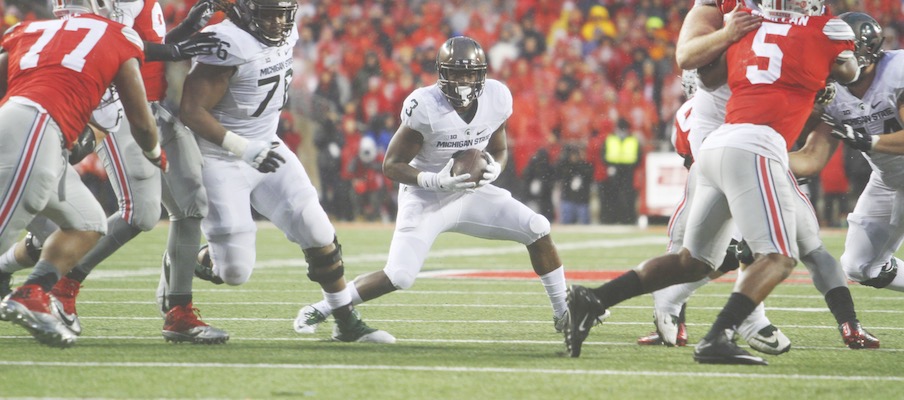 Instead of heading to Ohio State, the Hubbard High School star running back – ranked No. 6 nationally at the position, No. 2 in the state and No. 60 overall in America – went up north to Mark Dantonio's program and became the program's ninth all-time leader in rushing yards (2,855) and carries (610) while finishing in the top 20 in rushing touchdowns, total touchdowns and all-purpose yards.
As a freshman, Scott ran for 58 yards on 13 carries in the Spartans' 17-14 upset win over No. 2 Ohio State in 2015, including 50 yards on 10 carries in the fourth quarter. That included a pair of clutch runs during Michigan State's final drive of the game to set up the game-winning field goal as time expired. 
Mike Weber was Ohio State's running back signee in the 2015 class, so while Scott was technically the top-ranked Ohioan not to sign with the in-state powerhouse, it worked out for the Buckeyes. 
2016 – Tommy Kraemer, OT
Michael Jordan was a star, and Malcolm Pridgeon started every game in 2018, leading the Buckeyes in snaps (1,170) from scrimmage. 
But losing both Tommy Kraemer (No. 26 overall, No. 3 OT, No. 1 in Ohio) and Liam Eichenberg (No. 80, No. 7 OT, No. 4 in Ohio) to Notre Dame certainly hurt. 
2017 – Lynn Bowden Jr., WR
The reason I haven't been putting receivers on this list is mainly because whoever the Buckeyes ended up getting instead of some of those in-state wideouts or slot guys, they turned out to be major contributors in their respective classes. 
But Bowden heads to the 2020 NFL Draft as one of its more intriguing prospects after two years as one of Kentucky's best pass catchers as a freshman and sophomore. He was named to the SEC's All-Freshman team, and as a sophomore he led the Wildcats in receptions (67), receiving yards (745) and touchdown catches (five). 
That was prior to this past season, when Bowden volunteered to take over at quarterback for Kentucky when its top two on the depth chart went down with injuries. He earned his way to being named a consensus All-American (the same list that Chase Young, Jeff Okudah and Wyatt Davis found themselves on) in addition to All-American selections by USA Today, CBS Sports, Sports Illustrated and The Athletic.
Bowden was named to those lists as an all-purpose performer. He went 5-2 as a quarterback, amassing 14 total touchdowns as a junior (11 rushing, two passing, one receiving), and he rushed for 1,235 yards for a clip of 8.2 yards per carry while also contributing as a return man. 
Though Ohio State certainly had one of the nation's top receiving corps on the way to the 2019 CFP, getting the skillset of the class of 2017's third-ranked in-state player (and fourth-ranked athlete) out of Warren G. Harding High School in Youngstown couldn't have hurt. His rough background and academic struggles, as detailed in The Athletic, led him out of his home state for college football.
2018 – Jackson Carman, OT
This one is still fresh enough that not much detail needs to be added. Carman was a five-star recruit, the No. 1-ranked player in Ohio, No. 2-ranked offensive tackle in the country and No. 17-ranked overall prospect. He was right down the road at Fairfield High School, and Clemson came in, scooped him up and used Carman to help it beat Ohio State in December's College Football Playoff semifinal game.
Carman wanted to leave his own legacy outside of the Ohio borders, and he seems on his way to doing that. 
2019 – Jowon Briggs, DT
A four-star defensive tackle out of Walnut Hills High School in Cincinnati, Briggs was the country's No. 7-ranked DT and the state's No. 2-ranked senior overall. 
He was named to a pair of preseason freshman All-American lists and a midseason freshman All-American list, and he became the fifth Virginia Cavalier to start a season opener as a freshman since 1986. 
Briggs looks like he has a bright future, and with the turnover the Buckeyes will experience in losing DaVon Hamilton, Robert Landers and Jashon Cornell after 2019, they could have used a player like Briggs heading into 2020.