And then there were three.
By beating Michigan on Saturday, Ohio State remains one of the few undefeated teams after a 12-0 regular season, along with LSU and Clemson. The 56-27 beatdown of the Wolverines only further strengthened its case to become the No. 1 seed in the College Football Playoff.
Let's check out this week's stock report.
Stock Up
J.K. Dobbins and the offensive line
Ryan Day and the offensive coaching staff didn't need to get too complicated on Saturday to gash Michigan's front seven. With Dobbins, who has developed into one of the nation's premier running backs, and a mauling run-blocking line, no team has stopped the Buckeyes on the ground, and that now includes the Wolverines.
With 31 carries, Dobbins set career highs in both rushing yards (211) and rushing touchdowns (four), adding two catches for 49 yards.
Last year, Ohio State had both Dobbins and Mike Weber in the backfield yet struggled to find a consistent running game. With a mauling offensive line and an improved Dobbins, that has flipped. The Buckeyes now have a balanced offense that can attack both with traditional zone runs, quarterback runs, downfield passes or shorter passes. No team has stopped it yet.
Justin Fields
So, is this going to happen every single week? For two games in a row, Fields has fallen to the ground with an injury, forcing everybody to wonder whether Ohio State's national championship hopes have ended.
Against Penn State, that moment came late in the game, and he never reentered. On Saturday, it happened in the third quarter. Fields went to the medical tent, rejoined his team on the sideline minutes later, immediately entered the game and threw what arguably was his best pass of the season. Day called it "magical," and it's hard to disagree.
In that minutes-long span, we all saw the two constants with Ohio State's quarterback position this entire season: the ridiculous talent of Fields and the lacking depth behind him. 
Z Receivers
While Austin Mack sat out three straight games late in the season, Chris Olave made the case that he should get more targets than the senior whom he had backed up throughout the year, catching 16 passes for 275 yards and three touchdowns. And the coaches must have seen what they wanted because Olave got the start against Michigan.
But on Saturday, both of the Z receivers helped Ohio State to victory.
Olave caught a pair of passes for 68 yards, including a 57-yard touchdown late in the first quarter to give the Buckeyes a 14-6 lead. Mack snagged a 16-yard touchdown in the fourth quarter, totalling three receptions for 39 yards.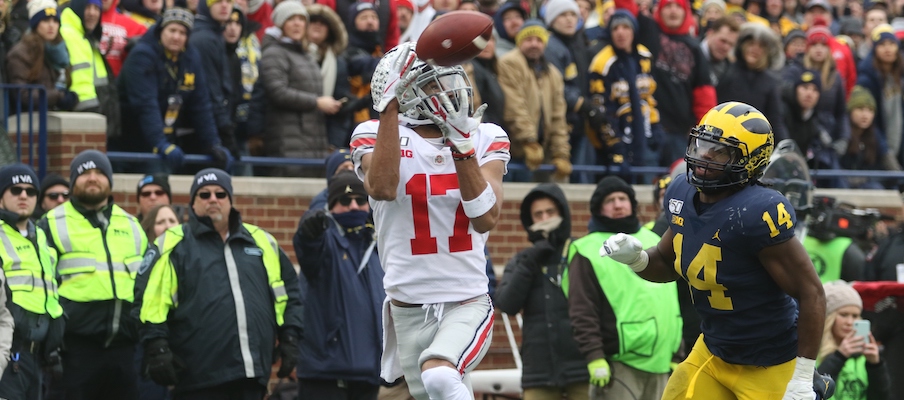 Ohio State's Talent Gap With Michigan
Jim Harbaugh didn't want to talk about it after the game, but essentially everybody else who watched the game noticed the widening edge in talent that Ohio State has. 
What's crushing for the Wolverines is the talent disadvantage isn't going away anytime soon. It all begins on the recruiting trail, where Day has begun to continue the dominance of Urban Meyer.
In the 2020 cycle, here's how the classes currently stack up:
Ohio State: No. 4 class in the country, No. 1 class in the Big Ten, 25 commits, two five-star prospects ranked inside the top 10, eight top-100 recruits
Michigan: No. 13 class in the country, No. 2 class in the Big Ten, 24 commits, zero five-star prospects, one top-100 recruit
In 2021, the Buckeyes have a stark advantage already, too. Michigan holds commitments from J.J. McCarthy, a five-star quarterback, and a top-100 offensive tackle, but Ohio State already has five top-75 commits, including five-star defensive end Jack Sawyer. Until Harbaugh can catch up in the world of recruiting, it's difficult – if not outright impossible – to see the Wolverines reaching the Buckeyes' level.
The Importance Of Shaun Wade
As a possible first overall NFL draft pick in the spring, Chase Young remains the most important player on Ohio State's defense. Who's finishes in second place in that discussion? Shaun Wade made quite the case on Saturday, and he didn't play a single snap.
The Buckeyes struggled to generate much of a pass rush in the first half of Saturday's game, allowing Shea Patterson to dice their defense up for a couple quarters. In the first half, he completed 14-of-19 passes for 250 yards and a touchdown. Patterson fell apart in the second half, but he took advantage of a Wade-less secondary that temporarily looked vulnerable for the first time this fall.
Wade's expected to play on Saturday in the Big Ten championship game in his ever-important nickelback spot.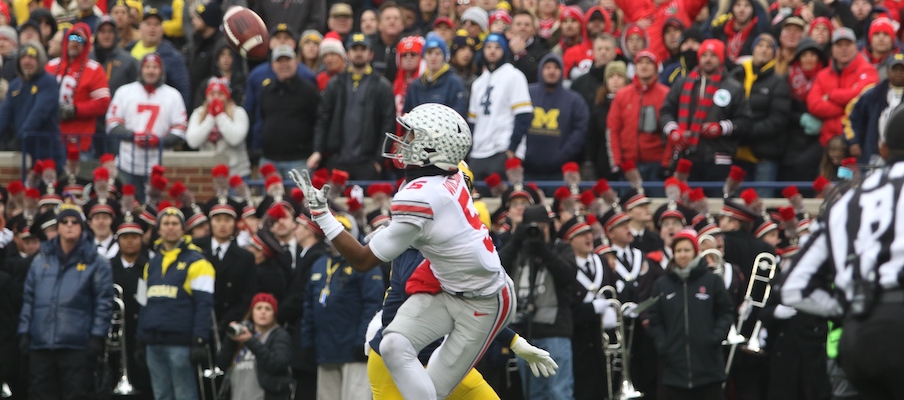 Stock Down
Punt Returners
Whichever player goes back to return a punt for Ohio State somehow immediately turns into a crazy person, and that has seemed to be the case for a decade.
Garrett Wilson fumbled a punt for the second time in the past three games, this time losing it and allowing Michigan to recover at Ohio State's 26-yard line. That was the kind of mistake that can single-handedly cause a team to lose a game in the College Football Playoff.
At this point, the move might just be to put K.J. Hill out onto the field to receive punts. No, he likely wouldn't break a long return. But he has the best hands of anybody on the team and at least won't turn the ball over. With Wilson, the Buckeyes wanted to have reliability along with playmaking, but that hasn't happened.
Jim Harbaugh
How many chances does he get? There doesn't sees to be any rush in Ann Arbor to get rid of him. None at all. Nobody's looking outside the program to check out better options. Sure, there's dissatisfaction, but panic hasn't set in. Harbaugh's job seems safe.
Yet he's already 0-5 against Ohio State with a widening talent gap and zero on-field or off-field answers to what the Buckeyes have done.
Michigan can't keep him around forever. Not if he continues his struggles against upper-echelon opponents and ends each regular season with a loss to Ohio State. But what will send the Michigan faithful over the edge and force them to demand a change? At this point, it's unclear.
A fascinating Big Ten Title Matchup
Ohio State fans likely don't mind another chance to beat Wisconsin. What's the level of threat? It feels like possibly an all-time low for the Buckeyes in a Big Ten title game.
But from a neutral look at what would have been a more interesting matchup, a game between the Buckeyes and Minnesota at least would have provided a bit more intrigue. Instead, the world gets another game with Ohio State as heavy favorites against the Badgers.