The top-ten matchup ended Ohio State's streak of ten consecutive wins with a score differential of 24 points or more as Penn State was able to sneak back into the game thanks to a number of Buckeye mistakes. The home team took control in the end, however, winning 28-7 to clinch a trip to Indianapolis. Chase Young was the game's MVP in his return from suspension, ending his day with nine tackles, three sacks, and two forced fumbles. 
In today's Inside the Box, we'll take a look at J.K. Dobbins' record-breaking season, how the Bucks ran more than ever and had its worst rushing performance of the year, and the linebackers' dominant day. 
Run, Dobbins, Run
With his 157-yard, two-touchdown performance against Penn State, J.K. Dobbins now has the third-most career rushing yards in program history, passing Eddie George for the honor. Dobbins now sits just 59 yards behind Ezekiel Elliott and 1,687 yards behind Archie Griffen. He also sits at No. 4 in career yards per carry of players with at least 150 rushing attempts.
Ohio State Rushing Leaders

| Player | Rushing Yards | Rushing Attempts | Yards per Attempt |
| --- | --- | --- | --- |
| Archie GRIFFIN | 5,589 | 924 | 6.05 |
| Ezekiel Elliott | 3,961 | 592 | 6.69 |
| J.K. Dobbins | 3,902 | 643 | 6.07 |
| Eddie George | 3,768 | 683 | 5.52 |
| Tim SPencer | 3,553 | 644 | 5.52 |
Should Dobbins continue his 131.5 yards per game average for the rest of the season, he will end his illustrious Ohio State career with 4,297.5 rushing yards in three more games and 4,428 in four games. He will likely become just the second Buckeye to ever reach 4,000 career rushing yards. 
Continuing, if he keeps his current pace, he will end the season with 1840.5 rushing yards in three games and 1,972 in four games. The latter would be greater than Eddie George's total in his senior year, which was the season he won the Heisman and set the school record for rushing yards in a season. 
Despite not getting any Heisman love and Ohio State's potential for two running backs with 1,000 rushing yards (Teague has 751 rushing yards), Dobbins has the potential to become one of the most decorated tailbacks in program history. 
Worse Performance Despite Higher Usage
While Dobbins' week was historic, it does not mean he, or the rest of the rushing offense for that matter, played well. Ohio State totaled 229 yards on 61 rushing attempts, an average of just 3.8 yards per carry, the worst mark of the season. 
Despite running the ball more than any other time this year, the offense had its third-worst total rushing performance of the season.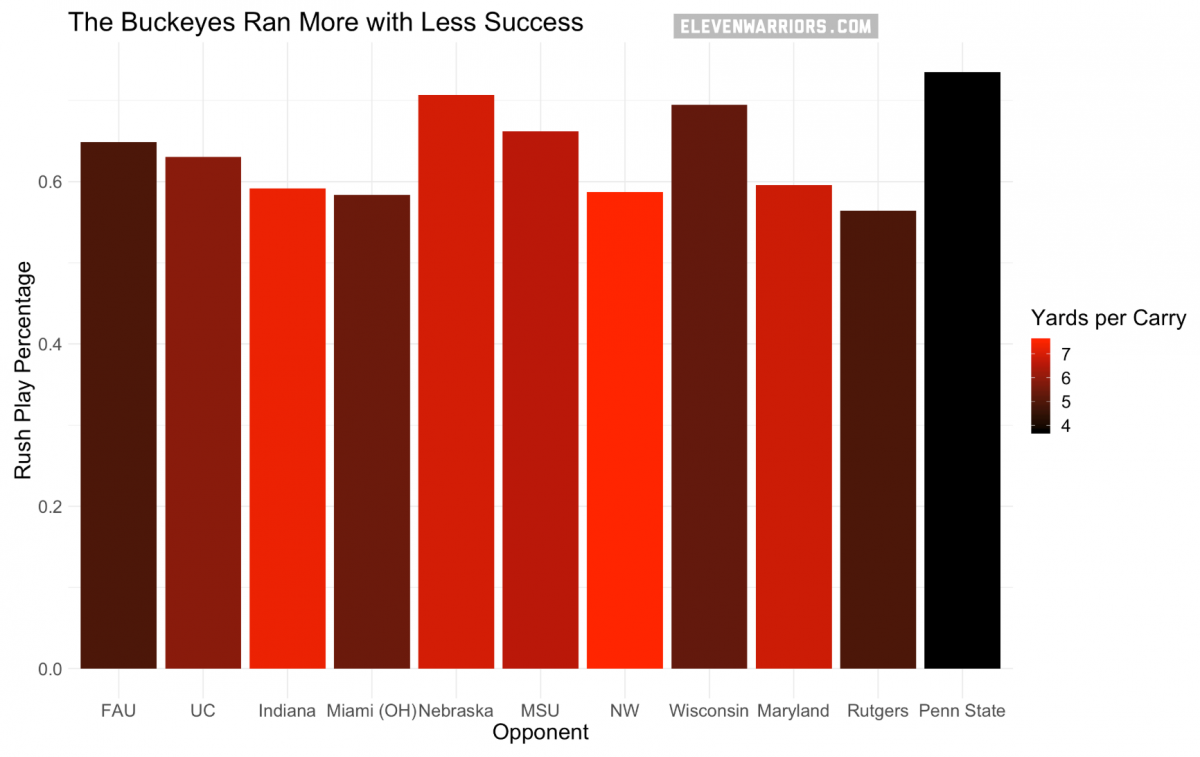 Penn State's front-seven has been the strength of the visitor's defense for the entirety of the year. The Nittany Lions have allowed just 2.43 yards per carry this season, the second-best mark in the nation. 
The Buckeyes went right at Penn State's strength and, while it is hard to tell who "won" the battle in the trenches (229 rushing yards, two touchdowns, 3.8 yards per carry, three forced fumbles), Ohio State could have had more success through the air. Per ESPN's Bill Connelly, Ohio State's success rate on passing plays was 52% versus a success rate of just 36% on running plays. 
The weather was a factor, as evidenced by two drops by Buckeye receivers, but it was clearly not an issue for the home team whenever they needed to make a big play. It is understandable as to why Ohio State would continue running the ball when it had a big lead, but after two lost fumbles in four offensive plays to allow the visitors back in the game, perhaps the Buckeyes should have put their foot on the gas again. 
Whatever the reasoning may be, Ryan Day and co. were able to overcome a comeback bid from a top-ten team, settle the offense, and advance to The Game undefeated. 
Front-Seven Shines Against the Nittany Lions
At this point, Chase Young needs no introduction. In his last two games, he has 15 tackles, seven sacks, and four forced fumbles. Young has been getting Heisman chatter from all across the country as people are starting to realize that 16.5 sacks in nine games is insane. 
While Young will continue to dominate the headlines, Ohio State's linebackers were just as important in the team's victory over Penn State. The quintet of Baron Browning, Tuf Borland, Malik Harrison, Justin Hilliard, and Pete Werner combined for 35 tackles (including four of the leading five tacklers), 4.5 tackles for loss, and an interception. 
The unit's performance dwarfed all others. 
Arguably the most important play of the game came from Hilliard, a fifth-year weak-side linebacker with a lengthy injury history. After the game, he gave an impassioned speech to his teammates. 
It's been a long tie coing for @JHilliard47, but on the biggest stage he ade the biggest play of his career.

No better representation of The Brotherhood than this guy right here #GoBucks #ToughLove pic.twitter.com/ISmwjXN9B4

— Ohio State Football (@OhioStateFB) November 24, 2019
The Buckeyes are now 1-0 in what could be the most difficult four/five-game stretch in recent memory. The Game will be Ohio State's next test in what could be a season-defining matchup.