Ohio State didn't beat down Rutgers the way many expected, winning, 56-21.
At no point on Saturday, though, were the Buckeyes in any danger of losing. Barely three minutes into the game, Ohio State had already taken a 14-0 lead. By halftime, it held a 35-7 advantage. The lead grew to 35 points by the end of regulation, improving the Buckeyes' record to 10-0 this season.
Let's get into this week's stock report.
Stock Up
The Efficiency Of Justin Fields
For the first time in his career, Fields tossed for more than 300 yards, and he did so with a season-low amount of passing attempts.
Fields went 15 for 19, throwing for 305 yards and four touchdowns, which tied a career high. Though Fields' counting stats aren't through the roof, he has a ridiculous 31-to-1 touchdown-to-interception ratio. After Saturday's game, Ryan Day made a case that his starting quarterback would be getting more Heisman Trophy buzz if he had played more second-half snaps in the first 10 games. Due to his limited time in the third and fourth quarters, he hadn't topped 234 yards in a single game until this weekend.
With games against Penn State and Michigan on deck, Fields could crack the 300-yard mark again soon.
Binjimen Victor
For the first time since the second week of the season, Victor caught five passes on Saturday. And for the first time this season, he snagged a pair of touchdown receptions. The 6-foot-4, 199-pound receiver had five catches for 68 yards with a pair of touchdowns against Rutgers.
Victor quietly sits in second on Ohio State's roster with 459 receiving yards. He has 27 catches and six touchdowns.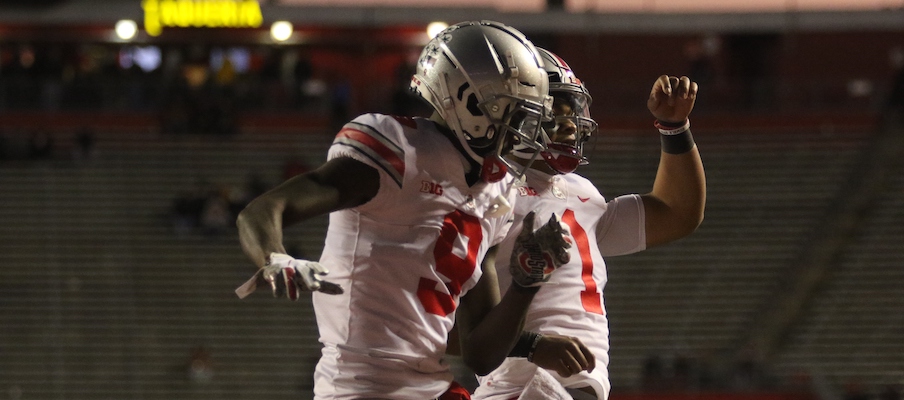 Jaelen Gill
Gill's career likely hasn't gone as he had hoped.
The Westerville native was nearly a five-star prospect, ranking as the No. 30 overall recruit in his class. Yet as a freshman, he didn't play at all, redshirting as Parris Campbell and K.J. Hill took the vast majority of H-back snaps. Campbell leaving for the NFL after last season opened an opportunity for Gill, but Ohio State opted to play more multi-tight end sets rather than use a backup H-back to Hill. That left Gill with a minimized role as a redshirt freshman, not playing in three of the four games prior to Saturday's against Rutgers.
On Saturday, with a 32-yard touchdown catch, Gill tried to show everybody watching what he can do with the ball in his hands. At this point, it's likely too late for him to find his way into this season's receiver rotation. But his dynamism showed what he might be able to do next year.
K'Vaughan Pope
Pope has two interceptions this season, both of which have come in the past two games. Only one other linebacker on Ohio State's roster – Tuf Borland – has picked off a pass this year.
Due to the presence of Harrison, Borland, Pete Werner and Baron Browning, Pope has played limited snaps. However, his recent pair of interceptions increased his profile a bit in recent weeks.
The Buckeyes, a year after struggling at linebacker, have a glut of depth at the position. Pope, Teradja Mitchell and Dallas Gant are a trio of linebackers who don't regularly rotate in competitive games but have shown flashes of readiness in the second halves of games this season. With only Harrison and Justin Hilliard as seniors – and Hilliard possibly seeking a waiver for a sixth year – Ohio State will have plenty of options at linebacker again next year. Pope's recent play has ensured he gets a long look from the coaches in the offseason.
Chris Olave
Ohio State won't name anybody a No. 1 receiver. But Olave has earned that title.
The sophomore wideout caught four passes for a career-high 139 yards in the blowout of Rutgers. On a team bereft of speed-centric deep threats, Olave's importance will grow even further down the stretch.
Shaun Wade
Wade continues improving his NFL draft stock and making it more likely that he leaves to go pro in the spring, a tradeoff Ohio State has no problem making in order to have one of the best cornerbacks in the country making plays in its secondary this season.
The third-year cornerback intercepted the first pass of the game from Rutgers quarterback Johnny Langan and forced a fumble on the second possession.
If the Buckeyes stay on track and make it to the College Football Playoff, they'll likely have a chance to face off with one or two of the country's best quarterbacks. With Wade, Jeff Okudah, Damon Arnette and Jordan Fuller patrolling the secondary, Ohio State should have confidence in its coverage.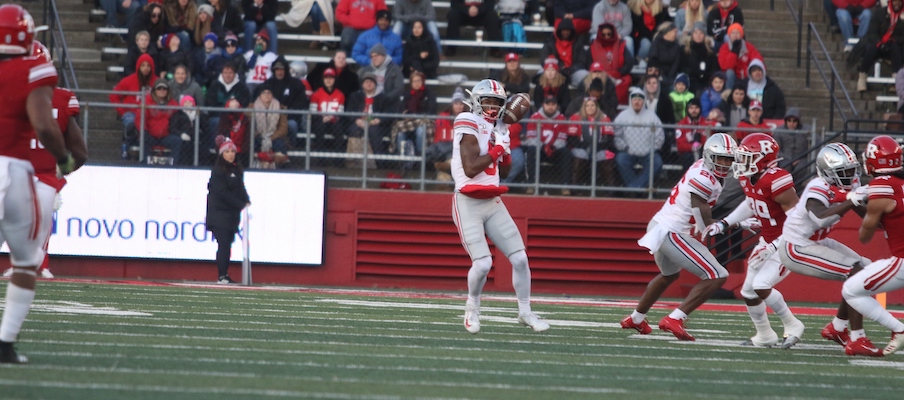 Stock Down
Garrett Wilson
A week after snagging four catches for a career-best 84 yards, including a touchdown, nothing went Wilson's way on Saturday.
He fumbled a punt and lost possession, setting Rutgers up for its first touchdown of the game, and he also dropped a couple passes. Ever since arriving in Columbus, Wilson has been heralded for his otherworldly ball skills, but coaches have also mentioned he needs to improve his consistency. 
Master Teague's 1,000-Yard Season
It's not going to happen.
Teague entered Saturday with 699 yards, needing more than 100 yards against Rutgers to make a 1,000-yard season a possibility. The second-year back managed just 45 yards on 10 carries. He remains 256 rushing yards from 1,000.
The Transitive Property
Maryland beat Rutgers, 48-7, earlier this season. Ohio State beat Maryland, 73-14, two games ago. Given those scores, picking the Buckeyes to cover a 52.5-point spread seemed like the correct decision.
It wasn't.
The 1-Yard Line Stuff
As ridiculous as it is to consider, Ohio State's 35-point win on Saturday was arguably its least impressive victory of the season. Sure, the Buckeyes beat the Scarlet Knights soundly. Yet, they didn't impose their will on every single play, including a drive midway through the second quarter that ended with a turnover on downs.
On first-and-goal from the 7-yard line, J.K. Dobbins lost a pair of yards. The next play, he carried the ball eight yards to the 1-yard line. Ohio State handed the ball off to Dobbins on third and fourth down from one yard out, but he couldn't score on either opportunity.
Against Rutgers, getting stuffed at the 1-yard line didn't ultimately matter. It could when facing a better opponent, though.