The dominance has been staggering.
In Ryan Day's first full season as a head coach, Ohio State has won every game by at least 24 points. Yes, only one of the team's opponents – No. 18 Cincinnati – currently sits in the Associated Press Top-25 Poll. And yes, pure, unadulterated beatdowns of opponents – even of those within the conference – are nothing new to the Buckeyes, who had a 54-4 record in the Big Ten in the Urban Meyer era and a 66-14 conference record under Jim Tressel.
But this level of consistency against overmatched teams? It's uncommon, even in Columbus.
To put it into perspective, Meyer went 83-9 as a head coach at Ohio State and never won more than five games in a row by 24 or more points. He had only one season – 2017 – in which his team won more than six total games by at least 24 points. The Buckeyes have an average margin of victory of plus-41.7 points, which tops the nation by nearly 10 points and is 1/10 of a point from tying 2013 Florida State for the best average scoring margin in the past 15 years. Perhaps most impressively, through seven games Ohio State still remains without any notable flaws that are ripe for talented teams to exploit. 
So, even though Day hasn't faced the stiffest competition in his first full season as a head coach, he deserves credit for leading the Buckeyes to a 7-0 record behind seven blowouts victories.
That credit has come with the caveat, however, that no matter how impressive Ohio State looked in the first half of the season, it still hasn't proven itself against the best of the best. No top-10 wins yet. Not even a top-15 win. That argument was supposed to end this weekend with a top-six matchup against Wisconsin.
"I already talked about it with coach Mick (Marotti) on the sideline (in) about the third quarter," Chase Young said after Ohio State beat Northwestern on Friday night. "Our focus is definitely shifting to Wisconsin."
"We definitely had this one marked on our schedule," said Jonathon Cooper, standing just feet away from Young under the stands at Ryan Field.
Young and Cooper have Illinois to thank for putting a damper on Saturday's game, which lost a bit of pizzazz when the Badgers unexpectedly lost to the Illini less than 24 hours after the defensive ends referenced their upcoming matchup.
"I know they're a tough team. They're built off toughness just like we are. We're going to put that ball in the dirt and play football."– Damon Arnette on the game against Wisconsin
By losing to Illinois, which had won just four of its 30 conference games in the Lovie Smith era before Saturday, the Badgers fell from No. 6 to No. 13 in the Associated Press Top-25 Poll and no longer hold pole position in the Big Ten West Division. Undoubtedly, the bright lights of national attention that would have been on Saturday's Ohio State-Wisconsin dimmed.
Even with taking that into account, this weekend's game still serves as a matchup with the highest ranked and most talented team the Buckeyes have faced yet. For a team that has passed every single test thrown at it thus far, it's a prove-it game against the Badgers, arguably the top team in its division. An opportunity for Ohio State's best win of the season up to this point. 
"We know what we have in store there, so that's going to be a really tough week and tough preparation, tough game," Day said after the win at Northwestern. "But I know the kids are going to be excited to play it."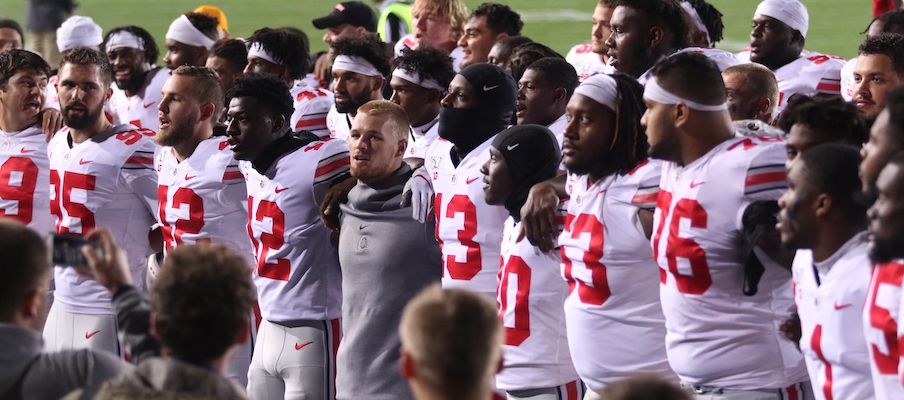 As both teams head into the last weekend of games in October, they have two of the stoutest defenses in America.
Wisconsin ranks first in the country, having given up an average of 7.6 points per game with four shutouts, and Ohio State closely follows by allowing eight points per game with one shutout. Neither team has exactly faced a murderer's row of offensive attacks, though. The Badgers have yet to play a team with an offense ranked in the top 50 in ESPN's SP+ metric, and the Buckeyes have faced two top-50 SP+ offenses, though one was Indiana's without quarterback Michael Penix. 
This weekend, each defense will have its stiffest test yet.
Everybody's eyes will closely follow Ohio State's matchup against the Jonathan Taylor-led rushing attack of the Badgers which powers their offense. Taylor already has 957 yards and 15 touchdowns by averaging 6.1 yards per carry. Had he been preparing to face last year's Buckeyes defense, which ranked 79th in the country by allowing 4.5 yards per carry, this could have portended disaster for Ohio State.
Instead, Taylor and Wisconsin's touted offensive line will clash with a defense giving up just 2.6 yards per carry, which ranks fourth in the country.
"We're going to take each week the same way, and we're going to go out there and fight," Damon Arnette said on Friday. "I know they're a tough team. They're built off toughness just like we are. We're going to put that ball in the dirt and play football."
On the other side of the ball, Ohio State will have to find some way to move the ball against the most productive defense in the nation through seven games.
No player has yet passed for 220 yards against Wisconsin, and no player has cracked 100 rushing yards against Jim Leonhard's defense. Justin Fields and J.K. Dobbins have plans to change that. Together, they're powering the top-ranked SP+ rushing offense, and they're facing the second-ranked SP+ defense this weekend.
Thanks to the Illini, this isn't the top-six matchup Ohio State sure hoped it would have this weekend. But one way or another, the nation will learn plenty about the Buckeyes this weekend.