It's the streak that won't end.
Seven games, seven blowouts. The latest domination came with Ohio State going on the road and beating Northwestern, 52-3, on Friday night to improve its record to 7-0 ahead of its top-10 matchup with Wisconsin.
J.K. Dobbins aided the Buckeyes' offensive assault on the Wildcats by rushing for 121 yards on 18 carries, scoring once on the ground and once through the air. He has now rushed for 947 yards, putting him 53 yards from his third 1,000-yard season that would match Archie Griffin as the second Buckeye to ever reach that mark three times.
Still, despite his latest performance in which he averaged 6.7 yards per carry, Dobbins doesn't feel like he's become to player he desires to be yet.
"Not quite," Dobbins said. "I've just got to have an amazing game. I've got to do amazing things. I feel like I haven't done that yet."
Dobbins' touchdown came from the 19-yard line when he ran a "Texas" route, finding himself open just enough for Justin Fields to sneak him the ball.
"We just game-planned it for the game," Fields said. "So we'll put in different plays for each game. So we just game-planned it, just watching film and coach Day saw that it was a great play to run against them. We did practice it a lot in the bye week, and it definitely paid off in the game."
Beautiful play design, beautiful throw, beautiful catch. pic.twitter.com/cAGJ2W2xCG

— Eleven Warriors (@11W) October 19, 2019
Once again, Fields performed with remarkable efficiency for a first-year starter on the road in an unfamiliar environment. He completed 18-of-23 passes for 194 yards and a touchdown.
"I thought he had great poise," Ryan Day said. "He handled himself well in the pocket. He threw some away that he had to. He scrambled on some early. If he can keep building on this, then he's got a chance to be special."
In a few instances, Fields nearly got sacked but shook off would-be tackler and completed passes. The offensive line gave up a couple early pressures, but Fields' ability to escape and keep his eyes down the field benefited the Buckeyes on Friday.
"It's just God-given ability," Fields said. "I've been able to do it since I was little. I just kind of try to escape when I have to and stay in the pocket. Of course when I have to escape, I escape and try to open up a throwing lane."

"It just depends on what play it is, really," Fields said. "The down and distance. If it's 3rd and 5 and there's five yards in front of you where I can go and pick up the first down, I think I did it on the first drive maybe. Just stuff like that. Different instances in where I can stay in the pocket, scramble around, throw it, and then other instances where I have to tuck it down and run."
Two of Fields touchdown passes went to Chris Olave, who had team highs in receptions (5), receiving yards (60) and touchdown catches. The performance came in stark contrast to the prior game against Michigan State when he didn't have a single catch. 
So, did Fields try to ensure he got Olave involved in the offense quickly?
"Nah, not really," Fields said. "Of course we have great receivers all around. So some receivers might get the ball in a game a lot, and some receivers might not. It's really just based on the play and who's in at the time."
Olave's first touchdown – which came to end the first drive – only happened due to a pair of third-down conversions. Dobbins runs moved the chains both times.
The Buckeyes converted first downs on eight of their 14 opportunities.
"I thought the key was Justin making some third-down conversions early on, staying in the pocket and delivering the ball," Day said. "And the protection for the most part was solid. There was a couple breakdowns, but for the most part they did a good job. The receivers got open. So I think it really came down to the third-down conversions, which we didn't get really last week early in the game. That kept us going and kept the drives alive."
Defensively, the Buckeyes held the Wildcats to just three points and 199 yards. Only 42 yards came through the air, with Northwestern unable to get its passing game going at all.
Pretty early in the game, Ohio State was able to get its backups into the game, and there wasn't a significant drop in results.
"Maybe one of the most impressive things was to see the younger guys and some of the backups get in and really continue to play well," Hafley said. "With the two picks, with Sevyn and Amir, just really proud of those guys and proud of the way really all those guys finished the game. We always have a goal to get a fourth-quarter shutout,. and that's really important to us and to the team. So you could see the older guys were excited and the young guys went in and did that, so that was pretty cool."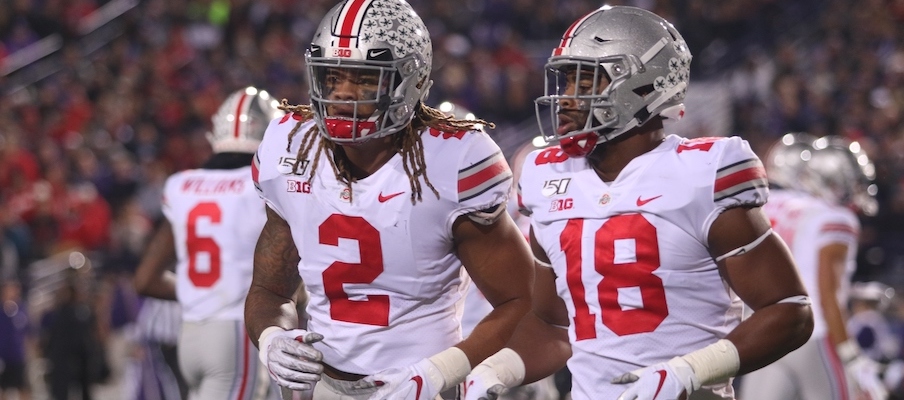 By allowing three points to Northwestern, Ohio State has now gone six games in a row with allowing 10 or fewer points. The defense will get tested next weekend versus Wisconsin, but as of now, it's still operating with what Jonathon Cooper called a "huge" chip on its shoulder.
"Especially with last year, a lot of people talking about our defense," Cooper said. "From the defense's perspective, we had to go back and be ourselves and just remember who we are. And also even preseason stuff, they labeled us fourth to win the Big Ten, and we didn't like that because we realize how hard we work. We realize all the effort and time that we put in and we expect to be the best. We just want to make sure that we show out every single that we get our respect."
With both sides of the ball operating with such efficiency, Ohio State has avoided coming even remotely close to losses that mirror what happened last year against Purdue and the year before against Iowa. Of course, avoiding that type of game was brought up in advance of Friday.
"Yeah, there was definitely a conversation within the players. I can't put that out," Chase Young said. "You know, we just can't have any slippage. I feel like the older players, the leaders, I feel like we know that."

"I think we're pretty focused," Young said. "I think we've done a real good job of that. But, I mean, I feel like we've just got to keep going. We've got to keep going and keep going. If we stop, it doesn't even matter what we did in the past."
With Northwestern out of the way, Ohio State can turn its entire focus to Wisconsin, the only other top-six team in the Big Ten.
"The job isn't finished, so I feel like my mind is going to be immediately set on Wisconsin," Young said. "I feel like that's what all the leaders on this team are going to do, and we're going to pull the young guys with us."

"We try to really focus on one week at a time," Day said. "I think we feel good about the way we came out, coming off the bye week with energy, starting fresh and refocus on all things that matter within the program. Now we know we have a huge challenge next week. We're going to get on that plane, enjoy this, catch our breath. We'll get in late tonight, and then we start the preparation for Wisconsin. We know what we have in store there, so that's going to be a really tough week and tough preparation, tough game. But I know the kids are going to be excited to play it."