EVANSTON, Ill. – Damon Arnette wouldn't have been able to hide his satisfaction if he tried. And he most certainly didn't make any attempt to do so.
Standing against the wall under the south stands of Ryan Field with a cast on his hand a bit after 11 p.m., he kept a grin on his face. Why wouldn't he stay smiling? Nobody in Ohio State's locker room should feel anything other than satisfaction after the team's latest win, a 52-3 beatdown of Northwestern on the road.
"I think each week, us going into the games thinking that we've got something to prove, that's what's keeping that chip on our shoulder because no matter how well we're playing, we still hear the doubters," Arnette said. "Like, we still hear them. Slowly, they're turning into believers."
How have the Buckeyes began to change the minds of onlookers?
"We've won. We've been winning – nah, we've been dominating," Arnette said. "We've been dominating. And that's clear. We're just going to keep our routine going."
That's what was missing last year. The domination of the teams Ohio State was supposed to dominate, and the flawlessness across each unit.
"I think Ohio State is the best team in the country, and I thought that watching the film."– Northwestern coach Pat Fitzgerald
In 2018, its seventh game of the season contained plenty of warning signs. That week, the Buckeyes edged Minnesota in a less-than-convincing 30-14 win that remained a one-score game until the fourth quarter. Possibly, in retrospect, everybody should've taken that game and the other nagging issues more seriously. The next week, everything Ohio State had done wrong reemerged at the same time, leading to a 49-20 loss to Purdue that kept the Buckeyes out of the College Football Playoff.
This year, warning signs about the Buckeyes exist, but they're a different type. Instead, their opponents have them on, and they only got brighter after their seventh game of 2019.
By completing 18-of-23 passes for 194 yards with four touchdowns against the Wildcats, Justin Fields continued his unprecedented first-year starting season in which he now has 22 touchdowns and one interception. J.K. Dobbins pulled within 100 yards of joining Archie Griffin as the second Ohio State player to have three 1,000-yard seasons with a 18-carry, 121-yard evening, and the team just passed the midpoint of the regular season. Chris Olave caught a pair of touchdowns.
Chase Young picked up a sack for his ninth game in a row. Northwestern quarterbacks combined to go 6-for-21 for 42 yards and two interceptions. The Wildcats managed just 3.3 yards per carry.
Those numbers might seem uncommon, but Friday's game played out similarly to what the Buckeyes did in their first six wins this season. This, the seventh blowout in a row, improved the Buckeyes to 7-0. All the victories have come by at least 24 points for a combined score of 348-56.
"I think we've shown that we're one of the best teams in the nation, that we have a lot of opportunities to do a lot," Jonathon Cooper said.
None of Ohio State's seven wins have come against teams ranked in the top 20, and only one has come against a team in the Associated Press Top 25 poll. Therefore, next Saturday's game against Wisconsin will be viewed nationally as a measuring-stick opportunity for Ohio State, which can prove it deserves to be viewed as arguably the best team in the nation.
That's why Chase Young said he talked to strength and conditioning coach Mickey Marotti in the third quarter of Friday night's game. It's the reason why Cooper said the Buckeyes have had the Wisconsin game "marked" on the schedule for a while.
Perhaps, in the same way that we should've collectively realized that the Buckeyes had flaws they couldn't recover from last year, we should look at what consistently happened in the first seven games and get an idea of what might happen next weekend against sixth-ranked Wisconsin. Just ask Arnette what should be taken away from the first seven games as the Buckeyes look toward the matchup against Wisconsin.
"That we're going to win that game," Arnette said. "Easy. Not easy, but that's what (everybody) should think. They're a good team, you know what I'm saying. But we're going to take each week the same way, and we're going to go out there and fight."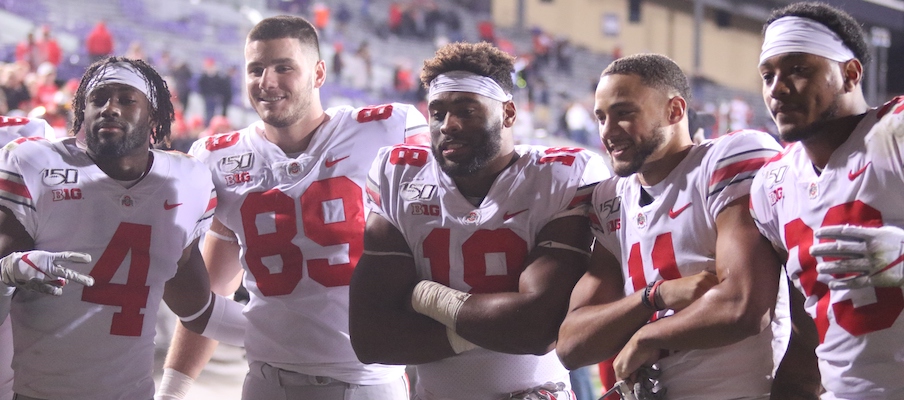 None of the warning signs that were flashing for the Buckeyes ahead of their devastating loss to the Boilermakers are on anymore. 
If Wisconsin's Paul Chryst needs a reminder of just how well the Buckeyes have played thus far, he can just look to comments from each of the head coaches of teams that have suffered multi-touchdown losses to Ohio State.
Ask Florida Atlantic's Lane Kiffin: "They looked fresh. They looked fast. To me, they look a lot better than they did a year ago on defense."
Or Cincinnati's Luke Fickell: "They lined up and said, 'Hey, do what you guys do,' and they challenged us and we couldn't do it."
Or Indiana's Tom Allen: "Nothing but respect for the Buckeyes and their staff and their team. They're an excellent football team, and they played at a high level today, and we didn't match it."
Or Miami (Ohio)'s Chuck Martin: "It's kind of like going to recess and they have the first 85 picks."
Or Nebraska's Scott Frost: "I give a ton of credit to them and their coaching staff because they're a lot better football team than they were a year ago."
Or Michigan State's Mark Dantonio: "I hate to disrespect any of (Ohio State's past) teams, to be honest with you, but this is as good as any of them."
Or Northwestern's Pat Fitzgerald: "I think Ohio State is the best team in the country, and I thought that watching the film."
Maybe, just maybe, we have an idea of what Chryst will say after the game too.