After giving the Redhawks a head start, the Bucks pulled itself together for the comeback-of-the-century, scraping by with a 76-5 victory.
Not too shabby, eh? After two games with in-state opponents, Ohio State officially owns the Buckeye State, outscoring their foes 118-5. 
In today's Inside the Box, we'll dive into Justin Fields low-risk, high-reward playstyle, Chase Young's generational season, and the offensive balance we have been missing in recent years.
Fields is the definition of efficiency
After four games, any and all doubts about the Ohio State offense have been silenced. The Buckeyes have outscored opponents 214-36 while doubling their total yardage. 
As do most things in football, it has all started at the quarterback position. Justin Fields has put himself into the conversation as one of the best quarterbacks in the nation, alongside Jalen Hurts, Joe Burrow, Tua Tagovailoa, and Trevor Lawrence. 
Fields may not have the gaudy yardage numbers that Jalen Hurts and Joe Burrow do, but his efficiency has kept him near the top in every key metric. According to ESPN's Quarterback Rating, an opponent-adjusted, advanced analytic, he has been the fourth-best quarterback in the nation this year.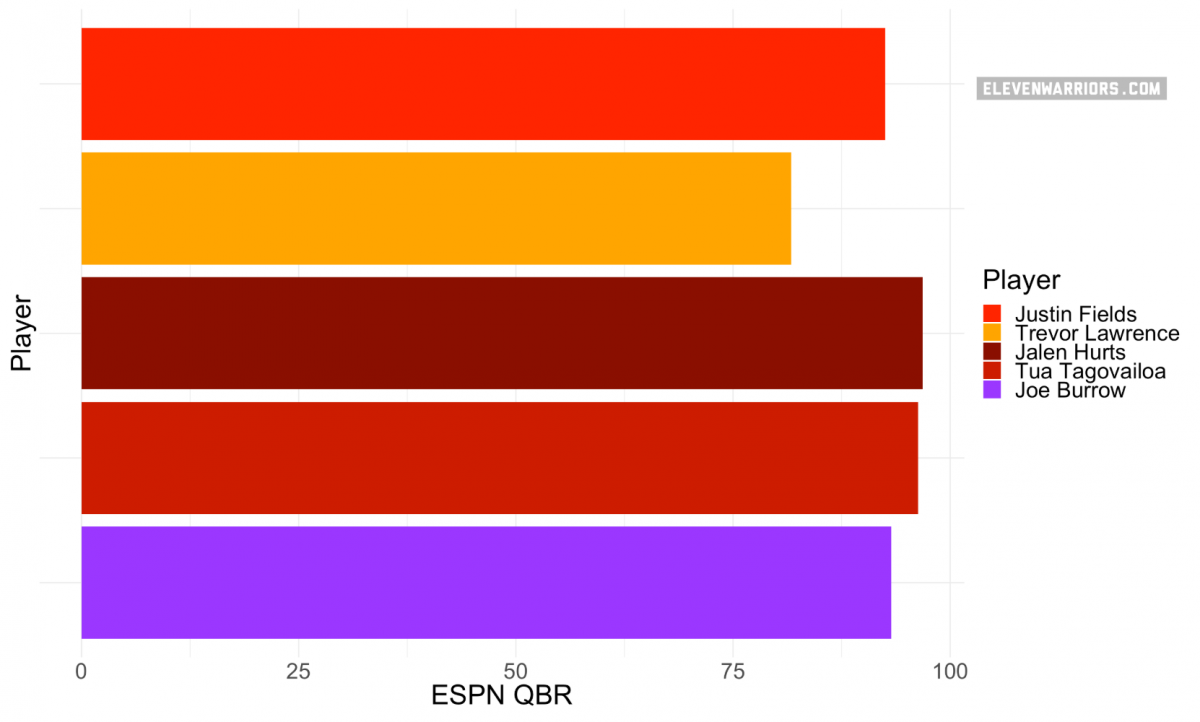 While the Bucks have been blowing out their mediocre opponents thus far, Fields' numbers is nothing to scoff at; he is leading this group in total touchdowns and has just one turnover on the season.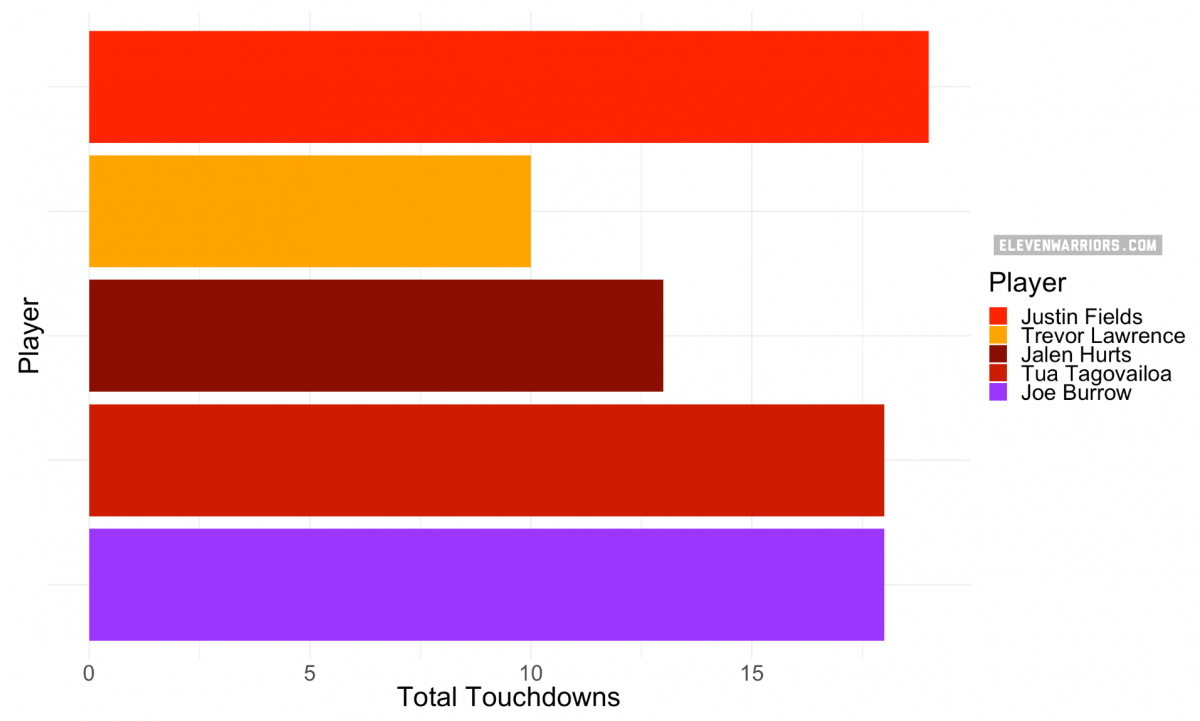 The Ohio State signal-caller has made a pass or rush attempt 129 times this season and nearly 15% of these combined attempts have gone for touchdowns, the best rate of any quarterback in this selected group. 
Overall, Fields is second in the nation in points responsible for, trailing just Washington State's Anthony Gordon by two touchdowns. Assuming he continues this rate (he almost assuredly won't, but let's have some fun), Fields would break Haskins' school record of 54 total touchdowns in a single season in against Michigan. 
The Bucks will be traveling to Nebraska, who started the season ranked in the top-25, for possibly their first true test of the season. Fields will likely be tested for the first time this season and 
Is Chase Young the best Ohio State defensive lineman of this decade?
The Predator has a legitimate chance to go down as the most prolific pass rusher in program history.
With 7.0 sacks through four games, he is exactly halfway to Vernon Gholston's record of 14.0 sacks, a mark that was accomplished in 2007. Young, barring injury, will play at least eight more games in the scarlet-and-gray, giving him ample opportunity to surpass Gholston's mark. 
Since 2013, the Buckeyes have been blessed with a future top-three pick in Joey Bosa, his brother Nick, and now Chase Young. One could make the argument that Young will end his career as the best of that trio.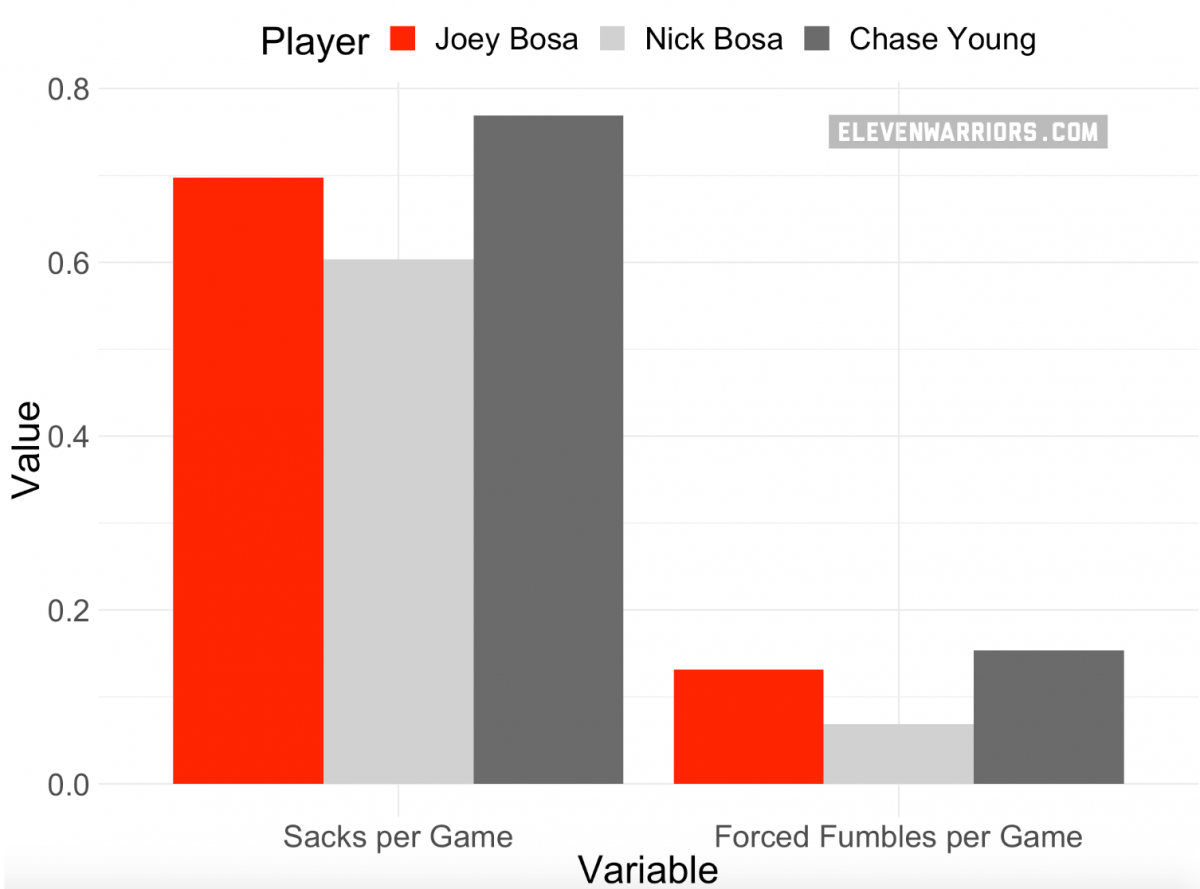 Assuming Young continues his career pace of 0.769 sacks per game, the third-year defensive end would tie Gholston's record in nine games, or the start of postseason play. 
Considering his monster start to the season, it should not be surprising if he breaks the mark against Michigan or Penn State. As Big Ten play begins, however, his sack totals will likely start to dip. Last season, Young finished the regular season with just six sacks before exploding for four more in the postseason. 
Even if he does slow down, the third-year defensive end has proved himself to be the best pass rusher in the nation.
A 50/50 split
The home team has balance again. 
Ohio State's offense through four games

Passing yards: 264.5/game
Rushing yards: 260.0/game pic.twitter.com/rHAOZepRQl

— Eleven Warriors (@11W) September 22, 2019
The Buckeyes' domination on all fronts has spawned an offense that scores the second-most points per game and the tenth most yards per play.
Ohio State's ability to spread it out and not focus on a single star is already paying dividends. The offense has two players with over 200 rushing yards (Fields has 190 yards, as well), three players with 10+ catches, and 12 different Buckeyes have scored a touchdown. 
Altogether, the offense has been incredibly efficient, earning them the fifth-best offensive rating in ESPN's S&P+ rankings and the second-place spot overall. Even with the weak competition, the scarlet-and-gray have taken care of business. 
The Bucks will look to extend Ryan Day's win streak against a hellish enemy -- Big Ten West opponents in primetime matchups. Nebraska poses a real threat with quarterback Adrian Martinez but if Ohio State plays anything like they have in the past four weeks, it should be over in Lincoln after three quarters.