We were all riled up, weren't we?
It was the homecoming of Luke Fickell, the return of a number of players who were not recruited by Ohio State/transferred from Columbus, and a matchup five years in the making. 
Some predicted Cinncinati to beat the Buckeyes. I predicted it to be a 14-point game. Just for it to be the biggest win of Day's first, albeit early, season. 
With the win, Ohio State extended its win streak over the Bearcats to 12, with the away team's last win against the Bucks coming in 1897 (is that even really considered football? Be honest.)
In today's Inside the Box, we'll compare this year's offense to the record-breaking production of last year, take a look at the Buckeyes' red zone efficiency, and how Ohio State kept it clean against Cinncinati. 
Offensive Replication
Folks, I am starting to think the Buckeyes will have a good offense this year. 
On the ground, J.K. Dobbins led the way with 141 rushing yards and the longest scoring run of his career. Through the air, Fields did not exactly put up the gaudy numbers of last year, but the quarterback play was extremely efficient. Only five passes thrown by Buckeyes hit the turf. 
While watching Justin Fields, it is obvious he is not the same type of player as Dwayne Haskins. But then again, maybe they are more similar than we realize. 
After two starts for the Buckeyes:

Dwayne Haskins 561 total yards, 9 TDs accounted for, 1 INT

Justin Fields 561 total yards, 9 TDs accounted for, 0 INT

— Tony Gerdeman (@TonyGerdeman) September 9, 2019
Haskins and Fields got to that 561-yard mark in two very different ways but it is clear that the production is here to stay. When looking at other year-to-year marks after the first two weeks, it looks as if the 2019 Bucks are trying to replicate last year's success.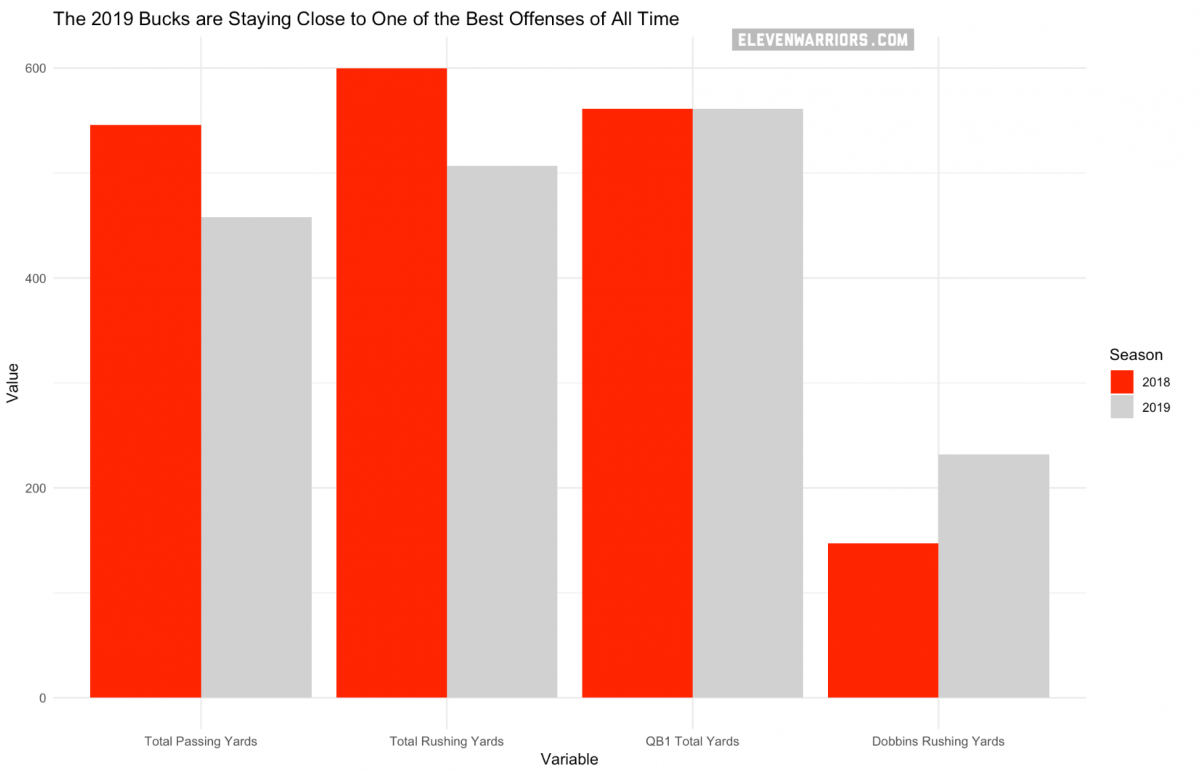 Fields' numbers are encouraging of course, but so are Dobbins'. As a noted Dobbins doubter, his outing against a presumably-good defense was impressive. He led the team in big plays, which are defined as run plays of 10+ yards or pass plays of 20+ yards, and got into the end zone twice. 
The overall passing and rushing totals are slightly down, but that should not be anything of note. Tate Martell threw for over 100 yards on 10/10 passing against Rutgers and the Bucks totaled over 300 rushing yards against Oregon State in a 77-31 blowout. 
It is tough to imagine this offense keeping pace with last year's record-breaking year, but nonetheless, these numbers show how explosive the Buckeyes could be this season. 
Red Zone Resurgence
Despite having the most prolific quarterback in conference history a season ago, Ohio State struggled mightily in the red zone. The offense struggled to run the ball all season long and the closer they got to the goal line, the more that issue was emphasized. 
With Justin Fields in the backfield as an additional running threat, many, myself included, have predicted the Buckeyes' red zone efficiency to drastically improve. Two games in, this expectation is being realized.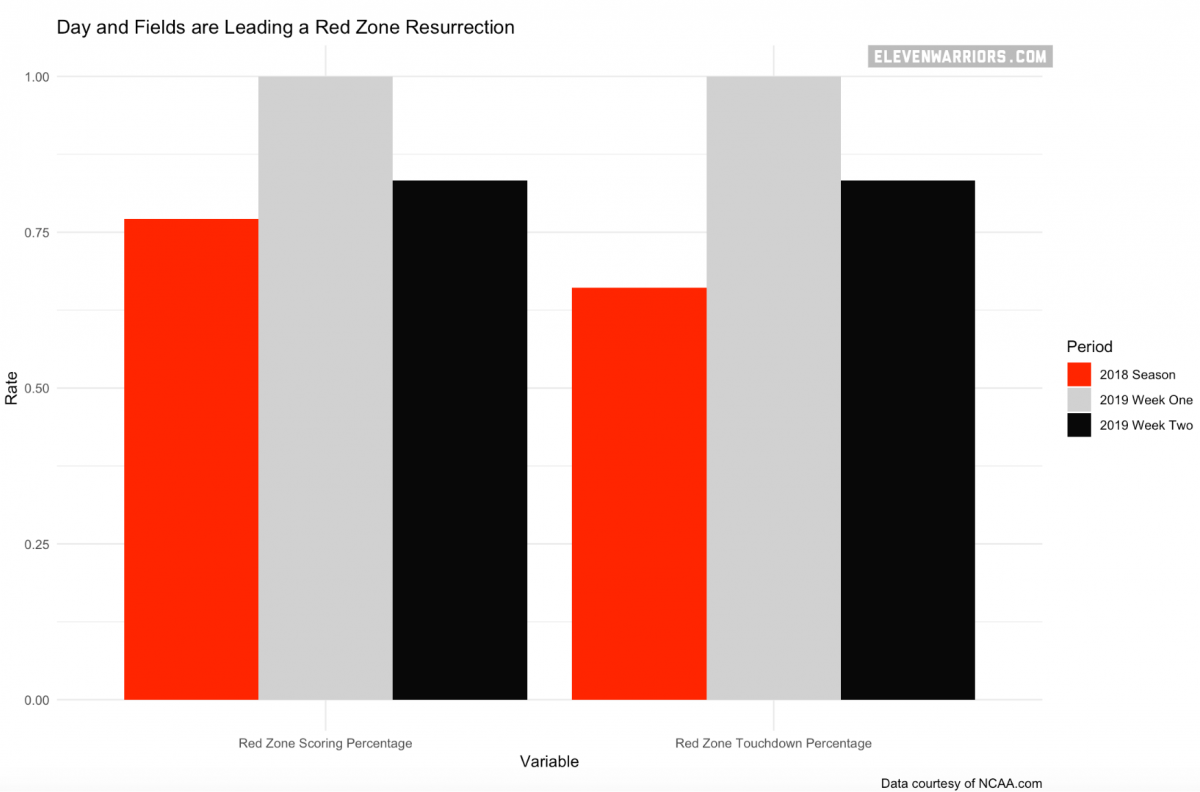 The Buckeyes scored on five of their six red zone drives against Cincinnati, beating last season's average rate of 77.14%. On the season, the Bucks are seven for eight (one drive ended in a turnover on downs).
Additionally, every red zone score has been a touchdown. The coaching staff is being aggressive in this region, even opting to go for it on fourth-and-one instead of kicking a field goal. The red zone touchdown percentage of 87.50% is much better than last year's rate of 66.12%. 
The newfound efficiency in the ground game, thanks in no small part to the running ability of Justin Fields, will allow Ohio State to maximize their red zone efficiency. 
Bucks Keeping it Clean
The 2018 season, for all of the broken records, was often filled with frustration. Far too often, the Buckeyes had their field littered with yellow rags. Ohio State ranked 124th in the nation last year in penalties per game, averaging 8.3 infractions per contest (this number is still half as many flags as the Browns committed yesterday). 
Against Florida Atlantic, it looked like more of the same, with the Bucks racking up seven penalties for 62 yards. In a highly anticipated game against the Buckeyes' biggest in-state competitor, I would not have been surprised if things got a little chippy. 
Instead, the home team kept their composure, committing just two penalties for 25 yards. It was the program's lowest total since the 2016 Michigan game (two penalties committed for six yards). 
Ohio State's clean performance is a breath of fresh air, but it is impossible to tell if it is here to stay. With another less-than-outstanding opponent in Indiana, the Bucks should focus on clean play and execution to prepare for conference play.