At long last, college football is back in Columbus.
It was not as polished as we may have hoped, but a win is a win and there is plenty of room for improvement. The Owls took the first quarter off but came to play for the final 45 minutes, outscoring the Buckeyes by four in that span. 
Despite this, there were a number of important takeaways from the game. In today's Inside the Box, we take a look at Justin Fields and how his performance compared to the debuts of other starting quarterbacks, how Dobbins looked more like his 2018 self than his 2017 self, Jashon Cornell's breakout performance, and how the secondary may be back to the levels 
Justin Fields is in Good Company
As the highest-rated player in program history, expectations are sky-high for Justin Fields. Despite his struggles, the Georgia transfer showed promise in his debut and will continue to improve as the season continues. 
When comparing his performance to Ohio State's four other starting quarterbacks since 2011, it looks like he is in good company.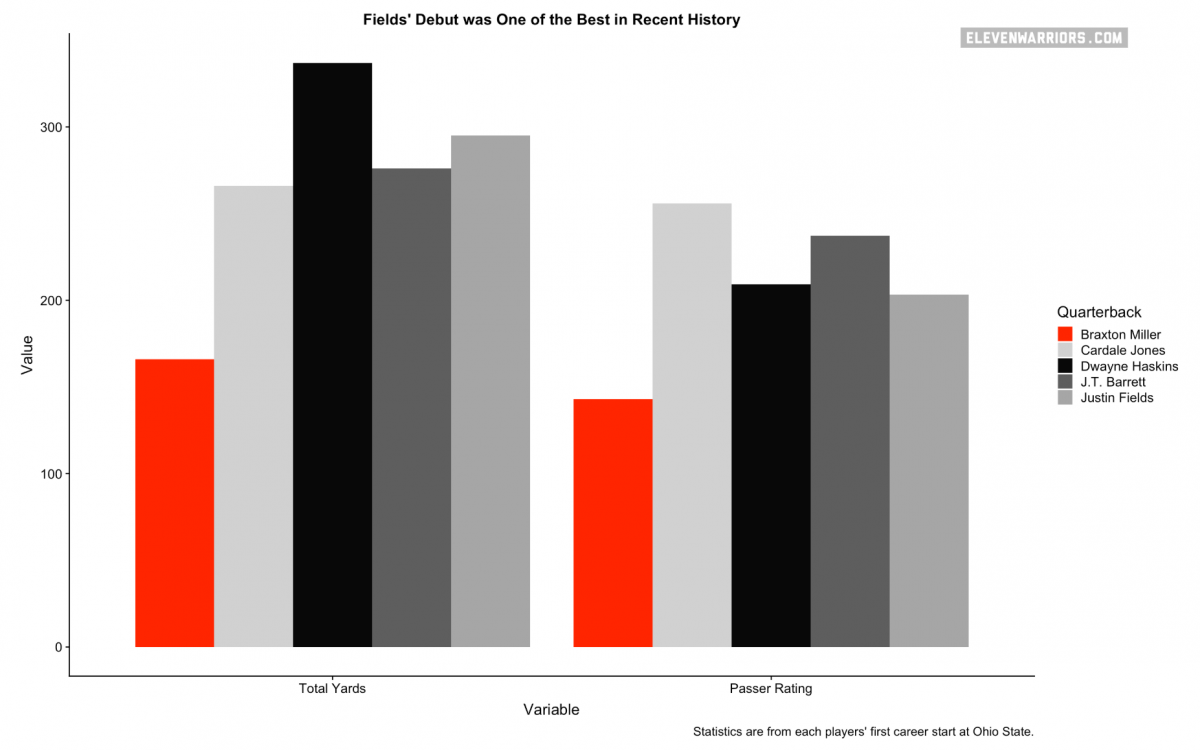 He ranks second in total yards in a debut and is tied for first for total touchdowns. His five-touchdown performance is also the most by any Ohio State player making their first appearance in program history. 
His passer rating is the second-lowest on the board, but that is nothing to be ashamed of; his 203.4 passer rating is remarkable and has earned him Pro Football Focus' Big Ten Quarterback of the Week Award. 
Justin Fields answered a LOT of questions yesterday with a strong showing in Week 1. pic.twitter.com/gOyldmMwo6

— PFF College (@PFF_College) September 1, 2019
Against weak competition, Fields was expected to put up solid numbers. Next week will be his first true test as he will face off against a defense that was seventh last year in total points allowed.  
Which Dobbins will Show Up?
As the lone feature back for the first time in his career, many have pegged J.K. Dobbins to put up video game numbers in his third year with the Buckeyes. A subpar 2018 season has motivated him to exceed all expectations
One week in, we still are not sure what to expect. 
His rushing totals were better than last year's per-game average, but his per-carry numbers fell even further.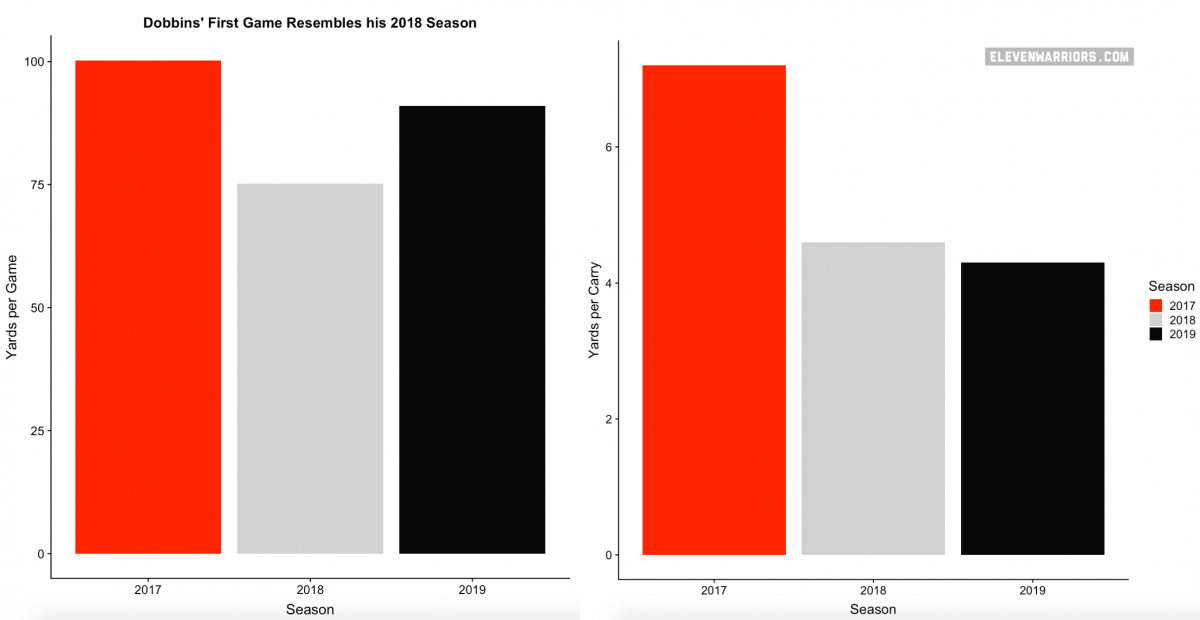 It is important to note that a number of different variables could be the cause of his lower per-carry numbers. For one, it was a blowout early, leading the team to run more than typical to drain the clock. Also, there were a number of times where it appeared that Fields had an open lane and still handed the ball to Dobbins, who was often tackled for little-to-no gain. This decision could have been made to protect Fields in what was turning into a meaningless game. 
No conclusions should be made from this single game but his struggles against FAU should not be ignored, even if there are a number of variables at play. Against the Bearcats, look for Dobbins to have a bigger role in the offense to help his quarterback, who will be making the second start of his career. 
Jashon Cornell is Stepping Up
When it was learned that Jonathon Cooper would miss the first game, at least four different players were in line to take some of his playing time. In the student's only open practice, it looked as if Javontae Jean-Baptiste and Zach Harrison were going to step up in Cooper's absence. 
Instead, graduate Jashon Cornell got the start and took the majority of snaps at the position and wreaked havoc. It was easily the best performance of his career and makes him an obvious back-up to Cooper.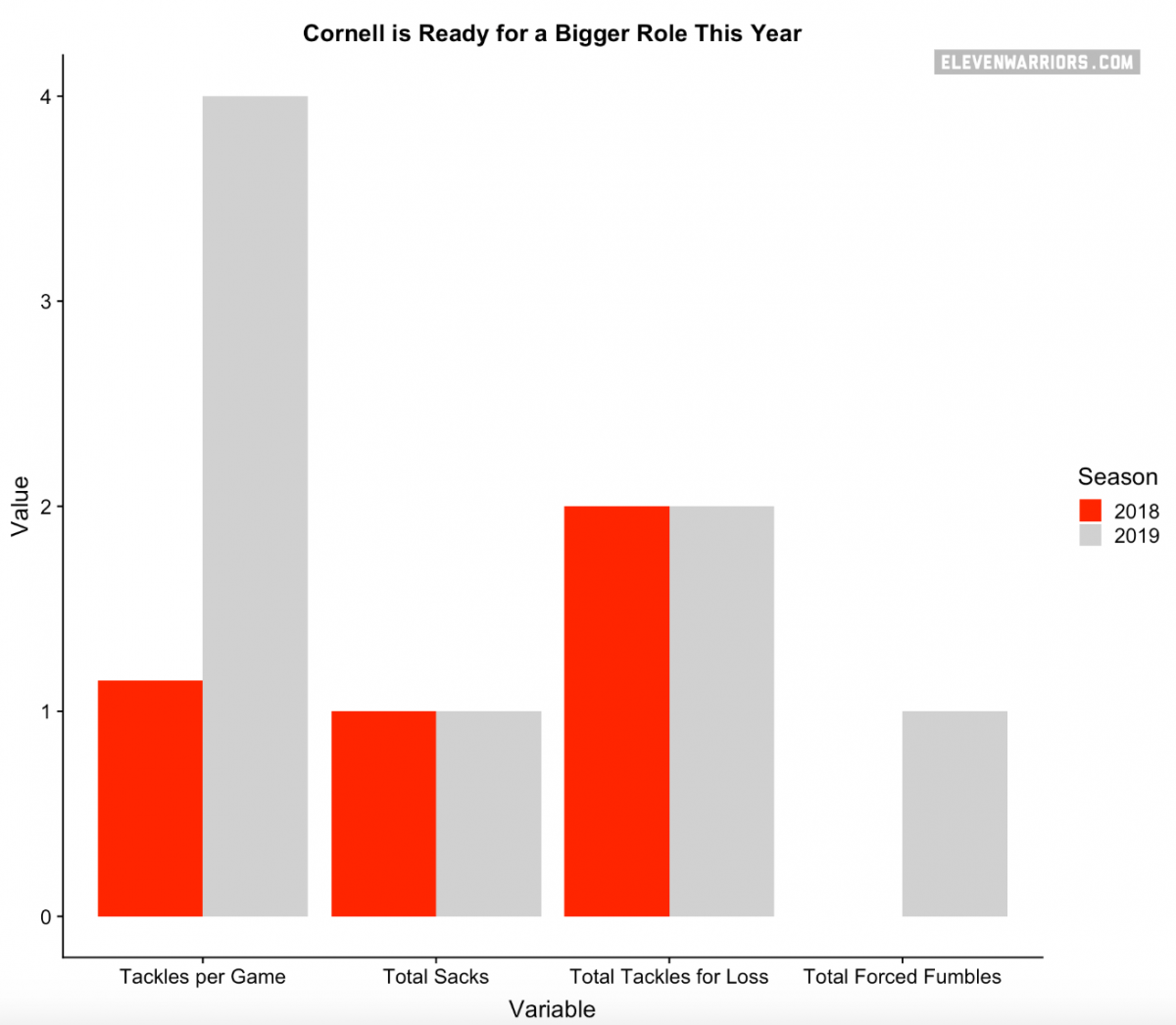 Cornell matched his 2018 sacks and tackles for losses totals in just one game and even added a forced fumble. His four tackles are also the most in a single game of his career. 
At 6-foot-3 and 285 pounds, he, like Cooper, is the perfect complement to Chase Young and fits well into Larry Johnson's scheme. With Cooper out for at least another week, Jashon Cornell has proven he is ready for the moment. 
The Secondary is Back
There is no doubt that Ohio State's defensive backfield is talented.
Damon Arnette is lightning quick. Jordan Fuller is a three-year starter. Jeffrey Okudah has already been receiving draft praise, with some big boards putting him in the top five. 
This same, talented trio played together last year, however, and were a part of one of the worst Ohio State defenses in recent history. With the coaching change, however, new life has been pushed into the secondary. 
The secondary's performance against Florida Atlantic is the first piece of evidence to the above claim. The Bucks allowed just 206 yards through the air and picked the Owls off once. Moreover, Florida Atlantic averaged an abysmal 5.15 yards per pass attempt, putting the Buckeyes as the 17th best team in the nation in that regard. 
With Cincinnati coming to Columbus next weekend, it is crucial that Ohio State puts together a more well-rounded performance to ensure a victory against the Bearcats. Despite their sloppiness against a vastly inferior team, the Buckeyes have clearly shown their potential and will compete for a conference title once again.