Although the next four weeks are a crucial time for Ohio State's offensive line to build cohesiveness as a unit going into the season opener on Aug. 31, the Buckeyes aren't rushing into setting their lineup up front.
That's been evident in the first two practices of preseason camp that have been open to the media this August, in which the Buckeyes have opened practices with two different sets of starting offensive tackles. In the first practice on Friday, Joshua Alabi worked with the first-team offensive line at left tackle, while Nicholas Petit-Frere worked with the first-team offensive line at right tackle. In the fourth practice on Tuesday, Thayer Munford was the first-team left tackle and Branden Bowen was the first-team right tackle.
Ohio State has also been rotating on its second-team offensive line, where the tackles have changed depending on who's with the first-team unit while Gavin Cupp, Matthew Jones and Ryan Jacoby have all taken second-team reps at guard.
For the most part, the starting spots up front should be accounted for – Munford, who did not practice this spring after undergoing back surgery, should start at left tackle as long as he is fully healthy, while Jonah Jackson, Josh Myers and Wyatt Davis have been taking all the first-team reps on the interior offensive line. But the Buckeyes are giving a multitude of offensive linemen the opportunity to compete early in camp to see what they can do.
"We're going to roll those guys up front," Ryan Day said after the Buckeyes' first practice of camp on Friday. "Especially the first few days, some guys will get reps with the ones, some guys will get reps with the twos. So you'll see a lot of guys running with the ones, running with the twos. And then as camp goes on, I think it will be more solidified."
Although Munford is the only returning starter from last year, Day said he believes the Buckeyes have seven or eight offensive linemen "that can get in there right now and play." Jackson, Myers, Davis, Bowen, Alabi and Petit-Frere can all be assumed to be in that group, and Day suggested that Ohio State could even find ways to play offensive linemen off the bench on a regular basis if they prove they belong on the field.
"If enough guys deserve a chance to play, then we'll roll guys at different positions like we did at receiver last year," Day said.
Day said Friday that he feels "as good as I've felt in the last couple years" about Ohio State's depth on the offensive line entering this season, which increases the competition to earn a spot in the starting lineup or on the two-deep for the Buckeyes in the trenches.
Ohio State now has 15 scholarship offensive linemen on its roster – including former walk-on Kevin Woidke, redshirt sophomore Max Wray and true freshmen Harry Miller, Enokk Vimahi and Dawand Jones – and all of them have been on the field and participating in practice, unlike this spring, when Munford was sidelined by injury and Jackson, Miller, Vimahi and Jones had yet to arrive.
Jackson was a starter at Rutgers before arriving at Ohio State as a graduate transfer. Bowen, Davis and Alabi have all started games for the Buckeyes, while Myers, Cupp and Woidke have each also now been in the program for multiple years, which has Day feeling comfortable with the experience the Buckeyes have up front.
That's not stopping the Buckeyes, though, from giving talented young players like Petit-Frere and Miller – both five-star recruits – a chance to compete for playing time right away. Petit-Frere has a real chance to win the starting right tackle job, while Miller has been running as the second-team center. 
Day said Tuesday that Petit-Frere has put on 20 pounds since last season and "improved immensely."
"He's doing a really good job," Day said of Petit-Frere. "I'm really proud of where he's at, and I think he's going to really help us this year, and he's battling hard to be a starter right now."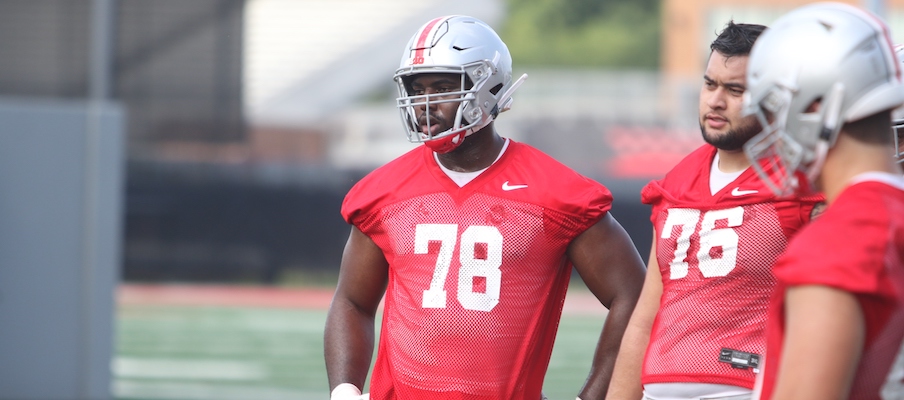 Day said he wasn't sure whether Miller "should" be the Buckeyes' backup center this year, given that he is a true freshman, but said he believes Miller has the ability to be that if they need him to be, and Day expects Miller to get some playing time this season one way or another.
"I think he's going to have to continue to grow as the season goes on," Day said. "I do see him getting on the field. How much will be dependent upon our depth, injuries, how the season goes, a lot of different things, and how he develops in the next couple weeks. But he has the ability. He's very intelligent. He can process, he can bend, he can do those things."
Day did make it clear, though, that any playing time players earn won't be because of the hype they came in with, but because of what they've done since they arrived in Columbus.
"Sometimes when the recruits get in here as freshmen, we have them come up in front of the team and introduce themselves, and then some of the guys will say, 'How many stars did you have?' And the minute it comes out of their mouth, they all yell out, 'We don't care!' Not right in those words, but you can just imagine what they say," Day said. "Nobody cares. Stars don't mean a thing. It's like being a first- or second-round draft pick. You have to produce. This is a game of production."
With Miller and Jacoby both getting second-team reps inside as true freshmen, it would appear that the Buckeyes have stronger veteran depth at offensive tackle – with four legitimate potential starters there – than at guard and center. If needed, though, the Buckeyes could move Bowen – who started the first seven games of the 2017 season at right guard before suffering the leg injury that sidelined him for the rest of that season and all of last year – back inside to fill a spot there.
"He's at right tackle now. The good thing for Branden is he's got a lot of versatility, so he's played some different positions for us," Day said Tuesday. "A lot of the calls are the same, so you can kind of move – if you understand the offense and understand the calls, a double team on the frontside is very similar to a double team on the backside. In pass protection, it's a little different, but he's done both. I think he feels confident really for the first time on that leg, which is great for him, and so he's practicing with a lot of energy right now."
Over the next couple weeks, the Buckeyes will have to decide on both their starting five up front and how the depth chart will stack up at each position so the unit can work together to build chemistry in the positions they will play against Florida Atlantic – in which, if all goes according to plan, Ohio State will likely be able to get its backup offensive linemen on the field once it builds a significant lead.
For the time being, though, they'll likely continue to experiment with various lineups and give each player who isn't already locked in as a starter the chance to make his case for why he should get a chance to move up the depth chart.