As Ohio State held its fourth practice of preseason camp on the fields outside the Woody Hayes Athletic Center on Tuesday morning, the Buckeyes opened the beginning of their practice to members of the media for the second time this year. Media members were allowed to watch the first five periods of Tuesday's practice.
There weren't too many differences in the beginning of Tuesday's practice from the Buckeyes' opening practice of camp on Friday – Justin Fields was still the first quarterback in the line throughout the open viewing window of practice – but there were some changes to the first-team offensive line and a few players who are now rehabilitating injuries, along with some notable practice visitors.
Rolling offensive tackles up front
After Joshua Alabi took the first-team reps at left tackle and Nicholas Petit-Frere took the first-team reps at right tackle in Ohio State's opening practice of camp on Friday, Buckeyes head coach Ryan Day warned the media not to read too much into that. Day said Friday that he feels the Buckeyes have seven or eight offensive linemen who are capable of starting this year, and that they would "roll" players between the first- and second-team lines up front.
"Especially the first few days, some guys are going to rep with the ones, some with the twos," Day said Friday. "Some are on a pitch count with volume control to make sure we can ease them back into practice. You'll see a lot of guys running with the ones and twos. As camp goes on, it will be more solidified."
The lineups up front to begin Tuesday's practice backed that assertion up.
Thayer Munford, who is expected to be Ohio State's starting left tackle this season but began camp with the second-team offensive line after missing the entire spring due to injury, was back with the first-team offensive line on Tuesday. Branden Bowen, meanwhile, was Ohio State's first-team right tackle.
The first-team interior offensive line remained the same from Friday, with Jonah Jackson at left guard, Josh Myers at center and Wyatt Davis at right guard.
Alabi and Petit-Frere lined up with the second-team offensive line on Tuesday, with Matthew Jones and true freshmen Harry Miller and Ryan Jacoby making up the lineup at left guard, center and right guard.
Munford should ultimately start at left tackle, but Alabi will likely continue to get his share of first-team reps throughout the next couple weeks to ensure he is ready to play at left tackle in case Munford has any setbacks. Munford spent a minute on the ground getting his left leg stretched during the second period of practice; a minute later, Alabi began limping after finishing a rep of a drill. Neither missed a single rep, but it underscored the need to have both of them ready to play heavy snaps at left tackle in the event that one of them suffers an injury.
It would be a surprise if the starting interior offensive line isn't Jackson, Myers and Davis from left to right. The battle at right tackle between Bowen and Petit-Frere, though, is one that could remain hotly contested throughout the next couple weeks.
Mack, Teague sidelined by injuries
Running back Master Teague and wide receiver Austin Mack did not practice with the rest of their teammates on Tuesday due to apparent injuries. They both spent time rehabilitating with other injured players on a side field while the rest of the Buckeyes went through drills.
The group of injured players who were sidelined for Friday's practice also included Justin Hilliard, Ronnie Hickman, Tyreke Johnson, Noah Donald and freshman linebacker Tommy Eichenberg. Mack, Teague and Eichenberg were all new additions to the group of injured players after practicing with their teammates on Friday.
Mack's junior season was cut short after he suffered a foot injury in Ohio State's loss to Purdue on Oct. 20. He returned for his senior year hoping to finally have the breakout season that has been projected since he arrived on campus in 2016, and Day said at Big Ten media days that Mack is likely to be a starting wide receiver this season (along with K.J. Hill and Binjimen Victor), but the severity of Mack's undisclosed injury is unclear.
Teague is currently embroiled in a battle to back up J.K. Dobbins at running back. He practiced Friday but did not join Dobbins, Demario McCall, Marcus Crowley and Steele Chambers for running back drills on Tuesday.
Day has said that he does not intend to provide specific updates on players' injuries this season, so it's unlikely Ohio State will provide official updates on their status.
Urban Meyer, NFL scouts attend practice
Former Ohio State coach Urban Meyer, who was not spotted during the open portion of the Buckeyes' opening practice on Friday, was on hand to watch practice with his son Nate on Tuesday. Meyer's close friend and podcast co-host Tim Kight was also in attendance watching practice with Meyer.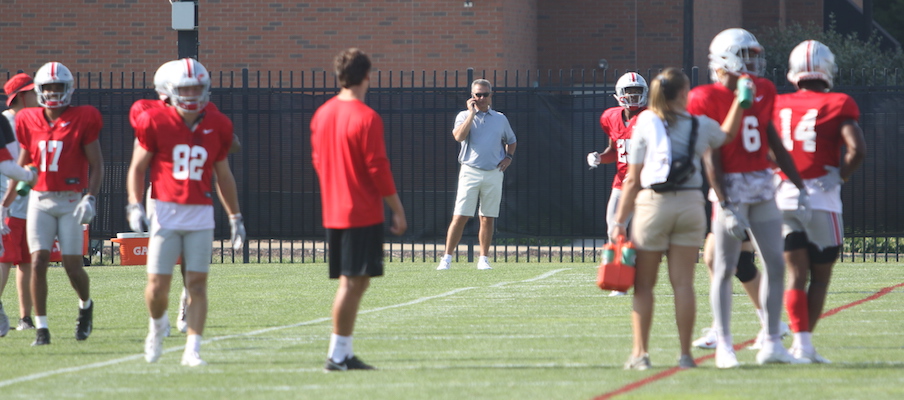 Ohio State athletic director Gene Smith and Buckeye greats Mike Doss and Bobby Carpenter were also among the visitors at Tuesday's practice.
The Big Ten Network was in Columbus on Tuesday for the second stop of its preseason bus tour. A multitude of NFL teams also had scouts in attendance for Tuesday's practice, including the Los Angeles Chargers, Seattle Seahawks, Chicago Bears, Kansas City Chiefs, Baltimore Ravens, Atlanta Falcons and Cleveland Browns.
Hill, Victor, Olave lead the receivers
There's plenty of time still for the pecking order at wide receiver to change, and Mack will play a key role in the rotation once he is healthy again, but the lines at the receiver position stacked up as follows during Tuesday's practice:
H-back: K.J. Hill, C.J. Saunders, Jaelen Gill, Sam Wiglusz (walk-on)
X receiver: Binjimen Victor, Jaylen Harris, Garrett Wilson, Xavier Johnson (walk-on)
Z receiver: Chris Olave, Ellijah Gardiner, Jameson Williams, Austin Kutscher (walk-on)
Mack will likely slide in ahead of Olave as the starting Z receiver, provided he soon returns to full health, but Olave is expected to play a major role this season regardless.
Harris remains ahead of Wilson for now, but he'll have to play well to hold off the talented freshman who shined in the spring game. Saunders also will get pushed at H-back by Gill, who impressed Brian Hartline in the spring.
Justin Fields to K.J. Hill. pic.twitter.com/45f7ErSiHE

— Colin Hass-Hill (@chasshill) August 6, 2019
Other observations
Chris Chugunov remained second in the line at quarterback at Tuesday's practice while Gunnar Hoak, participating in just his fourth practice as a Buckeye, was still third in the line.
Wilson was among the group of players practicing punt returns that also included McCall, Hill, Gill and Saunders. Special teams coordinator Matt Barnes mentioned Wilson on Sunday as a potential candidate at the spot.
With Teague sidelined from practice on Tuesday, McCall worked as the second-team running back during team drills. But during individual drills, walk-on running back Amari McMahon was second in line behind Dobbins, and he was followed by Crowley, Chambers and McCall, who took the rear.
Sophomore linebackers Teradja Mitchell and Dallas Gant and true freshman linebacker Cade Stover were among the young players spotted taking reps with the first-team punting unit.
In a similar fashion to what he did in the spring, Greg Mattison spent the entirety of the individual position drills with the linebackers. He coaches the strongside linebackers and bullets, and he also spent time with Al Washington coaching the rest of the linebackers.
A pair of freshmen – Craig Young and Stover – joined Brendon White, Jahsen Wint and Pete Werner with the strongside linebackers and bullets during individual drills. 
K'Vaughan Pope, who spent his first year at strongside linebacker, worked with on the inside with the middle linebackers and weakside linebacker. On Friday, Malik Harrison said Pope is now a weakside linebacker.