Anthony Schlegel took a calculated risk.
After receiving his MBA from Ohio State's Fisher College of Business in 2015, Schlegel had a multitude of job opportunities. He could have taken a job with one of several businesses that were interested in hiring the former Ohio State linebacker. He was an assistant strength and conditioning coach for the Ohio State football program at the time, so he could have continued in that role or pursued a head strength and conditioning coach job elsewhere.
Instead, Schlegel decided to start his own business.
During the winter of 2015, when Schlegel was still working for the Buckeyes, Urban Meyer tasked Schlegel and then-co-defensive coordinator Chris Ash with developing a drill for players to practice their hand striking and placement during offseason conditioning workouts. Initially, they used two-by-six wooden boards and had players take turns holding them and striking them. That presented safety concerns, though, as the boards would be left scattered throughout the Woody Hayes Athletic Center after players finished using them; it also required players to have a partner in order to do the drill.
So Schlegel developed a prototype – the prototype that would ultimately become The Difference Striking Machine – and quickly became inspired by the potential of the product. Following practice one day, Schlegel saw starting offensive lineman Pat Elflein and core special teamer Craig Fada walk into the weight room and strike the prototype 20 to 30 times before leaving the facility.
"And I was like, 'That's why it could be successful,'" Schlegel recalled. "That was 20 or 30 reps more than they would have gotten on that particular day, and they just got better because it was the right technique."
A few months later, Schlegel sat down with his wife Stephanie – who he said thought the idea was "absolutely stupid," but supported him nonetheless – to discuss the possibility of leaving Ohio State to focus on further developing that product and selling it to football teams all over the country.
"It takes a lot of faith," Schlegel told Eleven Warriors. "We're both believers. I just felt very convicted that I went and did my MBA and we came up with this idea, so now we're going to go pursue it as well as we can."
Four years later, that conviction has paid off. 
The Difference Striking Machine has now been purchased by more than 80 Division I college football programs as well as 20 NFL teams. In May, Schlegel achieved another milestone: He officially received a patent for the striking machine, validating his invention while protecting the company against others who might try to copy his idea.
Couldnt have done it w/o The Lord, my Wife, my Kids, Dan Oglevee @Bcarp3 @MickeyMarotti @CoachChrisAsh @OSUCoachMeyer @OhioStateFB @OSU_AD Jeff Uhlenhake Kenny Parker @p_matusz @courtstrength OSU Coaches & Players @FisherOSU @OhioState_TCO & all the teams who believe in it! pic.twitter.com/esU4E9mjoK

— Anthony Schlegel (@schlegelvellie) May 30, 2019
Although the proliferation of the striking machine into more than 100 major football programs can certainly be viewed as rapid growth, Schlegel admitted that he actually expected his company to grow even faster.
"That's the problem with being a strength coach as well as a business owner is I think just inherently, I got a really bad sense of timing," Schlegel said. "I think it should have happened in the first year. But as you go through the process, you understand the benchmarks that you've been able to achieve kind of rapidly, but you also understand why you probably don't necessarily have the growth that you thought you would have at this time."
Schlegel certainly has reason to feel good about the decision to launch his own business, though he's far from satisfied with what he's already accomplished and is now looking to expand both the reach and scope of his company.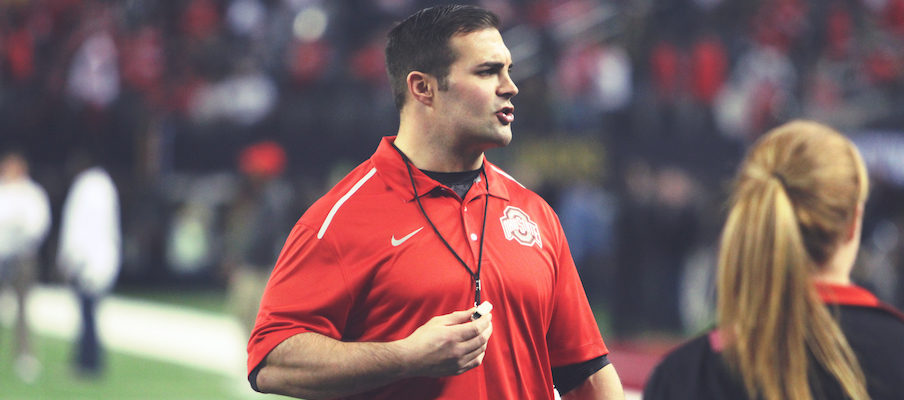 First and foremost, Schlegel is looking to get The Difference Striking Machine into more football programs at smaller colleges and the high school level, which he says are the markets "where you can really generate revenue."
That's a big reason why he hired former Ohio State offensive lineman Brady Taylor to be his first full-time employee. Taylor is now the head of sales for The Difference USA, and has drawn from his own personal experiences using the striking machine during his time at Ohio State in pitching the company's products to potential buyers, particularly Ohio high schools.
"My first year when I got (to Ohio State), I tore my shoulder up pretty bad," Taylor said. "Playing at a small Catholic school, you kind of get away with bad fundamentals when you're bigger, faster and stronger than everyone. But when you start going against Noah Spence, Joey Bosa, Sam Hubbard and they go on an inside move and you try to strike them outside on their shoulder pads, that's what happens. You tear your shoulder out. And so that's why I really have been stressing the importance of this machine, because I know personally what happens when you don't have the proper technique."
In addition to the striking machine, The Difference USA is now selling a second product that Schlegel invented called The Pit, a portable weight rack. Like the striking machine, The Pit was also inspired by Schlegel's time as a strength coach at Ohio State, where "the pit" refers to the area where injured players work out during practice. What Schlegel's product allows sports teams to do, he said, is to do the same training exercises that they would do inside the weight room outside of the weight room – which can be beneficial for players rehabilitating from injuries, specifically, since The Pit can be stationed adjacent to the practice field rather than having players inside the weight room and away from their practicing teammates.
Along with several major college football programs and NFL teams, additional clients for that product so far have included the U.S. men's national soccer team and the Ohio National Guard.
For Schlegel, the expansion into new markets and new products of course carries the potential to generate more revenue, but he also wants to continue finding new ways to give his clients more bang for their buck, and help athletic departments find solutions for their strength and conditioning equipment needs.
"You always want to exceed expectations, you always want to be able to add value," Schlegel said. "How can I add value to our coaches and athletes, and how can I constantly be moving the needle? I always want to sell them what they need, not necessarily what they want. Because the last thing I want is a striking machine in the closet. I want them utilizing it."
Schlegel isn't satisfied with where his company is yet, but he's certainly on a profitable trajectory, and he's been able to accomplish that goal all the while manufacturing his products entirely within the United States, mostly within Central Ohio. That's important to him, but he says he wouldn't have been able to make all of that happen without the support of great people around him, including company co-founders Daniel Oglevee and fellow former Ohio State linebacker Bobby Carpenter, but especially his family.
"When you go decide to do this, you leave Ohio State and you have a porch-swing conversation with your wife and it's like 'Hey, we're going to leave Ohio State and coaching and the potential of being a head strength coach and all these different things, and we're not going to have insurance or a paycheck, we're going to start a company,' that's pretty daunting," Schlegel said. "You couldn't do it without them and their support and their time and energy and effort, going up to the shop and working and believing in you, so my wife Steph and my three kids Hunter, Faith and Sam, they've been awesome through this entire process."