As Brady Taylor sat at his locker following the conclusion of Ohio State's Rose Bowl win over Washington on Jan. 1, reality set in.
Taylor, who was substituted into the lineup for the Buckeyes' final kneel-down to wrap up their 28-23 victory, had played in his final football game. The fifth-year senior offensive lineman, who was sidelined for most of his final season at Ohio State after undergoing arthroscopic knee surgery, had already decided that he would not pursue a professional football career due to the physical toll injuries had taken on his body.
So when a reporter approached Taylor after the game to ask him about playing for the final time as a Buckeye, Taylor was suddenly overcome with emotion. After politely shooing the reporter away, Taylor sat at his locker crying for the next 45 minutes.
"My heart just dropped there for a second," Taylor said while recalling that moment in a recent interview with Eleven Warriors. "It really hit me in the heart that something that I've loved since I started playing tackle football at 7 years old (was over) … there's not really any words that would describe that feeling."
Taylor's Ohio State career didn't go the way he had hoped – at least, not on the field. He never started a game for the Buckeyes after being passed over for the starting center job in each of his final three seasons, and was forced to accept that he would not get a chance to play in the NFL, unlike many of his Ohio State teammates.
Just taking the field for even a single snap in the Rose Bowl, though, can be considered an accomplishment after all that Taylor battled through over the past five years.
---
After serving as a backup to Jacoby Boren for his first two seasons at Ohio State, Taylor could have been in line to be the Buckeyes' new starting center in 2016. The coaches decided to move fifth-year senior Pat Elflein to center instead. 
A year later, Taylor found himself in the same position as possibly being next in line to start at center as a redshirt junior in 2017. Once again, the coaching staff decided to move fifth-year senior Billy Price from guard to center.
Elflein and Price both went on to win the Rimington Trophy as the best center in college football, so Taylor couldn't be bitter.
"People want you to be upset about that or whatever, it's like, no, they were the best, most elite player at that position, you can't be upset about that," Taylor said. "That's what competition's bred on."
Going into his fifth-year senior season at Ohio State, Taylor was supposed to finally get his opportunity to be the Buckeyes' starting center. He ran with the first-team offense throughout last spring, and was still in that role when preseason camp began.
A couple weeks into camp, however, Taylor – who underwent five surgeries during his Ohio State career – suffered another setback.
"We got into that third scrimmage, I was playing well and first drive, we come out on the field, second play and D-lineman came across my face, I went to pick up the twist and my knee just kind of, just hurt," Taylor said. "I felt it in my bones. That's kind of how it is with ligament stuff. And I was trying to run on it and play on it and I was just playing terrible through it, and I remember I woke up the next day and my knee was about the size of probably a volleyball."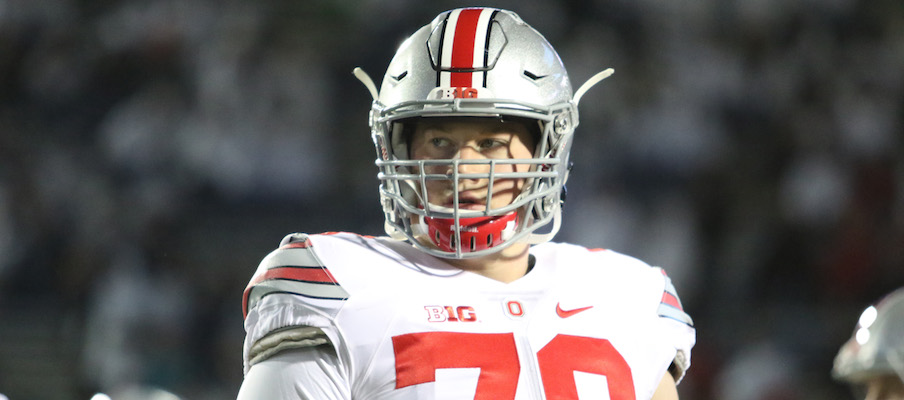 Ohio State ended up moving Michael Jordan from left guard to center, where he started all 14 games for the Buckeyes last season, but that move might have never happened if Taylor stayed healthy.
Taylor initially attempted to battle through the injury, and played 25 snaps at left guard with the second-team offensive line in the Buckeyes' first two games of the year against Oregon State and Rutgers. His knee didn't recover the way he had hoped it would, however, forcing him to undergo arthroscopic surgery in which his meniscus was removed.
"It just didn't rehab like it should have," Taylor said. "So I kind of had to accept that, and at that point I knew, I was probably done. Every day, trying to get my body and my knees ready to go out to practice was an extreme struggle."
The one snap he played at right guard in the Rose Bowl was the only snap he would play for the rest of his football career.
Even though he wasn't likely to be drafted, Taylor could have chosen to participate in Ohio State's pro day with hopes of impressing an NFL team and competing for a roster spot. Realistically, though, Taylor knew it was time to move on to the next phase of his life.
"Mentally, I definitely could have done it, but physically, I was just like 'I don't think I have anything left in the tank,'" Taylor said. "And that was something I really had to come to grips with. I really struggled with it. It put me in bad moods at times just thinking about it. But there's just a point where your body tells you, 'Enough is enough.'"
Although it certainly wasn't easy for Taylor to accept that his football career would end without achieving his on-field goals, he tried to keep a positive outlook. While he wasn't able to spend much time on the field, Taylor spent his final season at Ohio State mentoring the Buckeyes' younger offensive linemen, such as Josh Myers and Wyatt Davis, and helping them prepare for their opportunities to achieve the goals that he could not.
It was important for Taylor to keep himself in a healthy frame of mind mentally, because he hadn't always been able to do that before.
As a child, Taylor developed what he described as "pretty severe anxiety," but he never sought treatment for it.
"Just how I was raised, it was something that I knew I had but I just kind of shrugged aside because that's just how guys are, they're just hard-headed," Taylor recalled. "And it was something I was able to cope with through my years as a kid growing up, even high school football. But once I got to Ohio State, it really got put under a microscope and almost exploited."
For most of his years at Ohio State, Taylor rarely slept for more than three or four hours. He couldn't eat before practice or he would throw up. As he balanced the challenging schedule of a college football player with the pressure of trying to prove he belonged with the Buckeyes, Taylor was constantly stressed, and his poor mental health began to affect him physically, too.
Taylor hit his lowest point in the summer of 2017, before his redshirt junior season, when his cortisol levels became so high – because of his anxiety – that Taylor was unable to fight off any illnesses or infections. As a result, Taylor had to be hospitalized three times due to staph infections and dropped from his previous weight of 305 pounds into the 270s.
He was away from the team for about four weeks, and he wasn't sure whether he would return.
"That was actually the first time that I ever thought about giving up football completely for health reasons, because dying of a heart attack at 23 is not good," Taylor said. "I've been through a lot of stuff in my life, but that was the toughest probably two, three months of just constantly feeling terrible."
Finally, though, Taylor began to get the treatment for his anxiety that he needed. And he had plenty of support from within the Ohio State football program in his corner, including physical therapist Adam Stewart, athletic trainer Shaun Barnhouse, sports psychologist Steve Graef and leadership mentor Tim Kight as well as coaches Urban Meyer and Greg Studrawa and his teammates.
Their support made Taylor ultimately decide to persevere through the struggles and see his Ohio State football career through to the end.
"I had too many people that were pulling for me to give up at that point," Taylor said. "I'm so glad that I pushed through and I really learned a lot about myself and not to be so freaking hard-headed all the time. Get the help, don't be afraid to talk to people."
Taylor's only regret now, he said, is that he didn't seek help for his mental health sooner.
"That really hindered my chances of being the best football player that I could be, because I was physically performing at about 50 percent of what I should have been, between throwing up, not sleeping, not eating," Taylor said. "Once I got on the medication and was seeing the people that I needed to see, I was playing well."
"I'm so glad that I pushed through and I really learned a lot about myself and not to be so freaking hard-headed all the time. Get the help, don't be afraid to talk to people."– Brady Taylor on overcoming his anxiety
While Taylor never got to make a big impact for Ohio State on the field, Meyer – who has had his own well-documented battles with anxiety – was clearly proud of what his former offensive lineman accomplished off the field. In multiple interviews leading up to the Rose Bowl, Meyer singled out Taylor as someone who had taken full advantage of the Real Life Wednesdays program to set himself up for a career after football.
"Brady Taylor, who was never a starter, told me that he's got three job offers waiting for him because of the internship program we put together," Meyer said at Rose Bowl media day.
Taylor has, in fact, set himself up with a wide variety of post-football career options – though not necessarily in the field that he thought would pursue while going through the Real Life Wednesdays program. While he initially planned to pursue a career in hospitality management, he has put that on hold because of his desire to stay and eventually raise a family in Columbus, where he has lived his entire life.
"With hospitality, to progress in your work field, a lot of times you have to move ... if you want to keep progressing, you know you might have to get up and move to Florida or move to California or Vegas, so that's definitely something that I thought about," said Taylor, who lives in the Grandview area of Columbus with his longtime girlfriend Sarah, who he has been dating since his sophomore year of high school. "Being a Buckeye and the fact that I've grown up here all 23 years, I don't really see anywhere else. Columbus is one of the hottest cities in America right now, especially big business coming here and starting, and I don't really think there's any need for me to go anywhere else."
Still, Taylor is not ruling out the possibility of a future career in hospitality. He also has interest in potential future careers in finance and law enforcement; he earned a second degree from Ohio State in consumer and family financial services this spring after initially graduating with a degree in hospitality management. Additionally, he has "always been very intrigued by law enforcement" and has several relatives and close family friends in that field.
For now, though, Taylor is working as the head of sales for The Difference USA, a football equipment company started by former Ohio State linebacker and assistant strength coach Anthony Schlegel. Taylor has been working with Schlegel since March, and so far, he believes it has been the perfect opportunity to launch his career in the workforce.
"It's awesome because I'm his first hire," Taylor said. "So I get to see a business from the ground up, rather than taking just a regular sales position where it's just sell this product, sell this to people and you don't get to see the whole accounts receivable, accounts payable, the struggles of being a two-man business. And he's just very open to letting me see the whole ins and outs of the business, which is huge for me right now in my life, because I really need that."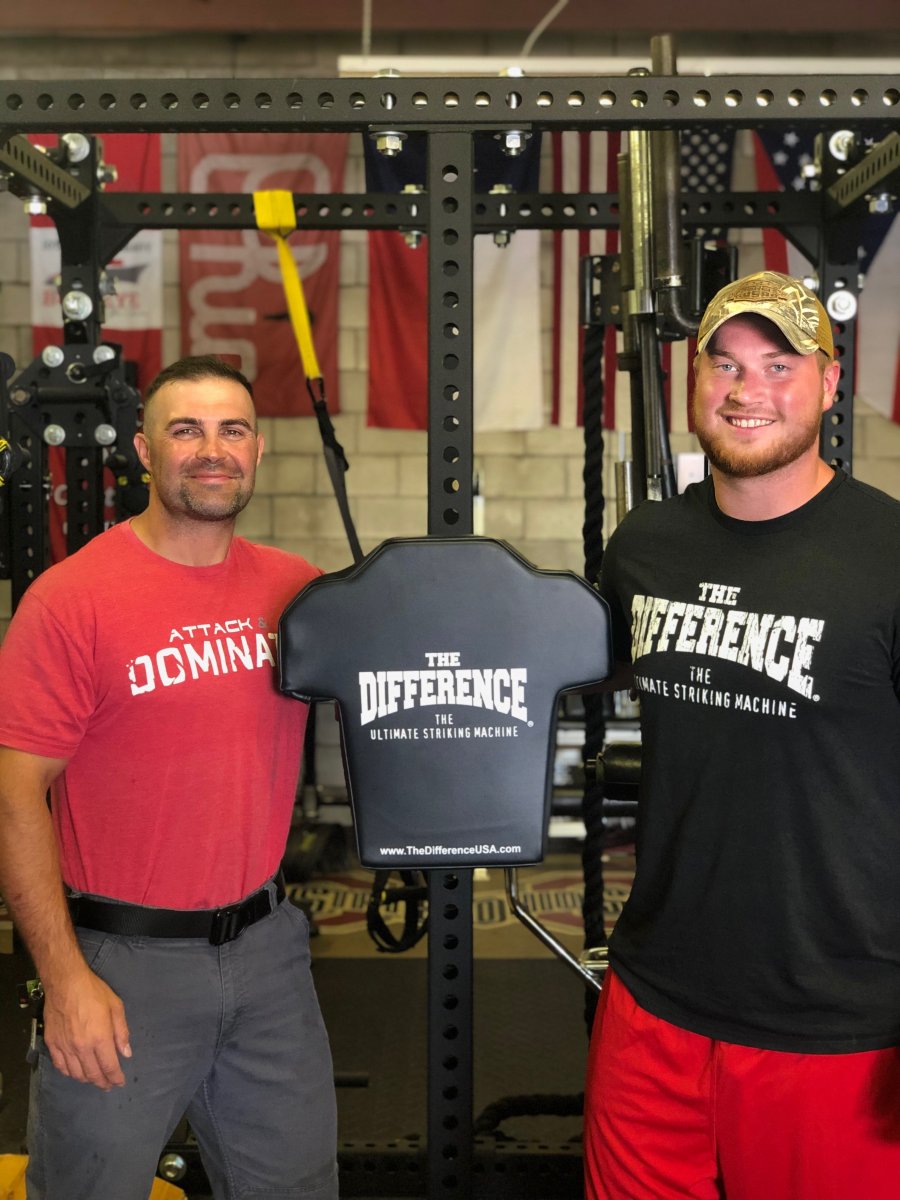 Schlegel's primary product, The Difference Striking Machine, has already been purchased by 80 Division I colleges and 20 NFL teams, so Taylor – who is also the offensive line coach at Bishop Ready High School, his alma mater – has been primarily focused on selling the products to high schools and smaller colleges.
Schlegel said he hired Taylor not only because of his background as an Ohio State football player, but also because of his demonstrated willingness to put in the amount of work that other college graduates might not.
"I was like, 'Hey, Brady, you got to call up 250, 300 people a day. And you got to email people and you got to social media, text message, DM them.' And the guy does it," Schlegel told Eleven Warriors. "That's hard to find a 22, 23-year-old that's going to call all those people every single day. And set up appointments and do that. And the good thing too is I also know where Brady is, and Brady is a high school coach. And so, the good thing is with our company, there's flexibility, but I want him to know the game. The better offensive line coach and just high school coach he becomes, the easier it will be for him to sell this product to high school coaches."
Taylor said one of his biggest adjustments to life outside of the Ohio State football program has been acclimating to environments where the people around him are not always willing to work as hard as he is.
"I felt like I was just around people that are very driven, very elite that wanted to work hard (at Ohio State), and in the real world, there's just a lot of lazy people, a lot of average people," Taylor said. "So that was just very hard for me to adjust to is that now, I'm not around people all the time that are on a common-driven goal to, A, win a national championship, and, B, get to the next level and make millions."
While it's taken Taylor some time to get used to life outside the structures of being a student-athlete, he is enjoying that he still has the opportunity – through both of his new jobs – to be around the sport he loves. 
He isn't likely to ever play in another football game – he's already slimmed down more than 25 pounds from his playing weight – but his new life in equipment sales and in coaching puts him in a position to potentially remain involved in the sport for years to come. 
"Being away from the game, it sounds all fine and dandy until you realize like 'Man, I'm never gonna play a competitive sport again, probably,'" Taylor said. "So that really hit me, and it's been kind of hard to deal with mentally, but being in a position where I get to still talk to college coaches and talk to even NFL coaches and talk to people that are around the sport, it makes you feel like you're still tied to it and close."
As Taylor looks forward to the rest of his life, he believes the five years he spent playing football at Ohio State – and the trials that came with it – have helped set him up for success in everything else he does.
"The culture that Ohio State has where every single day, you have to walk in and be ready to work, there's no days off; I think that's something that I'm going to take with me the rest of my life," Taylor said. "Learning how to deal with people and having that culture ingrained into you that every day when you get out of bed, you have to have a purpose … being part of Ohio State really ingrained that in me now to where I really only have one speed when I leave this house, and it's grind time."