Korbyn Martin had dreamed of attending Ohio State since she was a child. By the end of her first semester as a Buckeye last fall, however, Martin was questioning whether she made the right choice.
A 4.0 student at Ayersville High School, Martin was struggling to keep up in her first chemistry class at Ohio State. Martin began to have doubts about herself – feelings that she was no longer smart enough to attend Ohio State – and her anxiety kicked in.
That all began to change, however, when Martin had the opportunity to meet the biggest celebrity on campus, a man who has battled anxiety himself: Ohio State football coach Urban Meyer.
---
When Martin went home for winter break after her first semester, she wasn't sure whether she wanted to return to Ohio State. More than that, she felt lost, and she began to question the value of her life as a whole.
"Unfortunately, I was giving up on myself," Martin told Eleven Warriors. "I don't know if I was suicidal, but it could have led to that."
While spending time with her family around the holidays, however, there was a moment she took as a sign that she was meant to stay the course.
"I had this puzzle that one of my great friends got me for Christmas, and it was a picture of the Shoe. And my goal, my mom and I's goal, was to put this puzzle together by the end of my Christmas break," Martin said. "So we put it together, put it together and then we finally got it together and there was two pieces missing. So we looked around, looked around, and we have a couch in our living room. And there was two pieces underneath of it, but they weren't from the Ohio State puzzle, it was from my great grandparents' puzzle that they used to do puzzles all the time. And we put those in place, the ones that we were missing, and I'm like, 'Well, that means I need to go back to Ohio State. I must be back in the Shoe.'"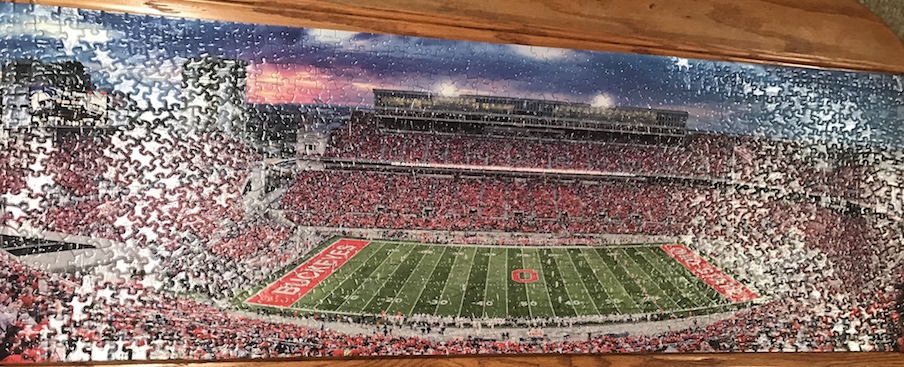 Jenni Martin, though, knew her daughter was still struggling in her second semester. So as she tried to think of something, anything she could do to help her daughter get back on the right track, she had an idea: Reach out to the Ohio State football program, and see if Meyer had any advice he could share with Korbyn.
"I just took a chance," Jenni said. "I thought 'Well, I'll email one of the coaches and just see if Coach Meyer had any suggestions or anything that would kind of help Korbyn along the way.' And so I sent Coach Tim (Hinton, executive director for football relations) an email, and just kind of gave him some background information, and then my ending was, 'Any suggestions Coach Meyer could give would be awesome.'"
Meyer and the Buckeyes, though, did more than just respond with suggestions. Instead, they invited Korbyn and her older brother, KJ, to the Woody Hayes Athletic Center for a tour of Ohio State's practice facility – an opportunity enough in itself to remind Korbyn why she had chosen to attend Ohio State in the first place.
"As I'm walking in the Woody Hayes and seeing the national championship trophy, it was just awesome," Korbyn said. "It was so cool. And it was just like, 'OK, yeah, I'm going to Ohio State. Yeah, I love this school. I'm so glad I'm going here.'"
But that was only the beginning of what would be a life-changing day for Korbyn, as she soon had the opportunity to meet Meyer, who told Korbyn something about their shared battle with anxiety that still resonates with her to this day.
"He said, 'Remember, it's a gift you get that at times is hard,'" Korbyn recalled.
Meyer also gave Korbyn his cell phone number – a secret so prized that when she sent her father a screenshot of a text message Meyer sent her, she made sure to scratch out the number – and has continued to keep in touch with her ever since, periodically checking in with her to see how she is doing.
Korbyn also received the opportunity to shadow Ohio State football operations manager Brendan Bishop during April's spring game – an opportunity that made such a profound impact on Korbyn that it inspired her to change her major to sport industry.
"I went to the spring game, and honestly, I was like, 'Oh my gosh, I feel like I'm in heaven!'" Korbyn said. "And then after the spring game, my whole perspective of my life turned around, and I felt like I was walking on water."
---
Meyer's own battles with his health first entered the spotlight in December 2009, when he was admitted to a hospital with chest pains and dehydration just hours after Florida's 32-13 loss to Alabama in the SEC Championship Game. Meyer resigned from his post as the Gators' head coach later that month, explaining that he had ignored his health for years and citing a desire to prioritize his faith and family.
Meyer's resignation from Florida ultimately became a leave of absence, and he returned to the sidelines for the Gators' 2010 season, but resigned again at the conclusion of that season, once again explaining that he wanted to spend more time with his wife and children.
Following a year away from the sidelines – which allowed Meyer to refocus on his priorities and establish a better balance in his life – Meyer became Ohio State's head coach on Nov. 28, 2011, and is now entering his seventh season with the Buckeyes, having achieved an unprecedented level of success in his first six years in Columbus.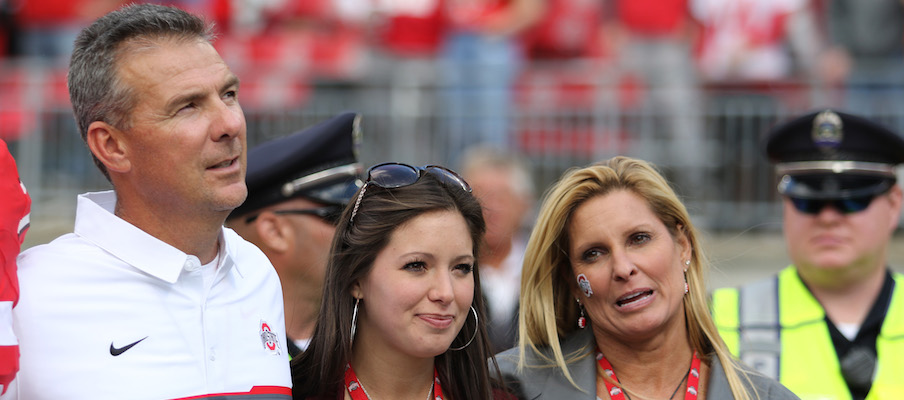 As detailed in "I'm Not The Lone Wolf," a longform article on Meyer written by Brandon Sneed for Bleacher Report in September 2016, Meyer learned after his hospitalization in 2009 – with the help of his wife Shelley, a nurse – that he was exhibiting symptoms of clinical anxiety, which can be exacerbated by obsessive-compulsive disorder.
Those aren't issues that simply get cured and go away. But now that Meyer has learned how to manage his anxiety instead of being consumed by it, he considers those traits to be a driving force in his success.
"The compulsive, obsessive, high-end, achieving people, those are the ones that keep pushing harder," Meyer said in his interview with Sneed. "I'll name you the greatest players I ever coached, and every one of them have that same trait. So I don't think it's an illness. I think you have to be aware … that you have that trait, and how to manage it. But look at it not as an illness, but as a blessing that you somehow have to keep ahold of."
---
Korbyn kept a copy of Sneed's article in her bookbag throughout last semester, underlining the parts that resonated with her and skimming them over whenever she needed motivation.
She knows, too, that her anxiety isn't something that will simply go away. But with a new outlook on life, a new major – she says she now plans to pursue a career in sports marketing – and support from Meyer, she believes that she, too, has learned how to manage her anxiety.
"It's always going to be there, but you have to find things and ways to get through it," Korbyn said. "For instance, I go and exercise now if I'm feeling stressed or anxious about a test or an exam coming up, I go and work out or I go for a walk or I find things that to do at Ohio State, which there's plenty of to do there, just to help me get my mind off it."
Still, her parents worry about how Korbyn – who is currently home for the summer with her family in Ayersville, an unincorporated community in Defiance, Ohio, a little more than two hours northwest of Columbus – will handle the challenges that might arise when she returns to Ohio State this fall.
"She's doing really good right now, and I just hope when she goes back here in the fall, she can just keep riding that momentum, because that's what it's going to take," her father, Jeff Martin, said. "I think she's doing better and wonderfully, but there's going to be a huge test here in late August when she goes back."
"It's always going to be there, but you have to find things and ways to get through it." – Korbyn Martin on overcoming anxiety
It helps ease their worries, though, knowing that Korbyn has Meyer, Bishop and other members of Ohio State's football staff in her corner.
"That makes me feel really good," Jeff said. "And this wasn't just something last year. They've continued to reach out to her through the summer. So it's just amazing, and we are grateful and we are blessed because of that."
Despite having a team of 105 players to coach and hundreds of high school recruits to keep tabs on – plus his former players, friends and of course, his family – Meyer has taken the time out of his busy schedule to help Korbyn, not a football player but a student who simply needed the support he could provide. And Korbyn's parents want Meyer to know how much they appreciate that.
"For somebody to take the time – all of them actually – to reach out and help her, it's an act of God," Jenni said. "The whole thing is just so surreal. Words can't express how we feel about everything."
"I am extremely grateful," Jeff said. "It's very humbling and exciting. It really is exciting. Because you think of what his daily life is, he has a family of his own, and what his job requires him to do on a daily basis, and he would take the time, it's very humbling."
Jeff also said, though, that he wasn't surprised by Meyer's actions.
"You can see certain qualities in people, even though they may be a mega-star as a coach or a player or whatever, you can see that they have those characteristics in them without really knowing them personally," said Jeff, a longtime Buckeyes fan who has also coached sports himself. "So to be honest, I'm not surprised at all at the time that he has given my daughter."
Most people know Urban Meyer as a coach who has won three national championships, and for that matter, one of the greatest coaches in college football history. Korbyn Martin, however, wants people to know that Meyer is more than just a great coach.
"He's a great coach, but in life, when it comes down to it, he's a really great person," Korbyn said. "He worries about others, he cares about others and not just himself. He has his football plans to worry about, but he still takes time for the students at Ohio State as well."