DUBLIN, Ohio – Now that Urban Meyer is no longer coaching the Ohio State football team, he has more time to spend on the golf course.
That's how he spent his morning on Wednesday, participating in the Nationwide Invitational pro-am at the Memorial Tournament at Muirfield Village Golf Club, where Meyer lives.
Teamed up with PGA Tour veteran Keegan Bradley and fellow amateurs Tom Dillon and Randy Jones, Meyer played the 18-hole course one day before Bradley and the rest of the professionals will begin competitive play at the Memorial Tournament on Thursday. The Bradley-led team didn't have a great day on the scoreboard, tying for 21st in the 27-team field with a score of 7-under-par, but Meyer enjoyed the experience nonetheless.
"Keegan Bradley was very patient with us today," Meyer said while meeting with the media after the round. "It was awesome. Fans were incredible. Muirfield has been a dream of mine since I first saw it in 1986, and Jack Nicklaus and Nationwide and the Muirfield people, if there's a better tournament, better people than this, I'm not sure I've ever met people like this. They're such good people, what they do for the (Nationwide) children's hospital."
Now that he no longer has to spend his days recruiting this time of year, Meyer says he has been practicing his golf game more, and he had his share of highlights during Wednesday's round. On his very first hole of the day, Meyer hit a 4-iron onto the green from about 200 yards out and narrowly missed a birdie putt. On the par-5 7th hole – the hole Meyer's house is on – he outdrove Bradley (though the professionals were hitting the ball from longer tees). His shot on the par-3 8th hole went left and onto the adjacent 9th tee box, but he recovered nicely with a flop shot back onto the 8th green, which Meyer's caddie identified as his best shot of the day.
Urban Meyer nearly makes a long putt on the 5th hole. His group started on the back 9, so he has four holes left to play. pic.twitter.com/gEAgYPI1ug

— Dan Hope (@Dan_Hope) May 29, 2019
Meyer also had the opportunity to meet Nationwide Children's Hospital Patient Champions – a group of eight children who spent Wednesday at the Memorial Tournament on behalf of Nationwide – and took time between every hole (and even during some of them) to sign autographs and take pictures with fans in attendance.
"All those Ohio State fans, I heard them," Meyer said.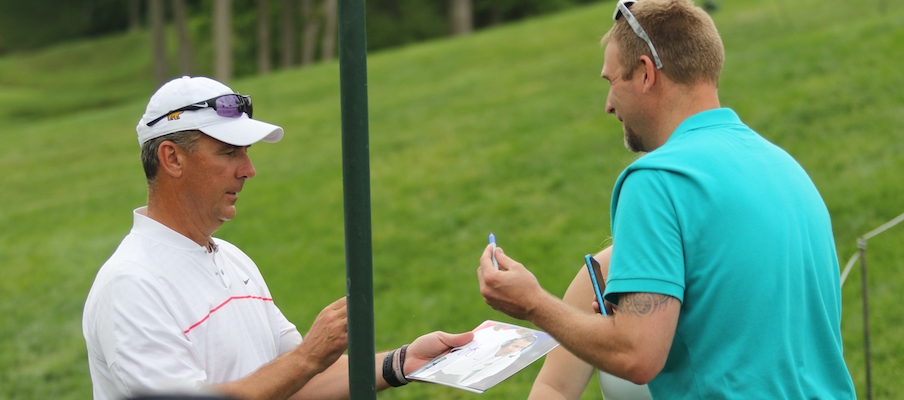 While Meyer is no longer coaching the Ohio State football team, he hasn't just been spending his days playing golf. Meyer is still working for Ohio State as the assistant athletic director of athletics initiatives and relations, and said his primary goal in his new role so far has been to help Ohio State's student-athletes prepare for their lives after Ohio State – just as he did by creating the Real Life Wednesdays program for the football team.
"We're running Real Life Wednesdays through the whole department," Meyer said Wednesday. "I call myself a student-athlete advocate. It all started back when my daughter (Gigi) got recruited (to play volleyball), and that's when Real Life started. A degree's an expectation, it's not the final piece of the puzzle, and that's where Gene (Smith, Ohio State athletic director) and I are in complete agreement. It's been tremendous. Our job is to get them a career, and not just a degree and push them out the door."
Meyer is also preparing to be a part of Fox Sports' new Saturday morning college football pregame show this fall, and says he has been in constant communication with his new Fox colleagues, who will include Rob Stone, Reggie Bush, Matt Leinart and Brady Quinn.
"I'm looking forward to doing my deal in the fall with Fox, with the crew, talk to that group of people all the time," Meyer said.
Speculation that Meyer could eventually return to coaching has been persistent since his retirement, but Meyer has said on multiple occasions that he believes he is done coaching. For now, Meyer is enjoying the opportunity to spend more time with his family – and on the golf course – and focus on other endeavors.
Meyer said he still talks "frequently" with new Ohio State head coach Ryan Day, who was his offensive coordinator and quarterbacks coach for his final two years coaching the Buckeyes, and he continues to spend some time at the Woody Hayes Athletic Center and keep an eye on what the football team is doing. He's had to be careful not to be too involved in what the football team is doing to allow Day to have full command of the program, but he said that hasn't been an issue because of his relationship with Day and their shared boss, Smith.
"They got a good team, good people," Meyer said. "The best thing too is Ryan's got the (same) infrastructure still, and I love those guys and talk to them all the time.
"Ryan and I are that close, and Gene, so it's a really good relationship," Meyer added. "It's been fantastic."
The first competitive round of the Memorial Tournament is set for Thursday morning. Former Ohio State golfer Ryan Armour will tee off at 8:26 a.m. Thursday, while Will Grimmer – who just finished his Ohio State career at the NCAA Championships earlier this week – will tee off at 1:49 p.m. Thursday.