Ohio State's coaches believe it is important for young football players to learn proper tackling technique from the time they begin playing the game as kids.
That's why Ohio State held a free tackling clinic for youth football coaches at the Woody Hayes Athletic Center on Tuesday evening, marking the second consecutive year that the Ohio State football program has hosted such an event.
"We have an obligation to keep these kids safe," Ohio State head coach Ryan Day said before Tuesday's clinic. "We have an obligation to Ohio and to our game. It's kind of come under attack here the last couple years, and we want to make sure that we're protecting these kids and teaching things the right way, and every concussion that is avoided is something that's going to be a statistic down the road in our favor."
Ohio State held its first Youth Tackling Safety Seminar last May. Urban Meyer, of course, was still the Buckeyes' head coach at that time. Alex Grinch, who was entering what would end up being his only season as Ohio State's co-defensive coordinator and safeties coach, was the lead instructor at last year's clinic.
This year, it was new Ohio State linebackers coach Al Washington who led the presentation, which drew approximately 200 youth and middle school football coaches to the football team's facility on Tuesday.
"I think it's great to give back, and I think that's what we get out of it," Washington said before Tuesday's clinic.
Washington spoke to the crowd on hand for Tuesday's clinic for about 40 minutes, demonstrating a variety of tackling techniques and fundamentals, before passing the microphone off to quality control coach Matt Thurin, who completed the presentation because Washington had to leave to catch a flight for a recruiting trip. Day also addressed the crowd briefly at the beginning of the clinic, while graduate assistants Sean Duggan and Michael Cibene served as visual aids for several demonstrations by Washington and Thurin.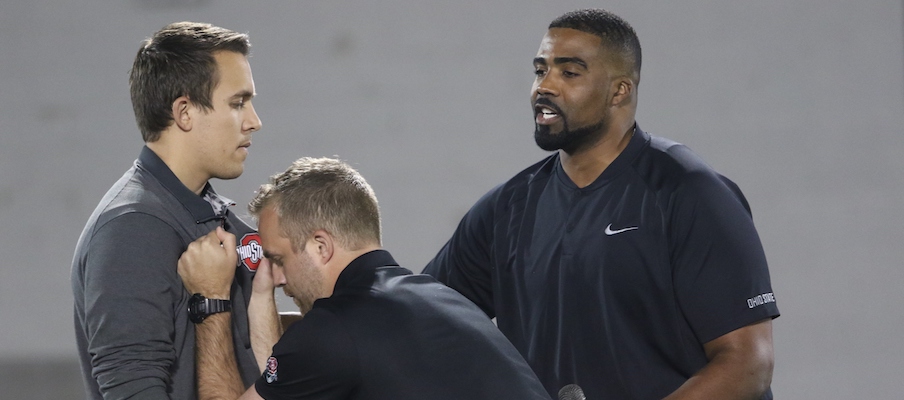 The primary reason why Ohio State has started conducting an annual free tackling clinic for youth football coaches is to help address the injury concerns that now pervade over the sport. The dangers of the sport, specifically in regards to head and neck injuries, have been under the microscope in recent years. Day believes those injury risks can be mitigated, though, by ensuring that players are taught proper techniques for tackling and blocking, starting at the youth level.
"There's so many great things you learn with the game of football, and there's so many players that play, and to say that this has become a dangerous game, I don't agree with that, and I think that it's about how you teach," Day said.
"We have an obligation to keep these kids safe. We have an obligation to Ohio and to our game."– Ryan Day on the importance of teaching safe tackling techniques to youth football coaches
With that being said, Tuesday's event wasn't a lecture about the safety of the sport, but an overview of tackling techniques – the same techniques that Washington and Ohio State's other defensive coaches teach to the Buckeyes' current players – that they believe can be coached at all levels of the sport to not only make young football players safer tacklers, but also more effective tacklers.
In their hourlong combined presentation on Tuesday, Washington and Thurin covered techniques for defeating blocks, how to pursue ballcarriers from different angles and various forms of tackles including the roll tackle, which Washington said is the most common form of tackle (about 40 percent of all tackles), and body-to-body profile tackles (which you can see a portion of his presentation on in the second part of the video below, which also includes a portion of his presentation on the dip-and-drive technique for defeating blocks).
For players who make it to Ohio State, both Day and Washington said it varies between players on whether they already have proper tackling form or whether they need to be re-taught tackling techniques when they arrive at Ohio State. Both of them also believe events like Tuesday's can help prepare the next generation of football players to be fundamentally sound tacklers before they even make it to the collegiate level.
"I don't think it's ever too early," Washington said when asked about the importance of teaching proper tackling techniques to young football players. "I think that being a really good tackler is everything from the ground up. So if you have an understanding of that, I think you'll be safe, and I think you'll also be more successful."
Given that, there's reason to believe that Ohio State will continue to conduct free tackling clinics for youth football coaches for many years to come. Executive director for football relations Tim Hinton said at the end of Tuesday's presentation that Ohio State is also looking to add another clinic next year to teach youth football tackles about safe and effective blocking techniques for offensive players, as well.