When Sean Nuernberger took the field for warmups before Ohio State's seventh game of last season against Minnesota, he had no idea that he would never kick in another game for the Buckeyes.
The fifth-year senior was set to kick field goals and extra points for the Buckeyes on that day, just as he had in Ohio State's first six games of the season, when he began his preparations for the game on a chilly October morning inside Ohio Stadium. But as Nuernberger went through his usual pregame kicking routine, he noticed that something didn't feel quite right.
"My groin just felt really tight, unusually tight," Nuernberger recalled. "So I'm thinking it's cold out, I'm a little tighter than usual, so let me go run a little more, do a little extra stuff, saw the trainer, got worked on a little bit, stretched out a little more and thought that would take care of it. And then each kick after that just kind of progressively got worse."
Nuernberger attempted to battle through the pain for the remainder of Ohio State's warmups, but ultimately, he realized he wouldn't be able to kick in the game, informing Urban Meyer that he did not think he could play just shortly before the game began.
Blake Haubeil filled in admirably for Nuernberger that day, making all three of his field goals and all three of his extra point attempts in the Buckeyes' 30-14 win, and would remain Ohio State's placekicker for the rest of the season.
While Nuernberger recovered well enough from his injury that he was able to kick without pain before the end of the season, he said it took too long to get back into game form for him to be ready to play again before his Buckeye career came to a close.
"Kicking is just such a rhythmic thing, when you're out of sync, it just kind of takes a while to get back into rhythm, into kicking in a game form," Nuernberger told Eleven Warriors. "So toward the end of the season, I was kicking the ball again and hitting the ball OK, but it really wasn't until probably the start of February or so 'til I was back into a real good rhythm hitting the ball well, feeling good."
If Nuernberger had decided to hang up his cleats after this past season, no one would have blamed him. He's had a history of injuries in recent years – he was forced to redshirt his third year as a Buckeye in 2016, also due to a groin injury – and has already been accepted into law school with his sights set on a post-football career as a lawyer.
Nuernberger is still kicking, nonetheless, with the hope that he will earn an opportunity to play in the NFL this upcoming season.
While he wasn't invited to the NFL Scouting Combine, he recently participated in a combine for specialists held by former NFL special teams coordinator Gary Zauner in Arizona, where Nuernberger made all nine of his field goal attempts from 51 yards or less, only missing on two 54-yard field goal attempts into the wind.
On Wednesday, Nuernberger will have his opportunity to impress a crowd that will likely include scouts from all 32 NFL teams when he participates in Ohio State's pro day.
Nuernberger's injury history could be a concern to those NFL scouts, but now that he has gone through the injury rehabilitation process twice, he believes he now knows how to take better care of his body to reduce his chances of suffering another injury in the future.
"Looking back now, and I thought the same thing in 2016: What could I have done differently? Could I have done more recovery? More prehab, more rehab?" Nuernberger said. "And you're always going to say you could have, but it's tough when you feel great, and then out of nowhere, something doesn't feel great. It's hard to figure out the exact cause and what happened.
"But I've learned so much from those things, and it's kind of funny, we joke around now … all the (Ohio State) specialists now are like, what if you would have done that while you were here? How crazy would that have been? And I say the same thing. As you get older and wiser and figure out the things you have to do, just stay in great shape to prevent any injuries. So I guess, sadly, it took me a couple injuries to figure that out, but now I finally have and feeling better than ever."
Since finishing his career at Ohio State, Nuernberger has remained in Columbus and has been both training and working at Grandview Pro Fitness, where Philadelphia Eagles punter Cameron Johnston – Nuernberger's former Ohio State teammate – also trains and works.
Nuernberger says he and Johnston have been best friends since they played together for the Buckeyes, and it's been valuable for Nuernberger to have the opportunity to learn from Johnston about what it takes to make it in the NFL.
"I think he's helped a lot with me and the way that I kind of approach everything and how serious he approaches everything," Nuernberger said of Johnston. "Every time he goes out and punts, it's just like he's in a game. He's not just messing around, hitting the ball. He puts himself in game situations and gets ready to go. And same thing with the way that he trains. He's just as serious in the gym. A lot of people look at kickers and punters and think they don't work out much or aren't strong, don't do this and that. He's kind of the opposite of that, the complete opposite. So he's helped me a ton in that aspect."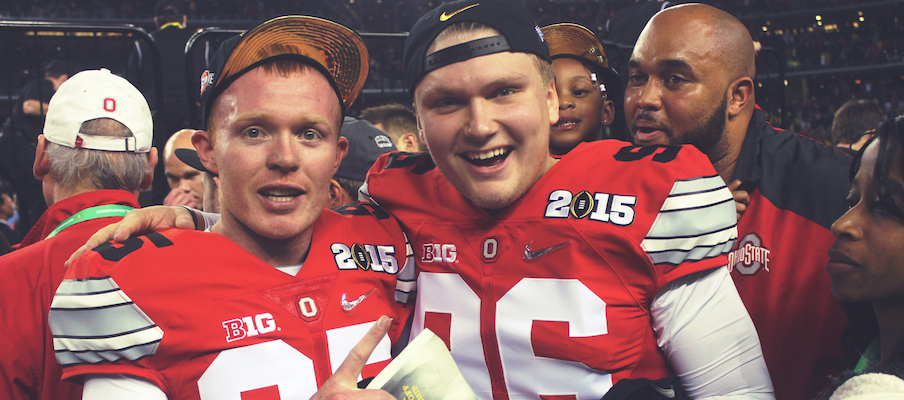 Because of his injuries and competition from other kickers over the course of his Ohio State career, Nuernberger had only two full seasons as the Buckeyes' starting field goal kicker. After making 13 of 20 field goals for Ohio State's national championship team in 2014, Jack Willoughby took Nuernberger's place in the lineup for most of the 2015 season, after which he missed the entire 2016 season.
But Nuernberger had his best season as a Buckeye in 2017, making 17 of 21 field goal attempts, before his injury-shortened senior year. He also holds the impressive distinction of never missing a single extra point in his Ohio State career, going 216-for-216 on PATs, setting the Big Ten record for consecutive extra points made in the process. And he did that all while kicking on some of college football's biggest stages and facing regular competition for his job.
Nuernberger believes all of that has helped prepare him for his potential opportunity in the NFL, where he will likely have to beat out a more experienced kicker in training camp and the preseason to make a roster.
"Playing at a place like Ohio State, obviously the money involved and the money you make is a lot different there than in the NFL, but the expectations to perform week in and week out at an elite level are kind of the exact same," Nuernberger said. "Not only do the coaches expect you to play that well and for you to perform that well, but you develop that want and that need to perform that well for yourself almost as much. I kind of transitioned there from when I was a freshman, just wanting to get through our field goal period with the least amount of misses possible so coaches wouldn't yell at me, to by the end of it, if I missed one, I was angry with myself, even one kick.
"It kind of just develops that fire and that drive to be perfect, to be elite. And I think that's the main thing. That work ethic, that want to be great; Ohio State helps you develop that, really helps guys excel at the next level."
That said, Nuernberger also knows it isn't easy to make it in the NFL – especially as a kicker, where there are typically only 32 full-time jobs in the league – so he isn't putting all of his eggs into that basket.
If he isn't on an NFL roster this fall, Nuernberger will be starting law school – either at Cincinnati, where he has already been accepted, or Ohio State, who he has not receive word from yet. And even though he wants to see if he can play football professionally, he doesn't simply consider law school to be a fallback option.
"I always tell people, I have two Plan A's," Nuernberger said. "I'm ready to show up day one in August at law school to start that. And the only way I don't do that is if I'm in a camp somewhere with a team. So I'm putting stock in both, and I really truly believe that I can do either one."
As much as Nuernberger would love to continue playing football, he says he's equally excited for the opportunity to pursue a career in law when that time comes.
"A lot of people ask, 'Is it a letdown not to make the NFL?'" Nuernberger said. "And I'm like, 'If I work as hard as I can, give it my all and worst-case scenario I go become a lawyer, I've done fine.' So I'm just keeping a positive mindset, and it'll work out one way or the other."