Just nine players in Ohio State history have run the 40-yard dash in less than 4.4 seconds at the NFL Scouting Combine.
Sub-4.4 40-Yard Dash Times

 

YEAR
PLAYER
TIME
2017
CURTIS SAMUEL
4.31
2018
DENZEL WARD
4.32
2001
KEN-YON RAMBO
4.34
2004
DREW CARTER
4.36
2017
MARSHON LATTIMORE
4.36
2001
NATE CLEMENTS
4.38
2011
CHIMDI CHEKWA
4.38
2001
REGGIE GERMANY
4.39
2014
BRADLEY ROBY
4.39
You don't have to go back far to find the last to do it. Denzel Ward, widely known as the fastest player on the roster during the 2017 season, blazed a 4.32 40-yard dash, which was tied for the fastest time at the combine in 2018.
It was fast, but still not faster than Curtis Samuel's 4.31 time the year before, which remains an Ohio State record.
Outside of Ward and Samuel, Ken-Yon Rambo has the next fastest time of 4.34, holding the record for 16 years. Drew Carter ran a 4.36-second 40 just months after tearing his ACL, and Marshon Lattimore tied that time in 2017.
A pair of defensive backs – Nate Clements and Chimdi Chekwa – each ran a 4.38 while Reggie Germany and Bradley Roby both ran a 4.39.
That's the complete list of sub-4.4 40-yard dash times from former Ohio State players.
That type of speed is clearly quite rare, but a few Buckeyes in this year's class have a good chance to join that elite group with their 40-yard dash performances at this weekend's NFL Combine.
Parris Campbell is likely the first name to come to mind when you think speed, and for good reason.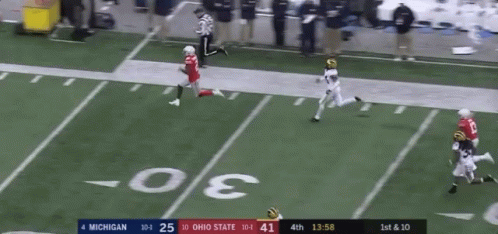 Campbell became known for his lethal breakaway speed and often created lightning on simple screen passes or crossing routes because when he got loose, nobody was catching him.
He knows his speed, and he expects a great time when he runs on Saturday.
"I can guarantee a fast time for myself," Campbell said Friday. "I know I'm a fast runner. That's one of my attributes. Just got to be critical about my details and my start. Drive, phase, finish. I'm extremely confident in myself for sure."
But Campbell might not even be the fastest player on the roster because he's teammates with a literal track star. Last spring, Kendall Sheffield proved his speed, breaking an Ohio State track and field record in the 60 meter dash.
Campbell and Sheffield were always atop the team's 40-yard dash charts posted on the wall of the Woody Hayes Athletic center, where they were most recently seen as tied with an almost-certainly embellished 4.25-second time.
But those two aren't the only ones expecting to run fast this weekend. Terry McLaurin said last month that he expects to run a 4.35 or better at the combine, "and I'm not even kidding."
Many assume Campbell and Sheffield will be the fastest Buckeyes at the combine, and they very well may be, but McLaurin still has a mission to beat their times, and he knows fellow speedy receiver Johnnie Dixon does as well.
"I want to beat Parris. He wants to beat me. Kendall wants to be the fastest. Johnnie wants to be the fastest," McLaurin said. "It's going to be closer than people expect."
Ultimately, they're all going to be fast, it's just a matter of how fast and whether they can come in below that elusive 4.4 mark.
The wide receivers – Campbell, McLaurin and Dixon – will run on Saturday while Kendall Sheffield will run with the defensive backs on Monday.